32 Toddler Activities to Keep Little Ones Busy (and Happy) at Home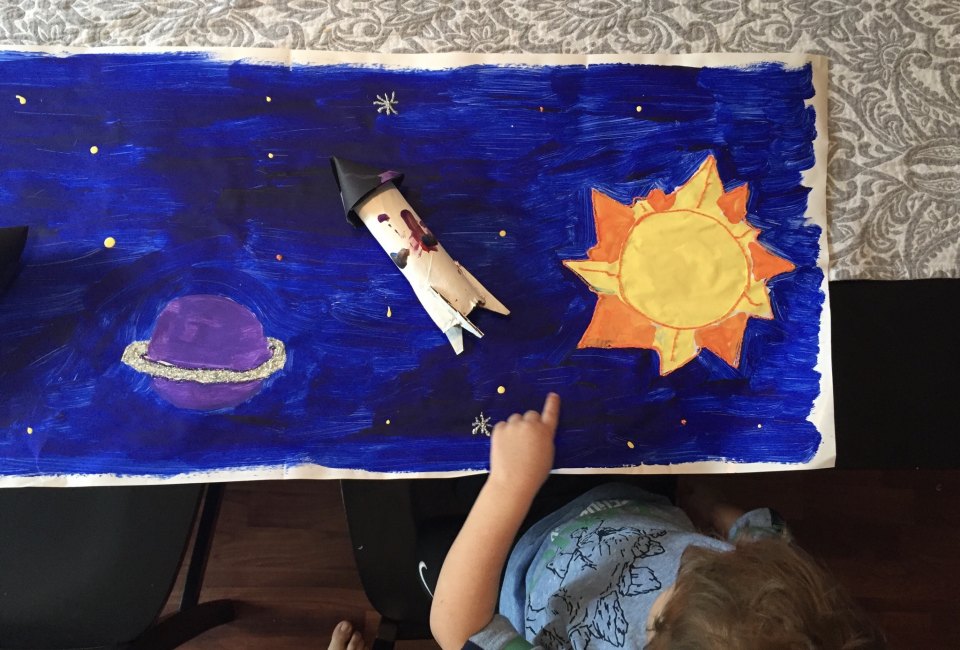 4/3/20
- By
Christine Mooney
Keeping a toddler occupied and happy day after day is no small feat! Children in this age group rarely stay engaged in one activity for long. But give them pots and pans to bang on, water to splash in, or music to dance to, and, as any parent of a 1 or 2 year old will tell you, toddlers are at their happiest.
So, we've put together a list of toddler activities that will encourage little ones to create, move, learn, and have fun.
For more ideas on how to help kids of all ages have fun playing indoors, check out our At-Home Activities Guide for Parents. Don't be surprised if any of your toddler's older siblings want to join in on the activities below. These ideas are fun for a range of age groups. For ideas to keep your baby occupied, read our 12 Easy DIY Sensory Activities for Babies.
Anytime Toddler Activities
1. Use an extra cardboard box to make a ramp. Send cars flying down and stage races.
2. Dump some plastic toys in a bin and let your little one paint them with washable paint.
3. Bake cookies together.
4. Pull out the play dough and encourage creative play. If you don't have any play dough-specific tools or want to try something different, set out cookie cutters, spoons, measuring cups, and other kid-safe kitchen utensils for your child to use. Don't have any play dough in the house? Making homemade play dough is super easy.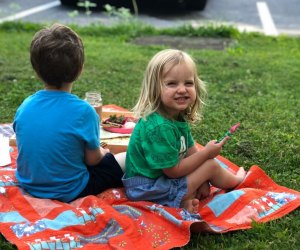 Toddlers delight in a simple picnic in your yard.
5. Head outside for a picnic breakfast, lunch, or dinner! The change of scenery makes the meal feel extra special. To lengthen the activity, pair the picnic with No. 18 on our list.
6. Flatten a cardboard box and draw a town with roads, buildings, a park, and a zoo...anything your little one likes! Then, add toy cars, animals, and people. Let your toddler get busy playing.
7. Build big with giant building "blocks" using toilet paper rolls, paper towel rolls, upside-down laundry baskets, plastic bowls...anything big that can be easily stacked. Little ones love knocking down their oversized creations, too.
8. Go fishing! Cut out simple fish shapes from cardstock or construction paper and attach a paper clip to each one. Grab a piece of yarn and tie one end to a stick and the other to a strong magnet (Magna-Tiles work great). Set the fish on the floor and let your child fish. Make it an extra challenge by having them fish only for red fish or green ones, etc. Optional: Use a laundry basket as a boat.
9. Stack cups...then knock them over. Repeat.
10. Head outside with sidewalk chalk on a beautiful day and decorate the driveway and sidewalks.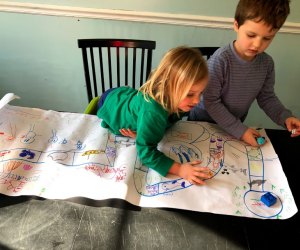 Have fun with a DIY board game older toddlers can help create and play.
11. Draw your own board game—and have your toddler help create it!—and use toys as the playing pieces.
12. Paint or draw a scene on a large piece of white paper—it could be outer space, under the sea, or anywhere in between. Then use toys or upcycle some cardboard rolls to fill in the scene you created.
13. Make music with pots, pans, bowls, and spoons. DIY some instruments by putting rice or corn in a jar or coins in a plastic water bottle (secure the cap with tape!) Don't be surprised if No. 14 naturally ensues.
Things To Do With Toddlers to Burn Extra Energy
14. Put on some favorite tunes and have a dance party, and don't just play kid music. Kids love to wiggle along with the beat of family-friendly rock music and traditional polka songs.
15. Draw shapes on sticky notes and hide them at toddler-height around the house. Then, hand your little one a flashlight and send them on a hunt for the hidden notes. Put on music or time them to get them running around even more.
16. Secure a long piece of bubble wrap on hardwood or tile flooring with painter's tape and let your toddler race, jump, and stomp along.
17. Blow up balloons and play a match of impromptu balloon volleyball.
18. Go for a stroll—take your time, let your child stop and find a walking stick, inspect rocks, bugs, and flowers. Point out things you find interesting. Enjoy each other's company.

Mucking around in mud is a kid-friendly favorite. Don't forget your rain boots!
19. Pull-on rain boots and wade through puddles after it rains or when the snow melts and the ground thaws.
Simple Sensory Bin Ideas for Toddlers
20. Create color baskets by collecting child-safe items from around the house in one particular color, such as a green paintbrush, a green measuring cup, a green building block, etc., and encourage exploration and play.
21. Dump cotton balls into a bin or large bowl and add spoons and measuring cups, then let your child make "snowball soup."
22. Head outside and make leaf soup with a large bucket or bowl of water, leaves, flowers, and grass clippings. Stir it up with a big stick.
23. Add uncooked rice, beans, pasta, leftover dry cereal, oats, etc. into a bin, add kitchen utensils, and let your little ones play. Place a sheet or towel underneath for easy cleanup and be sure to supervise.
Indoor and Outdoor Water Fun for Toddlers
24. Fill up the tub, plop your kiddo in, and dump in a bunch of Duplos or other large bricks to see what they build.
25. Set out a container of water and have your little ones wash some of their plastic toys. Use just dinosaurs, cars, or pets and play "dino wash," "car wash," or "pet groomer." This is especially fun—and useful—if you already did No. 2 on our list!
26. Take a large paintbrush outside along with a bowl of water and wash walkways, garden gnomes, brick walls...this is a kid-favorite!
27. In a bowl, add ice cubes, water, and a spoon. Your toddler will enjoy making ice cube soup.
28. Tape pool noodles to an outside wall with buckets on the ground beneath the openings. Kids love pouring water down them and watching it come out the other end.
Indoor Activities With Toddlers to Encourage Creativity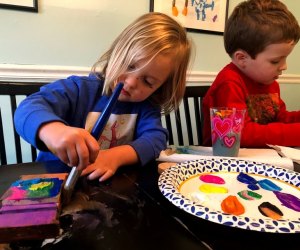 Little ones love getting creative...and they usually engage in art activities for quite a while (score!)
29. Grab an old cardboard box or scrap wood that's been sanded down and set out washable paints and paintbrushes. Decorate!
30. Give your little one a sheet of stickers and a piece of paper to decorate. Peeling off stickers is a great fine-motor activity, and what child doesn't love stickers?
31. Set out buttons, pompoms, craft sticks, torn bits of paper. Hand over a sheet of paper and some glue and let your toddler's inner artist shine.
32. Trace your child's outline on a large roll of paper. Then let them decorate themselves.
Photos courtesy of the author
Click Here to Sign Up!
i