Best Magazine Subscriptions for Kids for Gifts and Classrooms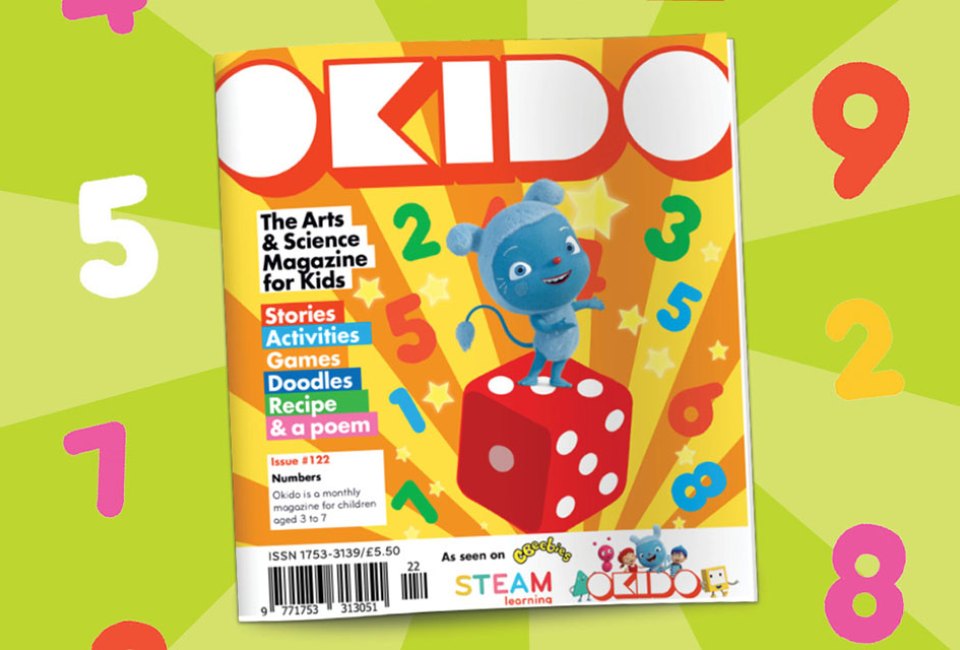 10/10/23
- By
Shari Simpson
Magazine subscriptions for kids make the perfect gifts for children who love to read, those who are learning to read, and teachers looking to build up their classroom libraries. As old as I am (some would say "well-seasoned"), I still remember the excitement I'd feel whenever my Highlights magazine came in the mail.
And despite the advent of smartphones and iPads, kids today have more magazine options to choose from than ever. That means there are magazines for kids of all ages and reading levels, whether they're into animals, sports, technology, the world around them, or any other topic.
Here are our favorite magazine subscriptions for kids, from babies and toddlers all the way through teens. Our list includes award-winning Cricket Media and Highlights magazines for kids, plus several other interesting choices.
Check out our Mommy Poppins Gift Guide for more great gift ideas for kids, including our lists of awesome monthly subscription boxes for kids and 100 kids' books every child should read before they grow up.
Shop the Best Gifts for Any Age in Our Gift Guide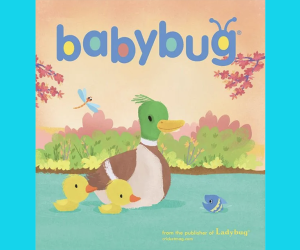 Babybug is the perfect first magazine for babies and toddlers.
Best Magazine Subscriptions for Kids: Babies, Toddlers, and Preschoolers
1. Babybug — ages 6 months - 3 years
If you have a literary genius in the making, Babybug magazine—from the infinitely reliable Cricket Media—is the perfect gift. The world's best children's writers and artists are featured in delightful stories and poems that have won multiple Parents' Choice Gold Awards. If you want to develop a reader, Babybug is a great start.
Highlights magazines for kids have been wildly popular for a staggering 75 years, and it's obvious why when you open a Highlights Hello. Each issue is filled with colorful images, amusing read-aloud stories, and simple activities that babies love and that help young children make sense of their world. An added plus is the magazine's construction itself: It's made of a tear-resistant, washable material with rounded corners for baby safety. And it comes in a germ-free envelope to help keep little ones healthy.
Publication frequency: monthly
RELATED: Best Toddler Gifts: Toys, Books, and More for 2- & 3-Year-Olds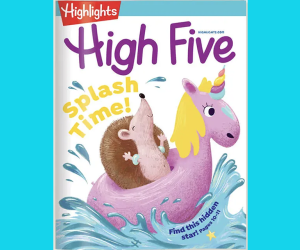 High Five is the toddler and preschooler version of Highlights magazine.
Publication frequency: 9 times per year
High Five is a colorful and fun-filled magazine developed by our favorite people, the early-childhood experts at Highlights Magazines for Kids. The magazine features recurring characters, seasonal crafts, simple recipes and exercises, matching games, mazes and—best of all—kids' first entry into the wonderful world of Hidden Pictures (a game that even teenagers play on the sly). And if you get a one- or two-year subscription, your child gets two free gifts: a My First Hidden Pictures booklet and a Hidden Pictures Calendar. We're sold.
Publication frequency: monthly
Cricket Media's Ladybug magazine continues along the path of creating a love for reading with a charming collection of stories, poems, and songs. There's also a removable four-page activity section with fun crafts that build children's memory and motor skills. Another big plus? There's no advertising in any of Cricket Media's magazines, because no one wants to be interrupted during a good story by a push to buy something.
Publication frequency: 9 times per year
5. Okido — ages 3-7
Okido magazine's philosophy is that every child is a creative scientist, so it immerses kids in a spectrum of playful activities designed by science and education experts to encourage collaboration, curiosity, exploration, discovery, creativity, and critical thinking. If you want to start early with STEAM (science, technology, engineering, the arts, and math) learning, Okido is a bright and fun way to begin. Added plus: The magazine is published in the UK, so you get to explain language differences to your kids, like "put the rubbish in the bin" means "take out the trash". How fun is that?
Publication frequency: monthly
RELATED: "I'm Bored, What Should I Do?" 100 Things To Do When Kids Are Bored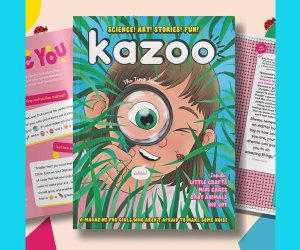 Kazoo is an empowering magazine just for girls.
Best Magazine Subscriptions for Kids in Elementary School
6. Kazoo — ages 5-12
Designed specifically for girls, Kazoo is an award-winning indie magazine that celebrates young women being strong, smart, fierce and true to themselves. Every issue includes 64 pages full of comics, games, crafts, recipes, incredible artwork, and original fiction written by a major author and featuring a fierce girl protagonist. Contributors include Newbery Medal winners Erin Entrada Kelly and Meg Medina, Pulitzer nominee Joyce Carol Oates, and National Book Award finalists Angela Flournoy and Carmen Maria Machado. The New York Times called a subscription to Kazoo "one of the best gifts of the year".
Publication frequency: quarterly
7. Ask — ages 6-9
If you have kids who constantly ask, "Why?", Cricket Media's Ask magazine does its best to answer. Ask answers questions about science, history, inventors, artists, fun facts, and more. We were sold as soon as we saw the article entitled, "Why do burps makes sounds?" What second-grader isn't going to be captivated by that?
Publication frequency: 9 times per year
8. Spider — ages 6-9
On the other hand, if your kids care less about "why" and more about "who, when, and where", Cricket Media's Spider is the magazine to subscribe to. Designed for new independent readers, it's filled with fantasy and adventure stories by celebrated authors, folktales, nonfiction, poems, activities, and illustrations by famous children's artists.
RELATED: Crafts for Kids: 100 Awesome Art Projects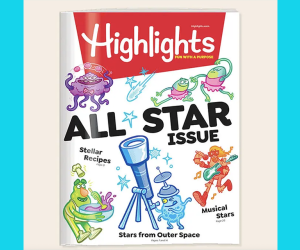 Every kid should read Highlights magazine before they grow up!
Publication frequency: 9 times per year
The true classic, Highlights magazine operates with the philosophy that children can change the world for the better and that when kids know they matter, they see the good in themselves and the world. Highlights is jam-packed with stories, puzzles, riddles, an advice column, the famous Hidden Pictures, and so much more. And, come on—who doesn't love Goofus and Gallant? My kids always felt like champs compared to the hapless Goofus but never as kindhearted as the perfect Gallant, which led to many deep (and unintentionally hilarious) conversations. What more can you ask for from magazines for kids?
Publication frequency: monthly
The perfect gift for your favorite "thinking" child, Illustoria bills itself as the magazine "for creative kids and their grown-ups." With eye-catching artwork, it's a great read for graphic-novel enthusiasts, crafters, lovers of DIY, and fans of visual storytelling, children's lit, and funny comics.Illustoria is the official publication of the International Alliance of Youth Writing Centers, publishing writing and art by young people alongside accomplished professionals.
RELATED: 25 Funny Knock Knock Jokes for Kids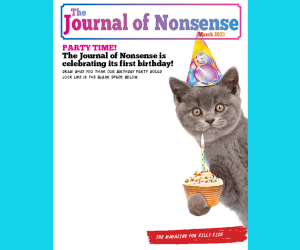 Children will roar with laughter when they read The Journal of Nonsense, one of the funniest magazine subscriptions for kids.
Publication frequency: 3 times per year
This wacky magazine is all about fun. It's filled with silly activities, funny jokes, unusual games, kid art, weird recipes, goofy reading lists, and inspired activities for kids such as learning how to write a dad joke, making up acronyms, or taking a quiz to see if they're really having the worst day ever. The Journal of Nonsense was created by Ethan T. Berlin, an Emmy Award-nominated television comedy writer and Junior Library Guild-selected picture book author.
Publication frequency: monthly
Nat Geo Kids is National Geographic for the younger set. It covers everything related to animals, habitats, countries, and cultures. Each issue includes real-life animal rescue stories, fact files on some of the world's rarest species, kooky world records (like the World Snail Racing Championships), new technology, and all the latest happenings in the world of entertainment, including the best new kids' books, movies, and TV shows. We're also fond of the Junior Explorers Club, where readers' stories and pets are featured.
RELATED: 50 Fun Animal Facts for Kids You Won't Believe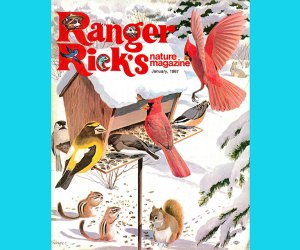 Ranger Rick is one of the best magazine subscriptions for kids who love animals and nature.
Publication frequency: 10 times per year
Another classic, Ranger Rick is published by the National Wildlife Federation. It features a raccoon park ranger that works with his friends Scarlett Fox and Boomer Badger in Deep Green Wood to preserve the environment. Ranger Rick is full of the characters' comic adventures, plus animal facts, wildlife puzzles, riddles, contests, and crafts. And don't miss the younger versions of the magazine, Ranger Rick Jr. (ages 4-7) and Ranger Rick Cub (ages 0-4).
Publication frequency:10 times per year
RELATED: 25 Fun Riddles for Kids and Families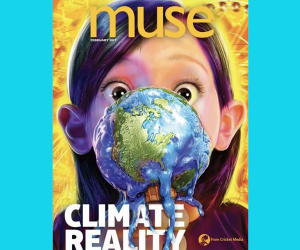 Muse teaches tweens and teens all sorts of wacky and interesting facts.
Best Magazine Subscriptions for Kids: Tweens and Teens
14. Muse — ages 9-14
Muse, Cricket Media's science and arts magazine for kids, is "spot on with the facts and off the wall with the jokes". Answering questions like, "Do video games really kill your brain cells?" and "What do you call a male ladybug?", award-winning authors, artists, and photographers explore our weird world in a fun way. We were sold just by the list of past topics—pie-throwing, extraterrestrials, urban legends, contacting ghosts, and New Zealand's exploding trousers. We kinda want to be kids again so we can subscribe.
Publication frequency: 9 times per year
The magazine for boys and girls who love sports, SI Kids features great action photos, stories about star athletes, pull-out posters, sports cards, games, and sports trivia. It's a great way to get kids reading non-fiction and has won highest honors from the Association of Educational Publishers and the Parents' Choice Awards. We particularly love the "LOL" (a funny sports-related photo) and "Tips from the Pros," (how-tos on a sports technique from athletes at the top of their game).
Publication frequency: monthly
If your kid gags at the thought of having to learn about boring American history, Cricket Media's Cobblestone magazine transforms "old stuff" into a living, breathing guide on how people of the past lived, worked, played, and ate. Filled with engaging stories, dramatic photographs, and gorgeous illustrations, a subscription to Cobblestone may just reverse your child's aversion to history.
Publication frequency: 9 times per year
Sure, it started out as a glossy fashion bible, but Teen Vogue's shift to a legit Gen Z social-activism chronicle is nothing short of incredible. By filling more of its pages with stories that hit home with civic-minded audiences (like immigration, race, wellness, politics, identity), the brand has seen huge growth, garnering 12 million followers on social media. But don't worry, teens—you'll still find out what shoes Taylor Swift is wearing these days.
Publication frequency: quarterly
All photos of these magazine subscriptions for kids are courtesy of the publishers.
t Click Here to Sign Up!