Christmas Tree Farms in New Jersey Where You Can Cut Your Own
For many families, cutting down a Christmas tree is an annual tradition that marks the beginning of the holiday season. If you're thinking of going the cut-your-own route this year, start your tree search by checking out our extensive list of New Jersey Christmas tree farms.
Many farms sell refreshments to keep you fortified during your search, and some also offer seasonal farm fun like Santa visits, scenic wagon rides, and marshmallows around the fire pit. Don't feel like cutting a tree down yourself? Most farms will cut it for you, and take care of the drilling and baling.
Once you've checked that off your list, be sure to visit our Holiday Guide for even more ways to celebrate the season.
Christmas Tree Farms in North Jersey
Holiday Tree Farms – Augusta
Available trees include Colorado spruce, Douglas fir, white fir, and more. Refreshments and snacks available at on-location barn. Cut your own or have employees cut for you. Pets on a leash are welcome. Hand-saws available to borrow. Open Fridays, Saturdays and Sundays from 9am – 5pm beginning November 29. Bring cash: No credit or debit cards accepted.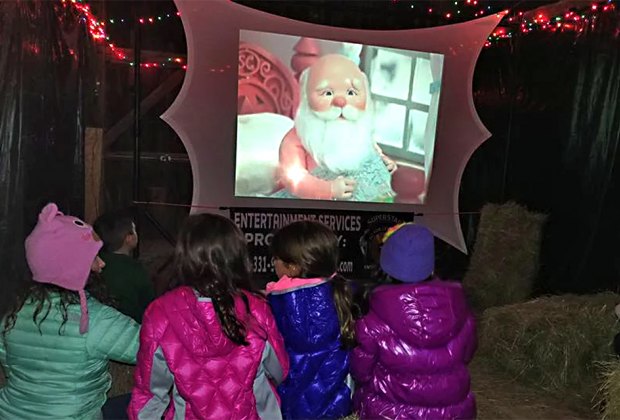 Kids can watch a movie at the Shale Hills Farm Theater while grown-ups cut the tree! Photo courtesy of the farm
Shale Hills Farm – Sussex
All trees are hand-sheared, which means that no two look alike. Cut your own award-winning fir, pine, or spruce. The farm will wrap your tree and provide free twine for you to tie the tree onto your vehicle. While you are visiting, check out the farm animals residing in a restored 19th-century heated barn, and enjoy the Christmas movies that play all day long in the hayloft. Refreshments include hot dogs, muffins, hot chocolate, and more. Santa stops by several times daily. The farm is open weekends, beginning Thanksgiving weekend, from 9:30am until dark.
Stonerow Tree Farm – Branchville
Stonerow Tree Farm provides free saws for cutting, tree bailing, and twine to tie your tree to your car or truck. Pets on a leash are welcome. Santa Claus visits between 1–3pm on Saturdays, and the Beemerville Fire Department will also visit (date to be determined). Visitors can enjoy marshmallows around a fire pit. The farm is open weekends starting November 29, from 9am – 4pm. Most trees are $50. Visa, MasterCard, and Discover accepted.
RELATED: 30+ Free Holiday and Christmas Events for NJ Kids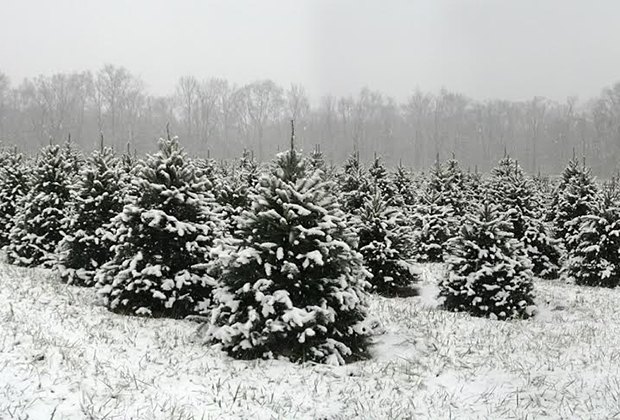 Choose a fir, spruce, or pine at Woodsedge Tree Farm in Belvidere. Photo courtesy of the farm.
Woodsedge Tree Farm – Belvidere
Located in the scenic Skylands of Warren County, this small farm offers a nice selection of firs, spruces, and pines. The farm provides free tree drilling and baling. You can use the farm's saws, and employees will offer a hand if needed. The farm sells its own honey and homemade beeswax soap, as well as products from its woodlot, including handmade wooden bowls, birdhouses, and ornaments. Refreshments provided. Visa, Mastercard, and American Express accepted. Open 9am – 4:30pm Friday–Sunday beginning the Friday after Thanksgiving.
Wyckoff's Tree Farm – Belvidere
This farm offers more than 5,000 cut-your-own trees, as well as fresh-cut trees, wreaths, and more. On weekends, check out the Country Gift Shop, where you can find ornaments and a large selection of decorations and gift items. Hayrides are available on weekends, weather permitting. The farm is open daily from 8am – 4:30pm, from the Friday after Thanksgiving through December 24. Cash, personal checks, Visa, and MasterCard are accepted.
Christmas Tree Farms in Central Jersey
Anne-Ellen Christmas Tree Farm & Shop – Manalapan
This 100-acre farm offers several varieties of cut-your-own trees, and you can do it yourself or have it cut for you. The farm also has a wide variety of pre-cut Douglas fir, Fraser fir and balsams. Visit the Anne-Ellen Ornament Shop to adorn your fresh-cut tree (on-site ornament personalization available). Take a picture with Santa on the weekends, feed the farm animals, or grab a bite to eat. The farm is open from 9am to 8pm daily from late November through December 23. Cash, MasterCard, and Visa are accepted.

Barclay's Tree Farm – Cranbury
Barclay's offers a selection of choose-and-cut trees up to 16 feet tall. It also sells fresh plain and decorated wreaths, tree stands, and Watering Elves. The farm provides free saws, rope, and netting, as well as free assistance for cutting, carrying, loading, and tying down. Pets on leashes are allowed. The farm is open weekends from Thanksgiving through Christmas, from 9am – 5 pm.
Cherryville Farms – Pittstown
This family-run farm offers a variety of hand-sheared or wild cut-your-own trees. The farm can also cut your tree for you. Saws are available, along with tree baling, twine services, and tree carts. Also, choose a fresh wreath, buy a craft, or enjoy a refreshment. The farm is open weekends November 29 through mid-December, from 9am until dark. Cash or personal checks only.
Evergreen Farms – Lebanon
You can come early to tag your chosen tree, then return when you're ready to take the tree home. The farm will cut it, carry it down the hill, trim branches, bale it, drill a hole in the base, and even tie it to your car. While they work, you can stay warm by the fire and enjoy hot cider and cookies. Open every weekend from late November to December 23,10 am – 5pm. Note that most trees are 6–10 feet tall and are $10 per foot.
Evergreen Valley Christmas Tree Farm – Washington
Visit this family-owned farm on 145 gorgeous acres, and enjoy spectacular views of the mountains while you take a scenic wagon ride and choose your own tree. The farm has more than 10,000 trees ready for cutting, including a new field full of blue spruce, Norway spruce, and Douglas fir. Pre-cut Fraser firs are also available. Open Tuesdays through Sundays, 9 am – 4 pm from Black Friday throughout the Christmas season. Cash or credit cards accepted.
Simonson Farms – Cranbury
Simonson offers cut-your-own Christmas trees at two locations in Cranbury: 260 Dey Road and 120 Cranbury Neck Road. A fresh-cut retail lot is located at 118 Dey Road.
Christmas Tree Farms in South Jersey
Holly Ridge Tree Farm – Hammonton
Technically, you won't be cutting your own tree here. Instead, you'll select a tree from the farm's 8+ acres, and then an employee will cut it for you. Trees range from tabletop height to 12+ feet and include blue spruce, Canaan fir, Douglas fir, Norway spruce, and white pine varieties. The farm also sells wreaths, grave blankets, and white pine roping. Open November 29 to December 23, Tuesday through Sunday (closed Mondays) from 9 am to 4:30pm. Cash only.
South Belly Acres – Franklin
This 16-acre farm has thousands of trees to choose from. There are mostly Douglas fir trees, as well as blue spruce, Fraser fir, and concolor fir. Staffers will cut your tree, or you can help if you prefer. During your visit, say hello to the farm dog, Keefe, who loves kids and biscuits (he does not like other dogs, however, so please leave yours at home). Open weekends, starting Thanksgiving weekend. Free baler and free shaker on-site, and wheel barrows are available to transport your tree out of the field. No credit or debit cards accepted.
Know Before You Go
Go early in the season for the best selection. Some farms have a limited amount of trees, and they close when they are all cut.
Call ahead! Always remember to call before you cram everyone into the station wagon. Some of these farms are pretty old-school and don't update their website (if they have one) daily. Make sure there are trees to be had before you embark upon your Christmas tree journey.
Wear comfortable shoes and warm clothes!
Most farms provide saws, but some allow you to bring your own. None of these farms allows chain or power saws.
If cutting your own tree, cut as close to the ground as possible (you can always trim excess stump later.) Place your tree in warm water as soon as it arrives home. Then, cut an additional 1/4" off the stump before placing the tree in a stand. Be sure your tree stump is always submerged in water, or you'll end up with dried needles everywhere! If you have any questions about tree care, don't be afraid to ask. These guys/gals know their stuff when it comes to fresh-cut trees.
Looking for more locations? Visit the NJ Christmas Tree Growers' Association for additional locations.
This post was originally published in 2012 and has been updated since.