Best Gifts and Toys for 4 & 5-Year-Olds: Top Birthday Gift Ideas for Preschoolers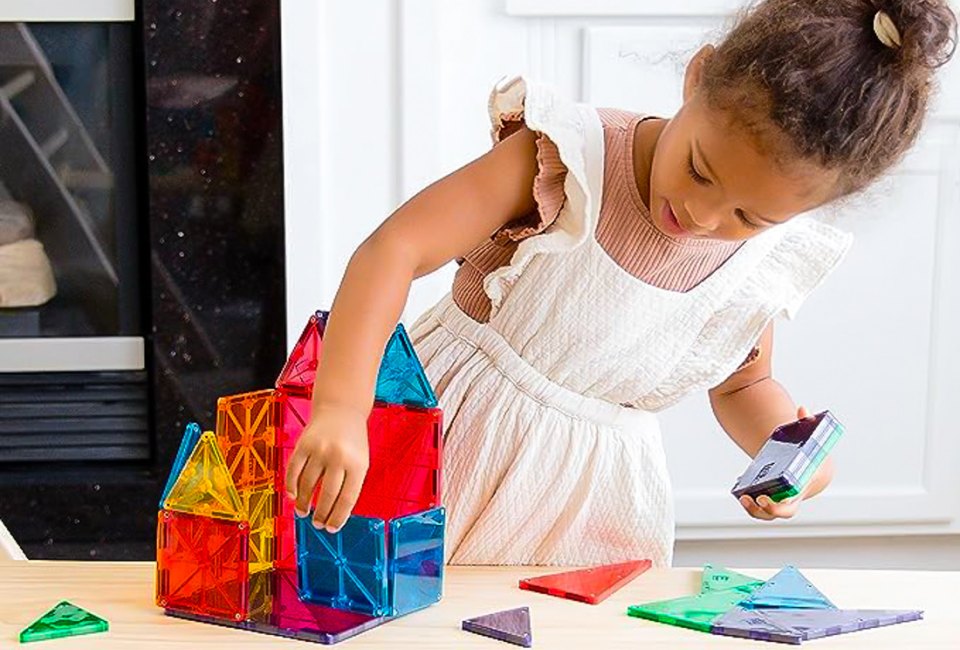 9/14/23
- By
Amelia Eigerman
If you're looking for amazing gifts for a special preschooler in your life, check out our ultimate gift guide for 4 & 5-year-olds.
When you're a kid, presents are pretty much the best thing ever. As an adult, finding gifts for preschoolers comes with a little more thought. Ideally, it's a toy that entrances, teaches, and grows with kids, sticking around in the playroom for a while. All while keeping your budget in mind!
Luckily, we have tried pretty much every toy for every kind of kid with every interest under the sun. These are the toys that Mommy Poppins writers and editors can't get enough of with our own kids, and that we turn to when giving gifts.
If you're looking for more ideas about gifts for kids, the Mommy Poppins Gift Guide for Birthdays and Holidays has got you covered—we've got everything from gifts for baby's first birthday to gifts for toddlers, and more!
For things to do with preschoolers once the gifts are opened, subscribe to our free newsletter.
What Toys Make the Best Gifts for 4 & 5-Year-Olds?
Before diving into the toys, it's good to think about what makes for a great gift for a 4-year-old or 5-year-old. The best toys won't turn into landfill once the excitement wears off. They encourage pretend and open-ended play. Two kinds of toys make for a sure bet: one is toys like Legos and Magna-Tiles that you can do anything with. The limits to what you can create are the limits of your imagination. And with a preschooler, that's pretty much limitless!
The other great gifts for preschoolers are creative play toys that encourage play that mimics the things they're starting to love. Got a kid who loves to be in the kitchen with you? A tea set is a great gift. If they're obsessed with applying bandages, a doctor set is loads of fun.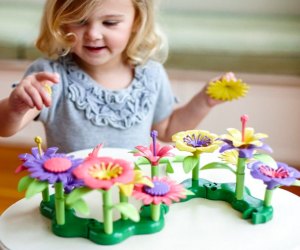 Toys like this that encourage tactile, imaginative play are best for this age group. Photo courtesy of Green Toys
Best Gifts for Preschool Boys and Gifts for Preschool Girls
You know what the difference is between the best gifts for boys and the best gifts for girls at this (or any) age? Nothing. We don't have a list of the best toys for boys and the best for girls, because these toys all stress creativity and fun, and you should pick the toys that match your kids' interests.
All of the toys listed here are great gifts for any preschooler, and all of them have been used and recommended by at least several of our parents at Mommy Poppins.
RELATED: Top Toys Sure to Entertain Kids for Hours and Hours

Whether it's with your favorite stuffed animal, friend, or family, it's always time for tea. Photo courtesy of the Green Toys Store on Amazon
Best Pretend Toy Gifts for Preschoolers
A classic tea set is great for inspiring lots of open-ended, imaginative play. We love that this tea set from Green Toys is made from 100% recycled plastic and contains no BPA, making it good for the environment and your kid's next tea party.
RELATED: 60 Birthday Freebies for Kids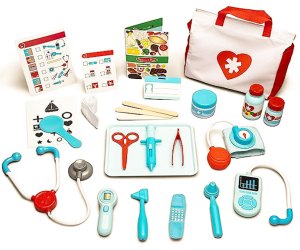 Is there a doctor in the house? Photo courtesy of the Melissa & Doug Store on Amazon
Not only is this doctor's kit fun for kids who love to play doctor, but it's also great for kids who don't like shots or doctor visits! To complete the gift, get a kid-sized lab coat and set of scrubs!
Costume Set/Box
Speaking of dress up, this is the perfect age for it! Get a starter set of costumes, that includes astronaut, fireman, doctor, and construction outfits, or for a big gift from parents or grandparents, get this Born Toys Dress Up & Pretend Play Kids Costumes which comes with six complete costumes and a storage box. Even when they outgrow the costumes, the hats and accessories will stick around for years!

RELATED: 20 Easy Magic Tricks for Kids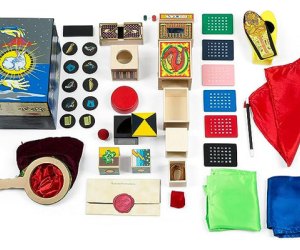 ​Who doesn't want to learn a little magic? Photo courtesy of the Melissa & Doug Store on Amazon
While this magic set is advertised for kids 8 & up, it's actually the perfect starter set for preschoolers interested in magic. The sturdy wooden pieces will last forever, and the tricks are easy enough for 4 & 5-year-olds, but interesting enough to grow with them.
This flower arranging toy from Green Toys is super fun for preschoolers. It's great for imaginative play and helps develop the pincer grip and fine motor skills! It's like Mr. Potato Head for flowers!
RELATED: Best Toddler Gifts for 2- & 3-Year-Olds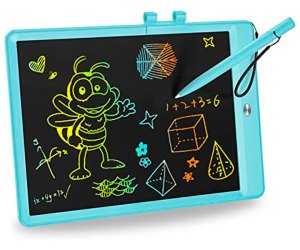 If you're not ready to get them an iPad, start with this. Photo courtesy of the Kolodi Store on Amazon
Best Art and Music Toys for Preschoolers
Preschool-aged kids are obsessed with the KOKODI drawing tablet. Somewhere between an Etch A Sketch and an iPad, this tablet is perfect for little artists. It also helps build hand dexterity and pencil grip, which is great for kids just learning to write. Great for car trips, too.
​
It's never too young to start learning to rock. Photo courtesy of the Tinker Tar Store on Amazon
We absolutely love the TinkerTar musical instruments, and this guitar for 4 & 5-year-olds is no exception. With only one string to worry about, it's the perfect way for young kids to start learning guitar.
If you're looking for a present for an art-loving preschooler, this Crayola art set is a classic gift! With colored pencils, watercolor pencils, markers, watercolor paints, acrylic paints, and more, everything is washable, the box neatly stores all the supplies, and the kit will grow with kids.
This adorable digital camera from Seckton is shockingly affordable and will last for years. It's made with kids in mind, so it's safe and easy to use. As an added bonus, you'll get to see the world through your kid's eyes while looking through their photos.
RELATED: 1000s of Boredom Busters for Kids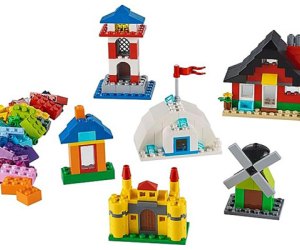 The more Lego, the merrier. Photo courtesy of the Lego Amazon Store
Best Building Toys for Preschoolers
Seriously, every kid needs a set of Legos. The classic starter gift is this 270-Piece Lego Classic Bricks set. But browse the Lego store for Legos that match your child's interests and dexterity. Check out our list of 100+ Fun Things To Do with Legos to keep kids busy for years to come.
Magna-Tiles are honestly a staple in pretty much every Mommy Poppins employee's home. Preschoolers love building structures with them, plus there are tons of creative ways to use Magna-Tiles, like playing matching games or making your own marble runs. For more ideas, we've got 50 Magna-Tiles Games and Building Ideas for Kids that take Magna-Tiles to middle school and beyond.
The Makedo Cardboard Construction set is a hidden gem we love gifting on birthdays and holidays. This totally safe toolset can be used to construct anything you can imagine from cardboard boxes, from cars to cardboard cities. This present totally grows with your kids, making it a toy that will be treasured for years.
RELATED: Easy Indoor Fort Ideas To Make with Kids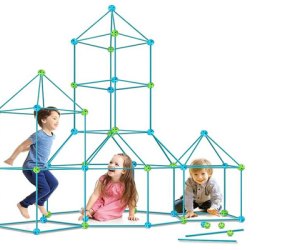 ​
Think big, build big! Photo courtesy of the OBUBY Store on Amazon
If your little one loves building forts, this fort building kit from OBUBY will take things to the next level. This fort building kit can be used to build crazy structures, plus it teaches engineering!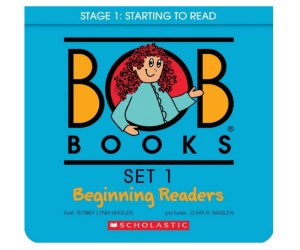 Your big kid is ready to read on their own and Bob books are a great place to start. Photo courtesy of Amazon
Best Books for Preschoolers
Oh! How we all love books. There are loads of fantastic books for preschoolers. For individual book recommendations, check out 100 Kids' Books Every Child Should Read Before They Grow Up. But for gifts for preschool readers (and listeners), these collections make fabulous presents.
Bob Books—Best book they can "read" on their own
If you have the kind of kid who can't wait to start reading, these Bob books are the perfect present. Each set amps up in difficulty, making them a great introduction to reading for early readers.
This collection of classic children's books from HarperCollins never fails to delight. It's a great place to start a collection and includes classics like Goodnight Moon, Caps for Sale, Harold and the Purple Crayon, A Baby Sister for Frances, If You Give a Mouse a Cookie, and many other favorites.
Kids love books that reflect themselves. We've become a bit obsessed with these book bundles; each bundle includes a set of three books that are kid-affirming and reflect all kinds of kids, families, and anxieties. Choose from books about being brave, dealing with grief, neurodivergent differences, black joy, gay pride, and more!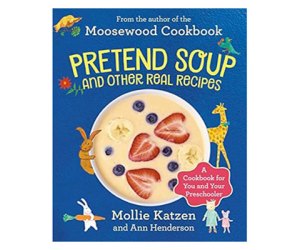 No one teaches kids to cook like Molllie Katzen! Photo courtesy of Amazon
Pretend Soup and Other Real Recipes is such a great present for 4 & 5-year-olds who want to feel independent in the kitchen. This cookbook is specifically designed to allow young children to cook all by themselves.
I Spy—Best book they don't have to read at all
Even kids who can't read yet will love paging through a classic I Spy book. The beautiful photos are full of tiny details to spot, keeping your little one occupied for ages. Plus, the book invites older kids to write their own I Spy riddles, offering a great opportunity for young writers to practice.
From kids just learning numbers up to grandparents, everyone can play Uno. Photo courtesy of Amazon
Best Games for Preschoolers
Kids at this age adore playing games. They can keep playing games long after their parents are exhausted. Classic board games are fantastic; games like Sorry and Uno can be played from ages 3-93! We've also rounded up favorite family board games and brain puzzles for kids of all ages. But for unique games that kids will get obsessed with, these are our top preschool picks.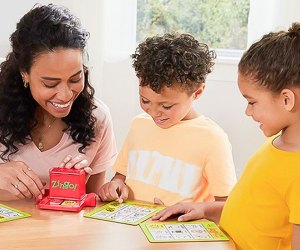 ​
Zingo is really fun for kids who enjoy a little competition. Photo courtesy of the Think Fun Store on Amazon
Zingo—Best competitive board game for preschoolers
If you enjoy a little competitive spirit, Zingo is such a fun game. It's an absolute staple in game libraries for families with younger kids—and it helps teach sight words!
This outdoor scavenger hunt from gofindit can be played solo or with friends! Plus, the open-ended cards are easy to interpret even for kids who aren't reading yet, and the game promotes creative outdoor exploration.

The Fuzzies is like quiet Jenga. Photo courtesy of the Moniker Store on Amazon
The Fuzzies—Best tabletop game for preschoolers
The Fuzzies is one of our favorite newer games to play with 4-5 year olds. It has a similar concept to Jenga, but setup is much faster and easier. Plus, the soft pom poms don't make that classic Jenga racket when they fall, saving your ears during game time.
​
Burn off that energy with a ginat bouncing ball. Photo courtesy of the WALIKI Facebook page
Best Sensory and Exercise Toys for Preschoolers
Not only is this WALIKI bouncing ball toy super fun, it's a great way for your preschooler to burn off some of that seemingly infinite energy. Plus, it doubles as a flexible seating option.
If you're looking for a larger present that will be cherished for years, this Gentle Monster Wobble Balance Board is a great option. It's good for open-ended play and can be used to practice balancing.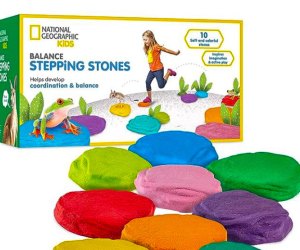 ​
Stepping Stones photo courtesy of the National Geographic Store on Amazon
At-home obstacle courses are not complete without these stepping stones from National Geographic. These toys can be used in all types of creative games, making them perfect for 4 & 5-year-olds.
RELATED: Best Subscription Boxes for Kids
​
Get little chefs learning and playing at a young age. Photo courtesy of KiwiCo
Best STEAM Activity Kits for Preschoolers
KiwiCo offers a ton of great projects and activities for little kids. We are fans of the pasta making and shapes kit, which helps teach basic shapes and can be used over and over to make fun clay creations. We also like the baking and fractions kit for kids ready for the next level.
Green Kids Crafts is one of our absolute favorite subscription boxes for kids. The Junior boxes are designed for 3-5-year-olds and contain age-appropriate STEAM activities. You can gift a single box or a repeating subscription.
This article contains some affiliate links, which means we might earn a small commission if you make a purchase. There is no extra cost to the reader. We only recommend products and services that we have personally used or have thoroughly researched.
Click Here to Sign Up!