15 Brainy Puzzle Games and Jigsaw Puzzles for Kids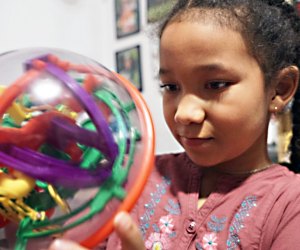 Games that are both fun and make your child think are a win-win for everyone. From infants and toddlers to tweens and teens (and even adults) puzzle games and jigsaw puzzles are awesome ways to keep kids happily occupied, get their brains working, and keep their eyes away from TV and computer screens.
With the pandemic and the colder weather keeping many families playing indoors, we thought it was the perfect time to round up some of the best brain teasers and puzzles for kids. We've included some of the latest and most popular puzzle games, but we didn't forget the tried and true.
Need more creative ideas to keep your brood entertained indoors? Check out our Boredom Busters and At-Home guides, not to mention our roundup of the best-ever board games.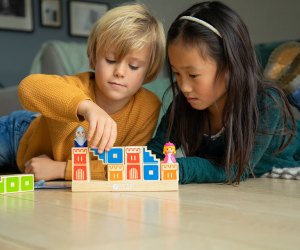 Camelot Jr. is a logic puzzle and a 3D game, and it's good for hours and hours of fun.
Ages 4-9; 1 or more players
Kids assemble wooden towers and stairs to create different paths (there are 48) so the princess and knight can meet. Figures can only walk up stairways or on top of walls—no jumping allowed!
Ages 3-8; 1 or more players
A load of packages need to be loaded into three trucks. Will they all fit? While the younger set will enjoy filling the trucks and pushing them around, older kids can tackle a slew of challenges that start out easy and become more difficult as they go on.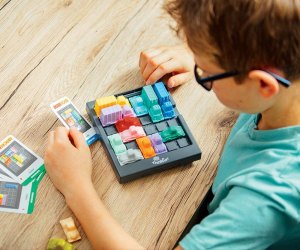 Rush Hour is a game (unlike say, Candy Land) that adults won't mind playing over and over.
Ages 5+ and Ages 8+; 1 player
Cars and trucks must be moved around to clear traffic jams. Both versions have 40 brain teaser challenges that range from easy to more difficult. This is a small game, so it's great to take along on trips. It's fun for adults, too!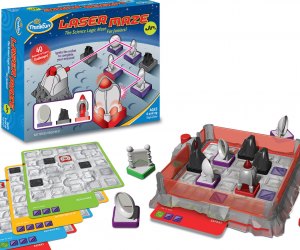 When kids get tired of Zoom classes, break out Laser Maze for some educational fun.
Ages 5+ and Ages 8+; 1 player
This maze game features laser beams, satellites, lasers, and space rocks. Kids get to use their STEM skills to complete 40-60 space age missions that range in difficulty.
Ages 5+; 1 player
Inside of this clear ball is 22 feet of track containing 100 barriers; by flipping, twisting and turning it, kids can make their way to the finish line. It's a challenging 3D maze that promises fun for the whole family.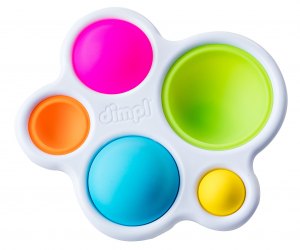 Dimpl is a toy that parents just might find themselves absently playing with, after kids go to bed. It's very soothing!
Ages 10 months-3 years…and older; 1 player
This brightly colored sensory toy is sure to catch the eyes of little ones as they push and pop five different-sized colorful silicone bubbles. Word on the street is that older kids and adults like it, too!
Ages 3+; 1 player
Around since the 1970s, this classic brain teaser is still going strong. The original challenging puzzle cube you probably remember is still here, but there are many other versions out there that the whole family can enjoy.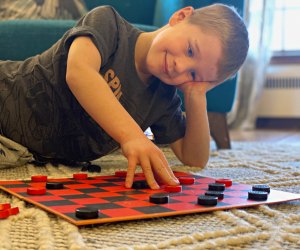 Good old-fashioned games, like checkers and Mancala, never go out of style. Photo by Rose Gordon Sala
Ages 6+; 2 players
The object of this ancient board game is simple: collect the most pieces by the end of the game. But it also requires strategy and helps little ones with counting and thinking skills.
Ages 3+; 2 or more players
There are 155 pieces of colorful wooden blocks in a variety of shapes and sizes in each set. Kids can create shapes, animals, words, numbers, and whatever else they can imagine. The blocks can be used free-form, or to solve the included puzzle problems.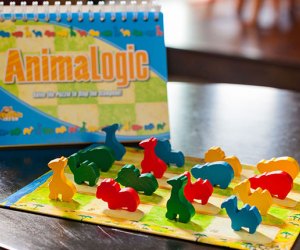 AnimaLogic is kind of like Settlers of Catan for preschoolers, and sets kids up to love strategy board games for life.
Ages 5+; 1-2 players
Kids help lions, hippos, and more cross the river to safety, one at a time. It involves sequence solving, matching, and color and object recognition. There are 60 puzzles with five levels of increasing difficulty.
Ages 18 month+; 1 or more players
This wooden puzzle includes one puzzle board and nine bold and brightly colored geometric-shaped pieces. The puzzle promotes shape recognition, motor skills, and creative thinking, just to name a few critical skills.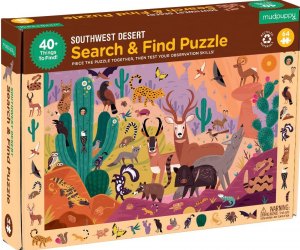 All hail the peanut butter cup of games: two great things that are even better together!
Ages 4+; 1 or more players
You have two games in one with this puzzle by Mudpuppy. After kids put together the 64-piece puzzle that features dozens of animals, they can begin searching the border for the more than 40 animals, insects, and plant life hiding there.
Ages 5-8; 1 or more players
Melissa & Doug puzzles and games have been entertaining kids for years. This giant, sturdy 48-piece cardboard puzzle depicts a colorful scene of a construction site and its many vehicles. The finished puzzle measures 2' x 3'.
The Puzzles of Color puzzles are a delight for the whole family.
All ages; 1 or more players
Recently founded by a brother and sister, Puzzles of Color features beautiful jigsaw puzzles for kids and adults, all created by artists of color. There's also a book and puzzle bundle set for kids ages 4-8.
All ages; 2 or more players
We're including these old favorites because (1) they are still well-loved; (2) the whole family can play and; (3) chances are you already own at least one of them. Chess has recently enjoyed a burst of popularity due to the Netflix series The Queen's Gambit. Checkers is probably easier for younger kids to master and backgammon is one of the oldest games around. All require concentration and are the ultimate brain teasers!
This article contains some affiliate links, which means we might earn a small commission if you make a purchase. There is no extra cost to the reader. We only recommend products and services that we have personally used or have thoroughly researched.
Photos courtesy of the manufacturers, unless otherwise noted