30 Days of Indoor Activities for Kids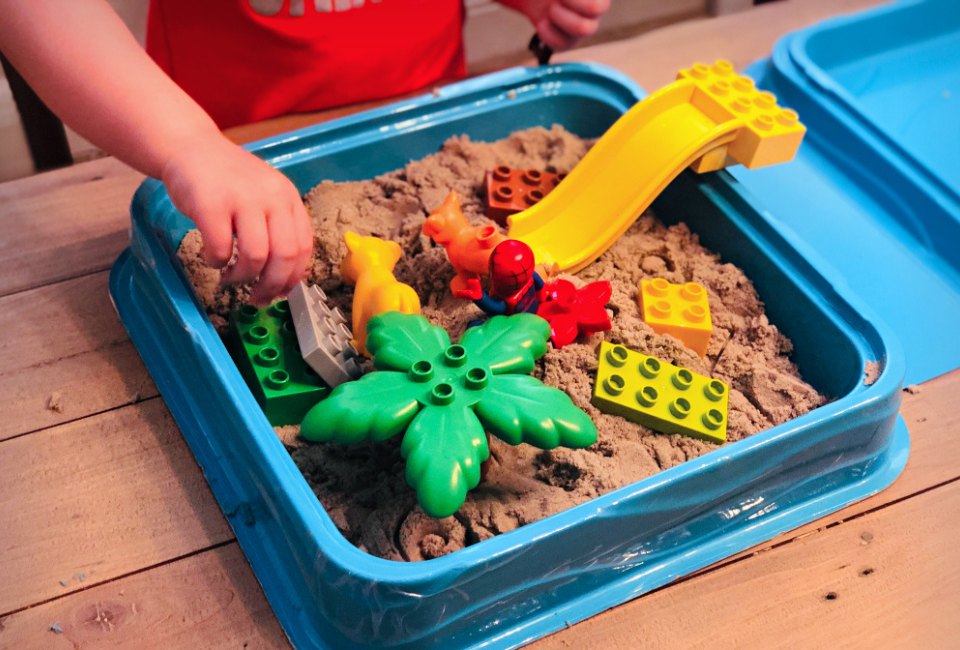 1/3/21
- By
Ally Noel
Discover 30 days of indoor activities to get your family through an entire month of at-home play with kids of all ages. Tuck it away for a rainy or blustery day, or break it out now if facing another round of stay-home orders. Find more indoor activities in our Stay-at-Home Activities Guide.
From fairy gardens to mug cakes—and everything in-between—our curated list of top indoor activities offers scientific experimentation, creative challenges, virtual fun, and kitchen explorations and recipes with plenty of inspiration to keep the doldrums at bay.
Indoor Activities for Every Day of the Month
Day 1: Create a fairy garden.
Bring the outdoors inside by building a magical fairy garden.
Day 2: Write a song.
Learn how to write a song by joining a Country Music Hall of Fame educator in this introductory workshop.

Turn holiday cards into bookmarks for a fun indoor activity with kids.
Day 3: Make bookmarks for all the readers in your life.
Upcycle all those old holiday cards into a fun craft project by creating these bookmarks and encouraging reading along the way.
Day 4: Bake granola bars.
Kick the new year off right by making homemade granola bars for a healthy snack.
Day 5: DIY a pair of binoculars.
Craft binoculars for an indoor stuffed animal safari around your home.
Day 6. Button rings for new year bling
Add a little DIY bling to your wardrobe with a button ring.
Day 7: Family TikTok time
The family that TikToks together... Try a TikTok dance as a family; you might have more fun than expected.
Day 8: Bake hot chocolate bombs.
Jump on the hot chocolate bomb trend by making your own in five easy steps, among our favorite indoor activities of the last year.

Make a lava lamp at home with our tutorial.
Day 9: Lava lamp magic
This groovy project is a little bit science and a whole lot of fun. Build a lava lamp by following these easy steps.
Day 10: Color together.
Unleash big rolls of butcher paper to draw a collaborative art project, or download free sheets of coloring pages for a mega afternoon of coloring together.
Day 11: Give in on slime.
Kids adore slime, so try one of these simple slime recipes to keep the mess to a minimum.
Day 12: Recycle socks for crafts.
You don't need a magic hat to make an old sock come to life as a sock snowman. Or, give them a pile of old socks and let the kids make their own sock puppets and even perform a show later on for the ultimate indoor activity.
Day 13: Whip up sensory dough.
Add a wintry scent like peppermint or pine to this sensory dough recipe.
Day 14: Indoor game bonanza
Play a game of indoor tennis with a couple of paper plates, popsicle sticks, and a balloon. Or try these exercise games designed for kids.

Homemade mug cakes are just right for a day indoors.
Day 15: Mmmmm...mug cake!
These three no-fail mug cake recipes are the perfect treat for surviving indoor time.
Day 16: Build a sensory bin .
Sensory bins are a nice way to redirect all that crazy toddler and preschooler energy into something totally fun and (mostly) contained.
Day 17. Go on an indoor scavenger hunt.
Print out one of our free scavenger hunts to go on an indoor adventure.
Day 18: Try paper crafts.
A little glue, some colorful paint, and a few googly eyes can transform plain paper into almost anything.
Day 19: Oobleck isn't so bad!
Make a batch of ooey, gooey science fun by whipping up some oobleck.
Day 20: Tie-dye options
Use ice or even snow to create some beautiful tie-dye patterns.
Day 21: Make silly putty
Soap silly putty is not only fun to make, but it's also fun to play with and squish and roll around in your hands.

The simplest indoor forts come together in minutes with a few blankets and chairs.
Day 22: Build indoor forts.
Spend the day snuggled up in one of these awesome forts, playing all sorts of make-believe games. Throw a few blankets over the dining table, or between chairs, and you're good to go.
Day 23: Stir up rainbow milk.
Brighten your day by making some rainbow milk.
Day 24: Invisible ink for sneaky spies
S.O.S! Send help! Use milk or lemon juice to send invisible messages to your friends and family.
Day 25: Master a sugar castle.
Being king and queen is a sweet gig, but you can make it even sweeter by building a castle out of sugar cubes.
Day 26: DIY a musical instrument.
Add a little whistle to your Tuesday by making a straw whistle.
Day 27: Let 'em online for gametime
Go online to play these games with friends, from Pictionary to Battleship.
Day 28: Whimsy is a snow globe
Shake up a little winter magic no matter your location by transforming a glass jar into a snow globe.
Day 29: Lego offers endless craft options.
Pick some of these Lego challenges for hours of open-ended play, from word games and crafts to sensory play.
Day 30: Sprint, roll, climb at home!
Don't let cabin fever get the best of you; get moving by building an indoor obstacle course.
Try our Snow Day Boredom Busters or Rainy Day Boredom Busters for hundreds more indoor activities for kids.
All photos by Mommy Poppins staff