The Adventures of Tortoise & Hare The Next Generation
The Sheen Center

The Very Hungry Caterpillar Show
DR2 Theatre

NYC Easter Brunch Cruise 2023
Event Cruises NYC
Sign up for our free newsletters.
Indoor Activity: Recycle Cards Into Bookmarks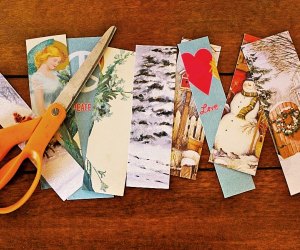 1/11/21
- By
Ally Noel
Receiving those annual holiday cards from friends and family is so much fun, but at the end of the season, many of us are at a loss with what to do with this year's collection. If you don't want to toss 'em, try this easy craft with kids: upcycle old holiday cards into bookmarks.
This post-holiday craft is a great way to kick off the new year with no-cost indoor fun with the kids. It's also one of our 30 top indoor boredom busters for this month.
The warm greetings from the holiday cards will keep everyone cozy through a long winter curled up with favorite books. Bonus: These make a lovely gift and even encourage reading in our kids.
Materials Needed for Bookmark Craft
Old greeting cards
Scissors
Hole punch
Ribbon
1. Cut the greeting card into strips about an inch and a half wide.
2. Punch a hole near one end.
3. Thread the ribbon through the hole to create a tassel.
Find more fun things to do in Boredom Busters Activities Guide.
All photos by the author. ​This was first published in 2015