The Adventures of Tortoise & Hare The Next Generation
The Sheen Center

The Very Hungry Caterpillar Show
DR2 Theatre

NYC Easter Brunch Cruise 2023
Event Cruises NYC
Sign up for our free newsletters.
The Least Messy Tie-Dye Project You'll Ever Do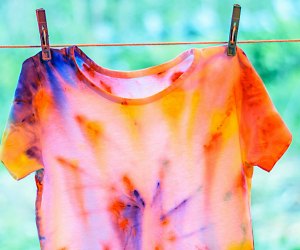 7/30/20
- By
Ally Noel
Has your kid been begging to tie-dye all summer? I know, I know: It's one of those messy projects on par with homemade slime. But, I've got a secret trick for how to tie-dye shirts, and all sorts of items, in a pretty mess-free way.
It's called ice tie-dye, and I have to say, tie-dye items always seem to bring that cool kid chic (what's old is new again, right?), but ice tie-dye brings cool to a whole new level. As the ice melts with the dye, it creates a unique watercolor effect. Also, the dye melts into a container, containing the mess and making it easy to toss. Read on for a fun new trick on how to tie-dye with the kids and create your own wearable works of art.

It's a lot less messy than it looks!
Materials for Tie-Dye Shirts and More
Dye (powdered or liquid)
(I typically purchase Rit Dye Powder or Tulip One-Step dye kits, often one color at a time.)
White clothing (socks, pillowcases, t-shirts, shorts, etc...) 100% cotton works the best
Ice
Cooling Rack
Plastic Bin
Latex gloves (It isn't completely mess-free!)
RELATED: 100 Awesome Crafts for Kids

Load up liquid dye in bottles, or you can just sprinkle on powder dye.
Step 1
Soak your white clothing in water for about 20 minutes. Ring out the excess water.

Gather up t-shirts and other white clothing items for tie-dyeing.
Step 2
Set the cooling rack inside the plastic bin and arrange your piece of clothing on top. You can scrunch it up a bit to create unique patterns.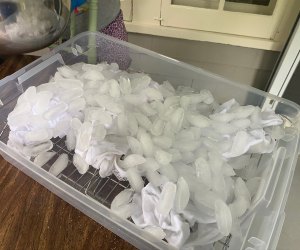 Step 3
Cover the entire garment with ice.

The ice helps create a cool tie-dye pattern.
Step 4
With gloves on, either sprinkle the powder dye or squirt the liquid dye on top of the ice.

Scrunch the items up, and it adds dimension to your tie-dye pattern.
Step 5
Let the ice melt completely. Depending on how hot it is, this can take a while.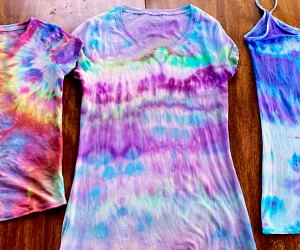 Beautiful, wearable works of art!
Step 6
Let your garment dry, then open it up to reveal the unique pattern.
Step 7
Wash the garment according to tie-dye packet instructions, and there you go: that's how to tie-dye a shirt in just a few easy steps!
This article contains some affiliate links, which means we might earn a small commission if you make a purchase. There is no extra cost to the reader. We only recommend products and services that we have personally used or have thoroughly researched.