100+ Fun Things To Do with Legos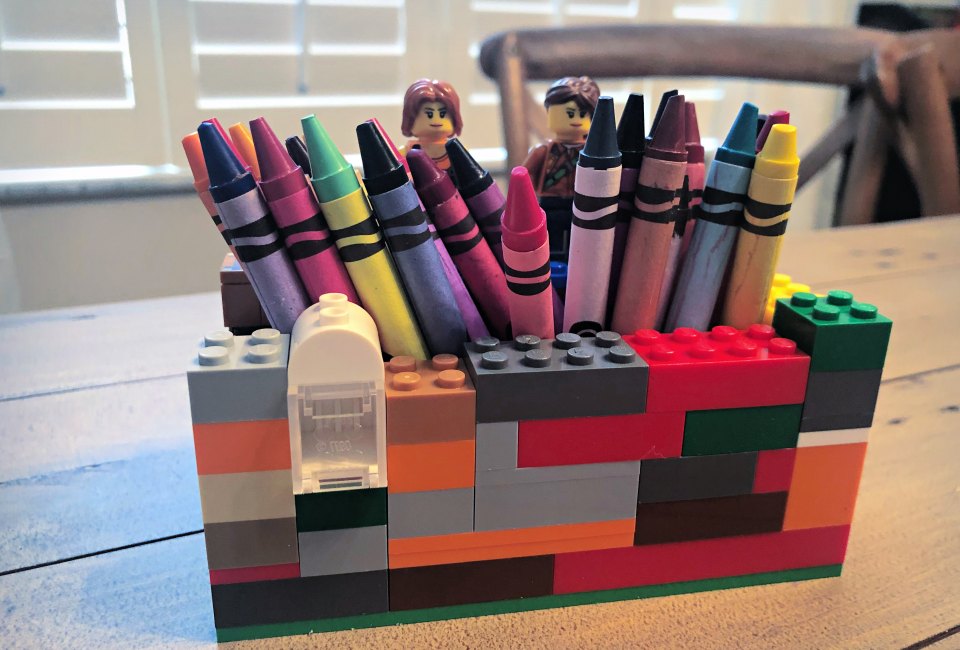 6/7/20
- By
Charlotte B
Legos are one of those toys that span ages and gender, offering hours of hands-on, creative building for kids and adults. There are dinosaurs, princesses, and plenty of other fun themed Lego sets. But if your kid keeps passing over the pile of Lego toys you've painfully collected to reach for the video game controller or tablet, we've come up with the ultimate resource of over 100 Lego ideas that are anything but boring. The best part is that you don't need a huge collection of Lego bricks for most of these activities; just bring your imagination.
And while planning your next vacation, consider a trip to Legoland Florida, which recently reopened, with your little Lego fanatic. Find more indoor activities for kids in our Boredom Busters Guide.
There are many benefits of Lego play, including building fine motor skills, providing learning opportunities, teaching problem solving, organization, teamwork and so much more. Whether you're looking for hands-on activities to keep your toddler entertained, STEM activities for older kids to enjoy, or Lego water activities for summer fun, we've got you covered.

A Duplo set plus kinetic sand is made for tots!
Lego Activities for Toddlers & Preschoolers
1. Practice color sorting by feeding these paper bag Lego monsters.
2. Craft a Lego Duplo picture puzzle using your child's school picture, a photo of your pet, family photo, or a printout of their favorite character.
3. Teach patterns with Lego Duplos using these pattern card printables.
4. Combine Lego bricks with kinetic sand for fun sensory play!
5. Mix Lego bricks and Jello for some fun sensory play for the little ones!
6. Get kids moving with this Lego count and move game.
7. Make this Lego Duplo ring toss game for a rainy afternoon activity.
8. Practice fine motor skills by using eyedroppers and water to fill the small holes on top of the Lego Duplo bricks.
9. This Lego Duplo mini golf activity is perfect for keeping little ones entertained on a rainy day.
RELATED: A Guide to Fun Science Experiences for Kids

Make Lego boats for splashy play.
Lego Water Play
10. Keep the kids cool this summer with this ice excavation Lego activity.
11. Construct your own Lego boat and see how many pennies it will hold before it sinks.
12. Set up your Duplo figurines or other Lego creations outside, then try to knock them over with water guns.
13. Build and test Lego water dams with this simple STEM activity.
14. This simple Lego water sensory bin is perfect for outdoor summer fun.
15. Bring your bricks in the bathtub for some fun water play.
16. Surprise the kids at bath time with these Lego bath bombs!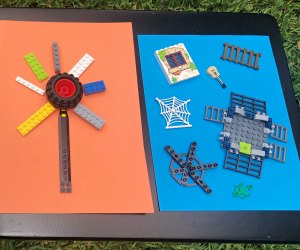 Lego Sun Prints are the perfect craft for a summer day.
Lego Crafts
17. Make a paper bag puppet of Emmet from the Lego Movie.
18. Craft capes for your minifigures out of duct tape.
19. Create a Lego Star Wars clock with interchangeable minifigures.
20. Fashion dresses for your Lego Friends using this template.
21. Make toilet paper roll Lego Ninjago characters.
22. Design a masterpiece using Lego bricks and stamp pads.
23. Create a Lego sun catcher.
24. Shape one-of-a-kind heads for your minifigures using oven bake clay.
25. Build a Lego head out of popsicle sticks.
26. Recycle old Play-Doh containers into Lego storage containers.
27. Craft a Lego calm down jar for kids who need a little quiet time.
28. Make Lego sun prints on a sunny day.
29. Assemble a colorful Lego friendship bracelet to gift a friend.
30. Make a DIY snow globe using Legos and a recycled jar.
31. Transform empty food containers into DIY Lego storage.
32. Switch out your favorite Lego minifigures on this DIY interchangeable hairclip.
RELATED: Toys That Entertain Kids for Hours

Lego volcano
Lego STEM Activities
33. Build a Lego balance scale and use it to compare various items around the house.
34. Teach fractions using Lego bricks and flashcards.
35. Use Lego bricks to solve these geometry riddles.
36. Kids will be amazed by this Lego volcano science activity.
37. Build and race Lego wind racers.
38. Design your own Lego creation on graph paper then reconstruct it using Lego bricks.
39. Build a Lego maze and then solve it using coding language.
40. Little architects can build a treehouse out of Lego bricks.
41. Help kids learn addition and subtraction with this Lego Duplo number line.
42. Construct a bridge using your Lego bricks, then send some of your minifigures across to test its durability.
43. Build a catapult using basic Lego bricks for some STEM-related fun.
44. Assemble a moving Lego platform to teach kids about inertia.
45. Construct ramps and slides out of Lego bricks and cardboard, then race your Lego vehicles to test which work best.
46. Build the model house you've always dreamed of with a pool and all.
47. Use Lego molds to create a fun fizzing science experiment.
48. Design and race Lego balloon cars.
49. Create a birdhouse out of Lego bricks.
50. Build an adventure park for your minifigures complete with a Lego zip line.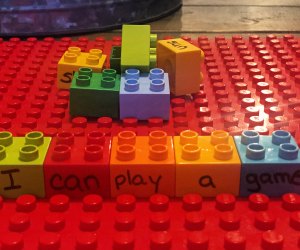 Sight words on Duplo? Yep, homeschool complete for the day.
Reading & Writing Using Lego Bricks
51. Use your Lego creations as creative writing practice.
52. Practice building sentences with Lego Duplo bricks.
53. Encourage nightly reading with this Lego-inspired reading tracker.
54. Build your name out of Lego bricks.
55. Make your own Alphabet Lego set out of Duplo blocks and use it to practice letter recognition and sequencing.
56. Use Lego bricks to create a secret code.
57. Construct a scene from your favorite book using your Lego collection.
58. Practice ABC's with these printable Lego Duplo Alphabet mats.
59. Combine Duplo bricks and stickers to create a rhyming match game.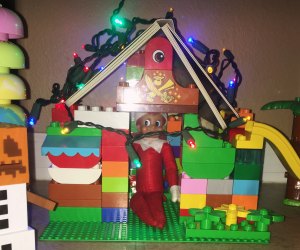 Come Christmas, Lego toys can even shelter a naughty Elf on a Shelf.
Lego Gifts & Holiday Ideas
60. Make Dad a Lego keepsake filled with memories "built" with him!
61. Make Mom a DIY Lego vase and add a beautiful bouquet.
62. Gift your Lego fanatic with a Lego I Spy book.
63. Decorate the Christmas tree with DIY Lego ornaments.
64. Gifting a new Lego set? Make Lego stamped gift wrap to wrap it!
65. Here's a new twist on the classic gingerbread house: make one out of Lego bricks and playdough!
66. Let your Elf on the Shelf get in on the Lego fun! Our elf built a house complete with Christmas lights out of Duplo bricks.
67. Keep the kids entertained over the holiday season with this printable Lego Advent calendar.
68. Instead of carving pumpkins for Halloween this year, build Lego pumpkin lanterns instead.
69. Design and build your own Lego Easter eggs.
70. Grab a flat photo frame and glue Lego toys around it for a personalized touch. Add a photo to make a unique gift for a loved one.
Decorating with Lego Bricks
71. Build a colorful Lego crayon caddy.
72. Add Lego bricks to the soap or hand sanitizer dispenser (great for a Lego birthday party or Lego themed bathroom).
73. This DIY Lego house night light is perfect to decorate a kid's room.
74. Create one a kind bookends using your collection of Lego toys.
75. Decorate the fridge with these Lego magnets.
76. Wow the kids with their own Lego wall in their bedroom or playroom.
|
A Lego card holder keeps your hand hidden.
Other Fun Lego Activities
77. Construct famous landmarks from around the world using these Lego challenge cards.
78. Plan a full month of Lego challenges with this 30 Days of Lego Play calendar.
79. Make a Lego tic-tac-toe game (great idea to keep in the diaper bag to keep younger kids entertained while out and about).
80. Build a Lego Hexbug maze.
81. Fortnite fans will love this DIY Lego Fortnite Medkit.
82. Design your own fidget spinner out of Lego bricks.
83. Make a fairy garden to take your Lego minifigures outdoors for an adventure.
84. Talk about emotions with kids using their favorite minifigures' facial expressions. They can even draw their emotions on Lego faces using this template.
85. Create a self-portrait using a Lego baseplate and bricks.
86. This Lego air hockey table or this Lego foosball table would make a great addition to a game room.
87. Combine your child's love for Lego and Nerf with a spinning Lego Nerf target.
88. Assemble a Lego card holder for a game of Uno or Go Fish.
89. Pretend you're at Hogwarts with these Harry Potter Lego challenge cards.
90. Jam out to your favorite songs with this DIY Lego phone speaker.
91. Amaze family and friends with these Lego Duplo magic tricks.
92. Perform a shadow play using this DIY Duplo shadow theater.
93. Construct your own Lego Duplo bowling pins.
94. Enjoy a screen-free road trip with this DIY travel Lego kit.
95. Watch your favorite Lego-themed movie and try to rebuild a scene.
96. Do you have a collection of extra tiny pieces leftover from Lego sets? I know our house does! Use them to build mini Lego robots.
97. Recycle old pool noodles while creating a Lego Duplo marble run.
98. Photograph your favorite minifigure taking on adventures around the house.
99. Build a Lego island, then pick one of these disaster cards (or make up your own) and fix the problem presented on the card.
100. Make a Lego town using a giant cardboard box.
101. Take the kids on a Lego scavenger hunt to find minifigures.
102. Try building with a blindfold on for 5 minutes to see what creations you come up with.
Photos by the author except where noted
Click Here to Sign Up!
i