The Very Hungry Caterpillar Show
DR2 Theatre

NYC Easter Brunch Cruise 2023
Event Cruises NYC

Easter Fun Cruise with Egg Hunt 2023
Event Cruises NYC
Sign up for our free newsletters.
Make a Lava Lamp with Kids for a Groovy Boredom Buster
4/16/20
- By
Rosalind Muggeridge
A simple science experiment can be the best way to fill an afternoon at home. And as some of us may recall, a lava lamp can be a great way to fill an evening.
For this groovy experiment, kids get to recreate their parents' lava lamp while learning about liquid density. One of our Easy Experiments for Kids Using Household Stuff, this experiment is fun for all ages and is easy to pull together with things you probably have around the house.
Read on to learn how to prove that oil and water really don't mix!
You will need:
A wide bottle (or a fancy drinking glass or wide glass vase), food coloring, vegetable oil, water, and an Alka-seltzer tablet.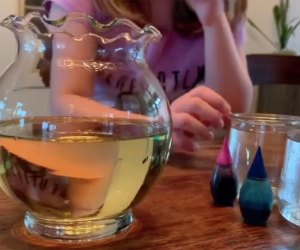 Step 1: The Oil
Fill the container about 3/4 with vegetable oil. You can choose the size of the container based on how much vegetable oil you have to spare.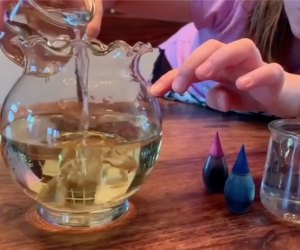 Step 2: The Water
Fill the rest of the container with water, leaving 2-3 inches at the top. Watch the water fall through the vegetable oil and settle at the bottom. Can you believe that water is more dense than oil? Water molecules are "polar" and oil molecules are "non-polar", so they are not attracted to each other in the least.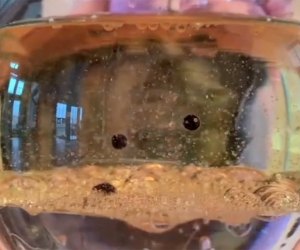 Step 3: The Color
What color would you like the "lava" in your lava lamp to be? After the water has settled for a minute or so, add you food coloring. We added about 10 drops. Watch as each drop falls through the oil and sits on top of the water layer. Wait until all of the water droplets break through the oil/water line and burst into the water.
Step 4: The Bubbles
Drop your Alka-seltzer tablet in and let the games begin! The Alka-seltzer water reaction produces carbon dioxide gas bubbles which stick to the water droplets. The water/gas combo is less dense than the vegetable oil, so they rise to the top. The gas bubbles then break and are released into the air and the water sinks back down to the bottom to start over again!