24 Best Classic Board Games for Family Game Night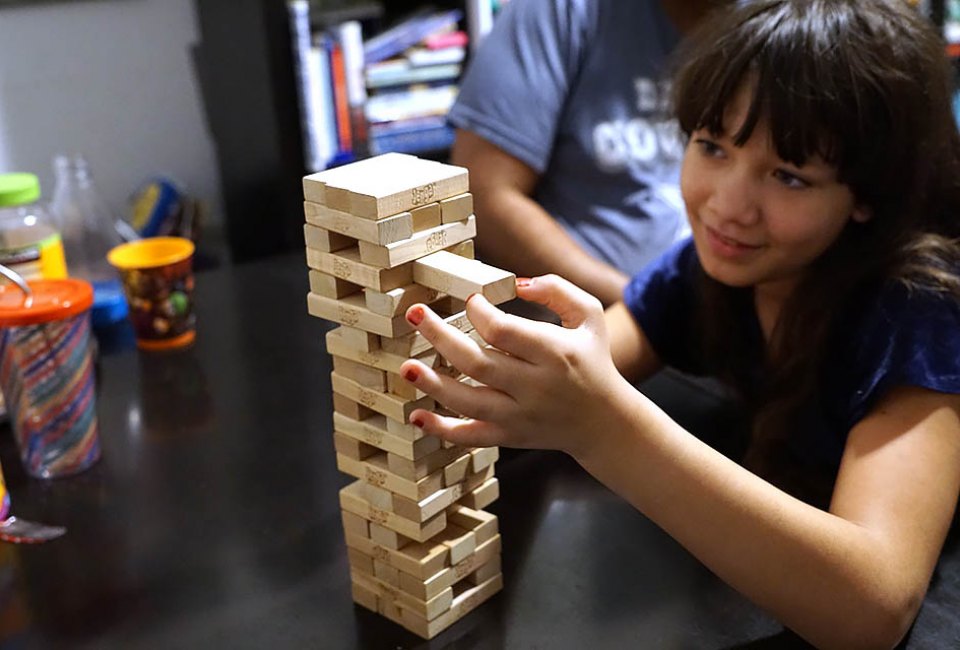 3/31/20
- By
Drew Kristofik
Why not go old-school for family night this week and gather around the table to play one of these classic family-friendly board games? Board games have a lot to offer: They inspire competition. They can build spelling skills (Scrabble and Boggle), math skills (Monopoly and Hi-Ho! Cherry-O), and some are just plain fun (Sorry!). Here, we've rounded up a pile of options for every age group. More good news: None of these 24 board games break the bank, and you might even have some of these board games in the back of your closet, gathering dust.
Need more options for screen-free family time? We've got tons of resources and activities in our Games and Activities Guide for Family Fun.
Best Board Games for Preschoolers
1. Candy Land
Ages 3-6; 2-4 players
This game has stood the test of time: Candy Land made its debut in 1949, and kids continue to play it (and parents continue to indulge them because parenting requires some sacrifice). No reading is required, and it's a great intro to gameplay for preschoolers.
RELATED: Best Podcasts for Kids Staying In: Funny, Smart, and Scientific Podcasts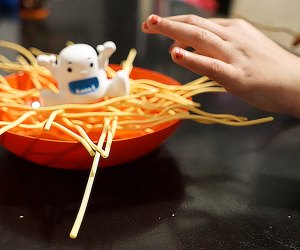 No one knows why, but a yeti is sitting on the spaghetti. Don't be the one to let the Yeti fall!
2. Yeti in My Spaghetti
Ages 4+; 2 or more players
The name says it all: Fill the bowl with the plastic spaghetti and place the not-so-intimidating yeti atop it, then try to wriggle the twisty noodles out of the bowl one-by-one without sending the character cascading into the imaginary marinara.
3. Chutes and Ladders
Ages 3-6; 2-4 players
A childhood classic, this simple board game doesn't require any reading skills, but kids will learn to count and do good deeds! If you land on the square that shows you ate too much candy—Ouch!—you get a tummyache and slide down a chute to a square a few numbers below. But if you end your turn on a good-deed square, such as helping sweep up a mess, you'll be rewarded by a ladder-climb up the board.
4. Dr. Seuss – The Cat in the Hat I Can Do That! Game
Ages 4-8; 2-4 players
To begin the game, the first player draws a card from each of the three color-coded decks. Card 1 could read "Take Four Giant Steps," Card 2 "With the Cake," and Card 3 "On your head!" If the player wants to take the challenge, they say, "I can do that!" and proceed. If they succeed, they keep the card in their scoring pile. If a player doesn't think they can do the activity, they can re-draw until they get an activity they can accomplish. But watch out: If a player draws a "Stop!" card, they must give up all their cards and end their turn. Each card has one, two, or three stars on it for scorekeeping purposes. The player with the most stars wins the game.
RELATED: 20+ (Mostly FREE) Online Learning Resources, Apps, and Games for Kids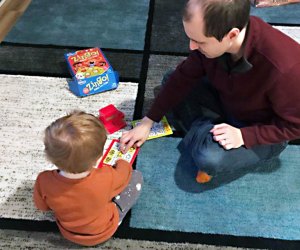 In Zingo, be the first to call out the tiles that match the images on your card. The first player to fill his or her card wins! Photo by the author
5. Zingo
Ages 4-8; 2-7 players
This award-winning matching game encourages pre-readers and early readers alike to match the pictures and words to their challenge cards. The Zingo! Zinger dispenses tiles, and players race to be the first player with a full card and yell, "ZINGO!"
6. Eye Found It
Ages 4+; 1-6 players
This six-foot-long board game is one giant collaborative I-spy adventure. Kids search for their favorite Disney characters or other Disney relics; there are more than 1,000 things to find. Work with your fellow players, and against the clock. The more you spy, the further into the Disney-themed world you get.
7. Hi Ho! Cherry-O
Ages 3-5; 2-3 players
Build math skills subliminally by letting little ones count fruit to place in their baskets (or back in the tree).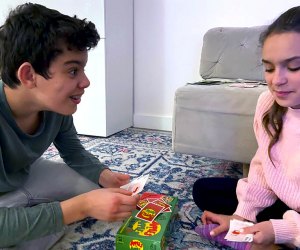 Siblings go head to head in the hilarious game Apples to Apples Junior. Photo by Sara Marentette
Best Board Games for Kids Ages 6-10
8. Apples to Apples Junior
Ages 9+; 4-8 players
This game of crazy comparisons lets players be the judge. Each turn, the judge rotates and draws a card from the green pile; other players choose a card they think fits the theme, and the judge picks the winner—sometimes it's serious; others silly, but it's always entertaining. Collect more green cards than your competitors to win.
9. Battleship
Ages 7+; 2 players
This classic naval combat game lets players position their fleet in an ocean and then try to guess their opponent's quadrant by calling out a radar position. Be the first one to sink the entire fleet, and you win.
10. Blokus
Ages 5+; 2-5 players
An excellent strategy game for the whole family, Blokus takes less than a minute to learn and offers fun challenges, no matter the players' ages. There's only one rule: Each piece you play must touch another of the same color at the corners.
RELATED: 40 Jokes for Kids That Will Keep the Whole Family in Giggles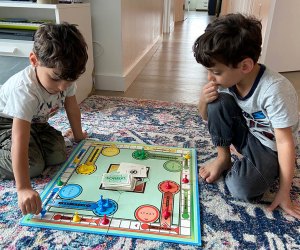 Who doesn't love to yell Sorry! in this game that is a winner across ages. Photo by Sara Marentette
11. Sorry!
Ages 6+; 2-4 Players
This game spans age groups—younger kids, tweens, and teens all get sucked in! The goal is to "get home," but players can send each other's pawns back to the starting line, thus forcing one another to lose ground and begin all over again. Revenge is part of the fun, which can be a little difficult for younger kids to appreciate until they have a chance to exact it themselves.
12. Guess Who
Ages 6-10, 2 players
This is a family favorite for us, particularly my daughter, who conquered it at age 4 (so don't feel obliged to always go by age recommendations). Like 20 questions, Player 1 and Player 2 ask each other yes or no questions about the opponent's mystery person, and by the art of deduction, eventually make the identification and win.
RELATED: Cheap Outdoor Toys and Outdoor Games for Kids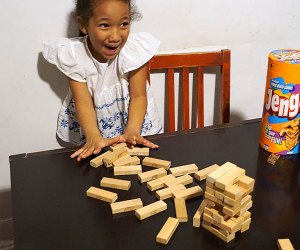 And the tower falls!
13. JENGA
Ages 6+; 2+ players
This classic building block game tests the laws of gravity as players attempt to remove one block at a time without knocking over the entire tower. If you've got outdoor space, consider investing in the larger-than-life Jenga Giant version for some supersized fun.
14. Mancala
Ages 6+; 2 players
This is a lovely game that can absorb young gamers for hours. It not only requires strategy, but it's also one of those sneaky STEM-building games that teach little ones to count and think ahead without realizing they're learning essential skills.
15. Hyper Dash Extreme
Ages 6-12; 1-6 players
Brains and reflexes get a workout in this fast-paced game, in which kids trap targets based on the commands the main game unit issues. The catch: Each time you grab a target, another falls out. The goal is to move through each of the four challenges as quickly as possible to beat your competitors' time or your own.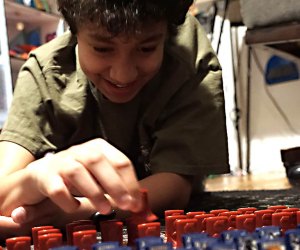 Two armies clash…who will be victorious in Stratego?
16. Stratego
Ages 8+; 2 players
This game moves capture the flag indoors and ups the strategy factor. Plot your attack and work your way across the board to net the coveted prize before your opponent foils your plans.
17. Wheel of Fortune
Ages 8+; 2-4 players
The fourth edition of the classic TV show-inspired game features 100 brand new puzzles, as well as the iconic puzzle board and wheel. Spin the wheel, buy a vowel, and start solving!
18. Wordsearch
Ages 7+; 1-4 players
Rotate the specially-designed circular board to reveal the word players must race to find. The first player to find the word marks it with transparent-colored tiles. Twists and turns allow you to remove tiles placed by competitors, leveling the playing field for kids and adults. The player with the most colored tiles on the board after a card is completed wins.
Best Board Games for Tweens & Teens
19. Boggle
Ages 8+; 1-6 players
Another family favorite, this game has the advantage of being something one child can do on his or her own—racing against the hour-glass timer to achieve some personal bests. Family gameplay with older kids is competitive and fun. We find younger kids feel a bit frustrated if they're not as quick to find words, but if you have a younger whiz kid, you could try limiting word-finding to words with three or four letters to level the playing field.
20. Monopoly
Ages 8+; 2-6 players
There are almost as many versions of Monopoly now as there are stars in the sky—you can find games based on Star Wars, Frozen, Toy Story, Fortnite, the national parks, and many more. It's still the granddaddy of family board games and serves as a great way to spend an hour or an afternoon.
21. Rummikub
Ages 8+; 2-4 players
Rummikub is easy to learn and fast-moving, and it has the added advantage of being different every time it's played. It combines luck and strategy, and it changes quickly, so every player has a chance to win until the very end.

Players try to correctly guess Who, What, and Where in the murder mystery game Clue. Photo by Sara Marentette
22. Clue
Ages 8+; 2-6 players
Updated for the current century (Dr. Orchid replaces Mrs. White), Clue is still a fun whodunnit game that rewards deductive reasoning.
23. Risk
Ages 10+; 2-5 players
In the game of Risk, the goal is simple: players aim to conquer their enemies' territories by building an army, moving their troops in, and engaging in battle. Depending on the roll of the dice, a player will either defeat the enemy or be defeated.
24. Scrabble
Ages 8+; 2-4 players
Another classic, this one is banned in our house now, because things got so heated the last time we played. Keep a dictionary (or, you know, your smartphone) handy. One variation we tried allowed players to make up words, but they had to provide a reasonable definition to go along with the word, and it had to be accepted by all players.
This article contains some affiliate links, which means we might earn a small commission if you make a purchase. There is no extra cost to the reader. We only recommend products and services that we have personally used or have thoroughly researched.
Unless noted, photos by Jody Mercier
Click Here to Sign Up!