The Very Best of 2021 for Kids and Families: The Books, Movies, Shows, and More Our Kids Adored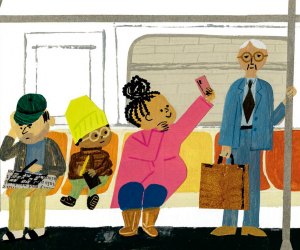 12/30/21
- By
Ally Noel
Believe it or not, 2021 wasn't all pandemic and social distancing. As a testament to the human spirit, there was a ton to celebrate and embrace. From simple pleasures like enjoying nature and a movie night on the couch, to larger adventures such as taking in a Broadway show or heading to an amusement park, 2021 was a bit of an emotional roller coaster (and that might be the understatement of the century). We polled our readers, our staff, and our kids to come up with the things that kept us going this past year.
We've rounded up the best of 2021 for kids and families, including the best movies of 2021, the best books of 2021, and more. Our Best Recipes of 2021 list was too long to include here; be sure to check it out if you haven't yet. Enjoy working your way through this list of favorites, and here's to more "bests" in 2022!
Best Movies of 2021 for Kids and Families
This rated highly across the board. One of our editors said, "It surprised me how much fun our family had watching the new Ghostbusters! It had nostalgia for my husband, the marshmallow men for my kids, and Paul Rudd for me!"
Apparently, nostalgia was a theme in 2021. Video games—check. Chicago—check. Tons of 80s references—check, check, and check! On a hunt for the highly coveted, latest and greatest video game system, 8-Bit Christmas brings back all the best bits of the 80s for your family to enjoy.

Explore the Italian Riviera with Luca. Photo courtesy of Disney/Pixar
Set in a beautiful seaside town in the Italian Riviera, this coming-of-age story was a welcome escape.
We got really good at watching movies at home in 2021. This Disney animated feature made its debut via streaming services, and our readers adored it.
Lin-Manuel Miranda had another hit on his hands with Encanto, Disney's latest animated feature. The film, set in Colombia, tells the tale of an extraordinary family that lives in a magic house. And it's about a girl who saves her family just by being herself. Encanto made for the perfect Thanksgiving weekend movie for the whole family.

Sing along with Sing 2. Photo courtesy of Illumination Entertainment and Universal Studios
As we closed out 2021, there was a ton of buzz around the December release of Sing 2. The long-awaited sequel to the 2016 hit is filled with star-studded cameos.
What would 2021 have been without a superhero? Thankfully, Peter Parker is back in action with Spider-Man: No Way Home. The box office bore out what everyone told us—this movie was a huge hit with families.
Featuring the normal family struggles with technology—too much screen time, phones at the dinner table, a robot apocalypse—the Netflix original animated film The Mitchells vs. The Machines won over our hearts this year.
Cruella de Vil's backstory was revealed in this new live-action feature based on the animated classic.
Dwayne Johnson and Emily Blunt go on a rollicking thrill ride down the Amazon in Disney's Jungle Cruise. Because we all needed some laughs this year.
Best Family-Friendly TV Shows of 2021
Is there anything that Olaf can't do? These shorts on Disney+ were exactly what the doctor ordered this year—a hefty dose of laughs for the entire family.

Explore foods from around the globe with Waffles and Mochi. Photo courtesy of Netflix
Waffles and Mochi dream of becoming chefs. While the rest of us stayed home, they managed to travel the world and explore the wonders of food and culture while learning how to cook with fresh ingredients.
This show premiered in November on TBS, and our DVRs were ready and set. Hosted by Helen Mirren, the show was a trivia competition to see who knows the most about Harry Potter. It's a great reason to start reading (or rereading) this series aloud as a family.
Just Beyond came out just in time for Halloween this year. This series is inspired by the writings of R.L. Stine and gave us a few creepy scares!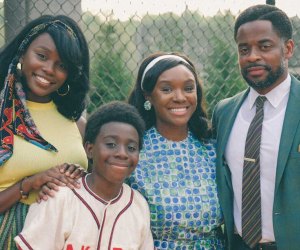 The Williams family in The Wonder Years. Photo courtesy of Erika Doss/ABC
This may seem like another reboot of a nostalgic classic, but The Wonder Years has proven to be so much more. The 2021 version tells the story of the Williams family and their experiences in Montgomery, Alabama during the late 1960s.
Best Books of 2021 for Kids
Our managing editor said, "When this new Rick Riordan book came out, my kids and I fought over it. Then we read and watched 20,000 Leagues Under the Sea to get the backstory. We loved it!"
We waited for this book since the presidential inauguration. When it was finally released on September 21, it was everything we hoped it would be.

The Diary of a Wimpy Kid series remains popular among kids. Photo courtesy of Jeff Kinney, Amulet Books
Fans of the popular Wimpy Kid series were thrilled when the 16th book was released this year.
This book by Tom Gauld was the New York Times/New York Public Library's best illustrated book of the year. We agree!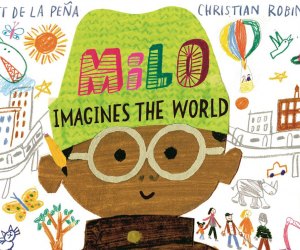 Milo Imagines the World teaches kids not to judge a book by its cover. Photo courtesy of G.P. Putnam's Sons
Newbery Award-winning author Matt De La Peña's latest picture book tells the tale of Milo, who realizes that you can't judge a person just by looking at them.
We are so happy that 2021 brought us this series of books by J. Dillard. After all, many of us can relate to the tragic pitfalls of an at-home haircut.
Best Toys of 2021
22. Bubble-Popping Fidget Toys
These pop-it fidget toys have been all the rage this year, and for good reason. We love how they help ease the anxiety that many kids have experienced this past year, as well as general back-to-school jitters.
Part pillow, part stuffed animal, all fun—Squishmallows took over the country this year.
24. Subscription Boxes
In a year when staying home and out of stores became a necessity, subscription boxes played an important role in our lives. Check out a few of our favorites here.

The Big Feelings Pineapple helps kids express their emotions. Photo courtesy of Learning Resources
It should come as no surprise that kids of all shapes and sizes experienced some pretty big feelings this year. That is why we love the Big Feelings Pineapple so much. This toy helps kids along their social-emotional learning journey in a fun and playful way.
26. Babylist's Sampler Boxes
Even if you're more of a "let babies sleep in an empty drawer" mom than a "buy all the latest goodies" mom, this product box is a winner. For new parents on a never-ending quest for a bottle or pacifier that a very picky baby won't reject, you can end up buying a lot of products before finding the brands that work. The idea of getting one sampler box with a variety of shapes and styles to test out at once is genius. Babylist, the baby-registry destination, currently offers these boxes: the Bottle Box, the Pacifier Box, and the Swaddle Box.
This bundle of exercises provides kiddos with an introduction to mindfulness. We can all use a little help in that department this year.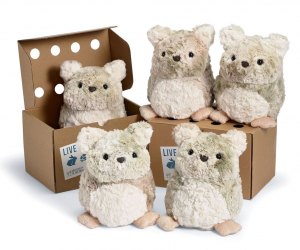 A Purrble interactive pet can be just as calming as the real thing. Photo courtesy of purrble.com
If you are sensing a theme here, you're not alone. Emotions ran big in 2021, and toys like the Purrble interactive pet helped children learn to keep calm when life got a little stressful.
Best of 2021: Newsworthy Events
29. The Vaccine
We got the vaccine! First for adults, then for big kids, and finally, in what might be the biggest news of the year for parents, in October the FDA approved the COVID-19 vaccine for kids ages 5-11. This came as a nice relief for many parents of kids under 12!
The Macy's Thanksgiving Day Parade made its grand return—and celebrated its 95th anniversary—in 2021 with boisterous marching bands, extravagant floats, and giant balloon characters.

DC finally got a children's museum back in the city with the opening of the National Children's Museum. Photo by Mommy Poppins
The long-awaited National Children's Museum opened in Washington, DC in September. This museum is a mix of all the best things about a children's museum and all of the STEAM activities typically found in science centers. Believe it or not, for the last 18 years, DC was the only major city in America without a children's museum or science and technology center, and the new children's museum aims to fix that in a big way.
32. Broadway Reopening
Whether you're just visiting New York City or you live there year-round, seeing a Broadway show is a special family experience. Hooray to the return of live entertainment on the Great White Way!
33. The Reopening of Amusement Parks
It took some time for all of our favorite theme parks to reopen, but we got there—and even added a new one! After a delay, the much-anticipated Legoland made its grand debut in New York this year.
34. Space X vs. Virgin Galactic vs. Blue Origin
The space race took friendly competition to a whole new level in 2021 as a seemingly endless stream of celebrities, scientists, and billionaires lined up to experience the final frontier. What a time for space-loving kids!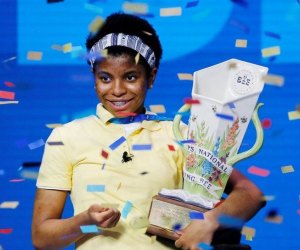 Zaila Avant-garde made history when she won the Scripps National Spelling Bee. Photo courtesy of blackpast.org
35. Zaila Avant-garde
This young woman was only 14 years old when she became the first African-American contestant to win the Scripps National Spelling Bee. We loved cheering her on. Also, have you seen her play basketball?
36. The Olympics
Yes, the 2020 Tokyo Olympic Games took place in 2021. Perhaps the greatest achievement of the games was when Simone Biles taught us that taking care of yourself should always come first.
37. Back To School—In Person!
Kids all across the country went back to school in person in 2021. And parents everywhere sighed.
38. Trick-or-Treating
A childhood rite of passage made its return in 2021! Many kids made up for the lost year of trick-or-treating this year.

A sunlit hike in Alexandria, Virginia's Huntley Meadows Park. Photo by Mommy Poppins
Best of 2021: Other Things We Loved
39. Outdoor Adventures
In the past year, Mommy Poppins families have been heading to the hills, trails, streams, mountains, rivers, lakes, and beaches more than ever to enjoy some outdoor fun on the weekends.
40. Local Explorations
Cheers to keeping it local in 2021! Travel restrictions confused us almost as much as they restricted us this year. Many Mommy Poppins readers explored their home states and cities this year and found new and exciting adventures.
Best of Mommy Poppins in 2021
These were the top five posts for our website in 2021.
41. Easy Science Experiments For Kids
Whether you're prepping for a fifth-grade science fair or want something fun to do with preschoolers, these cool science experiments will always be popular.
42. Best Jokes for Kids
It may be a coping mechanism, but humor played a big role in our lives in 2021. It should be no surprise that this list of our favorite jokes for kids from our editors and writers was one of our most-read stories.

Arts and crafts are the perfect indoor activity for kids. Photo by Mommy Poppins
43. Indoor Activities for a Rainy Day
Pandemic life may feel like one long rainy day, but we're happy to hear that this list of indoor activities kept many of our readers sane.
44. Free Online Games for Kids
These online games for kids make it easy to play some of our favorite board games even when they're not gathered around the same table.
45. Coding Programs for Kids: Free and Cheap Websites That Teach Kids Programming
In 2021, basic programming has become an essential skill for grown-ups and children alike, and the Internet is full of coding programs for kids. We've rounded up 13 of our favorite affordable learn-to-code games and programs for kids.
Additional reporting by Raven Snook