21 Best Shows on Netflix for Kids Right Now

Netflix series Llama Llama is based on the beloved children's book series.
Best Netflix Shows for Kids Ages 3 to 6
Check out the newly released second season of the series that follows a clever monkey and his Fix-It Force crew.
Young kids will enjoy this show based on a popular book by N.D. Wilson. Watch Wesley and Georgie use imagination to solve everyday problems.
Kids will love following the adventures of Dak, Leyla, and their dragon friends.
4. YooHoo to the Rescue (2019)
The sweet Netflix series stars YooHoo and his can-do crew. The group travel the world to help animals in need.
My daughter can't get enough of this Netflix show about preschool kids who transform into lovable monsters.
Based on the beloved children's book series, Llama Llama is a heartwarming series about family, friendship, and learning new things.
Little ones will love this sweet series that follows siblings as they solve problems and learn to cooperate with one another.
Parents will get a kick out of introducing their kids to Beatles songs in this show about five bugs who learn big lessons.
RELATED: Top Subscription Boxes for Kids: STEM Kits, Craft Boxes, and Cooking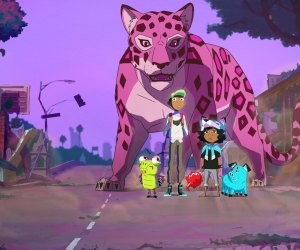 Kids and critters team up to defeat mutant creatures in Kipo and the Age of Wonderbeasts.
Best Netflix Shows for Kids Ages 7 to 10
The highly-anticipated reboot of the classic kids series just landed on Netflix. This modern day adaptation features all your favorite babysitters from Stoneybrook, Connecticut.
In this clever DreamWorks creation, a spunky heroine bands together a team of like-minded humans and critters to defend her world from a band of mutant creatures.
​This adorable series follows middle-schooler Naoko as she turns into a fierce dinosaur named Gauko.
Master thief Carmen Sandiego is using her super sleuthing skills for good, while dropping geography and history knowledge, in this fun series.
Netflix is now streaming this stunning eight-part documentary series from the creators of "Planet Earth." The entire family will enjoy getting an up close look at incredible animals and their natural habitats around the globe.
This Australian mockumentary follows a group of fifth graders who launch their own detective agency.
15. Hilda (2018)
Adapted from a series of graphic novels, this beautiful series follows Hilda and her friends as they go on magical adventures.
A reboot of the beloved original, this brainy Netflix series follows Ms. Frizzle and her zany science-based field trips.
Based on the British book series, The Worst Witch follows a group of pre-teens that grapple with their newfound powers.
We're huge fans of this STEM-focused show about female secret agents.
RELATED: 40 Best Jokes for Kids

Themes of class and character are explored in The Letter for the King, a fantasy show on Netflix.
Best Netflix Series for 'Tweens
An idealistic young knight stands up for the downtrodden and takes on villains in this exciting fantasy series.
A twisty story of family secrets that parents will love as much as their big kids, this hilariously creative show will boost vocabulary and critical thinking skills.
This fantasy animation series originally from Nickelodeon has been a surprise hit and among the best shows on Netflix in 2020. If the kids haven't caught up on it yet, summer is the time to binge! Watch as a young boy, an "airbender," tries to reunite a world at war.
All images courtesy of Netflix