Target's Car Seat Trade-in Returns: Get the 2022 Details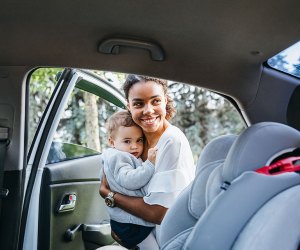 Is it time to toss or upgrade your child's car seat? Beginning on April 18, 2022, Target will recycle your expired, damaged, or just yucky goldfish-crusted and stained one and help you to save on a new model through its popular car seat trade-in event. As if we needed another excuse to go to Target, right? Whether you're expecting a new baby, or simply sizing up, read on for all the details on this year's trade-in program.
For more ways to reduce, reuse, recycle, and all around be good to Mother Nature, check out our Earth Kids Guide and sign up for the Earth Kids newsletter.
Here's how it works: Monday, April 18 to Saturday, April 30, bring any unwanted car seats (boosters, bases, infant, toddler – any and all of 'em) to your local Target store for its trade-in event, including expired seats, and receive a coupon for 20 percent off a new car seat, booster seat, car seat base, travel system, or stroller in-store or online. The coupon can go toward additional "select" baby gear, such as play yards and high chairs, too. Win!
Simply bring your used car seat to a drop-off box located near Guest Services, and a team member will give you your coupon. You'll receive one per seat, and it is valid through May 14, 2022.
It's a win-win for parents and the environment. Target will hand over your old gear to its partners at Waste Management. From there, it will be recycled into new things like transformed into new products such as pallets, plastic buckets, and construction materials. Since 2016, Target has recycled well over a million car seats, or more than 25.4 million pounds of plastic—and counting.