Best Kids' TV Shows and Movies To Stream Now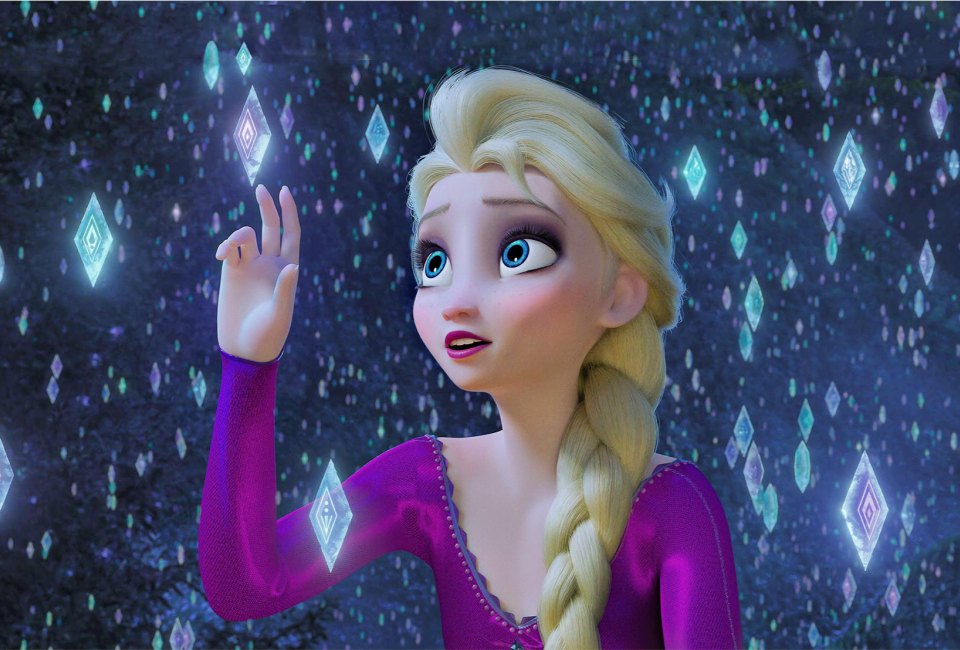 3/22/20
- By
Ally Noel
We've rounded up our favorite TV shows and movies to stream right now, as many parents are finding we need to rely more on screens these days! We tried to make these picks our favorites, meaning ones that we don't feel too bad about letting them gorge on or even watching with them (our laptops balanced in laps, of course).
Read on for more than two dozen of our parent-tested-kid-approved shows (and a few movies) that are streaming on Netflix, Disney Plus, Hulu, and Prime.
Disney+ Shows and Movies
Those of us who splurged on the Disney Plus subscription early on are probably getting ready to give this new on-demand streaming service quite the workout. There is PLENTY to choose from on Disney, of course, from Marvel and Star Wars to Moana, Toy Story, and Lion King, so we've selected a few favorites and under-the-radar shows to get you started.
Frozen 2 (PG)
I think we all let out a collective squeal of delight when Disney announced it would begin streaming Frozen 2 early on Disney +.
Shop Class
In this reality-competition show, pairs of kids from across the country compete in building contests led by real-life shop teachers.
Encore
Introduce your kids to some of your favorite Broadway shows with this reality show hosted by Kristin Bell.
Pick of the Litter
If your child has been BEGGING for a dog, this is the perfect show for you to binge. This show follows the life and training of a litter of service puppies and shows exactly what it takes to train a dog.
RELATED: 50 Best Movies for Family Movie Night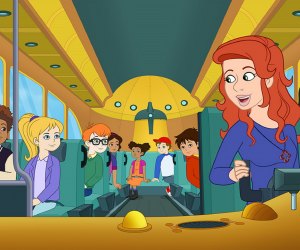 The Magic School Bus is all about science, making it a kid and parent favorite. Image courtesy of Netflix
Best Shows on Netflix for Kids Now
Magic School Bus
Whether you choose the reboot or the original, everyone will love Miss (or Ms.) Frizzle and her zany science-based field trips!
Brain Games
Learn all about how your brain is wired in this National Geographic series. Dive into questions like: How does sound change the way you see the world? How does your brain react to danger? How does memory work?
Hello Ninja
Young kids will enjoy this show based on a popular book by N.D. Wilson. Watch Wesley and Georgie use their imagination to solve everyday problems.
Brainchild
Does the 5-second rule REALLY work? This is just one of the topics discussed in this educational series that will get those minds churning. Each episode discusses a new topic with expert interviews, entertaining demonstrations, and comedy.
BOOBA
This animated show is geared toward the youngest of viewers. Learn about the world through BOOBA's exploration of the top shelf of the refrigerator or a whole bunch. Whatever he's up to, BOOBA is always teaching kids to be curious.
Lemony Snicket's Series of Unfortunate Events
A twisty story of family secrets and, yes, "unfortunate events," this one is best viewed by tweens and up.
Carmen Sandiego
Parents of "a certain age" will miss the catchy Rockapella theme-song, but this is a new Carmen in a new millennium! Make sure to check out the interactive version as well.
The Who Was? Show
This popular show is inspired by the equally popular biographical series of books. Viewers can learn all about popular characters from history in this entertaining series.
RELATED: Popular Podcasts for Kids and Families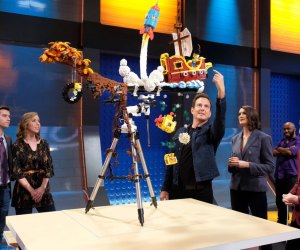 Complex Lego creations come to life on Lego Masters. Photo courtesy of FOX
Hulu Shows for Kids
LEGO Masters
Who knew building with Legos could be so dramatic?! This reality competition on Fox focuses on a weekly Lego building challenge. The results will blow your mind and maybe inspire a Lego challenge in your home.
Nailed It
This baking show tasks home bakers with creating jaw-dropping desserts. Although it may seem like the contestants are set up for failure, your whole family will be cheering for them to win. Also streams on Netflix.
Animaniacs
This blast from the past is NOT a reboot but the exact same Animaniacs from your childhood. Join Yakko, Wakko, and Dot as they wreak havoc on the Warner Brother's Studio. Enjoy a little family competition by seeing who can memorize the theme song first!
Too Cute
I think we can all use a dose of cuteness right about now. Too Cute is exactly what you might think: a look into the lives of puppies and kittens during the first 10 weeks of their lives.
Best Shows on Amazon Prime Video for Kids
You can find a lot of the PBS shows and other little kid-friendly shows on Prime Video, including Sesame Street, Daniel Tiger, Sid the Science Kid, Dinosaur Train, and Dora. However, we included a few others you might want to try.
Annedroids
Science superstar, Anne loves to tinker in the neighborhood junkyard. Watch as Anne and her friends collaborate to solve engineering problems.
Cosmic Kids
Episodes of the yoga storytelling show can also be found on Prime in case you need a 10-minute active break to get everyone off the couch!
Dino Dana
Dana's enthusiasm for dinosaurs quickly rubs off on the kid viewers as she takes them on an adventure, going back in time to study dinosaurs rendered in CGI. Great for preschoolers.
Just Add Magic
Watch these three friends tinker with magic and learn about the power of friendship. Just Add Magic is entertaining and filled with positive messages.
Troop Zero
Older kids will find a lot to relate to in this classic underdog story. Set in 1977, get wrapped up in the story of Christmas Flint as she defies the odds to wow the judges at the Birdie Scout Jamboree.
Upcoming Early Movie Releases Due to the Coronavirus
Onward — March 31 (April 3 on Disney Plus)
Settle in for this magic-fueled quest tale of two elf brothers.
Sonic the Hedgehog — March 31
Watch the little blue hedgehog zoom his way through a modern-day adventure tale.
Troll World Tour —​ April 10
Catch the Trolls sequel early! We're expecting more adventures and catchy tunes.
Click Here to Sign Up!
i