Talking Travel, Mental Health, and More with Simone Biles and Jordan Chiles
When it comes to role models for our children, especially our girls and young athletes, we couldn't ask for anyone better than Olympic gymnasts Simone Biles and Jordan Chiles. Last week, Biles, Chiles, and other U.S. gymnasts wrapped up their 32-city Gold Over America Tour in Boston. They took time out of their busy tour schedule to speak with us about mental health (including Simone's new partnership with mental health app Cerebral), travel, playing sports as a child, and some of their favorite cities from the tour (here's looking at you, DC!).
Simone Biles is the most decorated World Championship gymnast in history. She also won five medals in the 2016 Rio Olympics (four gold) and two in last summer's Tokyo Olympics. Her best friend, Jordan Chiles, was her teammate on the silver medal-winning women's artistic all-around team in the Tokyo Olympics and has won countless other medals in various competitions.
But what makes Simone Biles and Jordan Chiles most inspiring to young people is their perseverance in the face of setbacks. Biles has been open about her struggles with mental health (we were excited to hear all about her new mental health app, Cerebral), and Chiles has bounced back from burnout and wrist surgery to climb the gymnastics ranks.
The Gold Over America Tour, aptly described as a "gymnastics-meets-pop-concert spectacular," embodied the themes of empowerment, self-confidence, and friendship that have defined the gymnasts' careers. If you missed it, don't worry—the show will stream on December 4, 2021 at 1pm PST and 4pm EST on the Stellar platform. Fans can get more information on the tour's website.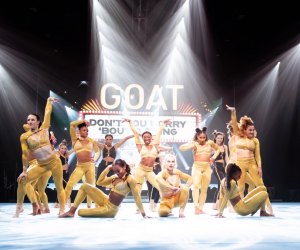 The inspirational athletes from the Gold Over America Tour. Photo by John Cheng