Best Diaper Subscriptions in 2023: Amazon, Honest, and More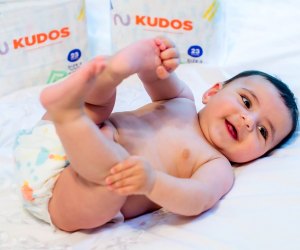 4/6/23
- By
Vanessa Leigh
With babies using nearly 3,000 diapers on average in their first year of life alone, diaper subscriptions can be a lifesaver for busy parents. After all, newborns go through up to 12 diapers per day, making it hard to keep track of just how many diapers are left in that giant box. And, trust me—you don't want to be elbow-deep in a blowout only to realize you are out of diapers.
Diaper subscriptions bring a steady stream of diapers right to your doorstep, so you don't have to worry about panicked, late-night runs to the store. Plus, companies charge less for diapers when you set up regular deliveries, so diaper subscriptions will save you money. And because you can easily adjust the size of the diapers you receive and the frequency at which they arrive, your diaper subscription will always suit your family's needs.
We've got you—and your little one's bum—covered with this list of the best diaper subscriptions, including the Honest diaper subscription, the Amazon diaper subscription, and even some cloth diapering options. Check out our Best Baby and Kid Gear Guide for more of our favorite baby essentials, from the best bath toys to great baby sleep aids.
Best Disposable Diaper Subscriptions
Using the Amazon Subscribe & Save feature, you'll be able to pick and choose from popular eligible diaper brands like Pampers and Huggies, as well as a selection of baby wipes. The diaper subscription will give you a discount of 5% or more, but you must be an Amazon Prime member to get it. Once you choose the brand you want, sign up for recurring deliveries to secure the subscription. There are no hidden fees, and you may cancel or change your subscription at any time.
Diaper Subscription Cost: Prices vary
The Honest Company is known for its eco-friendly disposable diapers and gentle wipes made from plant-based materials. The company's diaper subscriptions allow parents to bundle both diapers and wipes to really save money: When you choose the diapers + wipes subscription, you'll get free shipping, 15% off add-on products, and fun freebies. Sizes range from newborn to 5T training pants. Diapers come in a variety of adorable prints to choose from, and you'll get first pick of them with a diaper subscription.
Diaper Subscription Cost: $82.99 for 7 packs of diapers and 4 packs of wipes (as of April 2023)
RELATED: 17 Ways to Soothe a Crying Baby

Each Hello Bello diaper subscription box comes with seven packs of diapers and four packs of wipes. Photo courtesy of Hello Bello
We used this diaper subscription, and I absolutely loved the cute prints and the add-ons/freebies. I always felt like I was getting "a little extra" with my regular subscription box. A cool feature of Hello Bello's diaper subscription is that you can order one or two sizes, which is perfect if your little one is going through a growth spurt or is between sizes. New members receive a free item with their first box, and subscribers can enjoy 15% off extra items like supplements, lotion, and body wash. Bonus: Hello Bello diapers are made without parabens, phthalates, latex, or lotion, making them safer for babies' sensitive skin.
Diaper Subscription Cost: $69.99 for 7 packs of diapers and 4 packs of wipes (as of April 2023)
Kudos Diapers were recently brought to fame on Shark Tank, supported by Mark Cuban and Gwyneth Paltrow. What makes these diapers stand out is that they're lined with 100% cotton instead of plastic or other materials. They also use four times more plant-based materials than other diaper competitors. The Kudos diaper subscription is a good one to sign up for if you're looking for high-quality ingredients and certifications. You can choose from a monthly box of diapers only or a bundle of diapers and wipes, paying 11% less than a one-time purchase.
Diaper Subscription Cost: $78 per month for diapers, or $100 per month for diapers and 4 packs of wipes—The number of diapers varies, depending on size. (as of April 2023)
RELATED: Baby Shower Favors That Parents Will Actually Love

Avoid harmful ingredients with a Coterie diaper subscription. Photo courtesy of Coterie
Coterie diapers are known for their super-soft, gentle touch. Made without phthalates, parabens, fragrance, heavy metals, or other yucky ingredients, these diapers have earned multiple "Best for Baby" awards. With the auto-renew feature, you can save 10% on each diaper order and tailor the size and the schedule to fit your needs.
Diaper Subscription Cost: Starting at $90 per month (as of April 2023)
Similar to the Amazon diaper subscription, Target offers subscription deals on select brands. You'll receive a discount on your diaper bundles when you sign up for recurring automatic shipments. Pampers is a brand that is often offered with this diaper subscription list.
Diaper Subscription Cost: Prices vary
DYPER's Simply Kind diapers use all plant-based materials. The company also has an optional composting program, REDYPER, through which parents can compost their baby's used diapers. DYPER's diaper subscription boxes include enough diapers for four weeks, but you can opt to receive the boxes anywhere from weekly to every 12 weeks to meet your family's needs. You can also include four packs of bamboo wipes in each delivery at 15% off. Shipping is free!
Diaper Subscription Cost: $89 for four weeks worth of diapers, plus $20 if you include wipes (as of April 2023)
RELATED: How to Get the Most Out of a Nanny or Babysitter Interview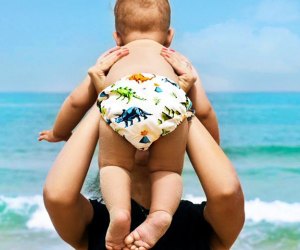 Rent cloth diapers in fun prints from Charlie Banana. Photo courtesy of the Charlie Banana Cloth Diaper Rental Service
Best Diaper Subscription Services and Products for Cloth Diapering
Charlie Banana has risen to the top of the list when it comes to cloth diapering. Now, the company has teamed up with Loop to provide a rental and cleaning service available across the U.S. for a weekly fee. If you choose just the diaper rental, you'll get 36 diapers, 72 inserts, 40 wipes, and a diaper pail. You can keep the diapers as long as you need them and clean them at home. If you choose the diaper rental plus cleaning option, you can schedule a free pickup of dirty diapers at your convenience and receive a weekly supply of fresh ones.
Diaper Subscription Cost: $14.99 per week for rental or $39 per week (for the first month) for rental + cleaning (as of April 2023)
Esembly is a great option if you want to try cloth diapering with no obligations. Though the company's subscription options currently only include body-care products, you can purchase a Try-It Kit or a Deluxe Try-It Kit that contains everything you need to get started with cloth diapering. If you decide you like it, you can build your own collection of cloth diapers and products as you go.
Cloth Diaper Cost: Prices vary
Lead photo by William Fortunato, courtesy of Pexels