Best Bath Toys for Toddlers and Babies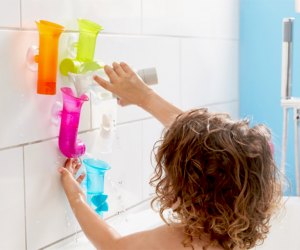 1/20/20
- By
Rose Gordon Sala
Don't let bathtime be a battle! Easier said than done, right? Try these colorful bath toys to soothe cranky kids or entertain those fearful of the dreaded water and soap in the eyes.
Bath toys are sometimes the difference between a disaster of a nighttime routine and a chill one in my home, which includes three little kids. Picking the right bath toys, or a brand-new one, has always worked to distract my kiddos, so check out these 11 tried-and-true bath toys for toddlers, big kid bubbles, and even sweet baby bath toys, such as color-changing bath books.
Watch your little builder go with these kid-size bath tubes. Simply suction these onto the wall for STEM-inspired bath toys that let kids truly enjoy water play. Dump water through the tubes to see where it flows; rearrange as many times as they like! Pair them with the Boon water gears below for a full bathtub wall of creative plumbing.
Could there be anything more entertaining than kids bath toys that spin and spray water? Probably not! Kids can use their little dumping buckets (below) to pour water over these gears to watch the bath toys spin and spray. Interlock them for a more impressive display and a bathtime lesson in hydropower.

These buckets make the perfect toddler bath toys.
These little buckets from Skip Hop quickly became my kids' bathtime favorite. The handle on these bath toys are small enough for babies and toddlers, but even bigger kids enjoy filling them with water or toys. They're easy to clean, inexpensive, and hold up for years. It comes in a pack of five cute and colorful animal designs.
Reel in your bathtime sanity with this little fishing game for the bath. Kids can flex their hand-eye-coordination as they try to catch three items (a fish, an octopus, and a little scuba friend) using the faux rod. All items and the rod are magnetic and the sea creatures do float. (Note: the rod doesn't actually wind up.) These bath toys are best for toddlers and up as it does take some coordination, but my preschool-age kids always fought over it! We've had it several years, so it holds up well.
RELATED: Baby Sleep Aids to Help Infants Sleep Through the Night

More than 30 designs mean the Wild Republic Rubber Ducks are always entertaining!
Kids won't be bored by these rubber ducks from Wild Republic, a brand known for its realistic stuffed animals. How about a bath with the T-rex rubber duck? Or the cobra or unicorn? We love the over-the-top designs that make these bath toys a great stocking stuffer, Easter basket trinket, or anytime gift for kids. Choose from among 30 designs. Great toddler bath toys, but my school-age kids dig them, too. It's the holeless design of these bath toys that will win over parents. No hole = no mold! The ducks feel substantial in your hand and float well.
Soap up and sing along to Baby Shark as the kids squirt each other with these cute toddler bath toys. The Baby Shark bath toys from WowWee PinkFong include Daddy Shark, Mommy Shark, Baby Shark, and William Fish. (Remember to check for mold buildup periodically as these do have a hole in them for squirting fun.)

All ages love light-up bath toys and this cute unicorn from Skip Hop is perfect for little hands.
These new baby bath toys from Skip Hop light up as they hit the water. Little ones will giggle at the flash of light and likely enjoy squeezing these colorful bath toys as they pretend to make the little rubber unicorn or dinosaur swim and float through the bath.

These Wee Gallery Color Me bath books change colors in the water.
Get a jumpstart on bedtime stories with these sweet bath books for babies and toddlers. Watch the pages fill with color as your little one dunks the soft Color Me Water books into the bathtub. Tots might also enjoy seeing all these baby animals who love the water, too, from elephants to frogs. The gorgeous illustrations (too pretty for the bath!) by author Surya Sajnani were inspired by Indian folk art.
The opportunity to draw on the walls might just tempt the most ardent bath haters in your crew! I know it's worked well for my brood, especially as a toddler bath toy. I've even been able to do the dreaded hair rinse while she drew scribbles across the tiles. There are myriad bath crayons available, but the Crayola version has held up best for us. They can drop them in the bath, but be sure they don't soak there too long and be sure to wash away your little Picasso's drawings before morning to avoid stains.

Try "crackling" bath crystals or a bath volcano from tubbubble for big kid bath toys.
Big kids can create a Bath Volcano, watch Crackling Bath Crystals, or soap up with a Bubble Bath Pouch with the new line of bath products from Tubbubble. Natural fragrances and mom-made mean few worries about letting these bath toys into the tub for big kid fun. Mine loved watching the orange-hued volcano erupt and didn't argue about washing up when I handed them the Bubble Bath Pouch, which makes soap bubbles over and over during a single soak. Plus, all three kids smelled delicious when they emerged!
Snuggle them into this sweet Loulou Lollipop hooded towel for a post-bath chillout session.
Once it's time to get out of the bath, it helps to snuggle them up in an adorable bath towel. In fact, it can even be motivating for some kids...if you pick the right animal theme. The hooded baby towel collection from Loulou Lollipop is hard to resist with its generous 32-inch by 32-inch size, super soft muslin terry cloth, and sweet designs, including farm animals, forest friends, bunnies, dinosaurs, gnomes, and cutie fruits.
This article contains some affiliate links, which means we might earn a small commission if you make a purchase. There is no extra cost to the reader. We only recommend products and services that we have personally used or have thoroughly researched.
All photos courtesy manufacturers