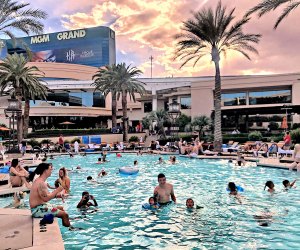 50 Fun Things To Do in Las Vegas with Your Kids
Once America's playground for adults, in the last decade Las Vegas has become one of the most popular family vacation destinations. While it is possible to book a sitter to enjoy some grown-up time on the strip, it would be a shame to visit this desert town and not experience the great natural attractions, museums, and family fun you can find a little further afield.
We took a recent trip to Vegas with our young children (aged two and six) and really had a blast exploring kid-friendly activities both on and off the beaten track. Here are my recommendations for the top things to do with kids in Las Vegas.
1. Learn, play, and discover at the Discovery Children's Museum.
2. You'll feel like a true American Gladiator when you jump, bounce, and fly at Gravady.
3. Cool off and go crazy at Wet 'N' Wild water park.
4. Enjoy the lush greenery at Floyd Lamb State Park.
5. See a real ghost town! Rhyolite is on the edge of Death Valley (conveniently), this former mining town was founded in 1904 and abandoned by 1916, a short-lived Gold Rush town.
6. Have an Avengers fan? Check out the Marvel Avengers STATION at Treasure Island, and experience your favorite heroes like never before.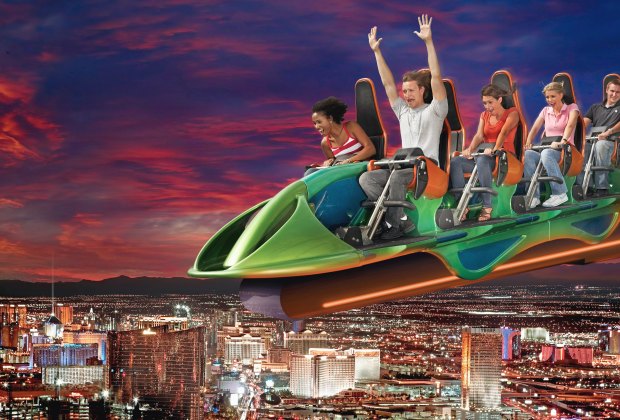 You'll scream for the X-Scream at the Adventuredome in Las Vegas! Photo courtesy The STRAT Hotel, SkyPod & Casino
7. Have fun and stay cool at Adventuredome — America's largest indoor theme park.
8. Take a bite out of Las Vegas at the Shark Reef aquarium at Mandalay Bay.
9. Take a walk on the wild side with the White Tigers at Siegfried and Roy's Secret Garden. While you're there be sure to take a look at the Dolphin Habitat as well.
10. Visit the first non-native settlement in Las Vegas at the Old Mormon Fort.
11. Learn about animals and prehistoric creatures at the Las Vegas Natural History Museum.
12. Laugh out loud at the Popovich Comedy Pet Theatre, where animals and acrobats perform comedy skits.
13. Water lovers fret not. Lake Mead has tons of fun activities to choose from. You can rent jet skis, kayaks, and fishing boats for a day or week on the water.

Lone Mountain Park Playground offers a view of Lone Mountain. Photo by Mommy Poppins
14. Lone Mountain Park has a beautiful playground, plenty of space for picnics and grilling, plus an easy hike even young children can do to see some amazing views.
15. Go swimming in some of the best pools, plus a lazy river at the MGM Grand. As a guest, you have free access to the pools. Non-guests can pay a fee to enter.
16. Become a pinball wizard at the Pinball Hall of Fame. Admission is free, just make sure to bring plenty of quarters.
17. Check out some family theater at the Smith Center of Performing Arts.
18. Got a train lover in the family? Make sure to check out Nevada Southern Railway where you can ride an actual train that was used to bring supplies to the Hoover Dam.
19. Take in the natural beauty at Mount Charleston.
20. In the cooler months, plan a picnic at Red Rock Canyon and take in some of the most beautiful views you have ever seen.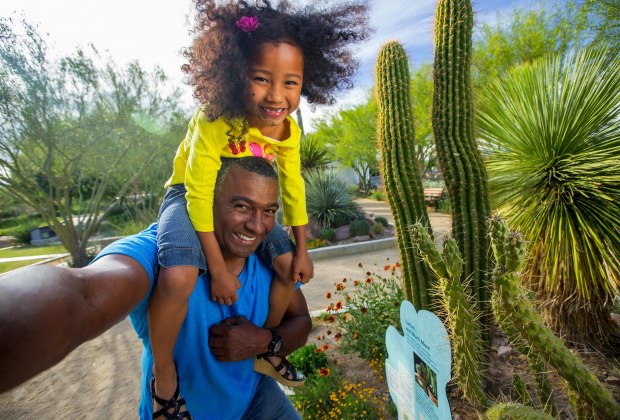 Who knew there was so much nature to see in the Las Vegas area? Photo courtesy of Springs Preserve
21. Discover the Vegas' natural beauty at the ​Springs Preserve. Hiking trails and the Botanical Gardens are just the beginning.
22. Indulge your sweet tooth at Ethel M Chocolate Factory and walk off that sugar next door at the Cactus Garden.
23. Catch an outdoor movie or try some local eats at Downtown Container Park. It also has an amazing interactive playground.
24. Experience authentic Las Vegas and take in the art scene at the Art's Factory.
25. Watch an out-of-this-world baseball game with the Las Vegas 51s.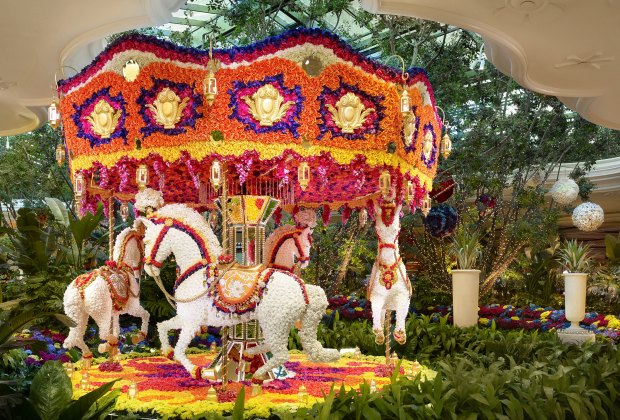 The floral carousel in the Wynn Hotel's Atrium is a treat. Photo by Barbara Kraft
26. Check out the "mermaids" and the 160 different species of fish at the Aquarium at The Silverton.
27. Take a ride on the world's tallest observation wheel—the High Roller. Children under 12 ride free.
28. Feel like "The King of the World" at the Titanic Artifact Exhibit. With more than 300 artifacts and amazing replicas, this is a truly unique experience.
29. Experience Venice, Italy, with gondola rides and street performers at the Venetian Hotel and Casino.
30. View some public art and a cool open-air play space at the Lyft Art Park.



Kids love using the Finger Print Analysis station inside the Crime Lab at the Mob Museum. Photo courtesy the museum
31. Check out the new Mob Museum and learn about the deep impact of the mafia in Las Vegas.
32. Take in the wonder of the Hoover Dam.
33. Slip and Slide at the Circus Circus Splash Zone, which is only available to guests of the hotel, BUT booking a room at Circus Circus is significantly more affordable than water parks.
34. Get a 360-degree view of the city atop of the Stratosphere. Got a thrill seeker in the family? Check out the three intense rides while you're up there.
35. With so many Cirque Du Soleil shows to choose from, you can watch your kid's imagination come to life right before their eyes.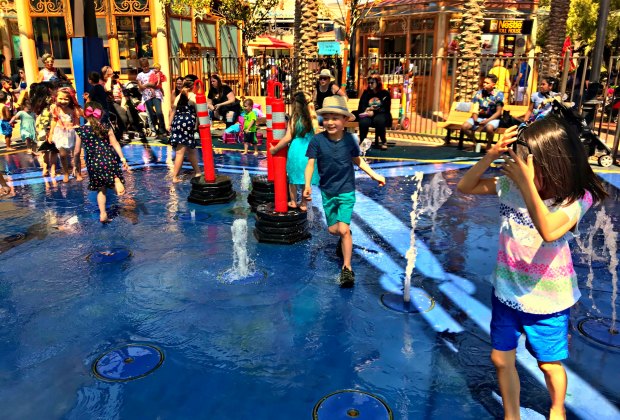 There's fun in the sun and shade on the splash pad. Photo by Mommy Poppins
36. Head over to the Town Center Mall, where kids play in the Children's Park, which features a splash pad, hedge maze, and tree house. While you're there, younger kids will enjoy the train rides around the mall, and older kids will want to try their skills out at the huge GameWorks arcade.
37. Explore a little slice of paradise at the Flamingo Wildlife Habitat, home to flamingo, koi fish, and more in this free natural exhibit.
38. For a truly Vegas experience, visit the Neon Museum, home to relics of the past and an amazing project in restoration.
39. Go back to the '80s and roller skate at Crystal Palace.
40. Create your own, unique candies at the M&Ms store.
41. View the water shows at the Bellagio — their outdoor fountains are a must see while in town.
42. Take a walk in the evening for the full Freemont Street Experience, this 24-hour mall that has an LED canopy, zip lines, and access to what some dub as "old" Las Vegas.

Pressing their luck in the Fun Dungeon. Photo by Mommy Poppins
43. Rainy days happen, even in Las Vegas. While there are plenty of arcades to choose from, the fun dungeon at the Excalibur is inexpensive and a real throwback that even modern kids will love. Plus who wouldn't want to visit a castle?
44. If you need to cool down, try some indoor skating at the Fiesta Rancho Casino SoBe Ice Arena.
45. Race around the tracks at the Las Vegas Mini Gran Prix.
46. Swim, slide, and surf at Cowabunga Bay on those hotter than hot days.
47. Get in some quality play time at the Goett Family Park, which has a huge splash pad and often runs outdoor movie screenings in the summer months.
48. Enjoy the cool New York City replicas at high speed at the Big Apple Coaster at New York, New York Hotel and Casino.
49. Prepare your eyes and strike a pose at the 3-D Trick Art Museum, fun for all ages and often features special programming for kids.
50. After all that fun with the kids, treat yourself to a babysitter and enjoy an evening of the adult fun for which Vegas is famous!
A version of this article first published July 24, 2016. Additional reporting by Lindsay Li