Las Vegas, Nevada: 50 Awesome Things To Do in Vegas with Kids
10/8/22
- By
Jackie Jones
"Kid-friendly" is probably not the first word that comes to mind when you think of Las Vegas, but America's playground for adults is increasingly becoming a popular family vacation destination. While there are plenty of casinos and other grown-up activities on the strip, there are also many fun things to do in Vegas with kids, including parks, museums, shows, and memorable restaurants. Many Las Vegas hotels also offer amenities specifically geared for children.
My kids and I had a blast on a recent trip to Sin City, and my youngest is already asking when we can go back. Here are 50 of the best things to do in Vegas with kids, including delicious restaurants and kid-friendly hotels in Las Vegas. You'll see why Las Vegas made our list of the 30 best warm and sunny family vacation ideas! Check out our Family Travel Guide for more great options for your family's next trip.

Pretend to pilot a plane at the Discovery Children's Museum's Las Vegas Airport exhibit.
Parent's Night Out in Las Vegas
First things first—before we get to all the amazing things to do in Las Vegas with your kids, let's address the elephant in the room. All the fun things to do in Las Vegas without your kids! With shows, gambling, spa appointments, and some of the best upscale dining in the country, you just might want a parent's night out, without your little darlings. So right up front, we just want to mention that you can find trusted childcare even when you're on vacation. We partnered with Care.com to make it easy to find background-checked caregivers on our directory, or through Care.com directly, no matter where you are.
Top Attractions in Las Vegas for Families
Play, create, and learn at this amazing children's museum that spans three floors. Tinkerers will love inventing their own contraptions in the Patents Pending exhibit, or building dams and making currents in the Water World room. There's also an art zone, an eco-friendly mini city, a kid's performance theater, and a toddler town. The highlight for my daughters was the Summit, a 70-foot tall tower with climbing structures, slides, and interactive science elements.
Daredevils and cautious kids alike will have fun at this five-acre indoor amusement park inside the Circus Circus Hotel. We screamed our heads off on the Canyon Blaster, the world's only indoor double-loop, double-corkscrew roller coaster. Next, we toned it down for classic rides like the carousel and the mini Ferris wheel. The Adventuredome also has a 4-D theater and an arcade. Even in the heat of summer, ride lines were never very long.
Got an Avengers fan? Take them to this interactive exhibit inside the Treasure Island Hotel, which features original props and costumes from the Marvel Avengers movies. You'll see Captain America's uniform and shield, weapons and uniforms for Hawkeye and Black Widow, and Bruce Banner's laboratory, among other displays. Needless to say, there are plenty of photo ops!
Get a 360-degree view of the Vegas strip atop the STRAT Hotel. At 1,149 feet, the Skypod is the tallest freestanding observation tower in the United States (my kids think it looks similar to Seattle's Space Needle). Feeling daring? There are thrill rides at the top of the STRAT, including the X-Scream roller coaster, which propels riders headfirst 27 feet over the edge of the tower.
RELATED: Palm Springs with Kids: 31 Best Things To Do in Palm Springs, California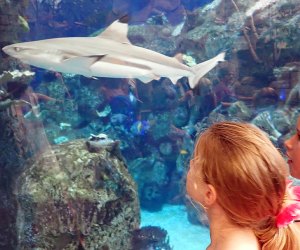 See sharks and other marine life up close at Shark Reef Aquarium.
Though not huge (we spent about 90 minutes inside), the Shark Reef Aquarium at the Mandalay Bay Resort is beautifully designed, with large tanks and transparent walk-through tunnels. More than 2,000 animals are on display, including sharks, stingrays, green sea turtles, jellyfish, and a Komodo dragon. There is also a touch tank that's free with admission. Visitors can pay extra for feeding experiences, too.
Take a ride on the largest observation wheel in North America, soaring 550 feet above the Las Vegas strip. The High Roller at the LINQ features 28 enclosed cabins where visitors can get a full view of the city. The ride lasts about 30 minutes, doing one complete revolution. FYI: tickets are much cheaper if you ride in the daytime, between 2pm and 7pm.
It gets hot in the Las Vegas desert. When it does, cool down and splash around at the Cowabunga Vegas water parks. Thrill seekers love the Wild Surf at Cowabunga Bay in Henderson, where they can ride a four-person raft atop the world's largest man-made wave. At Cowabunga Canyon in Summerlin, families can experience zero gravity on the Texas Tornado, a four-person raft ride through a giant funnel. Both parks also feature wave pools, lazy rivers, and water playgrounds for toddlers.
Take a walk on the wild side with the white tigers, lions, and leopards at this zoo-like animal sanctuary at the Mirage Hotel. While the big cats are impressive, visitors are charmed by the bottlenose dolphins that perform tricks and interact with guests. For an extra cost, families can feed and take a photo with the dolphins.
RELATED: 45 Fun Things To Do in Phoenix, Arizona with Kids

Be wowed by the dancing Fountains of Bellagio.
Of all the things my family did in Las Vegas, this is the one my kids talk about the most! View the iconic fountain show at the man-made lake in front of the Bellagio resort. As music plays, water shoots into the sky as if it is dancing along to the song. At night, lights add to the enchantment. And the best part? This attraction is entirely free! Fountain shows typically happen every 30 minutes during the afternoon and every 15 minutes after dark.
This steel roller coaster at the New York-New York Hotel pays tribute to the Empire City with cool replicas of the Statue of Liberty, Little Italy, and lots of Manhattan skyscrapers. Enjoy them as you whizz by at 67 miles per hour. The Big Apple makes several heart-pounding twists and drops; it is not for the faint of heart. Kids must be 54 inches tall to ride.
RELATED: 25 Epic California Road Trip Ideas for Families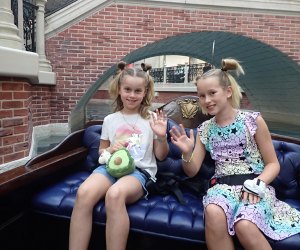 Pretend you're in Italy on a Venetian Resort gondola ride.
Las Vegas brings a little Italy to the strip with indoor and outdoor gondola rides at the Venetian. During our indoor ride (about 20 minutes in length), we coasted down a canal, through bridges, and under balconies. All of it is designed to look as similar to the city of Venice as possible. Our favorite part was definitely our singing gondolier, who belted out songs like "That's Amore" while guiding our boat. FYI: We waited only 15 minutes for our ride at 10am; by mid-afternoon, the wait time was over an hour.
Best Las Vegas Museums and Exhibits for Kids
Learn about animals, ancient cultures, and rocks and minerals at this museum on Las Vegas Boulevard. Families love the dinosaurs on display in the prehistoric-life gallery, as well as the live sharks and stingrays inside the marine-life exhibit. Kids can even try their hand at digging for fossils and peering through microscopes in the Young Scientist Center.
Become a pinball wizard at this Vegas play space, which is half-museum, half-arcade. You'll see recognizable games from the 1950s and 1960s, all the way up to the present day. There are plenty of fun pop-culture references mixed in (I'm looking at you, Austin Powers pinball). Admission is free—just make sure to bring plenty of quarters.
Recommended for ages 13 and older, this museum explores the influence of organized crime and law enforcement's efforts to fight it. There are plenty of cool artifacts on display here, including weapons and clothing belonging to well known Las Vegas gangsters. The Mob Museum also has a crime lab and a speakeasy, so visitors can imagine what life was like during the Prohibition era.
Though not for the squeamish, young scientists will be interested in this exhibit at the Luxor Hotel that explores the human form in all of its wonder. Thirteen real human bodies and 260 organs are on display so kids can see for themselves what a heart looks like and how the nervous system works. Be ready to answer questions; this exhibit definitely stimulates curiosity.
Also at the Luxor, this exhibit explores the majesty—and the tragedy—of the Titanic. More than 350 artifacts recovered from the wreck site are housed inside. Visitors can see replicas of cabin rooms, as well as the largest piece of the Titanic ever recovered—a 15-ton chunk of the ship's hull. It's a bit haunting to view personal items like luggage tags and champagne bottles. At least you can shake it off by taking your own "King of the World" photo.
RELATED: San Diego with Kids: 60 Family-Friendly Things To Do in San Diego, California

There's so much for kids to enjoy at Springs Preserve. Photo courtesy of the preserve
Discover Vegas' natural beauty at this 180-acre botanical garden that features a museum, a playground and splash pad, live animal exhibits, and over three miles of walkable trails. A highlight of the park is its trackless train, where visitors can learn a little Nevada history during a narrated, eight-minute round-trip ride.
Often regarded as the best free attraction in Las Vegas, this aquarium inside the Silverton Casino Hotel boasts a giant reef tank that's home to dozens of tropical fish. But the big draw to this attraction is its mermaid shows. Performers dressed as mermaids get in the tank and do twirls, somersaults, and other acrobatic moves alongside the fish. It's very magical! Plus, there are three additional aquariums at the Bass Pro Shop inside the hotel, so kids can also see freshwater fish like trout and catfish.
Young pop-culture fans will get a kick out of seeing the wax figures at this museum, the first Madame Tussauds venue to open in the US. Sports heroes like Michael Jordan and Muhammad Ali are on display here, and there's a fun "Viva Las Vegas" section, where famous figures with a connection to the city are immortalized in wax (including Elvis, Celine Dion, and members of the Rat Pack).
More Things To Do in Vegas with Kids Indoors
20. Indoor Playgrounds
It's not uncommon for the temperature in Las Vegas to hover around 100 degrees. On those days, indoor playgrounds offer sweet relief for families. Lost Worlds Myth & Magic has climbing walls, a laser-tag arena, and a giant play structure. All ages will be entertained at this dragon-themed 30,000 square-foot play space. There are super slides, trampolines and zip lines at the Uptown Jungle Fun Park. For the under-6 crowd, Kinderland Cafe features lots of pretend-play toys, a ball pit, and a train table.
21. Trampoline Parks
Trampoline parks are a great way for kids to get their wiggles out. Flip N Out Extreme has two locations in the Vegas area. Amenities include a dodgeball court, a large playground for younger kids, and a ladder-climbing challenge. At DEFY Las Vegas, kids can joust one another, perform acrobatics in the aerial silks, or try their hand at parkour on a special obstacle course.Local families also love XPlozone, which has a foam pit, a climbing wall, and a kids zone for those under 6.
22. Roller Rinks
Flash back to the 1980s at a Las Vegas roller rink. Crystal Palace has fun lighting, great music, and a snack bar. Skate mates (which resemble walkers) are available for beginners, and you can rent skates or bring your own. Located in the former Crystal Palace building is Skate Rock City, a 30,000-square-foot space owned by boxing legend Floyd Mayweather. Both rinks hold regular family nights where you can get a good deal for your brood.
23. Ice Skating Rinks
If ice skating is more your thing, take the kids to an open-skate sessions at one of the city's ice skating rinks. Locals like the cleanliness and spaciousness of the Pepsi Ice Arena, located inside the Fiesta Rancho Hotel & Casino. The City National Arena holds public sessions and is also the headquarters for NHL team the Vegas Golden Knights. Registering online for weekend open-skate times is encouraged.
RELATED: Top 25 Things To Do in San Francisco with Kids

They may be too young for the casino, but they're not too young for the arcade!
24. Arcades
No surprise, Las Vegas is home to dozens of great game rooms for families. Here are just two of our favorites: the 32,000 square-foot Big Apple Arcade at the New York-New York Hotel and the Fun Dungeon at the Excalibur, which boasts over 200 games with great prizes for winners (my kids were pining for the Squishmallows).
The Las Vegas Monorail is a great way to get from one part of the strip to another without driving. It's also a fun ride where kids can see the unique Las Vegas skyline. The monorail makes seven stops, including at the MGM Grand, Caesars Palace, and the Convention Center. Trains arrive every five minutes or so at the stations, and run every day from 7am until the wee morning hours.
Touring a real-life chocolate factory? What a sweet idea! See how candy is made at the Ethel M Chocolate Factory in Henderson. Visitors can take a free self-guided tour and watch pecan brittle, peanut brittle, and caramels being made by hand. After your tour, stop at the cafe and walk around the three-acre cactus garden, the largest of its kind in the southwest United States.
Not just a candy shop, this four-level, 28,000-square-foot space is a full-on experience. There are colorful displays everywhere, M&M's merchandise, and plenty of places to take pics. Plus, you can take home a special Vegas souvenir—your own unique M&M's pack, with personalized messages and 16 different colors to choose from. But, buyer beware: it's hard to walk out of this store without spending $50 or more.
Should you desire even more candy, Hershey offers up this shop on the Strip where visitors can customize their own chocolate bar, find some of those rarer candies (Sweet and Sour Twizzlers, anyone?), and take photos with a Statue of Liberty sculpture made out of 800 pounds of milk chocolate. Again, expect prices to be more expensive than at your local grocery store. But it's all about the one-of-a-kind experience.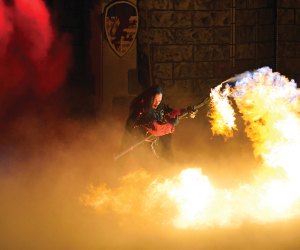 Seeing a live show such as the Tournament of Kings is one of the best things to do in Vegas with kids.
Family-Friendly Las Vegas Shows
My family and I loved this medieval-themed dinner show at the Excalibur Hotel. The 90-minute spectacle was action-packed, with jousting, horseback races, pyrotechnics, and sword fights along with some singing and dancing. Plus, the dinner itself (roasted chicken, corn on the cob, and potatoes) was surprisingly very delicious.
Blue Man Group is part musical, part artistic show featuring blue-painted actors. Sound strange? It is, but in the greatest of ways. Families love the high energy of Blue Man Group, plus there is a lot of audience participation. You may get a bit messy at this show, so definitely wear washable clothes.
People aren't the only performers at this Vegas show that features house cats, dogs, parrots, and even a miniature horse performing acrobatic stunts. Highlights include juggling tricks (done by the humans!) and a cat that pushes a dog around in a stroller. FYI: All performing pets were rescued from animal shelters.
If your kids are fans of classic slapstick comedy (a la Charlie Chaplin), they will probably enjoy Tape Face. As the name suggests, Tape Face performs silently with a piece of duct tape covering his mouth. There's plenty of impressive physical comedy and some audience participation.
33. Cirque Du Soleil shows
There are many Cirque Du Soleil shows to choose from in Las Vegas. Some are more kid-friendly than others, and many require that children be at least five years old to attend. That said, families love the colorful costumes, dancing, and acrobatics of Mystere. Music-loving kids also enjoy The Beatles LOVE and Michael Jackson ONE. Both shows celebrate the musical catalogs of these incredible artists.
Top Outdoor Things To Do in Vegas with Kids
This wildlife center at the Flamingo Hotel is home to koi fish, turtles, brown pelicans, and a flock of Chilean flamingoes, among other exotic birds. Expect to spend about 30 minutes walking the grounds at this tranquil garden, a relaxing attraction that's also free!
Celebrate the bright lights that make Las Vegas what it is at the Neon Museum. This outdoor museum houses restored signs from old casinos and other businesses, including signage from the old Stardust Hotel and Hacienda Resort. Though the museum opens in the late afternoon for self-guided tours, most people go at night. Advance ticket purchase is highly recommended. Bonus: Kids 6 and under are free.
Got a train lover in the family? This museum in Boulder City celebrates the area's railroad history, including the building of the Hoover Dam. There are trains and other cool equipment on display in the facility's open-air pavilion, and on weekends, families can go for rides on live steamer trains. FYI: Kids 3 and under ride free.
RELATED: 50 Fun Things To Do in Paris with Kids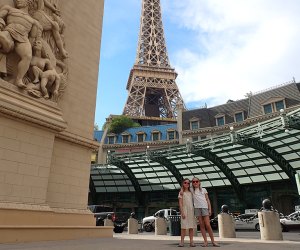 You'll almost feel like you're at the real Eiffel Tower at the Paris Las Vegas Hotel.
My daughters are enamored with the romance of Paris, yet a trip to France is not in our immediate future. We did the next best thing by visiting the Paris Las Vegas Hotel. It features many of the city's most famous landmarks, like a mini Arc de Triomphe and a half-scale replica of the Eiffel Tower. There's a viewing deck at the top of the tower, and seeing it lit up at night is almost as good as the real thing (well, almost).
Visit the first non-native settlement in Las Vegas at the Old Mormon Fort state park. History buffs will love exploring the remains of an adobe fort built by Mormon missionaries in 1855. The on-site visitor's center also contains cool old photos and artifacts, and there are some interactive elements that kids will particularly enjoy.
One of Vegas' best playgrounds comes courtesy of an open-air shopping center. Families love the Treehouse at Downtown Container Park, a one-of-a-kind play structure with a 33-foot-tall twisty slide. There are also big foam blocks that kids can build with and a giant praying mantis sculpture that's fun to marvel at. The mall hosts regular family events and is home to several great restaurants and specialty stores.
Speaking of cool playgrounds, Town Square Park has a great one where kids 10 and under can enjoy a climbing cube, slides, a trampoline, and a splash pad. There's also a cute little train that rides around the mall, and the center hosts lots of family-friendly events like G-rated movies and concerts.
Like an oasis in the desert, this state park is the antithesis of the Vegas strip. There's lush greenery, serene lakes, and plenty of wildlife. Visitors may see geese, ducks, rabbits, and even some peacocks roaming around. Come for a picnic, a hike, or to see the historic Tule Springs Ranch, which offers a look at early life in the region. Fossils of mammoths, giant sloths, and extinct camels have all been discovered on this property.
See Native American petroglyphs and bask in the beauty of red sandstone peaks at this conservation area, located about 20 minutes outside downtown Las Vegas. There are several hiking trails to choose from, some shorter and easier than others. A favorite feature is the quarter-mile hike to a petroglyph wall—the artwork is estimated to be at least 800 years old.
43. Lake Mead and the Hoover Dam
Up for a little road trip? Both the Hoover Dam and Lake Mead are just under an hour's drive from Las Vegas. At Lake Mead, you can rent Jet Skis, kayaks, and fishing boats for a day, or stick to dry land hiking and biking your heart out. This outdoor playground spreads across 1.5 million acres of mountains, canyons, valleys, and two lakes. Meanwhile, the Hoover Dam is a man-made American wonder. Built during the Great Depression, the concrete dam currently provides water to 16 million people and controls the flooding of the Colorado River. It has come to symbolize innovation in engineering.

Eataly's candy corner will not disappoint.
Great Kid-Friendly Restaurants Las Vegas Has to Offer
44. Awesome Los Angeles Exports
Some of the best casual restaurants in Los Angeles have locations in Vegas. Like its sister store in LA, Eataly Las Vegas is an upscale Italian food hall where you can feed your kids favorites like sandwiches and pizza while also picking up specialty groceries. My family got picnic items for the week at Eataly, as well as treats from its immense candy corner. Got a hankering for Mexican food? Border Grill has a restaurant at Mandalay Bay. Its guacamole, tacos, and burritos are excellent, and it has a nice kids' menu.
45. Fine Family Dining
Seeking something special with the kids, but not too fancy? Buddy V's Ristorante, located inside the Venetian, is a great pick for families craving Italian food. The bambinos menu for kids 12 and under has fresh pasta and meat dishes, and the offerings for adults are very tasty. My daughters and I also loved dining at Mon Ami Gabi, a French restaurant at Paris Las Vegas. The steak frites (steak and fries) on the kids' menu were a big hit, our salads and seafood were delicious, and the table bread is downright addictive. Bonus: The restaurant is located across from the Bellagio fountain, so you may catch a fountain show while dining!
46. Vegas Buffets
Go big at a Las Vegas buffet! The recently renovated Bacchanal Buffet at Caesars Palace offers hundreds of food choices from around the world, with 15 daily specials prepared in nine open kitchens (so your picky eater is bound to find something they like). Brunch-loving families enjoy the breakfast and lunch buffets at Wicked Spoon inside the Cosmopolitan. Along with its omelette and carving stations, there's an extra-special dessert area, where guests can indulge in cake pops, cookies, and gelato. Plus, kids4 and under are free with a paying adult.
RELATED: 11 Top Hotels with Outdoor Water Parks for Families with Kids

With a wave pool, a lazy river, and more, Mandalay Bay is the perfect Las Vegas hotel for families.
Best Kid-Friendly Hotels in Las Vegas
Mandalay Bay is my go-to hotel when traveling to Las Vegas with my kids. Not only does it have great restaurants and entertainment, but we always have a blast splashing in the hotel's lazy river and wave pool (though if you want a tube or floatie, be prepared to bring your own or buy one). Rooms at Mandalay Bay are also very spacious and notably clean.
Speaking of great water play, the MGM Grand has four swimming pools, three whirlpools, cascading waterfalls, and its own lazy river where families can cool off and relax. Plus, it's located on one of the busiest corners of the strip (as well as a stop on the Vegas monorail), so visitors are in close proximity to many of the area's top attractions.
The Four Seasons is one of the few hotels on the Las Vegas strip without a casino, and that's a major reason why families love it and come away from their stay feeling refreshed. There are great restaurant options on site, and small touches like high-end toiletries are always nice. Plus, guests at the Four Seasons get access to Mandalay Bay, including its pool complex.
Located 20 minutes from the Vegas strip, this hotel is set in the sandstone canyons with the Red Rock mountains as its backdrop. The decor at the Red Rock Resort is lovely, and its pool complex is quite luxurious, with nine pools spread across three stunning acres.
A version of this article was first published July 24, 2016. Additional reporting by Bethany Braun-Silva​ and Lindsay Li
Unless noted, photos by the author
Click Here to Sign Up!
i