San Diego with Kids: 60 Family-Friendly Things To Do in San Diego, California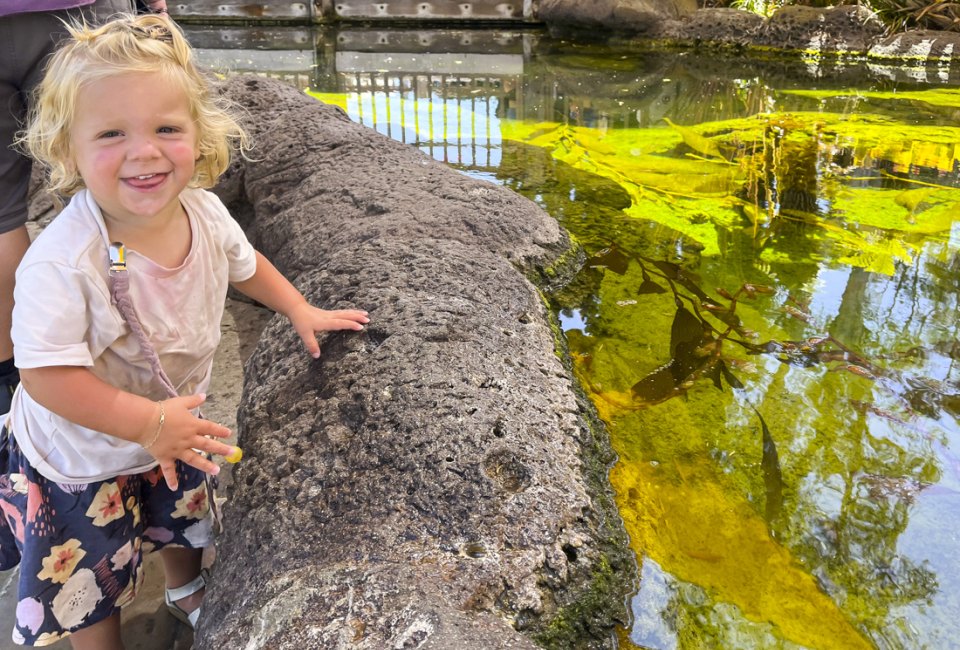 8/13/22
- By
Kylie Williams
Whether you live in California and are in town for a weekend getaway or coming from far away for a sunny vacation, we know the perfect things to do in San Diego. San Diego is honestly overflowing with family fun. Some of the destinations are obvious: billboards all over the city remind you that the Safari Park, Legoland, the San Diego Zoo, Sesame Place, and SeaWorld are just a few miles away. However, there are also so many incredible "off the beaten path" places to take your family that before you get halfway through this list it'll be time to go home, and you'll have to plan a return visit.
Looking for a place to stay while exploring San Diego? Here is our list of the best hotels in San Diego for families and favorite places to stay in Carlsbad.
San Diego is rich in California history. The first mission in California was founded in this city which is just 17 miles from Mexico. The 32nd Street Naval Station is the Navy's largest base on the West Coast. San Diego also looks to the future with UCSD and the Scripps Institute in La Jolla researching and creating breakthroughs in science and technology. The city is packed with beautiful beaches and hiking trails. The food is wonderful, the weather spectacular, and the vibe laid back; in short, it's an ideal vacation spot for families.
Unique Destinations in San Diego Kids Love
The beautiful Old Globe Theatre, modeled after Shakespeare's Old Globe in London, is California's oldest professional theater and puts on around 15 different shows a year (including many of Shakespeare's classics). There are three different stages at this stately venue, including an outdoor stage that is home to the annual summer Shakespeare festival.
Artists gather daily at this unique space in Balboa Park to create masterpieces before the eyes of those who pass by. You are welcome to watch these local artists at work in their studios, and can even purchase their pieces.
RELATED: Legoland's Cool Hotel Can Be Your Kids' Castle for a Night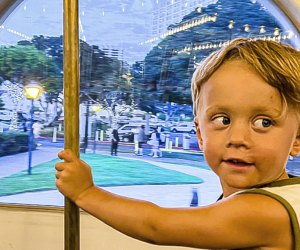 This hand-carved carousel is over 125 years old, and spins against a stunning backdrop. Photo by the author
This stunning hand-carved carousel was designed in 1895 and still spins daily to the delight of kids and adults alike. A ticket to ride is only $5, and the carousel is operational from 11:30am to 4:30pm. It is cash only, so make sure to pop by an ATM before your visit. Tip: Parents don't need to pay if they are only standing with a child.
This is a personal favorite of my family. Watch penguins waddle, an octopus wiggle, and sharks weave through the water at this fantastic aquarium. Kids can get up close and personal with sea life at the tide pools and marvel at the many colorful fish in the tanks. Make sure to book your tickets online in advance and make a reservation.
Founded by the famous Gregory Peck, Dorothy McGuire, and Mel Ferrer back in 1947, The La Jolla Playhouse has long been a haven for artistic expression. Some of Broadway's famous plays and musicals were workshopped in this hallowed venue.
I still remember the first time I entered the magnificent Del Mar Racetrack and caught a glimpse of the stately racehorses. As an equine-obsessed pre-teen, the experience was thrilling. Kids love watching these beautiful racehorses parade prior to racing, and parents can place a few bets in hopes of winning big. Check the racetrack website for a detailed schedule of races.
RELATED: Kids Free October in San Diego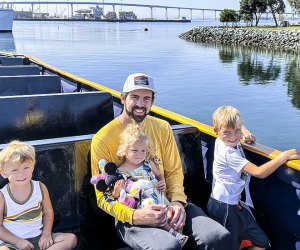 Hop on the Flagship Ferry to cross the channel. Photo by the author
For only $7 (one way), you can cross the channel between San Diego and Coronado Island in style on the oldest working wood ferry in the US. The 15-minute ride provides incredible coastal views and drops you in charming Coronado. From the landing, it is a 30-minute walk through town to the Hotel Del Coronado with those beautiful white sand beaches.
Cover all the ground you want to in Balboa Park using the amazing free tram service. The route stops at three major parking lots around the park, giving you easy access to the museums, gardens, shopping, and more.
Wander trails in this 37-acre wonderland of lush plants and stunning flowers. The largest children's garden on the West Coast is right here, along with a bamboo collection and 28 other beautifully cultivated spaces.
RELATED: Temecula's Kid-friendly Wineries are a Treat for Parents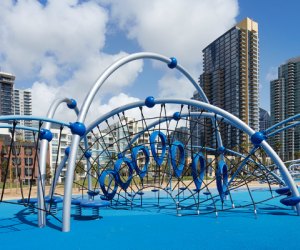 With ocean and city views, Waterfront Park is a great place for kids to take a break and run around. Photo by Stephen Whalen for San Diego Parks and Recreation
Waterfront Park sits on the bay and stretches 12 acres with grassy areas, sculptures, playgrounds, splash pads, and more. This scenic spot is perfect for a picnic or an afternoon of play.
You probably aren't going to take your kiddos hang gliding, but you can watch those brave souls with their colorful kites from the beautiful Torrey Pines Gliderport. This cliffside spot gives a breathtaking view of the city and the shoreline. Grab a sandwich at the Cliffhanger Café for lunch.
Arrive at low tide and discover the world of sea anemones, crabs, sea slugs, and more at the Cabrillo National Monument. Check the tide tables to make sure you arrive at a prime time; at high tide this underwater world is hidden.
Teach your children the importance of plants at this beautiful garden inspired by George Washington Carver. This little gem is located in Balboa Park and offers gardening classes by appointment and on Sundays at 11:30am.
RELATED: 25 Things To Do in Carlsbad, CA with Kids

See the Padres and play at Petco Park. Photo by the author
During baseball season, Petco Park is the perfect place to catch a game while taking in breathtaking views of San Diego. This unique stadium is home to Major League Baseball's Padres. There's also a Wiffle ball diamond open for play during the games for restless kids who get inspired by the pros.
15. Go, or Watch, Surfing
San Diego is a surf town, with great spots to catch waves from Oceanside to South Bay. The best places to observe are Trestles (which hosts the World Surfing League contests), Black's Beach, and Windansea. If you've got a little grom looking to take to the waves, consider surfing lessons at one of the many surf schools along the coastline.
What could be more relaxing than wandering through fields of stunning flowers in Carlsbad? This is strictly a spring activity, with the fields open between March and May. After touring the fields, check out the artist gardens, bird aviaries, and the American Flag of Flowers.
I can personally attest to the magic of these tours. The last time we went whale watching in San Diego, the whales came right up to our boat. We also got a great view of silvery dolphins leaping through the water. Just bring Dramamine if you get seasick (speaking from experience).
RELATED: 31 Things To Do in Palm Springs with Kids
Hike through a field of bright yellow Brittlebush in the desert. Photo courtesy Kerem Hanci
Places to Hike in San Diego with Kids
California's largest state park is full of beautiful trails, flora and fauna, and geological wonders. You may even spot a Desert bighorn sheep.
Hiking and walking trails abound at the beautiful Kit Carson Park in Escondido. There is a 5-acre arboretum, ponds, picnic tables, lighted sports fields, an amphitheater, and a 22,000-square-foot skate park. The park is also home to two roller hockey rinks, a full-size soccer arena, a playground, and Queen Califia's Magical Circle sculpture garden. This is a place where you could spend the whole day, especially since the weather in San Diego is almost always a temperate 70 degrees.
Coastal hiking trails line the cliffs at Torrey Pines and offer some of the most beautiful views of the ocean in San Diego. All groups need a permit and no food or drink is allowed in the preserve. Also, make sure to leave your four-legged friends at home, as dogs are not permitted in the area.
This rugged landscape of rolling hills and valleys seems worlds away from the bustle of the city. There are over 60 miles of trails to choose from. The state-of-the-art Mission Trails Regional Park Visitor Center is the perfect place to cool off after a hike and learn a little more about this stunning area.
RELATED: California Family Vacation Ideas Kids Love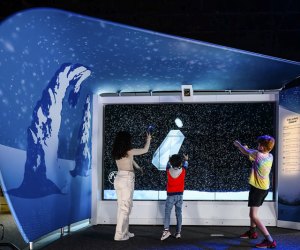 Experiment, learn, and play at the Fleet Science Center. Photo courtesy of the museum
Kid-friendly Museums in San Diego, California
The Fleet Science Center in Balboa Park is a great place to experiment, learn, and play. The center also hosts IMAX productions in the beautiful theater.
This educational and colorful kids' museum is filled with interactive art installations that function as incredible play spaces. Kids and parents alike are inspired by these mesmerizing exhibits where imagination meets creativity.
24. Balboa Park's Iconic California Tower at the Museum of Us
The California Tower tour is one of the many exhibits at the Museum of Us and allows visitors to go up inside this stunning landmark for a breathtaking view of San Diego and the Pacific. The Museum of Us is dedicated to teaching patrons about anthropology with several creative exhibits highlighting different cultures, people groups, or aspects of humankind.
This peaceful haven is home to a bonsai garden, a spectacular koi pond, Japanese art and artifacts, and more. Kids under 6 are free.
From reproductions of the Wright Brothers' first planes to replicas of the Gemini Spacecraft, this museum encapsulates how far we've come in the area of air and space exploration in the past century.
Get a bird's eye view of five different railroad routes at these intricately designed model train displays.
San Diego's rich history is preserved in exhibits at the San Diego History Museum in Balboa Park. Admission is free, but there is a suggested donation of $10 per person. This attraction is only open Wednesday through Sunday.
Powerful pieces on display will make you think and reflect at these beautiful museums. The Museum of Contemporary Art has one installation in San Diego, and one in La Jolla. Anyone 25 and under receives free admission.
The Maritime Museum is home to famous ships, a submarine, and the world's oldest active sailing vessel, the Star of India. You can visit most of the watercraft at the museum on a general admission ticket. For an additional fee, you can add on a historic bay cruise aboard San Diego's chief pilot craft, aptly named Pilot.
RELATED: Best Things To Do in Joshua Tree With Kids

Step back in time to a paranormal past. Photo courtesy of the Whaley House
Historical Attractions for the Family in San Diego
31. Whaley House in Old Town San Diego
This historical landmark has long been infamous for its paranormal past. You can book a tour during the day, or opt for a spookier encounter in the evening. The evening tours are not recommended for children under 12.
This is the first mission ever established in California, and it still functions as a practicing Catholic church. While you can book a tour of this piece of California history, keep in mind that there is no charge to enter the mission if you attend mass, which takes place daily.
An hour east of San Diego is a mountain getaway home to a magical ghost town and magnificent gold mines. Book a tour of a gold mine or pan for gold yourself, hike beautiful mountain trails, picnic in a scenic park, or try a slice of famous Julian apple pie. (And in the fall, pick your own apples here, too!)
This state-of-the-art attraction includes an interactive video presentation, computers curated with information about Old Town San Diego, and the opportunity to act like a 49er and search for gold.
RELATED: Hip Glamping in the Desert at AutoCamp Joshua Tree

See the sea lions on the San Diego shores. Photo courtesy of californiabeaches.com
Family Beaches in San Diego
If you're hoping to get a glimpse of seals or sea lions while in San Diego, you have a great chance to do so at Shell Beach. The beach also has tide pools that are explorable at low tide.
This beautiful stretch of shoreline is framed by the bluffs of the Torrey Pines State Park Preserve with those towering trees. Down by the water, the beach is staffed with lifeguards and close to bathrooms. There's even a beautiful, calm lagoon for kids to splash around in.
If your kids are comfortable with stairs, then it is worth it to make the ascent to this beautiful spot. At low tide, Swami's reveals magical tide pools full of all sorts of ocean creatures.
Known as "the jewel of San Diego," this wide beach has mild waves that are perfect for younger kids who love to splash in the sea spray. Next to the beach is a boardwalk and a grassy area perfect for a picnic or a game of volleyball.
The Hotel Del Coronado is architectural eye candy and sits on a stunning white sand beach. Del Beach offers plush beach beds and food and drink service right on the sand for hotel goers. Whether you book a night or two at the hotel or just want to wander for the day, Del Beach is its own kind of paradise.
RELATED: Best Kid-friendly Hotels for a San Diego Vacation

Museums, theaters, trains, and the zoo; it's all at Balboa Park. Photo courtesy of Balboa Park
Places To Explore in San Diego
You could spend days in Balboa Park and still not see it all. The park is home to 16 museums, including the world famous San Diego Zoo. There are hiking and walking trails, restaurants, stately statues, gardens, art houses, theaters, iconic statutes, a miniature train, and a classic carousel—just to name a few of the beautiful sights and attractions.
This stretch of the harbor in San Diego is home to the USS Midway, the Maritime museum, shops, restaurants, the Museum of Contemporary Art San Diego, and more.
The Gaslamp Quarter is home to seafood, steakhouses, sushi, pizza, Italian food, bars, clubs, shopping, desserts, and more. Kids love ordering a sundae at Ghirardelli. With everything from casual fare to fine dining, the Gaslamp Quarter has the perfect place to satisfy both food cravings and fun cravings.
Is there anything better than a seaside roller coaster? Belmont Park is a carnival-style oceanside attraction with games, rides, shops, and food. Admission and parking are both free, and tickets for rides can be purchased online. Wristbands are available for a whole day of play.
With dozens of small eateries, dessert spots, and unique shops right on the harbor, Seaport Village is a perfect place to meander. Kids can ride the carousel, pick out a magnet, grab a Dole Whip, search for crabs off the boardwalk, and watch the boats go by.
Cross the bridge or take the ferry to Coronado Island to explore this stretch of white sand beach centered around the magnificent Hotel del Coronado. There's plenty to do on the island, from renting a surrey, to hop on/ hop off trolley tours, to gondola rides, to world-class food and drinks. The Del is loaded with history; it's where Marilyn Monroe's Some Like It Hot was filmed and the hotel was L. Frank Baum's inspiration for the Emerald City in the Wizard of Oz.
Ocean Beach is fun, funky, and casual. It reminds me of Venice Beach in Los Angeles County. There is a great farmer's market on Wednesdays, and we love Hodad's burgers (we have a Hodad's sticker on our stroller). The beaches are serene and spacious, too.

Get up close and personal with the animals. Photo courtesy of the San Diego Zoo
Amazing Theme Parks & Zoos for Kids in San Diego
It's hard to take a trip to San Diego and not explore this incredible zoo. The polar bear exhibit alone has me coming back again and again. (I love bears.) The zoo is huge and you could easily spend several days making your way around the place, which is why you'll want to come armed with our guide to visiting the zoo like a local. San Diego's temperate climate also makes for active animals, and the zookeepers offer special talks and encounters all day.
SeaWorld San Diego is part theme park, part aquarium, and my 11-year-old Flipper-obsessed self still can't get enough of this ocean-themed attraction. Thankfully, SeaWorld has taken dramatic steps to improve the animal care here over the past few years, and no longer exploits the orcas. You can purchase admission with the security that you are supporting these creatures, not harming them. With the new Sesame Street Bay of Play, there's plenty for little kids to do. Bring a change of clothes, whether you watch the orca show up close or run through the splash pad, there is a high chance you'll get wet.
This is just the best theme park to visit repeatedly with kids of all ages. You can bring your barely walking littles and they'll be entranced by the sights and sounds and rides perfect for a toddler's first amusement park visit. You can also bring your tweens and teens, who quickly shed their cool attitudes and dive into playing the way they did when they were young. The theme park is flagged by two unique waterparks and three creative hotels. Plan an extra day to visit Legoland's water park, if you visit in the summer.
Do your kids love bounce houses? Mine lose their minds whenever they even see one of these things. Inflatable World is a new space at the Westfield Mission Valley Mall with 30,000 square feet of bouncy fun. Socks are required, so make sure to bring them along.
Contrary to what you would expect, the San Diego Safari Park is not next to the zoo. It's further north, in Escondido. It is more interactive than the zoo, with a safari that takes you through a preserve with roaming animals. My family's favorite part of the park is the cheetah run—there's nothing quite like watching one of these big cats in action.

Sesame Place comes with its own amazing water park. Photo courtesy of Sesame Place San Diego
San Diego's newest theme park is filled with watery fun as well as plenty of family-friendly dry rides. Kids can meet Big Bird, Elmo, and the whole Sesame Street gang. It's the best new theme park in California in a long time, and toddlers adore it.

Lobster tacos combine two San Diego classics: Mexican food and fish! Photo courtesy of Puesto
Delicious Family Dining at San Diego Restaurants
It's no secret that San Diego has some of the best Mexican food you can find, but Puesto puts a modern spin on Mexican classics that is on another level. In fact, I'm currently writing this article with a belly full of Puesto tacos. This San Diego favorite has restaurants in La Jolla, San Diego at the Headquarters, and Mission Valley.
Dine on gourmet burgers and sip a beer at the casual Station Tavern. This casual restaurant offers picnic tables al fresco that will make you feel like you are eating in a friend's backyard. Four-legged friends are also welcome on the outdoor patio.
There is a lasagna at one of the restaurants in Little Italy that is so delicious that my family has been known to make my aunt bring it up to LA for Christmas dinner. The authentic Italian cuisine, crafted by world-class chefs, makes this one of the best places in the city to grab a bite. You pretty much can't go wrong anywhere you choose to dine.
Old Town San Diego is a "good place to come hungry" with seven authentic Mexican restaurants including Miguel's, which has won the Gold Medal Award five years in a row. Take your kids to Dr. Freeze afterward for a unique sweet treat. Shop around on the street or take an old town tour to learn the history of this quaint town.
Pop in at this food hall on the water to try unique food from different cultures. With grassy outdoor areas and plenty of seating, this is a great place to bring antsy kiddos.

Get dinner and a show at the Corvette Diner. Photo courtesy of the restaurant
This retro diner is within walking distance of Liberty Public Market. Flashy neon signs, arcade games, and sassy waitresses make this restaurant more of an experience than a meal. Get your disco on while you listen to Elvis croon and eat diner classics that are sure to satisfy.
Handel's ice cream is mindblowing. The coconut caramel delight flavor had me hooked from the first bite. There is one location in Carlsbad and another in Del Mar. If you are near either spot, go out of your way to stand in the long line and grab a cone. You won't be sorry!
This spot combines it all: legit great food and beers for adults, a solid kids' menu for kids, gorgeous views, swings, a bike trail/walking path right off the back of the brewery, fire pits, and more. It's dog-friendly, too. Located on the lagoon in Del Mar, it's worth the drive north of the city.