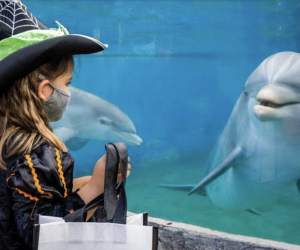 Kids Free October in San Diego: Deals at the Zoo, Seaworld, Hydrobikes, and More
Many things are different in 2020, but October is still when there's FREE stuff for kids to do in San Diego. So pack up and head to southern California's favorite tourist destination to take advantage of San Diego Tourism Authority's annual Kids Free promotion.
The citywide campaign kicks off October 1, enticing families to visit San Diego's big-ticket attractions like the San Diego Zoo, San Diego Wildlife Park, Legoland, and Seaworld. Children can eat, stay, and play for free at more than 150 participating hotels, restaurants, museums, and parks until October 31.
We've selected several offers below that we think are particularly good deals; put two or three together, and you've definitely got savings worth traveling for. Scroll down for the link to all 150+ free opportunities for kids in October.
Lions and tigers and koalas, oh my! The world-famous zoo features more than 3,700 animals including pandas, polar bears, and Malayan tigers. Receive free admission for up to ten children aged 11 and under with each paid adult ticket.
San Diego Zoo's sister park is an impressive, 1,800-acre refuge for more than 2,600 animals who roam freely, offering a safari-like experience to 2 million people each year. The park is home to cheetahs, zebras, condors, African rhinos, and giraffes who love acacia leaves. Every paying adult can bring a kid free of charge in October.
For Halloween month SeaWorld is hosting a trick-or-treat trail, and kids are invited free -- one child with each paying adult. Treats include fall-flavored food & beverages, physically-distanced dance parties, and visits with the animals.
RELATED: 50 Things To Do in San Diego with Kids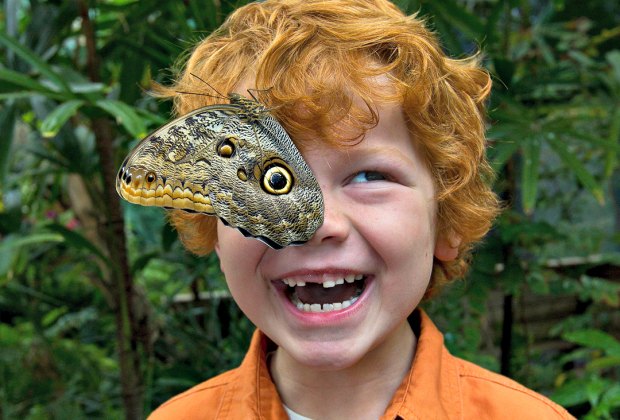 Butterfly Jungle at the San Diego Zoo Safari Park is a treat. Photo by Ken Bohn courtesy of SDZ Safari Park
Flight simulators, Apollo Command Modules, historic and military aircraft—what's not to love? And during October up to 2 kids get free admission with each adult.
Two kids ride free with each paying adult on these fun water bikes on Mission Bay. Word is that sea lions love checking them out, so a pedal around the cove can be a double treat.
Six kids can ride along free with every full-fare paid adult on 1 or 2 hour cruises all month long. These voyages always have a naturalist on board from San Diego's Birch Aquarium at Scripps. Trips leave twice daily.
Kids can visit this historic aircraft carrier for free with their parents, checking out fun features like flight simulators, climb-in aircraft, ejection seats and cockpits, and guided tours of the bridge.

A gondola ride is an old world treat. Photo by Mommy Poppins
Ever feel tempted to take a ride on one of those graceful, peaceful boats from another age, pushed through calm waters by a dashing gondolier? It's not just a Valentine's Day thing; kids love these rides, too, and The Gondola Company is inviting each couple to bring up to 4 kids on their ride for free. Pack a picnic, and it can be cheaper than dinner out.
Stopping for dinner in Old Town? That stop could be at the Mexican restaurant voted most kid-friendly by San Diego Magazine readers. There's a free kids' meal for each paid adult meal; the mariachis are on the house, too.
For a complete list of all 100+ offers in the Kids Free October promotion, including many hotels and restaurants, check out the Kids Free San Diego website.

Originally posted 9/26/17, updated annually