Why Legoland Is My Favorite SoCal Theme Park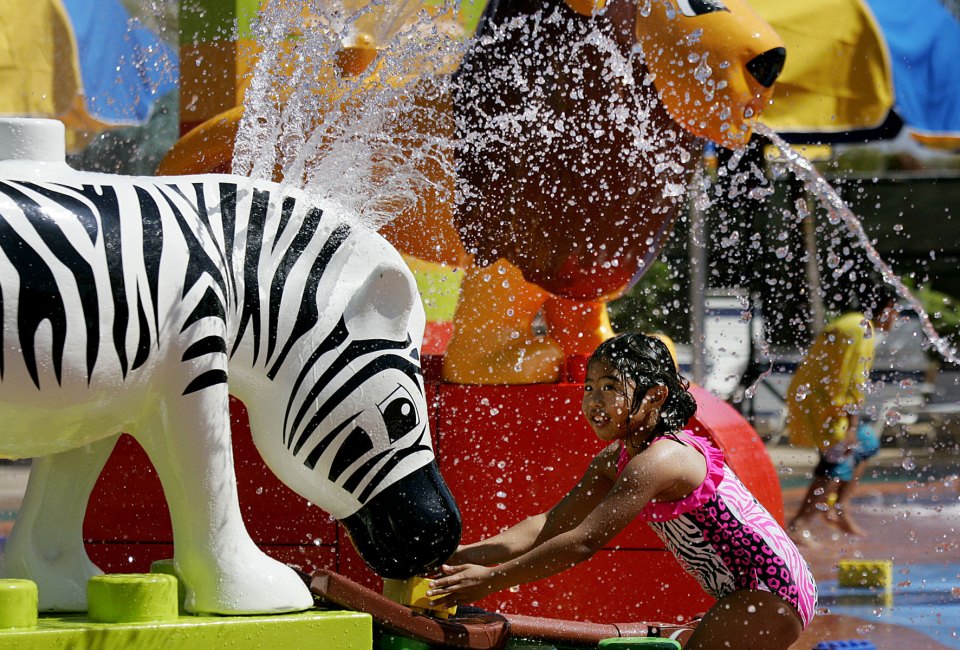 4/13/19
- By
Roberta B
Why is Legoland California the favorite theme park of so many local parents? Read on to find out!
Southern California is blessed with some of the world's most famous theme parks; families travel from all over to experience Disneyland and the original Universal Studios Hollywood (including the Wizarding World of Harry Potter)—but just 90 miles to the south, in the San Diego suburb of Carlsbad, is a park that has at least as much to offer as the mouse and the wizard. There is a whole lot more to Legoland California than bricks, and truth be told I prefer a day there to any other major theme park.
When it comes to pleasing the youngest amusement park fans, Legoland California takes the prize; where other parks offer a section or two that cater to younger riders, Legoland sees to their needs throughout the park. Yet somehow, even though this is the perfect park for a 6-year-old, and even though there are none of the terrifying speed rides of Knotts or Six Flags, somehow Legoland retains its charms for teens as well. This a theme park where families with multiple kids of varying ages can keep everyone entertained all day.
But what truly delights me as a parent is what a treat Legoland is to walk around. Disney and Universal are hard work; I get all my steps in, but with sore feet and a sweaty sunburn. At Legoland the distances feel more manageable, partly because they are, and partly because the entire park is lush with plants, the air heavy with the scent of jasmine, and with things to look at all along the way.
Sculptures at Legoland Caliornia
Every time I visit Legoland California I am struck by the number of kids who have clearly grown up to work their fantasy job at this park—creating intricate sculptures and models out of Lego bricks.
Capitol Hill is a work of art. Photo by Mattijs Grannetia/Flickr
Whimsical scenes and creatures are everywhere; you can't walk more than a few steps without seeing knights, witches, camels, dinosaurs, and wookies created by teams of brick artisans. Walking from ride to ride is a visual treat. And when you're ready to be truly overwhelmed by this artistry, head to the heart of the park, to Miniland, where every world landmark you can think of is created to scale out of bricks. Your kids can tour the country from the Hollywood Bowl to New Orleans to the Vegas Strip, then hop over to see London and Paris, finishing up in a galaxy far, far away.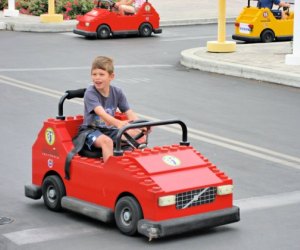 Driving the mini cars never gets old. Photo by Tom Caswell/Flickr
Legoland California Rides
Obviously no matter how pretty a park is, what matters to kids are the rides. The sheer variety at Legoland is a crowd-pleaser, from gentle treats like Fairy Trail Brook and the Royal Joust to the teen-thrilling Knights' Tournament and never-gets-old Junior Driving School. There are rides that test skill, gentle and moderate roller coasters, rides that go splash, and rides that rest Mama's feet during the hottest part of the day. There are enough rides to fill a weekend and still leave some for next time, no matter what your age.

We love Legoland's water park! Photo by Roberta Brown
Water Fun at Legoland California
All year round there are water features at Legoland, including water play areas, rides that soak by design, and attractions that spray anyone who gets too close. During the summer months, there is also a superlative water park offered as an add-on ticket, featuring a lazy river (with giant floating Lego bricks to stick on the inner tubes), water slides, a wave pool, raft rides, and soak zones. There is no reason to overheat on a summer day with this much water around.
Activities at Legoland California
In addition to all of the rides one expects to find at a theme park, Legoland has some activities that mix things up a little. Take a tour of the brick factory, have a go at building and racing model cars, or create your own robots—all of these are not only possible, they're even air conditioned. It's all very civilized.

Apple fries with vanilla cream - mmm. Photo by Mommy Poppins
Food at Legoland
Only two words needed here: Apple Fries. Everyone I've ever directed to Granny's Apple Fries in the Castle Hill area has thanked me for it. Brace yourself for cinnamon, vanilla cream, and a craving that stays with you until your next trip to Legoland. Other food at the park is the sort of variety you'd expect at a family attraction, though keep your eyes open for signs announcing free kids' meals with an adult meal after 3:30pm.
Legoland Hotels
There are a few hotel options on property, including the classic Legoland Hotel and the newer Legoland Castle Hotel. These not only give early entrance to the park just steps away from the entrance; they also continue the brick-building theme throughout the stay. The atmosphere in the hotels is great fun (right down to the disco elevators) with plenty of after-hours play options for kids, and the deals combining park admission with the room really make it worth not driving back to LA at the end of the day.

The Sea Life Aquarium is its own adventure. Photo by Mommy Poppins
Legoland's Sea Life Aquarium
Here's a curve ball: what other theme park has a full aquarium? The Sea Life Aquarium is no minor exhibit posing as an aquarium; this is a proper marine educational facility worthy of a visit all its own. The size is perfect: small enough to be covered in an hour if that's your goal, but large enough for a marine-life-loving kid to lose himself for much longer. Two floors of exhibits cover every type of aquatic environment, including an interactive bioluminescent tide display on a faux beach. Trained aquarists are on hand to answer questions—and yes, there are divers made of Lego bricks. Of course.
And It Keeps Getting More Awesome
Lego Movie World is the newest area of the park, which opened in 2021. It features attractions based on The Lego Movie and The Lego Movie 2. What's so special about the LEGO Movie World? For starters, how about the triple-decker couch of Emmet's Flying Adventure? (It flies! Or at least, you'll feel like it does in this new flagship ride that includes a full-dome virtual screen, that makes it feel like guests are flying above Cloud Cuckoo Land, Pirates Cove, and Outer Space.) Kids can also experience the rush of falling from Unikitty's Disco Drop, explore Benny's Play Ship, ride Queen Watevra's Carousel, create at the Build Watevra You Wa'Na Build zone, and meet Emmet and all his friends in Emmet's Super Suite.
Before visiting Legoland California, remember that all guests are required to make advanced reservations to Legoland California, even if you have an annual pass. (The only exception is if you have dated tickets or are staying at the hotel.)
Places featured in this article:
Click Here to Sign Up!
i