Legoland's Water Park Makes It Even Cooler in Summer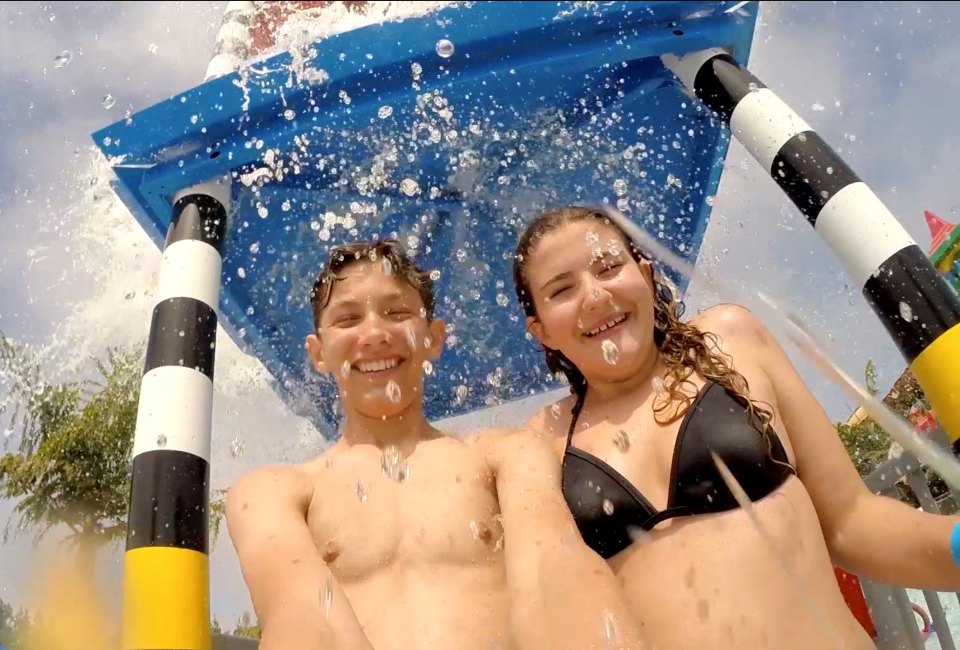 6/28/17
- By
Roberta B
I've always found plenty to love about SoCal's fun-filled brick wonderland, but Legoland's new water park expansion this summer adds one more reason to visit. Surfer's Cove is a whole new section, upgrading the seasonal attraction from a park add-on to a summer experience worthy of a visit all its own. The new area brings more slides, more waves, and more ways to get wet for kids of all ages. Could you fit all of Legoland's action into one day? Anything's possible, but the bigger, better water park makes a family want to take advantage of one of the many deals that include keeping the fun going all weekend or all year.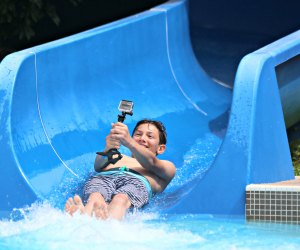 No matter how old you get, water slides never get old.
The thing people usually know about Legoland is that it's the big theme park that's little kid friendly. What's perhaps less commonly known is that bigger kids can also have a blast here. I spent a day recently with two 13-year-olds, and I was delighted to see that they love it just as much as teens as they did as kindergartners. The expanded water park, of course, makes that even more true. Surfer's Cove brings two new attractions—Riptide Racers and Wipeout Lagoon—which splash beyond the existing water slides, raft rides, water play areas, wave pool, soak zone, and LEGO-filled lazy river that the water park already offers. In short, Legoland's water park is a place any kid would want to be on a hot day.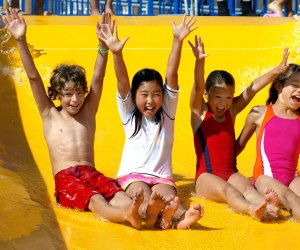 Get wet and wild on the waterslide. Photo courtesy of Legoland
One of the great things about this park is that the entire place is pleasant on a hot day. There are rides spread throughout the main park with water or splash features, but there's more than that; the extensive landscaping, with lush greenery and sweet-smelling jasmine between rides, helps Legoland to feel less sweltering than other SoCal theme parks on a summer day. Then there are the amazing brick sculptures. Everywhere one looks in Legoland there are models—some life-sized, some scaled—painstaking constructed from LEGO bricks. These impressive works of art make the walk from one ride to the next surprisingly enjoyable.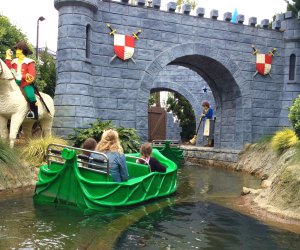 Fairy Tale Brook offers a cool, relaxing ride through LEGO scenes and jasmine blooms.
The rides range from the sort that clearly only appeal to tiny tykes (riding a pony in the Royal Joust or driving a little boat at Skipper School), to virtual reality shoot-ups like Ninjago and Lost Kingdom Adventure, to the Knights' Tournament, where riders can choose the intensity of their thrill ride. Roller coasters are adventurous without going insane, and the driving school is super fun for drivers who don't really have to tackle the 405.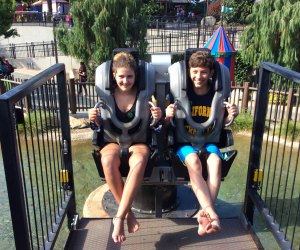 These big kids chose Level 4 out of 5 on Knight's Tournament and found it plenty thrilling!
Other experiences unique to this park include the LEGO Factory tour, the model shop, and a workshop to build and test race cars. The center of the park houses Miniland, home to almost every major landmark in the country (and one or two from a galaxy far, far away) built out of bricks. Plus there are stage shows, 4D movies, and character appearances. If by chance an hour of your day isn't filled, Sea Life Aquarium is an excellent aquarium with sea creature interactions, feedings, and talks.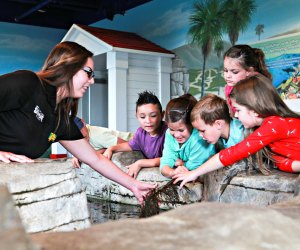 Get hands on at Legoland's Sea Life Aquarium. Photo courtesy of Legoland
As with any theme park, checking height restrictions for various rides in advance is a good plan. And speaking of plans, front of line passes on a weekend can make a big difference. Wondering about food? We found the street tacos at the water park to be above average theme park fare. The park offers a few more tips of its own to check out before visiting.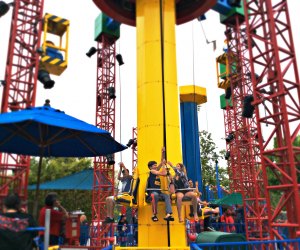 Kid Power Tower offers a fun workout with a view.
Perhaps the best piece of advice, though, is to stay overnight if you can. Yes, Carlsbad is close enough to do in a day from LA, but it's also far enough that it's a treat not to have to drive home. Staying at one of the hotels on property provides parking and a private entrance to the park—or, in the case of the Legoland Hotel, strolling from the plentiful breakfast buffet straight in the front gate. Treat yourselves to a two-day ticket for not much more than a single, and enjoy staying over in LEGO-stocked family rooms with bunk beds and Ninjago themes. As an added bonus, there's a disco in the elevator all day long—boogieing is irresistible. And starting in 2018, your kids can be king and queen of their own throne rooms at the new Legoland Castle Hotel.
All photos by author unless otherwise noted
Places featured in this article:
Sign up for the Mommy Poppins Newsletter today!
i