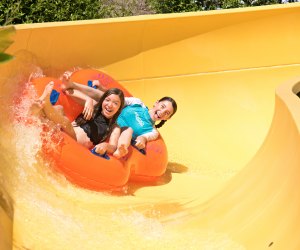 Best Water Parks and Water Slides around LA and Southern California
Nothing is more fun on a too-hot day than some water play—just ask a kid. If you want to give the kids a welcome surprise on a summer day, take them to a water theme park. There are several water parks in Southern California, with large scale splash parks to please every kid from toddler to teen. Of course, if you're looking for something smaller, closer, or more low-key, you can always check out our list of water play features at city parks; but if you're looking to make a big splash, check out one of the SoCal parks below.
Bring towels, water, hats, a suit for yourself (depending on the park and your children's ages, you may be required to accompany them, or you might get to try the big slides yourself), and plenty of sunblock (no parks permit outside food). Water parks encourage (and may enforce) the wearing of swimsuits with no buckles or other metal parts (including exposed zippers, buckles, and grommets), optional rash guards (not T-shirts), and no wetsuits. Remember the swim diapers for those still in diapers or under the age of three. Expect to watch your kids closely, and make sure their swimming levels are compatible with the rides and slides they want to go on, and the pools they want to play in. Some parks may require (and provide) life jackets for kids under 48" in certain pools and on certain slides.
All of the water parks offer optional lockers and cabanas at an additional charge; you probably will want a locker if your whole family is playing at the same time. Some parks have multiple size and price choices of each. All parks offer annual passes, and some offer multiple levels of pass, so check your options if your family loves water parks.
Finally, check the park's website to be sure of when it opens for the season; most of the parks below are seasonal.
Buccaneer Bay at La Mirada Splash
13806 La Mirada Blvd
La Mirada 90638
Buccaneer Bay is part of the La Mirada Regional Aquatics Center, situated in the heart of greater Los Angeles near the LA/OC county line. A smaller, family-friendly park (with a smaller price!), Buccaneer Bay has three water slides, a lazy river, lots of water play, a zero-depth play structure, and a warm-water spa. Riders must be 48" for the slides, the aqua play area is designed with those under 48" in mind. Children 12 and under must be accompanied by an adult. No outside food is permitted in the park, but there are picnic tables outside for public use (wristband or hand stamp permits re-entry). During the summer, Friday Family Nights offer discounted admission from 4pm-8pm.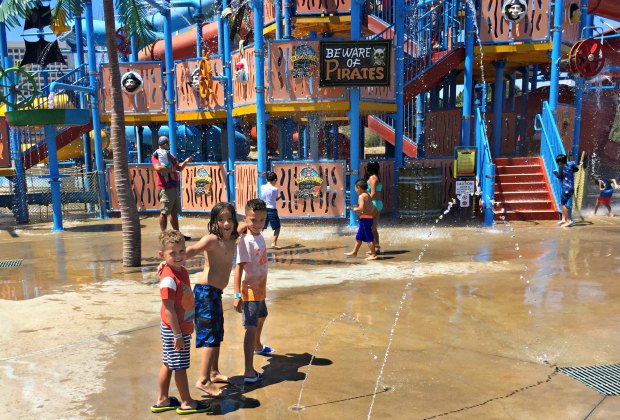 The Three Musketeers hit Buccaneer Cove! Photo by Mommy Poppins
Buccaneer Cove at Castle Park
3500 Polk Street
Riverside 92505
Buccaneer Cove is included with admission to Castle Park. It has five water slides, water tunnels, spray cannons, fountains, a huge splash bucket, and leafy shade for resting. Bring a change of clothes and enjoy the Castle Park rides after the Cove closes—or come for the Monday deal, when the Castle Park rides are closed. With four 18-hole mini golf courses (1 round included in Monday deal) and an arcade, this smaller park will keep you plenty busy. Check the website for a variety of package and cabana deals.
Lake Casitas Water Adventure
11311 Santa Ana Road
Ventura 93001
Water Adventure is a mellower, family-oriented small park on the grounds of Lake Casitas camping and recreation area. While toddlers can enjoy the zero-depth play area with lots of water spray, climbing age kids can play in the multi-level structure with slides, bridges, waterfalls, and more, all situated in 18 inches of water. The lazy river allows for a relaxing inner tube ride, past jet sprays and waterfalls. As at all water parks, outside food (other than bottled water) is not allowed, but there is a picnic area located just outside the park. Note that there are no big slides at this water park; this is a spot best enjoyed by kids under the age of 8 or so.

Photo courtesy of Legoland Water Park
Legoland Water Park
1 Legoland Drive
Carlsbad 92008
Legoland's Water Park requires a park hopper ticket, so you will also have Legoland admission. There are also water features in Legoland itself, but be sure to bring a change of clothes, as swimsuits are not permitted on Legoland's rides! In the new water park, kids more than 42" tall can ride all the rides (non-swimmers are not recommended on the water slides). The Splash Zoo water feature area is just for kids ages 1-3, and Kid Creek is for those under 42" (must be accompanied by an adult). In addition to the larger tube and open slides, there is Splash Safari, with smaller slides. Cabana rentals are available; early-purchase discount tickets are available online.
Raging Waters
111 Raging Waters Drive
San Dimas 91773
Another park that will please everyone in the family! Six rides require riders to be 48", five require 42"; and three 36". Everyone under 48" must wear a life vest in the wave pool—available at no charge. Kid's Kingdom features 30,000 square feet of water fun for those under 48" tall; the tamer Little Dipper area also requires riders to be under 48". Season passes, premium and standard cabanas, season parking, group discounts all require 5 days notice. Meal deals are available. Raging Waters also has two Northern California locations, and a season pass can be used at those parks also.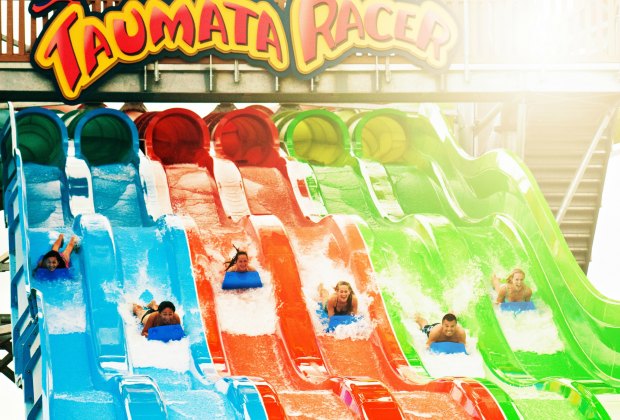 Try racing down a 375-foot water slide at Aquatica SeaWorld's Waterpark. Photo by Mike Aguilera courtesy of SeaWorld San Diego
Six Flags Hurricane Harbor
26101 Magic Mountain Parkway
Valencia 91355
This is a huge water park, and, as you might expect from Six Flags, Hurricane Harbor has thrill rides that even a grumpy teen will love! There are eight different rides with a minimum height of 48" (and five have multiple slides), two rides with a minimum height of 42", one that requires an adult. Teens can hang at Lizard Lagoon or ride while the younger set is at Castaway Cove, which allows only those under 54".There are Cabana packages available, a new float all day/eat all day meal deal, and season park and parking passes. Discounts are available for groups of 15 or more.
Soak City Orange County
8039 Beach Blvd
Buena Park 90620
Soak City's Gremmie Lagoon gives younger water fans (under 54") their own area to be soaked, squirted, and splashed. Everyone can play on the Beach House, featuring three stories of water play - squirt guns, faucets, a giant dumping bucket, and more - for all, but the slides have a 42" minimum. There are 22 speed, tube, and body slides, and one-third mile Sunset River. There are four slide systems with a 42" minimum height, and three with a 48" minimum. The lines can be long here! Soak City season passes are good at all three locations.
Aquatica San Diego
2052 Entertainment Circle
Chula Vista 91911
Formerly Soak City San Diego, this water park was reborn as part of SeaWorld in 2013. For the bigger kids and adults, there are eight slides and pools with a 48" minimum height, a lazy river, a wave pool, a toddler zone, and a water play structure. There are also flamingo and turtle displays, in keeping with the SeaWorld theme. Combo tickets are available for this park and SeaWorld.
Great Wolf Lodge
12681 Harbor Blvd.
Garden Grove, CA 92840
Finally, if you're game for an overnight soak, Orange County's newest water park is an indoor water resort, but it can only be enjoyed by hotel guests. Check out our full review to see if it's worth piling your brood into a hotel room for the night to fit the most splashes into your day.
Originally published July 1, 2012