Best Outdoor Water Parks in Los Angeles for Family Fun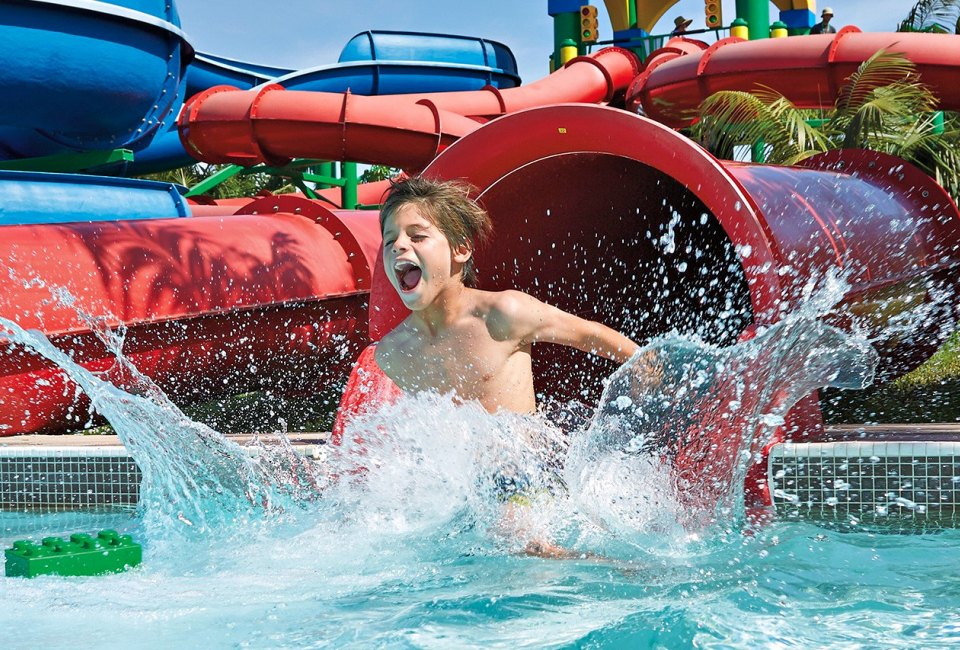 5/5/23
- By
Audrey M
Water parks provide a wet and wild aquatic adventure on a sweltering Southern California day. Sure, our SoCal beaches are the best, and swimming in a lake is loads of fun, but you won't have to lug any gear across hot sand that stretches forever when going to a water park.
Water parks have wave pools, family raft rides, lazy rivers, and mini slides for little ones, and thrilling slides for teens. Some of our favorite water parks near Los Angeles are smaller parks just for kids (like Buccaneer's Cove), and others are popular theme park extensions (like the Legoland Water Park or the water park at Sesame Place San Diego). There are so many ways to soak in all the water park fun.
Start your little ones in the water early with baby and toddler swimming lessons, and test out the waters at free splash pads and water playgrounds in Los Angeles. Plus, dive into more adventures on land and in water in our SoCal Theme and Water Parks Guide.
Best Water Parks in Los Angeles County for Kids
The park opens to the public Memorial Day Weekend
Buccaneer Bay is part of the La Mirada Regional Aquatics Center situated in the heart of greater Los Angeles near the LA/OC county line. A smaller, family-friendly park (with a smaller price!), Buccaneer Bay has three water slides, a lazy river, lots of water play, a zero-depth play structure, and a warm-water spa. Riders must be 48" for the slides, but the aqua play area is designed with those under 48" in mind.
Children ages 13 and under must be accompanied by an adult. No outside food is permitted in the park, but picnic tables are outside for public use (wristband or hand stamp permits re-entry). Tickets for kids are sold by height, not by age. Speaking of age, kids under the age of 2 enter for free.

The Bombs Away ride at Raging Waters is an adventure. Photo courtesy of the park
The park opens mid-May
This park will please everyone in the family! Six rides require riders to be 48", five requires 42"; and three 36". Everyone under 48" must wear a life vest in the wave pool—available at no charge. Kid's Kingdom features 30,000 square feet of water fun for those under 48" tall; the tamer Little Dipper area also requires riders to be under 48". Meal deals are available.
Raging Waters also has two Northern California locations, and a season pass can be used at those parks too. Guests under the age of 3 get free entry.
The park opens on Memorial Day Weekend
This is an enormous water park, and, as you might expect from Six Flags, Hurricane Harbor has thrill rides that even a grumpy teen will love! There are eight different rides with a minimum height of 48" (and five have multiple slides), two rides with a minimum height of 42", and one that requires an adult.
Teens can hang at Lizard Lagoon or ride while the younger set is at Castaway Cove, which allows only those under 54". There are season park passes, and discounts are available for groups of 15 or more.
The park opens on Memorial Day Weekend
Looking for something other than a pirate-themed water park? DryTown in Palmdale has an old mining town theme running through the park, and big kids 42'" and up can grab a tube and head down Big Rock River or race down Dusty's Mineshaft Racer.
Kids 30" and up can splash around Little Miner's Camp, which has smaller slides. And teens and tweens 48" and up who like a thrill will have a blast on the big kid super fast slides. There's also a lap pool.
No outside food or drink (other than water) is allowed in the park. Guests can eat at Dusty's Grill for basic lunch fare where there are a few vegetarian and vegan options available, as well as smoothies. Snacks and supplies are available at the General Store and Wilbur's Snack Shack.
Best Water Parks for Kids in OC and Riverside County
The park opens mid-May
Soak City's Gremmie Lagoon gives younger water fans (under 54") their area to be soaked, squirted, and splashed. Everyone can play on the Beach House, featuring three stories of water play—squirt guns, faucets, a giant dumping bucket, and more—for all, but the slides have a 42" minimum.
There are 22 speed, tube, and body slides, a wave pool, and one-third mile Sunset River. There are four slide systems with a 42" minimum height and three with a 48" minimum. Be forewarned: the lines can be long here!
Soak City season passes are good at all three locations. The 15-acre water adventure park is right next to Knott's Berry Farm, but a separate admission is required.
The park opens in June
For Riverside residents who don't want to drive all the way to the beach, a visit to DropZone is in order. With a surfing pool and a giant sandpit for building sandcastles or playing volleyball, it's a lot like a day at the beach, plus a whole lot more.
There's also a lazy river and three different big kid slides (ranging from an enclosed tunnel to a sunny ride to a super-fast mat slide). And while all of those areas are for people 42" and up, there is a whole section (Lil' Jumpers Landing) for kids as little as 36" and a whole section for water babies (and kids of all ages) called Launch Pad Geysers, which is like a giant splash pad.
There's also an Olympic-sized pool where kids can take swim lessons. Day tickets and season passes are pretty reasonable. You may bring your own food here, but there is a fee based on the size of the cooler you bring in. Also, it's good to know that there's not a lot of shade available at this park, so bring hats and plenty of sunscreen!
The park opens in mid-May
Buccaneer Cove is included with admission to Castle Park. You can't beat two water parks for the price of one. It has five water slides, water tunnels, spray cannons, fountains, a huge splash bucket, and leafy shade for resting. Bring a change of clothes and enjoy the Castle Park rides after the Cove closes.
With four 18-hole mini golf courses and an arcade, this smaller park will keep you plenty busy. Check the website for a variety of packages and cabana deals.
The park is open year-round
Sometimes, it's too hot in Southern California to spend a day baking in the sun, even if you're outside splashing in the water. That's where Great Wolf Lodge, Orange County's indoor water resort, comes in handy.
When the water park and hotel first opened, water park access was only available to hotel guests. Since the opening, that policy has changed, and day passes are available. In addition to using the surf simulators, mat slide racing, lazy river, basketball pool, and (of course) plenty of slides that range from tame to thrilling.
The park opens in May
This family-friendly spot in Irvine still has that new water park cleanliness since it recently opened in 2022. There's something for every age, from a kids' area with rain fortresses, a lazy river, a wave pool, and tons of water slides that range from rafting to riveting thrills. Parents can sneak away for a cocktail at the Mustang Bar, and kids can delight in ice cream from Island Sweets.
A new water park means new attractions, and we recommend keeping your eye on the soon-to-open Kontiki Cove — water slides and a kiddie pool specifically for toddlers and younger kids. Free life jackets are provided to all children.
RELATED: Fun Things To Do in San Diego With Kids, Besides the San Diego Zoo

The Count's Splash Castle at Sesame Place San Diego is fun you can count on! Photo courtesy of the park
Best Water Parks in San Diego for Families
The park is open year-round
Walk down Sesame Street with Elmo and friends, and enjoy the plethora of family-friendly rides and splashing fun with your little muppet fan. Catch a wave on Big Bird's Beach or slip over to Elmo's Silly Sand slides—six gentle slides that make for hours of soaking fun! Then tube down Big Bird's Rambling River for an unforgettable water-filled adventure.
If your child is under 42'', just bring a life vest, and off you go to enjoy some wet and wild fun!
RELATED: Kids Free October in San Diego: Deals at the Zoo, Theme Parks, and More

Build while you splash. Photo courtesy of Legoland Water Park
The water park is open every day in the summer, and weekends only in September & October. Closed November & December
Legoland's Water Park requires a park hopper ticket, so you will also have Legoland admission. You will have to visit both parks in the same day as the water park is located inside Legoland.
There are also water features in Legoland itself, but be sure to bring a change of clothes, as swimsuits are not permitted on Legoland's rides! In the water park, kids more than 42" tall can ride all the rides (though non-swimmers are not recommended on the water slides).
The Splash Zoo water feature area is just for kids ages 1-3, and Kid Creek is for those under 42" (must be accompanied by an adult). In addition to the larger tube and open slides, there is Splash Safari, which has smaller slides. Cabana rentals are available; early-purchase discount tickets are available online. Check the water park calendar to confirm if the park is open or not during non-summer seasons.
Best Water Park in Ventura County for Families
The park opens on Memorial Day Weekend
Water Adventure is a mellower, family-oriented small park on the grounds of the Lake Casitas camping and recreation area. While toddlers can enjoy the zero-depth play area with lots of water spray, climbing age kids can play in the multi-level structure with slides, bridges, waterfalls, and more, all situated in 18 inches of water.
The lazy river allows for a relaxing inner tube ride, past jet sprays and waterfalls. As at all water parks, outside food (other than bottled water) is not allowed, but there is a picnic area located just outside the park. Note that there are no big slides at this water park; this is a spot best enjoyed by kids under the age of 8 or so due to the more tame thrill levels.
Tips To Know Before You Visit One of These Water Parks
Bring towels, water, hats, a suit for yourself (depending on the park and your children's ages, you may be required to accompany them, or you might get to try the big slides yourself), and plenty of sunblock (no parks permit outside food).
Water parks encourage (and may enforce) the wearing of swimsuits with no buckles or other metal parts (including exposed zippers, buckles, and grommets), optional rash guards (not T-shirts), and no wetsuits.
Remember the swim diapers for those still in diapers or under the age of three. Expect to watch your kids closely, and make sure their swimming levels are compatible with the rides and slides they want to go on, and the pools they want to play in. Some parks may require (and provide) life jackets for kids under 48" in certain pools and on certain slides.
Water parks tend to offer optional lockers and cabanas at an additional charge; you probably will want a locker if your whole family is playing at the same time. Some parks have multiple size and price choices of each. All parks offer annual passes, and some offer multiple levels of passes, so check your options if your family loves water parks.
Originally published July 1, 2012
Additional reporting by Ana Belibasis
Sign up for the Mommy Poppins Newsletter today!