Knott's Soak City: New Attractions & Insider Tips from a Season Pass Holder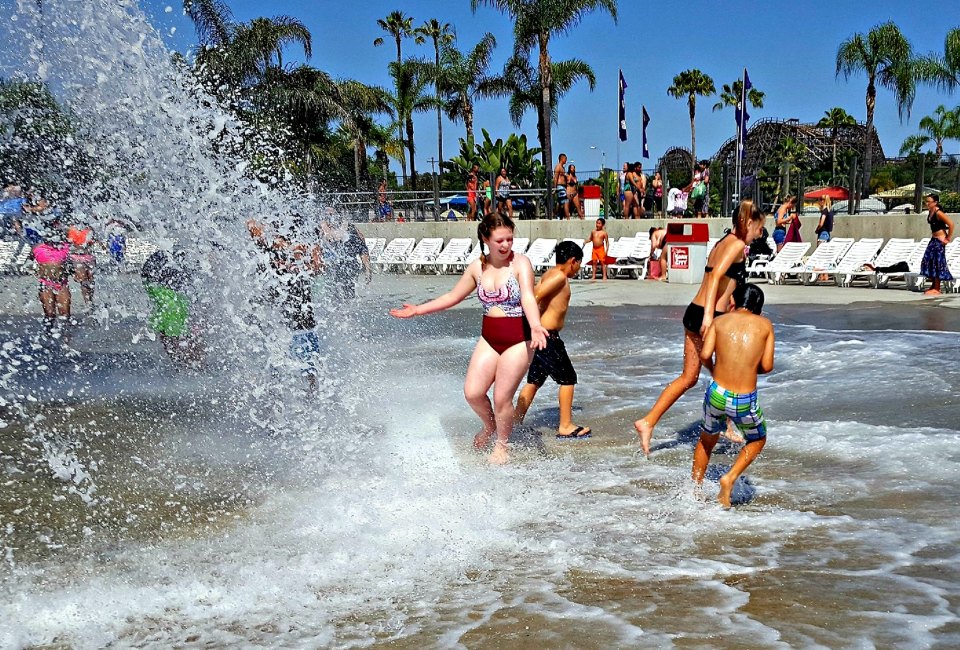 6/6/17
- By
Kathie Bozanich
Soak, slide, repeat. When the heat is on in the summer, you want refreshing water blasting from all sides in a variety of ways. With new slides and a major renovation, Knott's Soak City is now open for the 2017 season, and as longtime season pass holders we were excited to check out all of the changes—including seven brand new water slides.
My tween daughter, her two friends, and I had a blast at the park exploring new and old favorites. The newly expanded Knott's Soak City has seven new slides on two new slide towers, a fully remodeled Longboard's Grill, additional seating areas, and new semi-private cabanas. The park has expanded its north end, near the entrance, and torn down and replaced one ride, Pacific Spin (which was affectionately known by park-goers as "the funnel" or "the toilet bowl").
Below, I've included some key insider tips to the park; but first, here's what we found out about the exciting new features at Knott's Soak City for the 2017 season:
The Wedge
This tower features a family-style raft ride for up to six people down a long, twisting slide. The raft spins as it descends, and several riders tell of "catching air." My daughter and her friends like this new ride the best because of the social aspect: you can see and hear the reactions of family and friends throughout the ride. The girls said that it lasted longer than most slides, too—a nice payoff after waiting in line.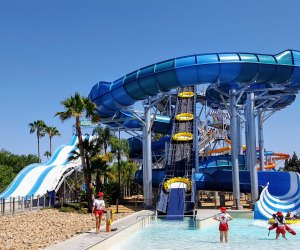 The Wedge raft ride tower is in the space that was occupied by Pacific Spin.
Shore Break
This tower featuring six slides is in the newly expanded area of the park. Four of the slides start with an "aqua-launch" chamber, in which riders wait for the floor to drop out from under them, plunging thrill-seekers into an enclosed, at-times translucent water slide that twists and turns before shooting them out horizontally. The other two slides take one or two people at a time on racing inner tubes through enclosed, twisting slides that feature steep, non-enclosed drops at the end.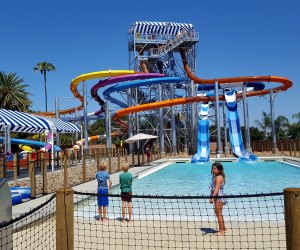 Yellow, purple, blue, or orange: take the aqua-launch challenge at the new Shore Break tower.
New cabanas and seating area
Anyone who has been to this water park can tell you that more seating was absolutely necessary. The new area is near the Shore Break tower and backs to Stanton Avenue. This cabana area now joins two others, the Wave Pool and Malibu. Semi-private cabanas are available to rent by the day for $165 and accommodate up to eight people.
RELATED: SoCal Water Parks Where Kids Can Get Their Water Slide Fix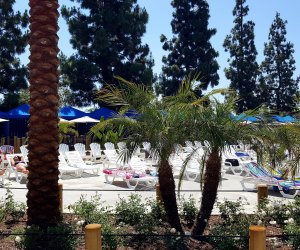 The new Shore Break cabanas and seating area offer shade and rest on the northeast end of the park.
Remodeled Longboard's Grill
This restaurant has been completely revamped, with an indoor cafeteria-style setup replacing the old one-line, outdoor, walkup windows. There are new menu items such as hand-breaded chicken tenders, fish & chips, assorted wraps, and onion rings, along with the classic burgers and hot dogs. A new shaded outdoor seating area has been added near the restaurant's entrance.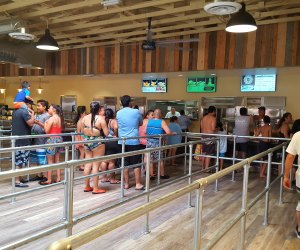 We didn't wait long inside the completely revamped Longboard's Grill.
We benefited from the fact that the completely redone restaurant had no sign on it on the day we visited, so it took a while for visitors to realize it was indeed an open restaurant. A Knott's executive says a sign is expected to be up within a week or so, though, so the crowds probably won't be away for long.

The outside of the remodeled Longboard's Grill had no sign when we visited.
Old favorites continue to offer plenty of opportunities to cool off and have fun:
Gremmie Lagoon
This is a separate area for smaller kids, sectioned off and down stairs or a ramp to keep little ones in a contained area. The Lagoon has lots of shaded and unshaded seating and a large play area with sprayers, squirters, small slides, and climbers. And if you need to cool off, you can always sit in the lagoon's one-foot-deep water. Swim diapers are required for non-potty-trained guests. Strollers and wagons are allowed throughout the park.
RELATED: 10 Best Beach Playgrounds from Santa Barbara to San Diego​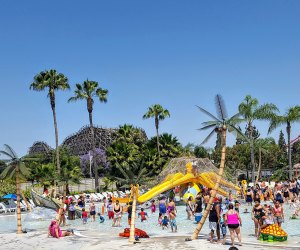 Gremmie Lagoon is a great place to hang out with babies and toddlers.
The Beach House
We like to set up shop here, because my daughter can go in by herself and wander through the water. There are plenty of spray areas to stand under and wet your head to stay cool. Just be aware that besides the one huge dumping bucket at the front of the Beach House with the open space under it, there are two other buckets that dump into the main interior of the Beach House that can catch a person by surprise.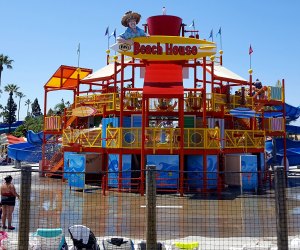 There are some shaded and many non-shaded seating areas surrounding the Beach House.
Sunset River
The park's lazy river is best done early in the day if you want a peaceful float. Free inner tubes are available at its two entrances. You can go in without a tube, but what's the point of a "lazy" river without the ability to relax lazily in a tube and tune out the kids?
RELATED: 25 Water Games for Kids To Play in Summer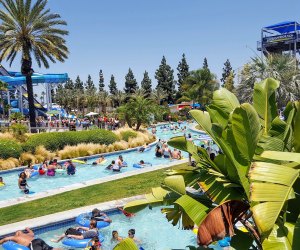 It takes about 10 to 15 minutes to float the length of Sunset River; relax and go with the flow!
Banzai Falls
Banzai Falls is over in a flash, but the good news is that lines appear to be shorter these days as guests gravitate toward the newer rides. The water slide race is a great one to do with friends.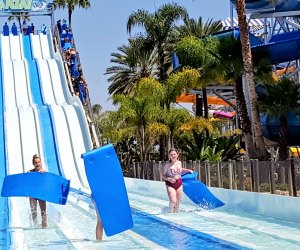 The front-facing Banzai Falls is a short, fast raft ride that lets you race friends and family members.
Tidal Wave Bay
The action never gets old at Tidal Wave Bay, where the surf just keeps rolling in. For a little extra wedge-type wave action, hang out at the sides of the wave pool and see what happens.
RELATED: 12 Disneyland Hacks You Need To Know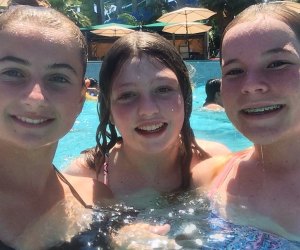 Three friends await the next round of waves at Tidal Wave Bay.
Insider Tips from a Season Pass Holder
Learn what you can and can't bring in. You can pack unopened water bottles, baby food, and food for anyone with special dietary needs, but no other outside food, drinks, or snacks. No radios, stereos, coolers larger than 12x12x12 inches, bikes, or skateboards are allowed. Remember to bring your own towels; there are no towel rentals at the park.
There are now metal detectors at the entrance. The security measure was added at the beginning of this season as an added precaution for guests' safety. Bags are searched at the metal detectors as well. The new setup led to a long line to get into the park before official opening; we arrived about 9:45am and made it through the line and into the park by about 10:15am.
If you want a place in the shade, get there early. Free chairs and lounge chairs are available throughout the park on a first-come, first-served basis. Shaded seats are claimed fast with towels and other items. (As an aside, don't be the person who moves someone else's belongings off a claimed chair, or the person who claims extra chairs for personal space reasons if you don't need them; it's just not cool.) No shade structures or pop-up tents are allowed in the park; you can bring in an umbrella if it is no more than eight feet in diameter.
Lockers are available for rent. Several automated rental kiosks are set up in the Davy Jones' Lockers area near the front entrance. The lockers come in three sizes and rent for $15 to $25 a day. How much can you fit in a locker? Well may you ask. We snapped photos of the kiosk and the lockers to help you plan ahead: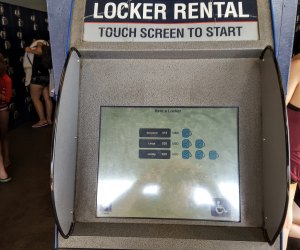 Here is where you pay.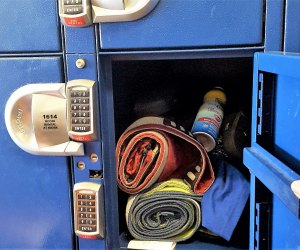 This is a standard locker ($15 a day rental).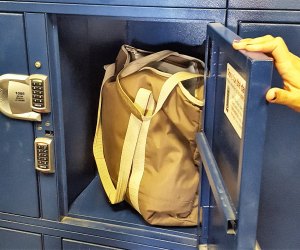 This one is a large locker ($20 a day rental).
Be aware of height restrictions and other rules for attractions. Most slides have specific height, weight, and safety requirements, so be sure to check for posted info at line entrances to avoid waiting in line for a ride your child may not be allowed on.
Wear shoes/flip-flops as you move about the water park. The ground can get really hot, especially on some of the dark, heat-absorbing bridges over the lazy river. Footwear isn't allowed on the slides and attractions, but there are places next to all of them where you can kick off your shoes and then retrieve them after riding.
If you want to buy lunch, earlier is better than later. We have found wait times are five minutes or less at Longboard Grill and other food stands before noon, but steadily increase throughout the afternoon.
There's a shop inside the water park if you forget anything, but the convenience will cost you. Just like other amusement parks, expect a big markup if you realize you didn't bring must-have items such as towels or sunscreen. For example, my daughter's friends bought waterproof phone cases at the WipeOut Surf Shop for about $30; they are about $8 to $10 on Amazon.
If you plan on visiting Soak City and Knott's Berry Farm more than twice in a calendar year, definitely consider a season pass. The Gold Pass, valid for admission at both parks for anyone ages 3 and up for the 2017 season, is currently $117. There are no blackout dates. Obviously, you get more value if you buy at the beginning of the year, and there's a discount for buying early as well. Another tip: make just one of your passes a Platinum Pass, and put it in your child's name. A Platinum Pass ($168-$210 currently) gets you free parking for the whole season, as long as the passholder is in the car. Because kids are the most likely to be along for the trip, no matter which parent (or family friend, etc.) is along, this is the best value. Platinum passes also get you 20% discounts on most food and merchandise inside the park. With season passes, you can add on all-season dining (as low as $118) and all-season drink refill ($30) plans. The latter allows you to take advantage of the new refill stations throughout Knott's Soak City.
Knott's Soak City is open at 10am daily through Labor Day and Sept. 9-10; closing time varies from 5pm to 7pm. Single tickets run as low as $37 online and $48 at the gate. Parking is $18.
Photos courtesy of the author.
Places featured in this article:
Sign up for the Mommy Poppins Newsletter today!