10 Beach Playgrounds in LA & OC, from Santa Barbara to San Diego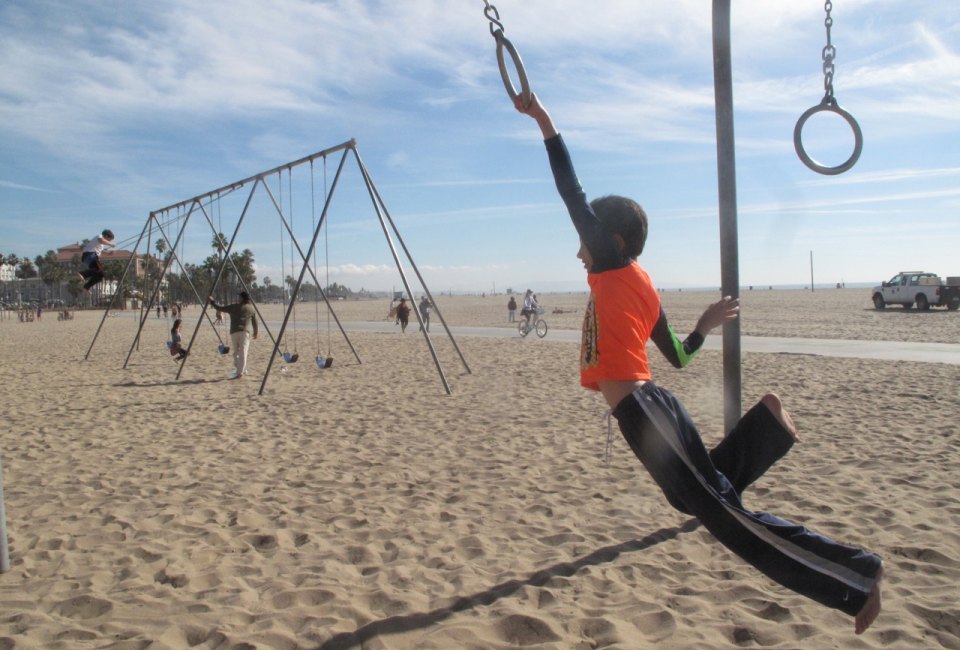 6/9/15
- By
Jacqueline Stansbury
Summertime and the living in Southern California is easy. While parents all around the country are looking for seasonal vacation destinations, those of us lucky enough to live in SoCal are already here. There is nothing quite like our local beaches, and no better way to spend the summer months than on our shores.
Of course, taking very young ones to the beach can feel like a lot of work. Vigilance is especially necessary when the ocean looms, and keeping the kids in shallow waters is a full-time job, albeit a fun one. Who doesn't love digging for sand crabs, building drip castles, and running screaming from the surf? Sometimes, though, it is nice to enjoy the beach in a more relaxing, contained manner. Fortunately, many of our beaches from Santa Barbara to San Diego have playgrounds, which is the perfect way to experience the beach without even needing to get your feet wet.
1. Chase Palm Park – Santa Barbara
323 E Cabrillo Blvd, Santa Barbara, CA 93101
(805) 897-1983
This park has a well designed playground with a ship wreck theme that includes a lighthouse, murals, and picnic areas. An added plus is the Chase Palm Park antique carousel. Dating from 1915, the carousel, is on the National Register of Historic Places.
2. Oxnard Beach Pirate Playground – Oxnard
1601 S. Harbor Blvd, Oxnard, CA 93035
(805) 385-7946
My family started going to Oxnard a few years ago. This is a fairly close and surprisingly affordable destination for weekends out of town. Though a bit breezy, the beach is quite lovely with wildflower covered sand dunes serving as a natural play structure and a Pirate Playground, complete with sea monster, telescopes, and baby swings for those who prefer a man-made jungle gym.
3. Malibu Bluffs Park – Malibu
24250 Pacific Coast Hwy, Malibu, CA 90265
(310) 317-1364
This is a six acre community park, overlooking the Pacific Ocean. In addition to a play structure, there are hiking trails, sports fields, and a whale watching station. Probably some movie stars turn up here, too.
4. Santa Monica Pier / Original Muscle Beach Playground – Santa Monica
South of Pier Santa Monica, CA 90407
The City of Santa Monica has multiple playgrounds, both seaside and inland. The rings and swings just adjacent to the pier are unique. There are plenty of kid-friendly structures at this location, including low balance beams and a stone carved pirate ship. Better yet, for grown-ups seeking their inner monkeys, this playground includes the Original Muscle Beach, with its swinging rings, climbing ropes, and gymnastic bars for adults. Gymnasts, trapeze artists, and stunt people turn up daily to practice their skills.
5. Mother's Beach – Marina Del Rey
4101 Admiralty Way, Marina Del Rey, CA 90292
(310) 578-0478
While there is a structure, the beach here is the playground. A sheltered area of shore at the end of the Marina, Mother's Beach has no surf. It is perfect for young children and is a great location for kayaking or learning to paddle board.
6. Seaside Lagoon – Redondo Beach
200 Portofino Way, Redondo Beach, CA 90277
(310) 318-0681
Not free but well worth the cover charge, Seaside Lagoon is a man-made oasis with shallow, surf-free water on one side and a deeper pool of water on the other. There is a playground, fountains, and water slides. A perfect summer location for families with small children, the park is also a fun destination for kids on the older side. Best of all, if you are in the mood to splurge, Ruby's diner has a window for ordering burgers, fries, and (my favorite) miniature ice cream cones.
7. Colorado Lagoon – Long Beach
5119 E Colorado St Long Beach, CA 90814
(562) 570-3215
Recently cleaned up and re-opened, the lagoon is part of the Los Cerritos Wetlands. The area includes a play structure, but the appeal of this location is the opportunity for children to experience a setting which is still being returned to its natural state. There is a Marine Education Science Center and model boat building in the summer.
8. Seal Beach Pier Playground – Seal Beach
Seal Beach Municipal Pier Seal Beach, CA 90740
Parents love this playground because it is enclosed by a wall and gated, providing a contained setting to enjoy the expansive beach. There is surfing here, so something cool to watch too.
9. Pines Park – Dana Point
34901 Camino Capistrano Dana Point, CA 92624
(949) 248-3530
On the bluffs above Capo Beach, this playground is set amidst the pines of Dana Point. Magnificent views and a rock climbing wall are both on offer..
10. La Jolla Shores/Kellog Park – San Diego
8200 Camino del Oro La Jolla, CA 92037
(619) 235-1169
While many of San Diego's seaside parks are on bluffs, this one is right on the beach with a long strip of grass and a shaded play structure. Very family friendly, the shores themselves offer excellent diving, snorkeling, and kayaking in calm waters supervised by a lifeguard.
Sign up for the Mommy Poppins Newsletter today!