5 Christmas Tree Delivery Services in NYC that Bring Trees for the Holidays—and Pick Them up After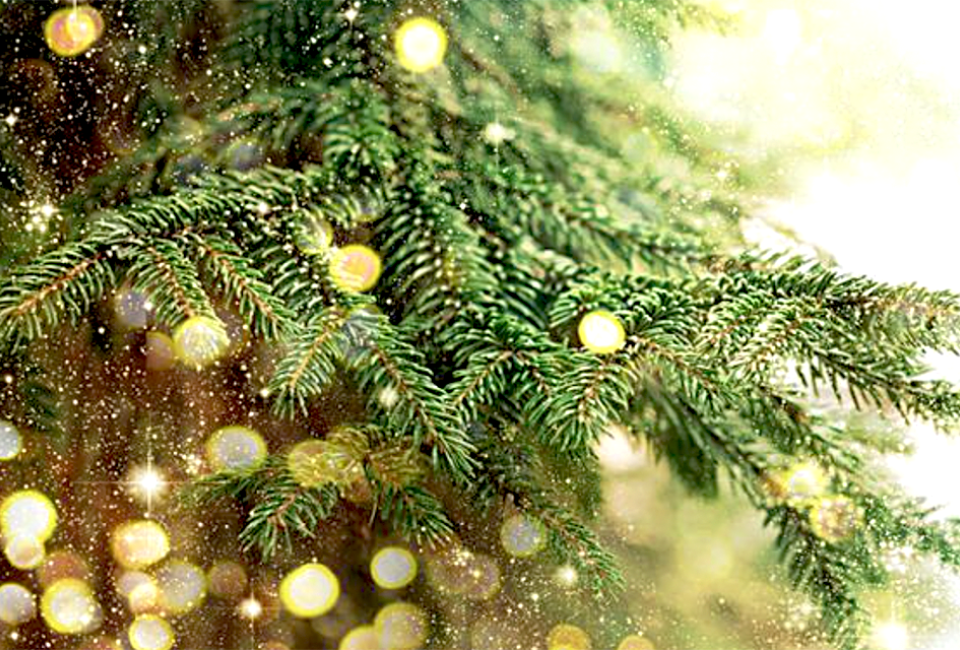 11/14/22
- By
Jacqueline Stansbury
Shopping for a Christmas tree in New York City can be a lovely family holiday activity. If you plan ahead, a day trip out to a nearby farm with the kids to cut your own tree might well become an evergreen tradition. But tree shopping can also be stressful and messy—especially if you leave it to the last minute. Think crowded, picked-over sidewalk tree displays, sap-covered hands, and aching lower backs from dragging trees home on the subway. Decorating the tree is fun. Putting presents under the tree is fun. Getting the tree, transporting it home, and setting it up? Not so much fun. The holidays whiz by and there won't be time for ice skating or baking if you're too tuckered out from transporting a tree that could have been delivered and set up completely hassle-free.
So whether you're a last-minute procrastinator or just prefer the ease of NYC's everything-can-be-delivered culture, a door-to-door tree delivery service might be just right. We've rounded up five local companies that will deliver that tree right to your door, even on Christmas Eve. Many are sustainable and support local farmers. Most offer add-ons like wreaths and lights, and, best of all, a promise to come back and take it to recycle when the season is over.
You can order from any of these shops by either phone or online, but we've included locations where applicable in case you prefer to stop by and pick out your tree in person.
908-318-4220
NYC Trees is the largest Christmas tree delivery company in the city and has even expanded to Chicago and Philadelphia. Trees range from 4-footers at $149 all the way up to 14-foot trees at $1699, for those in charge of decorating the office. The step-by-step website walks users through the process of selecting and ordering, and it is even possible to get a Certificate of Insurance should your building require one. Lighting and decor packages include "Gold and Glamorous," "Holiday Classic," or just plain lights only. Next day delivery is available for trees up to 12 feet.
RELATED: NYC Holiday Activity and Event Guide for Families
2. SoHo Trees – Multiple Locations
212-970-7646
SoHo Trees offers a free tree stand, delivery, and installation with every online order. SoHo also has five locations in Manhattan if you just have to go and pick that tree out yourself. Trees range from 4 to 8 feet and start at $139. Add-ons include lights and tree care kits. Delivery is available from 11am to 10pm.
646-470-6326
Tree Riders NYC was founded by a pair of cycling enthusiasts and is staffed by local artists at St. Mark's Church in the Bowery. Shop in person or order online and your tree will be delivered by cargo bike. Prices start at $89 for a small tabletop tree. The Tree Riders are "Here fir you New York"!
917-997-1216
Christmas Tree Brooklyn, run by a couple of siblings from Maine, offers free delivery to all five NYC boroughs and can even sometimes accommodate a same-day request. In Brooklyn? Take the kids to pick your own tree on-site in Prospect Heights. Out of time? Let the experts choose and just order it online or by phone. Trees start at $69 for a 3 to 4-foot table top and go up to $699 for a 14-footer. You can also include a skirt for your tree (but no trousers).
When you're ready to bid your tree farewell but don't feel inclined to spend on tree removal or watch it rot in the sidewalk snowbank, check out Mulchfest for tree recycling locations and times. Bonus: you'll get a chance to watch the wood chippers in action, and your kids will be thoroughly entertained (or freaked out). All trees and wreaths, once chipped, are used to mulch trees and plants throughout the city.
Originally published in 2015 with additional reporting by Sarah G.
Places featured in this article:
---
Soho Trees
---
Tree Riders NYC
---
Christmas Tree Brooklyn
Click Here to Sign Up!
i