101 Christmas Crafts for Kids, Plus Christmas Games and More At-Home Activities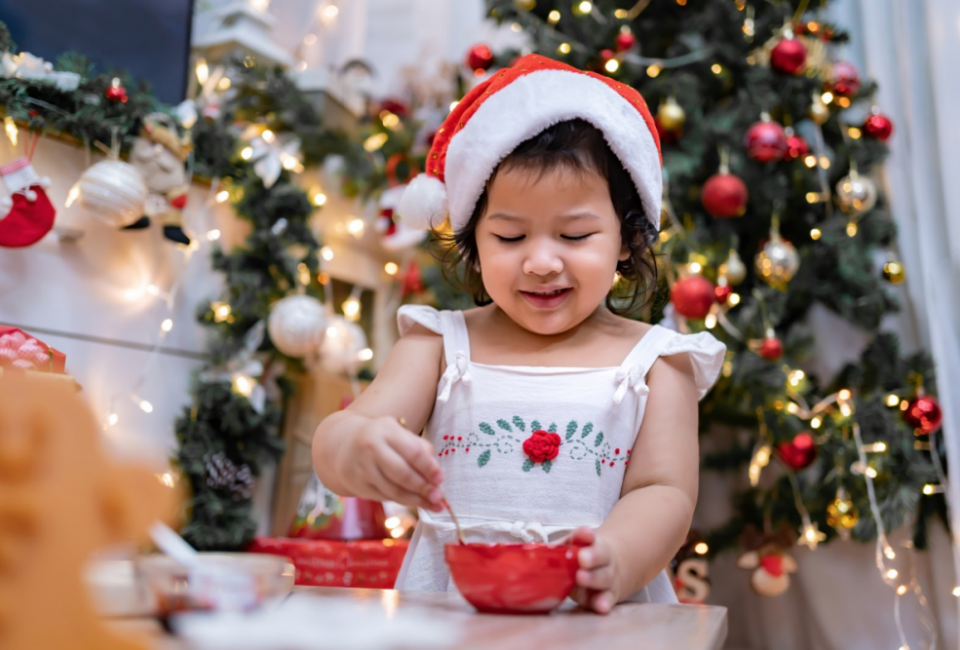 11/29/22
- By
Ally Noel
These easy Christmas crafts for kids will keep them busy until Santa comes! And when they get tired of crafting, we've got more Christmas games and at-home holiday activities, too.
Although some of us may wish it was Christmas all year long, the truth is there are only 25 days in December to squeeze in a whole lot of Christmas cheer. Get your holly jollies with a smattering of fun from our giant list of Christmas crafts, Christmas crafts for toddlers, Christmas games, and more. These favorite family Christmas activities will keep the smell of peppermint and pine flowing through your home all month long. We've got all the festive fun with a little bit of everything from sugar cube igloos to sock snowmen. So pour yourself a cup of cocoa (made from your homemade Hot Chocolate Bombs) and throw in a few more marshmallows for good measure. You are going to need all the energy to get through this giant list of Christmas crafts for kids!
For more Christmas activities for kids, from the best Christmas cookie recipes to easy Elf on the Shelf ideas—and more—check out our Holiday and Christmas Activities Guide for Families.
Sign up for our FREE newsletters to get posts like this delivered to your inbox.
Christmas Crafts for Kids of All Ages
1. Homemade Snow Globe
Blizzards in a jar only take a few minutes to make but are a huge hit with little ones. Personalize your snow globe by adding bristle brush trees and small plastic figurines.
2. Thumbprint Snowmen Cards
Even if you didn't get that perfect family photo this year, you can still send out a holiday card. These thumbprint snowmen cards let your family make cards with a personal touch.
3. Recycled Holiday Card Book Marks
Instead of feeling guilty about tossing all those holiday cards, recycle them into lovely little bookmarks.
4. Christmas Tree Painted Wrapping Paper
Your little one will enjoy this process art activity with a holiday touch. Create Christmas tree paint brushes by cutting a sprig of pine off of your tree or collecting some greens from outside,
5. Christmas Tree Sachets
Before you turn your Christmas tree into mulch, make a Christmas tree sachet so that you can enjoy the scents of the season even after the tree comes down.
RELATED: Best Kids' Christmas Movies to Watch This Holiday Season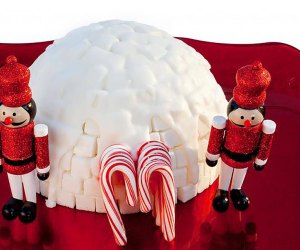 Sugar cubes, sugar icing, and some creativity are all you need to build these igloos! Photo courtesy of Imperial Sugar
6. Build a Sugar Cube Igloo
Construct your own winter wonderland using sugar cubes and a homemade sugar paste.
7. No-Sew Sock Snowman
Do you want to build a snowman? Turn all those unpaired socks into adorable little sock snowmen in three easy steps.
8. Toilet Paper Roll Snowflakes
These beautiful snowflakes can be created by upcycling toilet paper rolls. It's amazing what a coat of white paint and a little glitter can do!
9. Cupcake Liner Christmas Trees
With a few snips of scissors, you can create these little cupcake liner Christmas trees. Make a few and display them on cake plates around the house.
10. Upcycled Furoshiki
Furoshiki is the traditional Japanese art of fabric wrapping. Make some from old t-shirts and wrap your Christmas gifts in style.
11. Christmas Cake Bath Bombs
Make something sweet without getting all sticky. These homemade Christmas bath bombs are the perfect way to add a sweet touch to bath time. They make great gifts, too.
12. DIY Hand Warmers
Keep everyone's little fingers and toes warm and toasty this holiday season. These hand warmers are the perfect sewing project for beginners and will let your emerging seamstress make their holiday gifts.
13. Make Snow Dough
If your little ones have been dreaming of a White Christmas, then this snow dough (it's #2 on this list of ideas) is just the thing. Corn starch and vegetable oil come together to create a magical mixture that feels almost as good as the real thing (minus the frostbite!).
RELATED: 5 Simple But Cool Slime Recipes to Make with Kids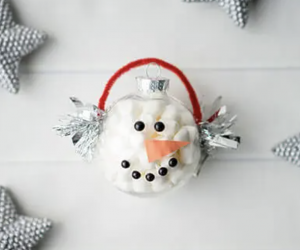 Get extra mini marshmallows for your toddler to snack on while making this cutie. Photo courtesy of The Best Idea for Kids
Easy Christmas Crafts for Toddlers
14. Marshmallow Snowman Ornament
This ornament will melt your heart. Little kids love filling clear plastic ornaments with mini marshmallows to create this adorable snowman.
15. Coffee Filter Christmas Trees
There is something truly wonderful about the way a coffee filter absorbs watercolor paints. After your little one has painted them, let the filters dry and turn them into a Christmas tree.
16. Handprint Reindeer
We love our handprint crafts here, because we know how fast those adorable chubby little fingers grow. While there are many ways to make handprint reindeer, this step-by-step tutorial shows our favorite way, because it needs only one ingredient: paint. You can add googly eyes or a glitter nose, but just paint works just fine.
17. Giant Gingerbread Man
Trace a life-sized gingerbread man shape on a piece of craft paper. Set up an assortment of decorations for your child to decorate with.
18. Paper Plate Christmas Tree
Paper plates are the perfect material for toddler crafts. They are easy to find, affordable, and can be cut and transformed into many different shapes. These paper plate Christmas trees from Easy Peasy and Fun are the perfect way to introduce your little one to holiday crafts.
19. Paper Plate Wreath
To prepare, cut out the center of a white paper plate to create the shape of the wreath. Set up green paint, and whatever decorations you have, and let your child go to town. Red pom-poms, glitter, or red paint would be perfect.
20. Christmas Light Suncatchers
Make a few of these Christmas Light Suncatchers to decorate your windows this season.
21. Handprint Santa
One more handprint craft! Pull at grandparents' heartstrings by making them a handprint Santa this year.
22. Cotton Ball Snowflakes
Set up this cotton ball snowflake activity to keep your toddler busy for a while. You may even get a chance to wrap some of those gifts!
23. Christmas Sensory Bin
Sensory bins are a wonderful way to foster toddlers' curiosity and imagination. Add a festive touch to your bin by customizing it with Christmas colors.
24. Salt Dough Nature Wreath
Go on a nature walk and collect pine needles, branches, evergreens, and other natural elements. Then, roll out a ball of green dough, and press the natural elements into the dough to create your nature wreath.
25. Little Feet Mistletoes
Is there anything cuter than these little mistletoes? Dip your toddler's feet into green paint to create this one-of-a-kind work of art. (See, we also love footprints, not just handprints!)
26. Felt Christmas Tree
Felt is such an easy, affordable, and versatile material to work with. Create a Christmas tree shape out of a large sheet of green felt. Let your child decorate it with a collection of felt ornaments.
27. Magnetic Tile Christmas Tree
Add a little STEAM to your Christmas celebrations. Set up some magnetic tiles and jingle bells, and watch your child create these magnetic tile Christmas trees.
RELATED: 10 Best Christmas Cookie Recipes To Bake with Kids

Learn about science when you make these sizzling, fizzing candy canes.
Science-Based Christmas Crafts for Kids
28. Make Fizzy Candy Canes
Sugarplums may dance, but these candy canes get festively fizzy when you add baking soda and vinegar. Set the candy canes up on a tray and watch as they sizzle.
29. Make Reindeer Toothpaste
This is a fun and jolly twist on the popular elephant toothpaste experiment! Follow this recipe to create a festive foam—the sort of stuff Rudolph might use to clean his teeth after sampling all those cookies on Christmas Eve.
30. Make Christmas Slime
What better way to make this the most wonderful time of the year than with … SLIME! You can add a touch of Christmas to your slime by making a batch of peppermint, gingerbread, or Christmas tree slime.
RELATED: Hundreds of Crafts, Recipes, and Indoor Games for Families and Children

Hot Chocolate Bombs are as fun to make as they are to drink.
Delicious Foodie Christmas Crafts for Kids
31. Make Hot Chocolate Bombs
Hot Chocolate Bombs are popular concoctions are filled with hot cocoa mix and marshmallows that burst into a cup of hot chocolate when hot milk is poured over the top.
32. Make Ice Cream Cone Trees
Cover a pointy ice cream cone in green frosting to create the shape of a Christmas tree. Use holiday candies, gumdrops, and festive sprinkles and cover your tree in deliciously edible decorations.
33. Pretzel Christmas Trees
Santa will love finding a plate of these little pretzel Christmas trees waiting for him this year, if your little elves don't eat them all before Christmas Eve!
RELATED: How to Make Rock Candy with Kids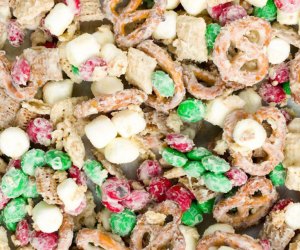 Reindeer Bait is kid bait, too. It's highly addictive.
34. Reindeer Bait
Make a big batch of this Reindeer Bait to bring to your next Christmas party.
35. Try a Crazy Hot Cocoa Recipe
What is better than a fresh cup of cocoa? Taste-testing one—or all—of these 25 unique varieties that range from Harry Potter "ButterBeer" Hot Chocolate to pink Raspberry White Hot Chocolate!
36. Bake Cookies for a Neighbor
Show even the youngest of children the meaning of giving by whipping up a bunch of cookies and gifting them to a neighbor. Start with a simple recipe like sugar cookies or chocolate chip, and begin a sweet family tradition of expressing love and thanks.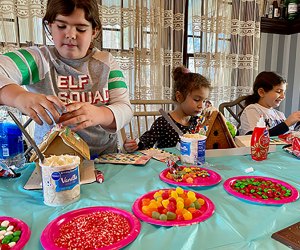 Making and decorating gingerbread houses is a fun annual tradition.
37. Gingerbread House Day
Deck the gingerbread halls with boughs of peppermints, gumdrops, and candy canes! Create a sweet tradition by setting the table with plates of Christmas candies, frosting, sprinkles, and whatever else your little heart can imagine and get to decorating. You can make your own gingerbread house from scratch, graham crackers, or just buy a craft kit.
38. Chocolate Bar Snowmen
These chocolate bar snowmen make the perfect gift to hand out to classmates or to assemble for charitable organizations.
39. Make Some Christmas S'Mores
You don't need a campfire to make s'mores! Use these festive Peeps to make some special holiday treats, which can be easily made in the oven.
RELATED: 25 Cool Stocking Stuffers for Kids for $10 or Less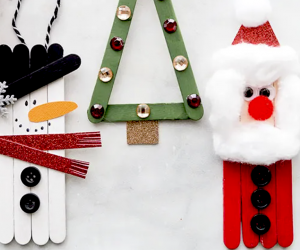 All you need are some popsicle sticks to make these cute ornaments. Photo courtesy of The Best Ideas for Kids
Christmas Crafts that are Tree Decorations
40. Popsicle Stick Ornaments
A little paint, glue, and some popsicle sticks can go a long way during the holiday season. With a few embellishments, you can make everything from a Christmas tree to a snowman. Check out these ideas for inspiration and then get crafty.
41. Salt Dough Ornaments
Smooshing little hands into the salt dough is a childhood rite of passage. These salt dough ornaments aren't just fun to make, they also make great gifts for grandparents, aunts, and uncles.
42. Fingerprint Ornaments
Little fingerprints can be preserved in paint by creating these clever fingerprint ornaments.
43. Glitter Ball Ornaments
Glitter, plastic ornaments, and floor wax (yes, you read that right: floor wax) come together to make these beautiful glitter ball ornaments. That extra floor wax comes in handy after all your guests leave.
44. Perler Bead Ornament
The heat is on this holiday season! Make a batch of these colorful ornaments by filling metal cookie cutters with meltable beads (like these) and placing them in the oven. When the beads melt, they turn into ornaments with swirls and whirls of color.
45. Ribbon Ornament
Put those ribbon scraps to good use by knotting them around a stick and crafting a ribbon ornament.
46. Cinnamon Stick Ornaments
What is better than filling your home with the scents of the season while crafting? These cinnamon stick tree ornaments can be made using glue and a few craft embellishments.
47. Yarn Wrapped Ornament
Wrap wooden letters in colorful yarn to add a personalized touch to your holiday decor. You can add an ornament hook with a touch of hot glue and hang them from your tree.
48. Handprint Snowman Christmas Ornament
Their little hands will only be so small for so long. With a touch of paint, little handprints can become a whole family of snowmen.
49. Pipe Cleaner Wreath Ornament
Pipe cleaners are the Swiss army knives of the crafting world— they can be transformed into just about anything. So it should come as no surprise that these darling little ornaments are made of nothing more than pipe cleaners.
50. Tea Light Snowman
There's no carrot needed for these adorable little tea-light snowmen! The faux flame light of a battery-operated candle becomes Frosty's nose.
51. Button Wreath Ornament
Work on those fine motor skills while crafting homemade tree decorations. Button wreath ornaments use a pipe cleaner base, so even little hands can feel successful when they thread the buttons on.
52. Snow Globe Ornaments
Capture all the magic of playing in the snow without ever leaving your house. These laminated snow globe ornaments are perfect gifts for grandparents or daycare teachers.
53. Tin Foil Ornaments
Who doesn't love a good holiday craft project that uses stuff you may already have in your house? With a pair of scissors, cut shapes out of sheets of tin foil and decorate them with permanent markers.
54. Cinnamon Reindeer Ornament
A couple of cinnamon sticks are quickly turned into sweet-smelling reindeer with a little glue, some googly eyes, and a red pom pom.
55. Peppermint Candy Ornament
Follow this easy step-by-step tutorial on how to melt peppermint candy into wonderfully festive ornaments.
56. Unicorn Ornament
Turn white globe ornaments, some clay, and a little felt into adorable little unicorns for your tree. This craft works best with a glue gun, so make sure a parent is on hand for the duration of this crafting project.
RELATED: 50 Fun Elf on the Shelf Ideas

This gorgeous wreath is made with things you find in nature and your kitchen!
Christmas Crafts for Kids: Christmas Decorations for the Home
57. Natural Wreaths
Instead of using glitter and other plastic baubles, take your cues from nature and create a natural wreath. Get creative adding dried fruits, pine cones, and foraged foliage.
58. Yarn Wreaths
Wrap a polyurethane ring (you can find them at any crafting store) in seasonal colors of yarn like red, green, or white. When the ring is completely wrapped, use a hot glue gun to add festive holiday touches.
59. Glitter Pinecones
These glitter pinecones can be placed anywhere throughout your home to give it a festive touch.
60. Pom Pom Garland
There are no skills needed to create this pom pom garland. Plus, you can make it any color you want, so it will match all your holiday decorations.
61. Rag Tie Garland
It's fun to drape all different kinds of garlands around the house during the holiday season. This DIY rag tie garland is just the thing to add a touch of jolly to your home.
62. Christmas Lights Paper Garland
Love the look of vintage Christmas lights but can't stand the heat? Colored card stock, a hole punch, glue, and twine come together to create these paper Christmas lights.
RELATED: 10 Hilarious, and Sometimes Very Messy, Bubble Wrap Games for Kids

Natural decorations look and smell gorgeous.
63. Dried Fruit Garlands
Move over popcorn and cranberries! Your home will smell delicious when you decorate it with dried fruit garlands. Slices of oranges, lemons, and limes can be strung on twine and hung throughout your home.
64. Paper Ornament Garland
Spread cheer just about anywhere around your home. This paper ornament garland from Project Kid looks perfect across a mantle or around a tree.
65. Pinecone Garland
Gather some fallen pine cones to create this DIY pinecone garland. Your child will need an adult to help them drill holes in the pinecones, but the beautifully crafted result will last for years to come.
66. Christmas Tree Topiary
These adorable little trees (scroll down to #11) will fit just about anywhere around your home. Make a bunch and place them on your mantel, or make one for your teacher to place on their desk.
67. Christmas Crackers
Add a little pop to your holiday by making these Christmas crackers. Traditionally, Christmas crackers are part of English Christmas celebrations and are filled with small candies, toys and trinkets, and a paper crown. Fill yours with anything you like!
68. Mason Jar Santa
These Mason jar Santas are made with red tissue paper, Mod Podge, and black ribbon. They make the perfect containers for gifting candies or other small homemade treats.
69. Birdseed Ornaments
Decorate a tree with birdseed ornaments and let the birds have a Christmas party of their own.
70. String Christmas Trees
Use a Styrofoam cone to create these pretty string Christmas trees. Kids will have hands-on, messy fun wrapping glue-soaked yarn around the Styrofoam form.
71. Candy Cane Wreath
This year, turn some of those leftover candy canes into Christmas decor. With a box of candy canes and a hot glue gun, you can make a beautiful wreath to hang in your home.
72. Paper Snowflakes
Paper snowflakes are a classic for a reason—they are just so fun and easy to make! You can simply fold up a piece of paper and start cutting, or try using one of these pretty templates.
73. Giant Christmas Decorations
This holiday season, go BIG! Like, really big! These giant lollipops, ornaments, and bells are created using usual objects in the most unusual ways.
74. Paper Chains
Another classic holiday craft, you can get a lot of mileage out of making a paper chain. Use scraps of recycled wrapping paper or cut strips of holiday cards to add a personalized touch.
75. Woodblock Snowman
It's safe to cozy these woodblock snowmen up near the fire. They will look right at home sitting on your mantle. Let kids take care of the painting, and you may have to step in and help with the hats.
76. Clay Pot Gingerbread Houses
There may not be any candy, but kids will still love transforming mini terracotta pots into these sweet little gingerbread houses.
RELATED: 7 Games Like Wordle for Kids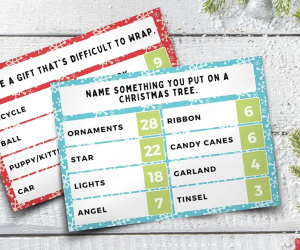 A game like Christmas Family Feud is the perfect way to bring everyone together. Photo courtesy of gatheredagain
Christmas Games, Family Style
77. Reindeer Ring Toss
Deck the halls and don your finest set of reindeer antlers. Reindeer Ring Toss has grown in popularity in recent years, so make sure you grab your set soon!
78. Christmas Bingo
Bingo is a fun game that the whole family can play. Use this printable, and play with peppermints as chips, to add a little jolly to your game
79. Christmas Scavenger Hunt
Grab your hat and mittens, bundle up, and go on a Christmas Scavenger Hunt. Enjoy the fresh air while searching for snowmen, Christmas lights, and candy canes.
80. Carole Karaoke
"The best way to spread Christmas cheer is to sing loud for all to hear!" Gather around the TV, and set up the best Christmas Song Playlist, and sing so that everyone can hear you!
81. Punch Advent Calendar
Create this DIY Punch-Out Advent Calendar and have a little fun! The punch-out game will have the kids feeling festive all month long.
82. Christmas Family Feud
This fun game will have everyone laughing. A festive spin on the classic TV game show, Christmas Family Feud is perfect to play at any of your holiday gatherings.
83. Guess the Christmas Smell
Peppermint or pine, gumdrops or gingerbread … There are so many smells associated with Christmas, it's hard to pick your favorite one. Set up this Guess the Christmas Smell game and quiz family members to determine who has the best nose in the family!
84. Pin the Nose on the Snowman
Cut out a snowman shape and tape it to the wall. Wearing a blindfold, see who can pin the nose on the snowman, coming closest to the mark.
85. Reindeer Games
Everyone—yes, even Rudolph—will enjoy playing these reindeer games! Invite all your friends and family over to have fun with this reindeer-inspired game night.
86. Minute to Win It Christmas Games
With a little bit of setup, these Minute to Win It Christmas Games will have the whole family laughing for hours.
87. Christmas Trivia
This portable, packable Christmas Trivia game will come in handy for all your holiday travels.
88. Candy Cane Hunt
Send the kids on an epic adventure all around the house, backyard, or entire neighborhood. A Candy Cane Hunt is like an Easter Egg Hunt, but with mini candy canes.
RELATED: 50 Best Kids' Movies for Family Movie Night

What's your family's favorite Christmas movie? Watch it every year and start a new family tradition!
More At-Home Christmas Activities
89. Watch a Christmas Movie
Put on those snuggly jammies and snuggle up on this couch, this list of Christmas movies will put everyone in the holiday mood!
90. Make a Christmas Countdown Calendar
Use one of these pre-made advent calendars, or if you are feeling crafty, you can try to create one of these original ones to count down to the big day.
91. Make a Gift
Make it a tradition to add a little homemade touch to your holiday gifting. Encourage your children to make something to gift to someone they love.
92. Have a Christmas Song Dance Party
Crank the Christmas tunes and get the whole family moving!

Bundle up, windows down, and check out those lights all over town.
93. Go on a Holiday Light Tour
Fill a thermos with hot chocolate and hit the road! Take a ride around the neighborhood in search of the most over-the-top holiday decor.
94. Have an Indoor Snowball Fight
You are never too old for a snowball fight! Especially when you can have one inside by making some of these homemade snowballs. Scrap paper and plastic wrap come together to create these snowballs without ever having to find a pair of mittens.
95. Family Game Night
Plan a low-tech night of togetherness with a family game night. Choose from our list of the 24 Best Board Games for All Ages.
96. Go to a Tree Lighting
From town squares to local malls, all across the country trees are getting all glammed up for the season. Check your local Mommy Poppins calendar to find a tree lighting near you.

It's never too early to teach kids that it truly is as fun to give as to receive.
97. Gather Toys to Donate
Whether you clean out your used toys or set up a toy drive, teaching kids how to give is perhaps the truest meaning of Christmas.
98. Elf on the Shelf
Welcome an elf into your home this season. Fill your home with elf shenanigans until Christmas Eve. We've found 50 Easy Elf on the Shelf ideas to get you started on this fun tradition.
99. Organize a Cookie Swap
Choosing your favorite Christmas cookie may seem like an insurmountable task—which is why some genius invented Cookie Swaps. Invite your friends and family to make a batch of their favorite Christmas cookies and then swap and exchange so you get a little bit of everything. Hint: If you want to bring the cookies that everyone at the swap will fight over, we know just the recipe. It's #6 on this list.
100. Spend a Night in a Blanket Fort
Twinkle lights make everything magical! Create an indoor fort in your home, and then decorate it for Christmas with snowflakes, string lights, and a touch of tinsel.
101. Grinch Day
Mr. Grinch may be a mean one, but sometimes it's fun to be a little naughty. Traditionally, Grinch Day is celebrated on December 1st, but these Grinch-inspired activities are fun all season long.
This article contains some affiliate links, which means we might earn a small commission if you make a purchase. There is no extra cost to the reader. We only recommend products and services that we have personally used or have thoroughly researched.
Photos by the author unless otherwise noted