Eco-Friendly Gift Wrapping Ideas Kids Can Do: Holiday and Christmas Gift Wrap with Less Waste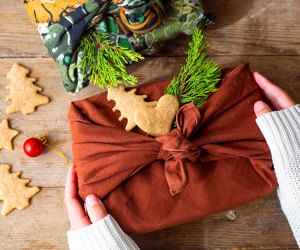 12/8/22
- By
Maureen Wilkey
Every year, Americans use about 4.6 million pounds of birthday, holiday, and Christmas gift wrap... and only about half of that wrapping paper gets recycled. That's 2.3 million pounds of glittery, inky, foiled paper going into landfills around the country. But there are loads of gift wrapping ideas that cut back on waste. These eco-friendly gift wrapping ideas involve using cloth, reused paper, metal, wood, or cardboard to wrap gifts; in addition to that, they add a personal touch from your kids.
Here are 13 eco-friendly gift wrapping ideas that will help put less holiday and Christmas gift wrap into landfills this holiday season. For more ways to help save the planet, check out our Earth Kids Guide, and sign up for our Earth Kids newsletter.
Note: You don't have to wrap every present sustainably to make a difference. Picking a handful of gifts to wrap using Earth-friendly materials is better than wrapping everything in single-use holiday or Christmas gift wrap.
For boxes that still get wrapped in the traditional way, try using brown kraft paper, holiday or Christmas gift wrap with sustainable or organic inks and dyes, and paper that's not coated or lined with plastic, foil, glitter, or velvet. When you crumple your paper, it should stay that way—bouncing back is a sign that the paper is coated with something non-recyclable.
Cloth Gift Wrapping Ideas
1. Furoshiki
This Japanese method of gift wrapping started as a practical way to carry and protect items using square sheets of cloth. There are a dozen common ways to use Furoshiki to wrap everything from regular square boxes to bottles of wine to spherical objects. You can watch a YouTube video to get the basics down, or come up with some of your own twists.
RELATED: Live Christmas Tree vs. Artificial Christmas Tree: Which One is Better for the Earth?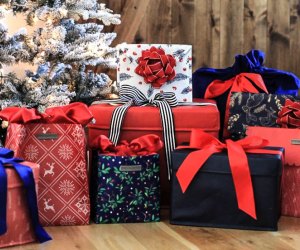 Cloth bags and boxes are just as pretty as paper ones and can be reused for years to come. Photo courtesy of Everwrap
2. Reusable Cloth Bags
A single paper gift bag costs at least $2 these days, and while most of us reuse them, they often end up in the trash sooner than a cloth bag would. Everwrap now has cloth gift bags starting around $4, with reusable cloths to place inside for decoration. These are great for odd-shaped items. We recommend buying plain colors or patterns that can be used beyond Christmas so kids can keep them for storage or play.
3. Old Sheets, Handkerchiefs, and Dish Towels
If you have a present that's too big to fit in a box or a bag—hello play kitchen, bicycle, or dress-up wardrobe—just throw a sheet over it, tape a bow to the sheet, and call it a day. For smaller objects, a handkerchief or dish towel wrapped in a cute way and tied with a ribbon can be all the presentation needed without all of the waste.
4. Grocery Tote Bags
Many grocery stores or other retailers sell tote bags with holiday themes or messages printed on them. With many toys being just the right size to fit in a grocery bag, these make a fantastic way to wrap the most oddly shaped toys. Plus, little kids love having bags to carry stuffed animals, books, and other small toys.
5. Stockings
Sometimes we forget one of the most obvious places to put gifts that don't really need wrapping—stockings. Anything smaller than the palm of your hand—socks, underwear, candy, ornaments, small bath soaps, hair elastics, Pez dispensers, etc.—should definitely go into a stocking (with all the other stuff Santa puts in there).
RELATED: 101 Christmas Crafts for Kids, Plus Christmas Games and More At-Home Activities

Make paper grocery bags more festive using markers or paint. Photo courtesy of Three Rivers Park District
Holiday and Christmas Gift Wrap Made From Reused Paper
6. Paper Grocery Bags
We all sometimes forget to bring the reusable bags on the way out to the grocery store. When you do, make sure you ask for paper bags. Plastic bags are hard to recycle, and paper bags make for great holiday and Christmas gift wrap. Kids can draw on and color them to make fun designs, and you can cut them apart to wrap a box or just plunk your gift right inside.
7. Sunday Comics
Not many of us get the newspaper anymore, but it may be worth subscribing to your local paper (or even just buying a few Sunday editions) to get the colorful comic pages inside. After you read them with the kids, they can become fun holiday or Christmas gift wrap. Plus, they're recyclable!
8. Old Maps
Unless you've been on The Amazing Race, you probably haven't used a paper map in at least a decade. While some vintage maps might be keepers for fun art projects or nostalgia, most of the Rand McNally Atlas can probably be used for gift wrap at this point.
RELATED: Indoor Activity: Recycle Cards Into Bookmarks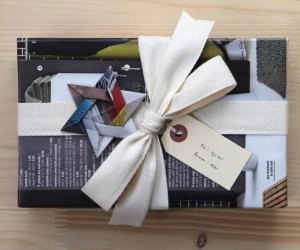 Old magazines can be turned into unique holiday or Christmas gift wrap. Photo courtesy of Salvage Sister and Mister
9. Recycled Magazines
It's always fun to get my new running shoes and gear wrapped in old copies of Runners World, or to wrap my kids' outdoorsy gifts in Ranger Rick or National Geographic for Kids. Make a collage out of the pictures or just use pages as-is.
10. Kids' Old Artwork
We've all gotten busted throwing away one of the 127 drawings our kids make each week. Turn that artwork into custom wrapping paper for Grandma and Grandpa, aunts and uncles, or other family members. For even better results, buy a roll of butcher paper for kids to draw on so it's all in one piece when you go to wrap presents.
RELATED: Easy Handmade Thumbprint Holiday Cards Kids Craft

Reusable boxes in fun patterns are so pretty, they don't need to be wrapped. Photo by Evgenia courtesy of Pexel
Other Reusable Gift Wrapping Ideas
11. Reusable Holiday-Designed Gift boxes
Instead of buying another package of flimsy shirt boxes that will break down after two or three uses, spend a little extra on boxes made to last for a few years. Even Target and Hallmark now sell reusable boxes in a variety of sizes. Plus, having boxes like this on hand prevents the last-minute run to the nearest store for an overpriced box on Christmas Eve.
12. Cute Holiday Cookie Tins
My husband is a teacher, and every holiday season he gets at least one tin of Royal Dansk cookies from a student for a gift. They come in a cute blue tin that makes the perfect container for play jewelry, doll accessories, toy cars or trains, and other small playthings. You can even reuse the tin for homemade cookies for neighbors, co-workers, or relatives.
13. Wooden Boxes
When I worked in marketing, one of my favorite annual corporate gifts was the pecan pie we would receive from a vendor in Texas. I would always bring home the wooden box with the sliding lid that it came in. My daughter would color or paint it, and it became a great receptacle for gloves, socks, and other accessories. Melissa and Doug toys also often come in a wooden box that is sometimes subdivided into smaller compartments. This can be used to hold more little gifts—one even got Mod Podged into a remote control holder for Dad!
Lead photo courtesy of Invaluable