The Very Hungry Caterpillar Show
DR2 Theatre

NYC Easter Brunch Cruise 2023
Event Cruises NYC

Easter Fun Cruise with Egg Hunt 2023
Event Cruises NYC
Sign up for our free newsletters.
Reindeer Toothpaste Recipe Christmas Science Activity for Kids
12/14/20
- By
Kelley Heyworth
Household Items You Need to Make Reindeer Toothpaste
Small bottle (A standard, single-use plastic water bottle or something of similar size works well.)
½ cup Hydrogen peroxide (6% hydrogen peroxide or 12% hydrogen peroxide definitely works best. 3% hydrogen peroxide, widely available at pharmacies, also works; the reaction is just much less dramatic. Gloves and goggles are a good idea if your child is using a higher-concentration hydrogen peroxide.)
1 squirt dish soap
1 tablespoon active dry yeast (Make sure it's fresh; you'll know it is if it bubbles a bit in warm water.)
3 tablespoons warm water in a small bowl
1 tablespoon or so red or green sanding sugar and/or a squirt of red or green food dye
optional: funnel
How to Make Reindeer Toothpaste
Step 1: Measure out the materials.
Because the reaction happens quickly, it's best to set out the pre-measured materials in advance. Place the empty bottle in a wide, shallow tray or bin, and put a funnel in the top of the bottle if you are using one. (It does make pouring easier and more precise.) Measure out and set the hydrogen peroxide, dish soap, yeast, warm water, and sanding sugars or food dye next to the tray or bin.
Step 2: Mix hydrogen peroxide and dish soap.
Pour the hydrogen peroxide, followed by a squirt of dish soap, into the bottle. Pick up the bottle and swirl the mixture gently.
Step 3: Combine water, yeast, and sanding sugar or food dye.
Pour yeast into the water and mix together for about 30 seconds. At the very end, sprinkle in the sanding sugar and/or squirt in the food dye.
Step 4: Carefully pour yeast mixture into hydrogen peroxide mixture.
Pour the warm water with yeast into the bottle, and quickly remove funnel if you are using one. Watch the foamy reindeer toothpaste overflow! You can add some more sanding sugar as it's bubbling up to make it look extra festive.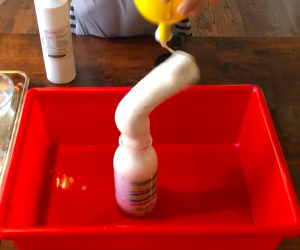 What Chemical Reaction is Happening?
Hydrogen peroxide breaks down into water and oxygen when it comes in contact with an enzyme called catalase, creating those little bubbles you see when you, say, pat a cut with hydrogen peroxide. Yeast is a powerful catalyst that allows those little bubbles to grow bigger, faster. The squirt of dish soap completes the dramatic reaction by creating surface tension on top of the mixture, which means that those bubbles are temporarily trapped before the tension breaks and they "explode" upwards out of the narrow bottle opening.