25 Cool Stocking Stuffers for Kids for $10 or Less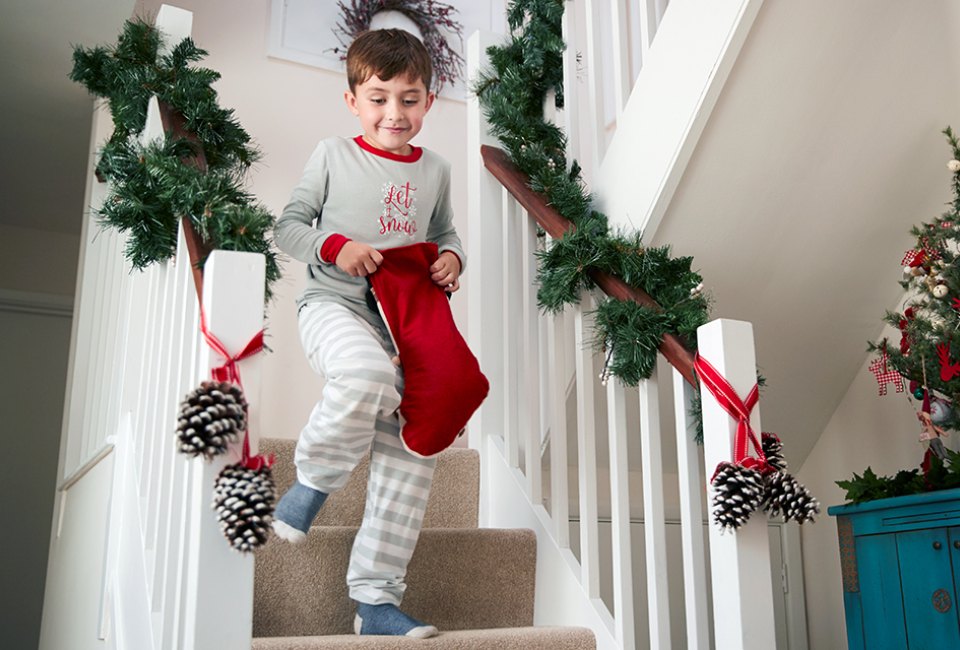 11/16/21
- By
Danielle Smith
Once the stockings are hung by the chimney with care, the next order of business is finding stocking stuffers your kids will love! Santa's big-ticket items might be under the tree, but unique stocking stuffer ideas are a great way to surprise children with smaller, thoughtful gifts that don't break the bank. So we've made a list—and checked it twice—of the best stocking stuffers for kids at every age.
We've got cool stocking stuffers for teens and tweens, as well as stocking stuffers for toddlers and kids, and all of them are under ten bucks (our gift to you). For even more help getting ready for the holidays, including the best advent calendars and where to get free toys this holiday season, be sure to check our Family Holiday and Christmas Guide.
Please note that at the time of publication, all of these items were under $10. However, prices fluctuate near the holidays and are subject to change. That happened a few times as we researched this piece, but with a few quick clicks, we were always able to find a similar item that came in at under $10.
Best $10 or Less Stocking Stuffers for Toddlers and Kids
PLUS PLUS interlocking blocks promise "one shape, endless possibilities." We've tried them and can't say we disagree. A variety of different kits make unicorns, dinos, flamingos, and more, so there's one every kid will love, and it will keep them busy until you're ready to tackle the big gifts.
The classic card game gets made over with characters from two of the most popular kids' franchises ever. It breathes new life into one of the few games all generations can play together.
Kids love the excitement and anticipation that come with hatch and grow toys, and these hatching dinos are fun for kids to open and close over and over and over...

These are great for crafting or just leaving each other fun notes.
This is one of those stocking stuffers we can't wait to buy "for the kids." These rainbow scratch notes just look so cool, you can expect to find them stuck all over the house well into next year.

Wave hello to your new little friends.
The term "toddler" remains popular, but many parents of kids from 2-5 know that this age is best referred to as "The Paw Patrol Years." Just lean into it, and buy these bath finger puppets that will certainly find their way out of the bath.
Need stocking stuffers for kids with an incentive to help them learn to tie their shoes? You're welcome!

Go spelunking in your basement or attic. Or get ready for an epic game of tag at night.
Headlamps are one of the best-kept secrets for extending ordinary household exploring into hours of pretend-play. My daughters like strapping these to their foreheads and venturing into the attic or dark corners of the basement, Indiana Jones-style. They're also fantastic for a game of hide-and-go-seek in the dark.
Buy these liquid motion bubblers as stocking stuffers for toddlers in your family, and give them another cool option for sensory play.

This Christmas, you can give them the moon.
This stocking stuffer is also in the flashlight family ... kinda. Kids can project a realistic image of the moon onto ceilings and walls and twist the top part to adjust the focus. Its compact size makes it ideal for even the smallest hands.
This book contains sheets of paper with directions for making 20 old-school paper airplanes that come in customizable designs. Add this to your list of kids' stocking stuffers for some screen-free good times.
One for every day of the year and then some!

This science trick truly never gets old.
If your kids haven't already done the mentos and coke science experiment, here's their chance. And actually, even if they have done the experiment before, this kit delivers almost perfect results every time and can achieve geyser heights of up to 30 feet in the air, making the experiment worth several redos.
Wooden pieces require some basic, kid-friendly assembly to transform into a new plaything. Each set comes with art supplies like paint, stickers, and glitter pens to make them exactly to your child's liking. Choose from race cars, princess wands, and more.

Because farts just make everyone giggle.
This is just a bag of cotton candy, but it has the word "farts" on it, which kids seem to find absolutely hilarious at every age. Also, this inexpensive bag takes up a lot of room in the stocking.

Create a salon at home to do manis together.
Best $10 or Less Stocking Stuffers for Teens and Tweens
Make their manicures (and yours) a breeze with Tweexy, and make fewer trips to the nail salon.
With Invisalign, braces, and retainers, teens are always brushing their teeth. Give thme something unique and surprising to keep things "fresh."
This price likely won't last all season, but for now, it's a steal at less than ten dollars. This set of 6 bath bombs is made with moisturizing ingredients like essential oils, coconut oil, and shea butter. Older kids will enjoy spending some of that winter break time alone in the tub with their music blaring, enjoying these bath bombs' bright colors and scents like grapefruit punch (for confidence) and mint chocolate (for acuity).

No, not Infinity Stone, Infinity Cube. The stones are way more than $9.99.
A more advanced fidget than the inescapable pop-its that younger kids love, this Infinity Cube is something like a hybrid fidget/Rubik's cube puzzle, except there's no real "solution," just hours of fidgety fun.

Are you smarter than your average tween?
Here's a puzzle they do have to solve. The challenge of these high-quality metal brain teasers is to take the pieces apart, and then put them back together. Buy two, and have a friendly parent-child competition to see who can get it done first.
This book comes with instructions for 30 different origami patterns on paper squares beautifully printed with animal, kaleidoscope, and traditional Japanese designs. Even younger children will enjoy these, but older kids will have the patience to stick to the directions and see the projects all the way through. Nab these stocking stuffers for teens and tweens for the perfect introduction to an artistic new hobby.
Winter is coming and she's bringing chapped lips. Tweens and teens can keep their pouts perfectly moisturized and look cool doing it with these trendy lip balms. If skulls aren't their thing, there are pineapples and other shapes too.
This is one of the coolest crafting tools out there and makes a great addition to the art supply stash as pom-pom-covered designs grow in popularity. Kids can add their pom-pom creations to backpacks and keychains, or make jewelry and fluffy animal friends.

Fairy lights and friend photos personalize any space.
Simple decor items that make bedrooms feel more personal are thoughtful stocking stuffers for teens and tweens. These fairy string lights can be wrapped around bedposts, headboards, or taped to a wall. Pair them with colorful mini clothespins—and now your kid finally has a place to hang all those tiny polaroids.

Learn how to shut down a house party and plan a road trip!
This is an awesome book filled with ideas to get teens thinking outside the box for an extra-curricular reading assignment they actually won't mind completing.
How many GIFs do you text your friends on an average day? The answer is: nowhere near as many as your kids. With OH! MY GIF, their favorite GIFs are IRL, as inanimate objects that can actually move, mimicking the same motions as the online GIF. Personally, I only really recognize the typing cat, but your kids will recognize many more. If very little of what you just read makes any sense, congratulations: We're both old!
This article contains some affiliate links, which means we might earn a small commission if you make a purchase. There is no extra cost to the reader. We only recommend products and services that we have personally used or have thoroughly researched.
All photos courtesy of the manufacturers
Click Here to Sign Up!
i