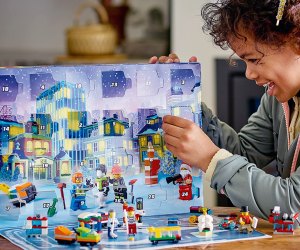 The Best Advent Calendars 2021 for Kids: The Holiday Countdown Begins
The holidays are right around the corner! If your kids are already excited, help them embrace the wait with an advent calendar. Holiday countdown calendars have come a long way from stale chocolate disks. Today, you can find advent calendars to spark the imagination of fantasy lovers, crafters, and, of course, those wanting to focus on the traditional Christmas story. These are our favorite 2021 advent calendars that kids of all ages will love. But hurry—December 1 is right around the corner and some of the most popular advent calendars sell out fast.
For more Christmas activities that get kids in the holiday mood, like Elf on the Shelf ideas and the best Christmas movies for families, check out our Guide to Christmas Activities and Holiday Fun for Kids.

This Funko Pop! Harry Potter Advent Calendar is a hit with kids of all ages.
Best Advent Calendars 2021 for Kids
Funko Pop! certainly does not cheap out on its nativity sets. These familiar Harry Potter figurines are super cute and high quality so your kids will want to play with them year-round. Some years, the box folds out into a background to spur imaginative play. Pre-order now for release on November 24. If your kids are more Pokemon or Dragon Ball Z fans, Funko Pop! makes advent calendars with those characters, as well.
OUR LATEST VIDEOS
This great building kit lets kids create a winter city scene with characters from the LEGO City Adventures TV show. Create a story day by day as new pieces are opened. If your little master builder has a specific Lego-love, Lego has lots of great themed advent calendars featuring characters from Star Wars, Lego Friends, the Avengers, Harry Potter, and more.
This one's great for kids ages six and up that love arts & crafts. Every day, kids can open up a little box filled with the main supplies needed to create a small Christmas tree ornament or decoration. The set includes a book with pictures and step-by-step instructions. Purple Cow also has a Crazy Scientist advent calendar with daily fun science experiments to complete.
This advent calendar is the perfect choice for teaching kids the story of Christmas. Every day, open a door to reveal a different piece of the nativity scene with camels, wise men, Mary, Joseph, and Jesus.

The Refillable Advent Calendar is a great tradition to establish and lets parents choose the perfect gifts.
You know your child best! This adorable gingerbread house-shaped calendar will quickly become a tradition for years to come. Fill the 24 little wooden drawers with your own treats and surprises that will delight your child.
It's Christmas on the Island of Sodor! This set includes 24 miniature train engines that kids can push around a small track.

Fisher-Price Little People Advent Calendar is a hit with the preschool crowd.
Every day, open a new door to find a new Little People friend or holiday accessory.
Perfect for your little geologist and older kids, this advent calendar delivers a new treasure for ricks, gems, or minerals to collect every day throughout the holiday season. This calendar really rocks. (Yup, that was a terrible Dad joke, and we've got more here.)
If your kiddo can never sit still, they'll love this unique advent calendar that is filled with stress-reducing gadgets. There are 15 different options to choose from!

The Hot Wheels Advent Calendar has a track for kids to use to race their new cars.
Burn rubber with this one as you find cars and holiday-themed props for kids to race around the track.
We had to give you one to satisfy your sweet tooth! Open daily doors to find a Hershey Miniature, Special Dark Chocolate, Krakel, Mr. Goodbar, or a bag of candy-coated chocolate pieces. Because that Halloween candy is long gone by December 1.
Stories are the best treats, especially when they feature favorite friends. Read a brand new holiday-themed short story every night that stars favorite Disney and Pixar characters.
The OurWarm Christmas Advent Calendar can become a part of your annual holiday decor.
This is another DIY option, and one that doubles as holiday decorations for your mantle, windows, or staircase. The simple little bags have big numbers that are fun for little kids learning their numbers, and the bags can hold light, small surprises. The felt bags are also the perfect size for index cards, so if you already have too much stuff, you can fill each bag with a fun idea or activity, like "Watch The Polar Express" or "Read How the Grinch Stole Christmas!"
Got a dino lover in the family? This advent calendar has big dinosaurs, small dinosaurs, dino eggs, and even fossils.
This is something a little different; an online calendar that features a whole world for kids to explore and each day unlocks a new game to play. The puzzles are easy, yet addictive, and entertain kids from age 5 up through tweens.
Fun tip: If you see postseason sales on advent calendars, grab one! You don't have to reserve them strictly for the holiday season. I've bought them to use as incentives for when my kids hit a monthly goal like instrument practice time or reading minutes. It works especially well for calendars with evergreen surprises that are exciting year-round!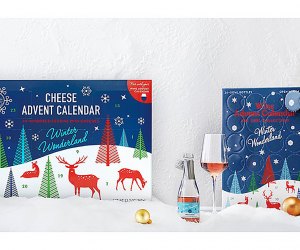 Don't forget a little something fun for parents. Perhaps a little wine and cheese?
And a Few Fun Advent Calendars for Adults
Advent calendars aren't just for kids! Adults can get in on the fun with grown-up options like these:
This article contains some affiliate links, which means we might earn a small commission if you make a purchase. There is no extra cost to the reader. We only recommend products and services that we have personally used or have thoroughly researched.
Photos courtesy of the companies