How To Throw a Taylor Swift Party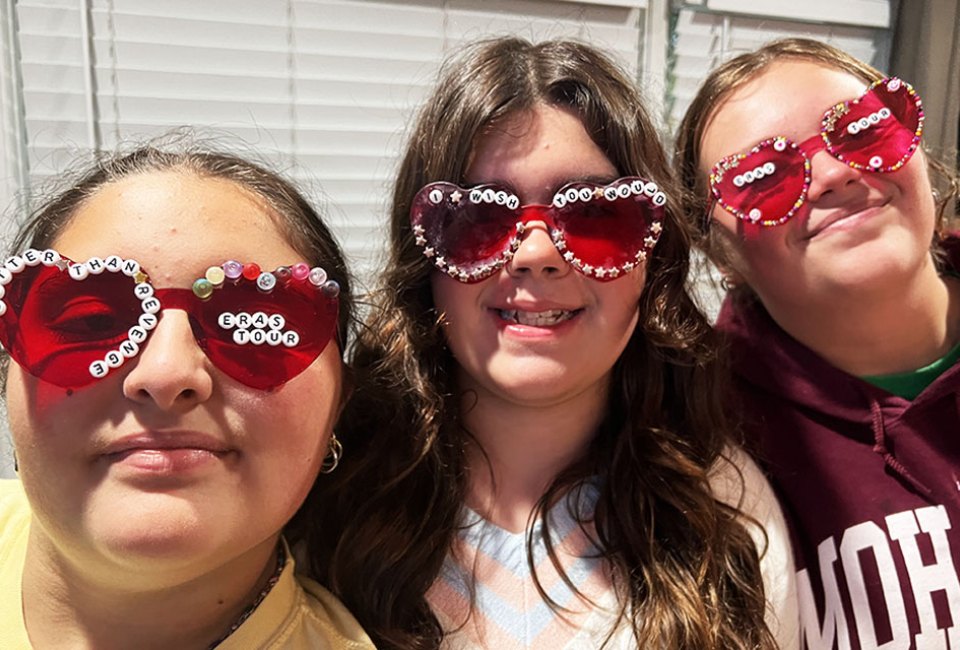 10/9/23
- By
Abby Jakab
It's time for a Taylor Swift Party! "See the lights, see the party..."
Hey, fellow Swifties! We are about to embark on an enchanting journey into the world of Taylor Swift, where fairy lights twinkle like stars, the bracelets are beaded, and the food names sound like a page torn from your favorite Taylor Swift songbook.
Whether you are getting ready to catch a stop on the Era's Tour, heading to the theater to see the Era's Tour movie, celebrating the release of another (Taylor's Version), or throwing a Taylor Swift party for your own birthday, the Queen of Storytelling gives us a lot of reasons to celebrate. So grab your glitter, don your red lipstick, and get ready to dance like nobody's watching because we're diving into the deep end of hosting a Taylor Swift-themed party.
For more party planning fun, including 100 Popular Kids' Birthday Party Themes for Every Age and Interest, check out our Guide to Kids' Parties and Birthday Party Ideas.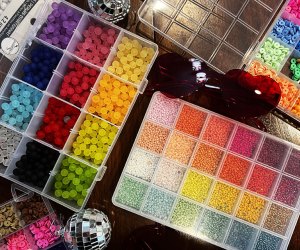 Make friendship bracelets with Taylor quotes or lyrics in the beading.
Things To Do at a Taylor Swift Party
"It's Nice to Have a Friend" Bracelet Making Station
One of the newest Swiftie trends brings the world together one bracelet at a time! Print out lyrics, song titles, and Taylor quotes to add to the beading station so everyone can make a perfect "Swiftie" bracelet. Don't forget to playYou're On Your Own, Kid! After all, it was Taylor's great idea to "make the friendship bracelets."
Set up different colored beads, string, and alphabet beads and watch kids bond over a shared love for Taylor's music while creating bracelets they can trade with their fellow Swifties. For an easy way to get started, get this 64 Colors Beads Bracelet Making Kit!
RELATED: Fabulous Barbie Party Ideas

Get the crafts ready to make Eras Swiftie Sunnies.
Eras Glasses
Add these to your bracelet-making station so little Swifties "never go out of style." Use a hot glue gun to glue letter beads around the frames of the glasses. Wear them to the concert, movie, or even in your own living room while listening to Taylor. If you manage to score tickets to a show, it's a popular Eras Tour accessory.
Make Your Own Paper Rings
Using different colors of construction paper make your own paper rings. Decorate them with "shiny things" and cute printed lyrics. You can even hang a few paper rings with an invisible string in a shadow box to display your "paper rings in picture frames."
RELATED: Unique Goody Bag and Party Favor Ideas for Kids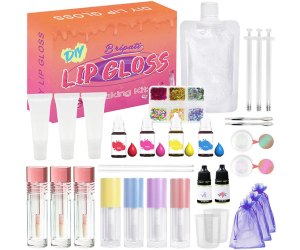 Achieve the perfect "Taylor" red lip by making it yourself! Photo courtesy of BRIPATI DIY
DIY "Taylor" Red Lipstick
Make your own lipstick, so everyone can get their perfect shade of red! You can also purchase inexpensive tubes of lipstick for your guests and have them decorate the tubes.
Swiftie Award
Who doesn't want to be recognized by their friends? Create an award for Swiftie fans with fun categories like "Biggest Swiftie," "Best Singer," or "Most Knowledgeable." These can be made and waiting to be given as party favors, or one of the activities can be creating and decorating a Swiftie award.
RELATED: 100 Awesome Craft and Art Projects for Kids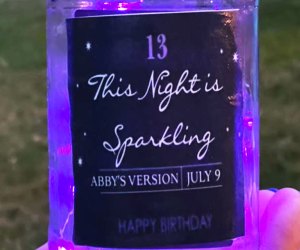 Create special Mason jar lanterns for a glowing evening.
Taylor Swift Party Decorations
Mason Jar Lanterns
Add a string of purple battery-operated fairy lights to a mason jar. Take this decoration to the next level by adding a "This Night is Sparkling" label to the jar. These can be used as a centerpiece or make several and create a lighted pathway.
Streamer Backdrop
Grab a roll of streamers to match each one of Taylor's eras (blue, gold, purple, red, white, black, pink, etc.). Cut the streamers into long pieces, and attach them to a wall to create an Eras-inspired backdrop.
Polaroid Photo Booth
Cut white foam boards to make giant Polaroid-inspired frames for a photo station. Add Taylor lyrics or quotes at the bottom of each one for a variety of fun pictures.
Mirrorballs
Transform your party into a dazzling spectacle by hanging mirrorballs, reflecting Taylor Swift's enchanting aura and adding a touch of sparkle to the party atmosphere. As the mirrorballs spin, they cast mesmerizing, twinkling lights across the room, creating a magical ambiance reminiscent of Taylor's music videos.
RELATED: Fun Mocktail Recipes for Kids Celebrations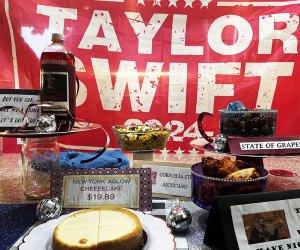 Share some delicious Swiftie-themed food and drinks!

Taylor Swift Party Food
You Belong With Me
Nothing goes together more than chips and dips, so set up several You Belong With Me pairings to get your party started.
State of Grapes
A clever twist on the popular song State of Grace—but, make it grapes!
Back To Decemburger
I go back to Decemburger all the time…especially if it means serving delicious burgers!
This Is Why We Can't Have Nice (Chicken) Wings
It was so nice throwing big parties…So why'd you have to rain on my parade? This Is Why We Can't Have Nice (Chicken) Wings are the perfect touch to any Tay-Tay-inspired spread. (Just make or order your favorite wings!)
Bad Blood
Now, this is a problem I think we can solve! Take any clear-colored beverage like Sprite or seltzer and add some blood orange juice to create this Bad Blood mocktail. (If you can't find blood orange juice, you can use cranberry!)
Corn-Elia St. Mexicano
You may know that Taylor will never walk down Cornelia Street again. But, did you know that you can never walk away from this street corn dip?
This article contains some affiliate links, which means we might earn a small commission if you make a purchase. There is no extra cost to the reader. We only recommend products and services that we have personally used or have thoroughly researched.
Unless noted, photos by the author
t Click Here to Sign Up!