5 Fun Mocktail Recipes for Kids Celebrations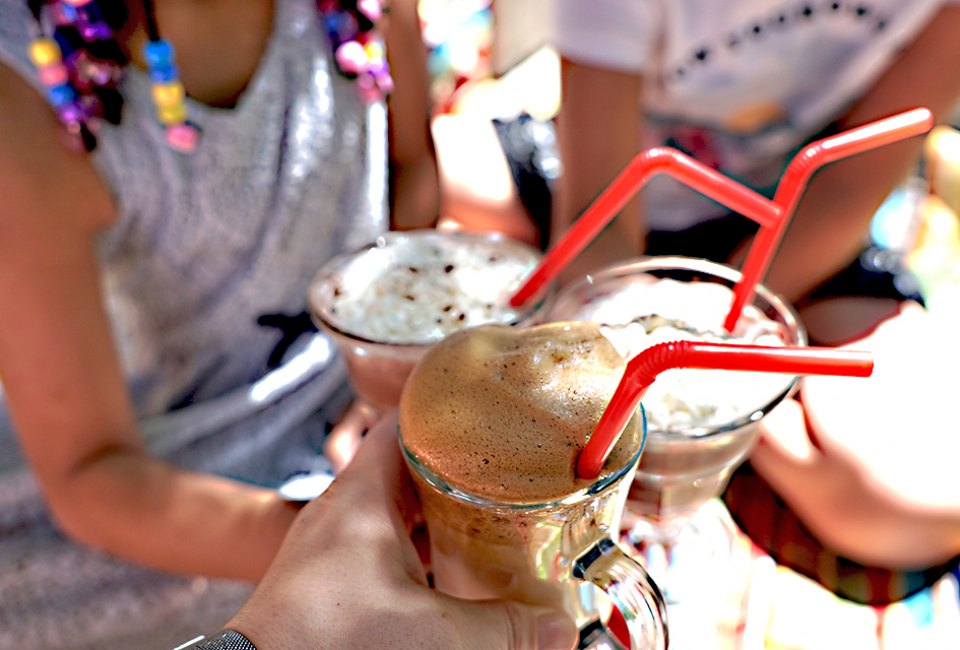 12/29/20
- By
Jody Mercier
We're re-releasing our list of the top mocktails for kids just in time to celebrate 2021 and say bye-bye and good riddance to 2020! We love the inclusivity of mocktails. Now kids, pregnant mamas, and teetotalers can safely get in on the cocktail countdown fun.
From pink-hued sangria (with Shirley Temples) to mojitos (and minty limeade), we have five yummy cocktail-mocktail pairings for parents and kids to enjoy together.
Find more creative ways to celebrate New Year's Eve at home with these 12 kid-friendly activities.

Fresh mint "makes" the mojito.
1. Classic Mojito Recipe
Ingredients
4 ounces white rum
6 mint leaves, muddled
1 ½ ounces lime juice, freshly squeezed
1 ounce simple syrup
Splash of club soda, to finish
Directions
Add the muddled mint, rum, lime juice, and simple syrup to a cocktail shaker with a handful of ice. Give it a brief shake.
Strain into two highball glasses and top with a splash of club soda.
Garnish with a lime wedge, a sprig of mint, and enjoy!
Kid-Friendly Mocktail Recipe: Lime-Min-Ade
Omit the rum from the classic mojito recipe and increase the amount of club soda to transform the mojito to a kid-friendly version, dubbed by my 6-year-old as a lime-min-ade. We also like to sub 7-Up for the club soda.
RELATED: Hot Cocoa Bombs in 5 Easy Steps

2. Rosé Sangria Recipe
Ingredients
1 bottle rosé wine
1 cup grapefruit juice, freshly squeezed
½ cup orange juice, freshly squeezed
2 ounces simple syrup
Fresh fruit, to taste (I used a sliced lemon and a pint of raspberries)
¼ cup fruit-flavored liqueur, to taste (i.e. Cointreau, raspberry liqueur, fruit-flavored vodka)
Club soda, for serving
Directions
Sangria is a great fix-it and forget-it punch to serve a crowd, or nurse slowly throughout the weekend. Mix all ingredients, aside from the club soda, in a pitcher and refrigerate for at least one hour before serving; the longer it sits, the more intense the flavors become. When ready to serve, pour over ice and top with a splash of club soda.

Served in a special glass, Shirley Temples make any kids' gathering a fancy party.
Kid-Friendly Mocktail Recipe: Classic Shirley Temple
Ingredients
4 ounces clear soda, like 7-Up, Sprite, or Ginger Ale
½ ounce grenadine syrup
Maraschino cherries
Directions
Fill a glass with ice, top with soda and grenadine, and add a cherry (or three! four! more!) on top.

This year's "it" coffee drink is even more amazing with a splash of Kahlua.
3. Boozy Dalgona Coffee Recipe
Ingredients
4 tablespoons instant coffee granules
4 tablespoons sugar
4 tablespoons boiling water
1 teaspoon vanilla extract (optional)
4 ounces Kahlua (or liqueur of choice; Irish Cream would also be a good fit!)
8 ounces milk or milk alternative (we used almond milk)
Directions
Fill two glasses ⅔ of the way full with ice; add liqueur and almond milk, leaving top ⅓ of cup empty for coffee.
In a medium-sized bowl, combine the instant coffee, sugar, vanilla (if using), and boiling water. Using a hand mixer, whip the mixture until frothy, medium peaks form. Note: You can do this by hand using a wire whisk, but it will take 8-10 minutes to reach the right consistency.
Spoon coffee mixture atop the glasses of ice and milk and enjoy.

Kid-Friendly Mocktail Recipe: Frozen Hot Chocolate
Ingredients
2 cups milk
3 packages instant hot chocolate mix
3 cups ice
Not so optional toppings: whipped cream, chocolate shavings, or chocolate chips
Directions
Combine the milk, hot chocolate, and ice in a blender and process until it reaches the consistency of a smoothie.
Pour into two glasses.
Add a swirl of whipped cream, if using, and sprinkle with chocolate shavings or chocolate chips.

A citrusy paloma hits the spot on a hot day.
4. Paloma Recipe
Ingredients
Kosher salt
½ cup grapefruit juice, freshly squeezed
Juice of 1 lime, freshly squeezed
½ ounce simple syrup
½ cup tequila
½ cup club soda
Directions
Spread salt on a plate. Rub the rim of two highball glasses with a wedge of grapefruit and turn upside down in the salt to create a salt rim.
Combine the grapefruit juice, lime juice, simple syrup, and tequila in a shaker with ice. Shake to combine.
Strain into the prepared glasses and top with a splash of club soda.
Kid-Friendly Mocktail Recipe: Virgin Paloma
Omit the tequila from the paloma recipe above, and increase the club soda to transform this into a kid-friendly beverage.

A juicy fruit garnish is the perfect topper for watermelon lemonade.
5. Watermelon Lemonade Coolers
Ingredients
½ cup sugar
½ cup water, plus 3 cups water for mixing lemonade
4 cups watermelon, cubed
½ cup lemon juice, freshly squeezed
2 ounces vodka, per serving
Directions
Make a simple syrup: Combine ½ water and sugar in a small saucepan over low heat, bring to a slight boil to ensure sugar is completely dissolved, about 5 minutes. Let cool slightly.
In a large pitcher, combine simple syrup, lemon juice, and 3 cups cold water to make lemonade. Stir to combine and refrigerate until ready to serve.
Just before serving, add the watermelon to a blender and process until pureed.
To assemble, place ice in a tall glass, add 3 tablespoons watermelon puree, 2 ounces of vodka, and fill the remainder of the glass with lemonade. Stir to combine.
Kid-Friendly Mocktail Recipe: Watermelon Lemonade
Follow the recipe above, omitting vodka in the final step, and adding an extra splash of lemonade instead. Garnish with a slice of watermelon for a fruity, fun twist.