Barbie Birthday Party Guide: Fabulous Barbie Party Ideas, Kenergy Included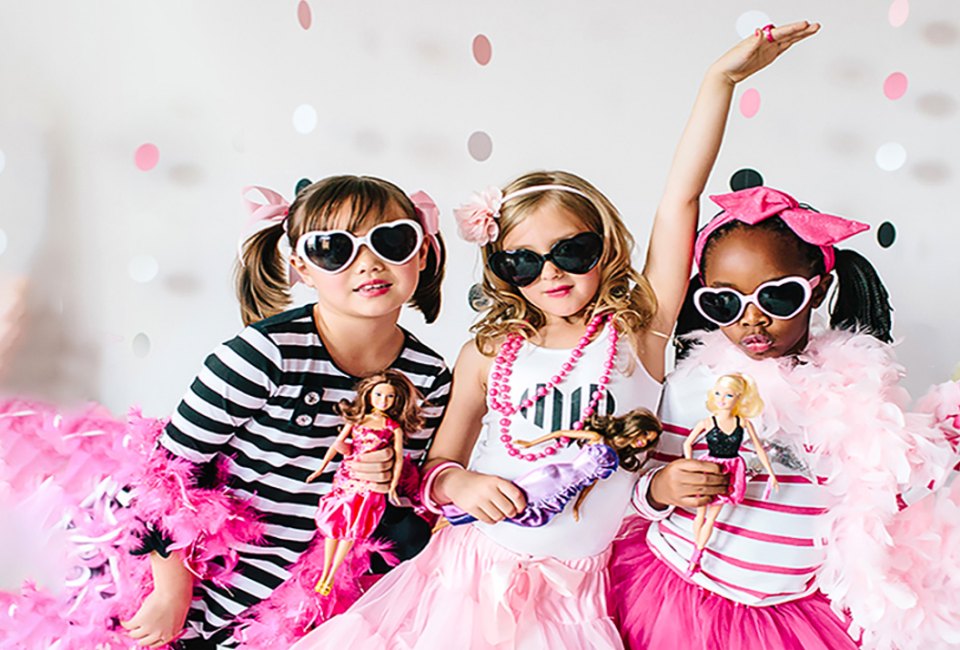 9/7/23
- By
Cait Sumner
"Come on, Barbie, let's go party!" It's time to plan the ultimate Barbie birthday party.
We all know Barbie is an icon, but this year she's even more of a smash hit thanks to the release of The Barbie Movie. That's why a Barbie party is the perfect bash for any kid who loves Barbie, the color pink, or just being fabulous in general.
We've gathered some awesome ideas for throwing the perfect Barbie birthday party, from Barbie party supplies, games, and activities to Barbie party decorations, food, and birthday cake.
Looking for more great birthday party ideas? Check out our Guide to Kids' Birthday Parties, which includes our list of 100 kids' birthday party themes for every age and interest.

A Barbie party calls for a glam invitation. Photo courtesy of Evite
Barbie Party Supplies
1. Barbie Invitations
Set the stage right from the start with Barbie party invitations. Etsy has tons of customizable options, including video invitations (some of which even include Margot Robbie herself). You can also opt for simple fill-in-the blank invites. If you'd rather go paperless, check out this cute digital invitation from Evite.
2. Barbie Party Supplies
You can't serve up food and cake on just any old plates. This Barbie tableware set comes with plates, napkins, cups, a tablecloth, and candles that would be more than welcome in Barbie's Dreamhouse. Add pink plastic utensils and paper Barbie headbands for each guest in lieu of party hats.
RELATED: Bluey Birthday Party Ideas: Bluey Birthday Cake, Games, and More

These awesome accessories make perfect Barbie party favors. Photo courtesy of the Mokosivo Store on Amazon
3. Barbie Party Favors
A Barbie birthday party calls for fabulous favors. These pink heart-shaped sunglasses are definitely Barbie-approved. Throw in some additional Barbie-themed accessories and these mini sticker packs, and hand them out in these awesome Barbie box-shaped favor boxes.
4. Barbie Party Decorations
"We like all the colors, but pink just looks so good on us!" You can't go wrong with this movie-themed Barbie party decorations set, which includes everything you need to make your little one's birthday party a pink paradise—well, almost everything. Add on these Barbie hanging decorations for extra oomph, and trust us—there's no such thing as too many pink balloons.

Warning: The songs from the Barbie movie soundtrack will stick in your head! Photo courtesy of barbiesoundtrack.com
5. Barbie Birthday Party Music
The obvious choice for music is the incredible movie soundtrack. We don't know about you, but we can't get enough of Ryan Gosling's rendition of I'm Just Ken. If the album isn't enough, check out Spotify's Barbie Official Playlist for two full hours of poppin' hits that any Barbie or Ken could jam out to.

Get that iconic Barbie-in-a-box photo. Photo courtesy of Creative Heart Studio
Give each guest the chance to be (cue the music) a Barbie kid in a Barbie box by making the iconic pink box using foam board, hot glue, and pink paint. These step-by-step instructions will show you exactly how to do it. Get ready for some fantastic photo ops.
RELATED: Unique Goody Bag and Party Favor Ideas for Kids' Birthday Parties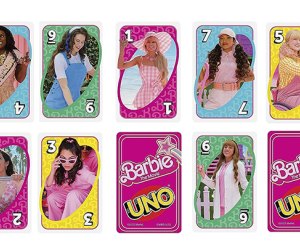 Play this Barbie-fied version of a classic card game. Photo courtesy of the Mattel Games Store on Amazon
Barbie Party Games and Activities
Take the beloved card game up a notch with this UNO deck featuring images from the Barbie movie.
8. Barbie Doll Fashion Show
Ask guests to bring their favorite Barbie doll and outfits if they have them, and pull out the birthday child's Barbies, doll clothing, and accessories. Create a runway out of cardboard (watch this video to learn how). Then challenge each guest to dress their doll in the most fabulous outfit they can come up with. When everyone is finished, have a Barbie fashion show to show off the kids' creations.
This is a classic party game with a Barbie twist that kids will love.
Download these printable Barbie bingo cards, grab some dot markers, and get ready for a pink-tastic Bingo game.
Download some of these coloring sheets and put out crayons, markers, and colored pencils. Watch as each guest gives their Barbie or Ken a colorful makeover.
12. Make Your Own Weird Barbie
This one will really delight the kiddos. Buy some cheap used Barbie dolls from a thrift store or eBay. Put out some scissors, markers, and other craft supplies and let the kids go to town creating their own version of Weird Barbie. Who can come up with the wackiest creation?
13. Rollerblading
Your local roller rink is the perfect place to host a Barbie-themed birthday party. After all, Ken literally goes nowhere without his rollerblades.
Barbie Birthday Party Food
Beets can color almost any food pink naturally. Make some pink Barbie smoothies or Barbie popsicles by adding a few beets to your favorite recipe. Here are some other ideas for fun Barbie birthday party food.
14. Top-Your-Own Waffle Bar
Imitate Barbie's breakfast with some delicious waffles, but let the kids add their own toppings for fun. This pink waffle iron fits the theme perfectly.
RELATED: The Most Irresistible Dessert Board Recipes for Kids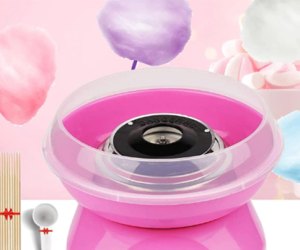 Fluffy pink cotton candy—made with a pink machine, of course—is decorative and delicious. Photo courtesy of the CR Store on Amazon
15. Cotton Candy
What screams "Barbie" more than this fluffy pink treat? Try making your own cotton candy with this fun, (and bright pink, of course!) cotton candy machine.
These Barbie-shaped fruit snacks make the perfect nibbles fir a Barbie party.
Swoon's Barbie Pink Lemonade is a natural and delicious addition to any Barbie birthday party.
RELATED: Great Birthday Cake Ideas for a Kids' Birthday Party

A Barbie doll can serve as the centerpiece of a gorgeous birthday cake. Barbie Cake photo by Jonathan Melendez, courtesy of food.com
We've all seen those birthday cakes where a Barbie doll stands in the center of an elaborately frosted cake that serves as her dress. Check out this recipe to make your own version of it. Or, keep it simple with a pink cake or cupcakes topped with these Barbie cake and cupcake toppers.
Disclaimer: This article contains some affiliate links, which means we might earn a small commission if you make a purchase. There is no extra cost to the reader. We only recommend products and services that we have personally used or have thoroughly researched.
Click Here to Sign Up!