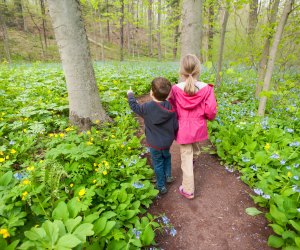 30 Things We Are Excited To Do With Philly Kids this Spring
Springtime in Philly is the perfect time to get outdoors and find some new adventures with your littles. This new season brings many great activities and exciting events. After a unique winter of COVID restrictions, Philly families are more than ready to welcome warmer air, added sunlight and safe ways to make meaningful memories. From taking hikes and nature walks to exploring new park and playground, kids can look forward to plenty of outdoor fun.
In addition, Philly kids can anticipate holidays to celebrate in spring, including Easter, Earth Day, and May Day. Gardens come to life as farms and orchards prepare for pick-your-own season and annual festivals are held. Take a look at our events calendar for more springtime activities, as well as our Spring Activities Guide.
As with all current events, COVID-19 protocols are in place. Visitors must wear masks and observe social distancing guidelines. If an event appears too crowded, try using the "nearby" search feature on our event calendar to find something else to do.
1. Celebrate Earth Day by cleaning up the environment around us.
2. Enjoy delicious maple sugaring events, which cap off with the Pennsylvania Maple Festival from April 24 to May 2, 2021.
3. Hike through one of Pennsylvania's State Parks.
4. Take in the sights and sounds of spring aboard an Easter Bunny train ride.
5. Climb a tree at Elmwood Park Zoo's Treetop Adventures exhibit. Courses include zip lining and games, and there's even a Night Adventure option.
RELATED: Family Road Trips Less Than 10 Hours from Philly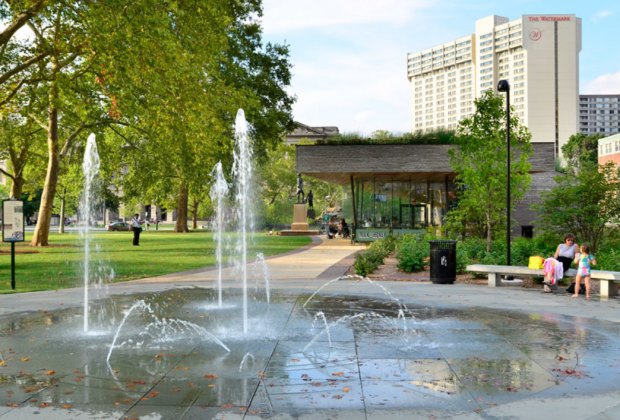 Sister Cities Park is a springtime oasis in the city. Photo courtesy Visit Philly
6. Enjoy a picnic at Sister Cities Park. With a playground, splash pad, cafe, and a discovery garden where kids can climb and explore, Sister Cities is a great place to spend an afternoon.

7. Fly a kite at Valley Forge National Historical Park. Valley Forge park has tons of wide-open spaces that are just perfect for kite-flying. Plus, it offers a built-in history lesson.
8. Explore the New Jersey Pine Barrens. A great place for hiking, the pine barrens is a unique area to spot interesting wildlife, and to get into nature.
9. Go camping at the Jim Thorpe resort. Spring is a great time for camping. The weather is just warming, but it's not yet too hot. Grab your gear, set up your tent, and have a great time.
RELATED: Easy Spring Break Vacations for Philly Families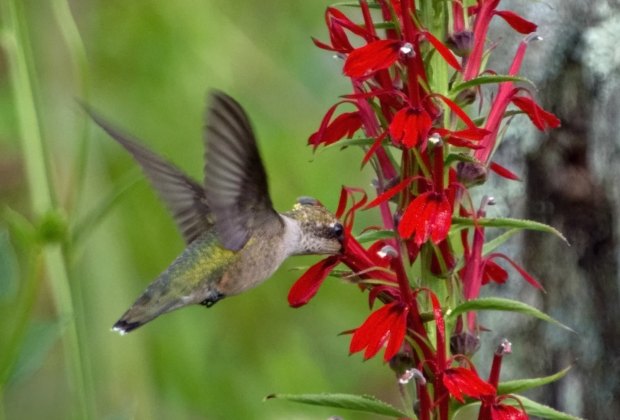 Go bird-watching at Bowman's Hill Wildflower Preserve. Photo courtesy of the preserve
10. Discover the wildlife at Bowman's Hill Wildflower Preserve. Traditionally, Bowman's Hill offers spring bird walks, frog slogs, and other educational activities that are perfect for warm spring weather.

11. Play a round of mini-golf, ride the carousel, frolic at the playground, and watch the fountain at Franklin Square.

12. Smell the flowers at Bartram's Garden. Walk along the Tidal Schuylkill River at this beautiful garden, where you can also go boating, canoeing and paddling. Bartram's Garden typically features family programs and workshops.
13. Pack a lunch and take a day trip out to Kids' Castle in Doylestown for a unique playground experience. Kids' Castle is an eight-story wooden play structure shaped like a castle. The playground is situated on a 108-acre park, which includes tennis courts, basketball courts, and picnic tables.
RELATED: Maple Sugaring Events in Pennsylvania, 2021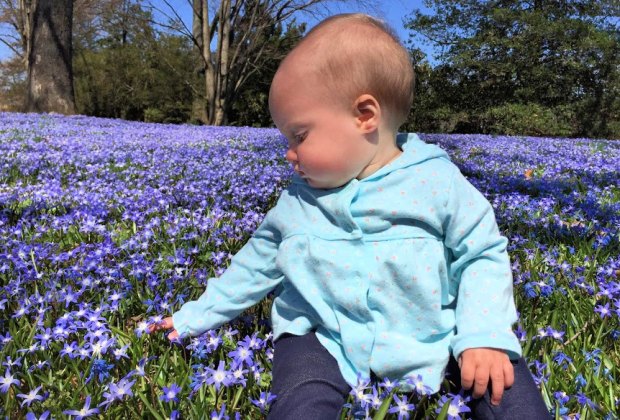 Enjoy the blossoming blue bells at Longwood Gardens. Photo courtesy of C. Mooney
14. Get in touch with nature at Longwood Gardens during its Spring Blooms display, which runs from March 27 through May 2, 2021. The botanical garden comes alive with eye-popping arrangements every spring, including in indoor and outdoor children's areas.
15. Wander through the grounds at Hagley Museum in Wilmington, Delaware, which reopens April 1, 2021. Situated on the banks of the Brandywine River, Hagley features a variety of different educational walking tours and is a great place for kids to learn and get active outdoors.
16. Lace up your climbing shoes and race to the top of local treehouse playspaces for some mile-high fun.
17. Save some money while finding something new to you at a spring consignment sale.
18. See a Phillies game as baseball returns with the Phillies first home game on April 1, 2021 against the Braves.
RELATED: Philly-Area Museums Families Can Visit for Free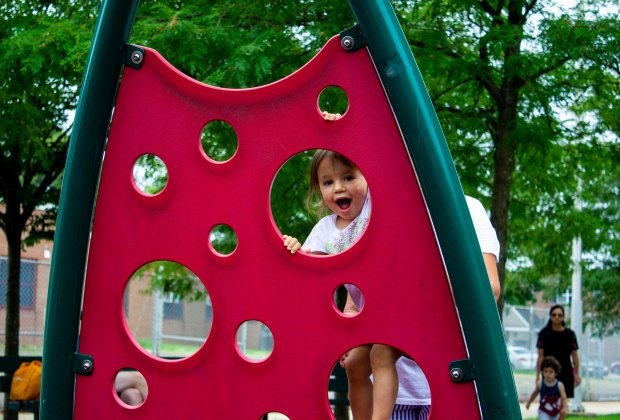 Explore Gifford Playground, or another that got an upgrade in 2020. Photo courtesy of Rebuild Philadelphia
19. Explore one of the many recently updated parks and playgrounds located throughout the city.
20. Spend a day at Sesame Place, an awesome destination for the littlest kids to have fun and play outside. Kids will love taking pictures with their favorite characters. The park is open with limited rides and hours through May, but make sure to check out Easter activities every weekend in April.
21. Head down the shore with a trip to Ocean City, New Jersey. Hit boardwalk for the afternoon and enjoy the rides at Gillian's Wonderland Pier or Playland's Castaway Cove. Park hours are limited to weekends in the spring; check the website or call to confirm before driving there.
22. Investigate one of the many amazing nearby waterfalls on a family day trip.

23. Pack up the car and head to Lancaster for a visit to Dutch Wonderland. Ride roller coasters, see sing-along shows, and watch your little ones' imaginations come to life. Opening weekend is May 14-15, 2021.
RELATED: Jersey Shore Boardwalks to Explore in the Offseason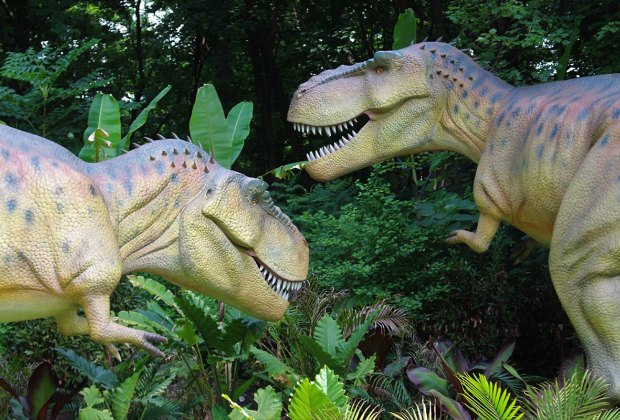 Big Time: Life in an Endangered Age opens in late March at the Philadelphia Zoo. Photo courtesy of the zoo
24. See the animals at the Philadelphia Zoo and experience the new exhibit, Big Time: Life in an Endangered Age, which opens March 29, 2021.
25. Drive the trucks at Diggerland, which opens for the season March 13, 2021. Kids can operate real construction equipment and ride construction-themed rides at this amusement park. Keep in mind, Diggerland is only open on weekends and select weekdays over spring break until June.
26. Welcome spring back into the region with a visit to Smith Memorial Playground for its annual Play-A-Palooza.
27. Climb aboard a hayride to visit the Easter Bunny at Linvilla Orchards.
28. Pick up a bow and arrow to give archery a try at a local county park.
29. Take a bike, scooter, or stroller along Kelly Drive while watching the river for rowers at Boathouse Row.
30. Think about planning summer vacation!
Writer Kristen Sullivan contributed to this 2021 update.