Storybook Land in New Jersey: A Magical Park for Preschoolers and Tots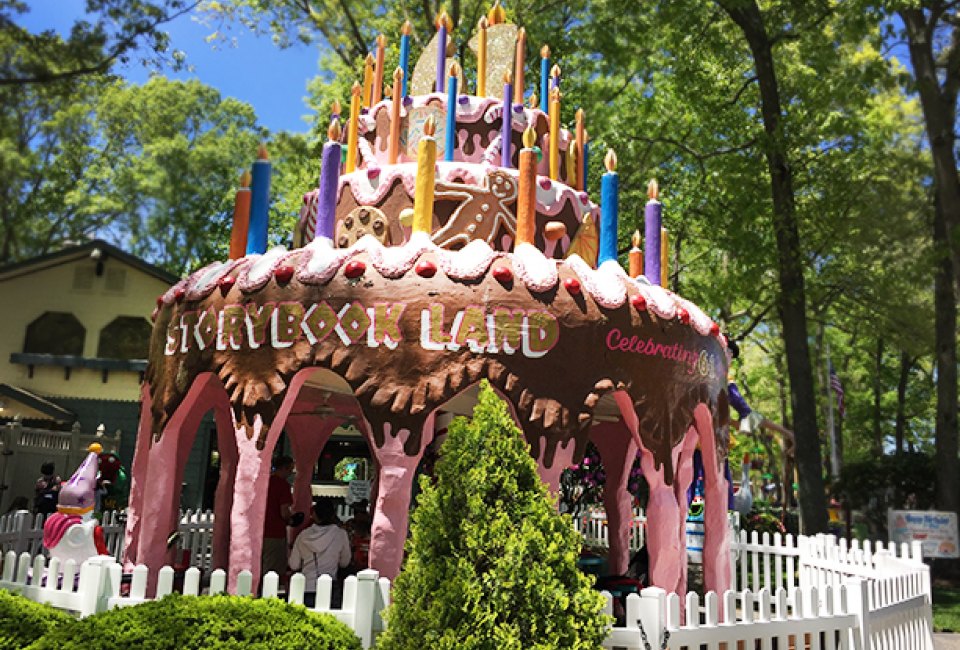 4/2/19
- By
Michelle Vames
If you're looking for an enjoyable amusement park experience minus crazy thrill rides and super-sized crowds, take a day trip to Storybook Land in Egg Harbor. This charming spot, in operation since 1955, was created with younger children in mind—the rides and attractions are all geared toward the under-10 crowd, making it great for toddlers and big siblings alike.
Visiting is a bit like stepping into a fairy tale: as you walk through the wooded grounds, you encounter characters from nursery rhymes and classic children's stories, like Humpty Dumpty and Alice in Wonderland. Even if you didn't go there as a kid, as many New Jerseyans did, you're sure to fall under its nostalgia-laced spell.
My husband and I recently visited for the first time with our two boys, ages 5 and 2, and we all loved it and will definitely go back. Storybook Land is No. 1 on our list of 30 Things to Do with NJ Preschoolers, with good reason. Read on for more about this sweet NJ gem. And find even more fun for little ones in our roundup of Great NJ Amusement Parks for Toddlers and Preschoolers.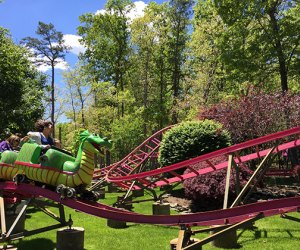 Bubbles the Coaster is the perfect mild thrill for kids (it's even fun for certain grown-ups who hate roller coasters).
Rides and Attractions
Storybook Land is compact, easy to navigate, clean, and shady—always a plus in the summer. And there's no need for ride tickets here. All rides are included in the admission price, and adults can join the kids on all of them. The park has a total of 17 rides, and we hit six of them (seven if you count two rides on Bubbles the Coaster). A more determined visitor could probably get to all of them in one visit, but we followed our kids' lead and took our time meandering through the park.

Out on a Limb offers little kids the chance to try those popular high-flying swing rides.
Bubbles the Coaster, a dragon-themed roller coaster with thrilling dips and swerves, was my 5-year-old's clear favorite. He also loved Out on a Limb, a chair-swing ride featuring a giant, smiling tree; the Whirly-Bug Ferris Wheel; and Rock-Spin-Roll, which is a kind of spinning teacup ride, minus the teacup theme (though there's one of those at the park, too). Our somewhat fearful 2-year-old allowed himself to be taken on the J&J Railroad and the Work Zone, which is an extremely gentle, construction-themed ride.
Other rides include a carousel, Alice's Tea Time, the Turtle Twirl, Jumping Jumbo elephants, and the flying Happy Dragons. There are also two drop towers, Beanstalk Bounce and the Tick-Tock Clock Drop. And new this year is Zip Zap Race, which features old-fashioned racecars going around and around. Storybook Seaport, a small splash pad, is open during the summer months.
RELATED: Sesame Place: A Must-Do Amusement Park for Preschoolers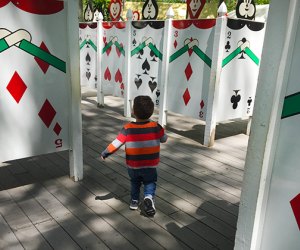 Wander through the Alice in Wonderland Maze, one of many fairy-tale-themed attractions.
We loved exploring Storybook Land's many fairy tale–themed attractions. Both boys had a blast playing in Alice in Wonderland's Tunnel & Maze and sliding down the hill on the Jack and Jill Slide. We visited Sleeping Beauty's castle and the home of Snow White and the Seven Dwarfs; the kids ventured into the gaping mouth of Moby Dick the Whale; and they spent a good chunk of time playing in the igloo at the North Pole.
Indeed, Christmas is a big deal at Storybook Land. You can experience a little bit of it year-round, at attractions like the North Pole and the animatronic Santa's Workshop, and there's a Christmas in July celebration over the summer. During the actual holiday season, Storybook Land transforms into a winter wonderland decorated with more than a million twinkling lights, and Santa and Mrs. Claus are on hand for visits.
Some of the character displays show their age—Humpty Dumpty looks like he could use some help from all the king's horses and all the king's men, and the animatronic dolls are a bit... creepy. But the time-worn aspect of Storybook Land only adds to its charm. There's something nice about a place that isn't over-the-top flashy and modern; I appreciated the lack of blinking lights and loud noises. The place really does harken back to a simpler, less technology-focused time (the list of items not allowed in Storybook Land includes selfie sticks, for which I applaud them).
Food and More
Picnic-type treats and fast food are available at the park's casual eateries, including The Gingerbread House and the Caboose Café. We bought lunch at the Dining Depot and ate outside at the Birthday Cake Pavilion. Eating under a giant birthday cake was a first for us, and my kids were delighted. Other snack spots include Mistress Mary's Garden Goodies, where you can get Philadelphia Water Ice in the summer, and Little Jack Horner's Picnic Corner, where guests can enjoy food brought from home. Food purchased from outside the park is not allowed.
There are three restrooms in the park, all of which have changing tables, and one has a nursing area. There is of course a gift shop at the exit, where you can buy T-shirts, a range of Melissa & Doug toys, and other souvenirs, along with candy, batteries, Tylenol, and the like.
RELATED: Land of Make Believe: A Charming, Family-Friendly Amusement Park in NJ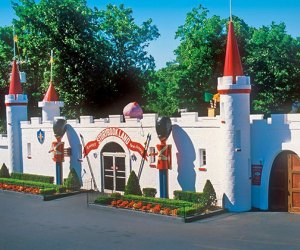 The magical and low-key Storybook Land is a must-do for local preschoolers. Photo courtesy the amusement park.
Events
Mark your calendars: there's a lot happening at Storybook Land throughout the year. It opens for the season at the end of March or early April, just in time for visits with the Easter Bunny and egg hunts. In July, you can cool off at Christmas in July with Santa, see a classic car show, celebrate Storybook Land's birthday, and embark on a treasure hunt during Pirate Adventure Day. Have tea with a princess in August, and celebrate everything fall in October with hayrides, mazes, pumpkins, and a Trick-Or-Treat Weekend. And don't miss the park's magical Christmas Fantasy with Lights, which runs mid-November through December.
Admission and Hours of Operation
See website for regular admission prices. A discount rate is available if you purchase online, and children under 2 enter the park for free. The park is open from March/April through December, seven days a week from May–August, with more limited hours in the spring and fall. Check the calendar for more.
Make It a Mini-Vacation
Storybook Land makes for an ideal day trip. If you want to make a mini-vacation of it, consider staying overnight in Atlantic City, Ocean City, or Cape May. A day at Storybook Land paired with a trip to the beach and boardwalk is a perfect way to get a quick dose of Jersey Shore fun.
All photos by the author except where noted.
Originally published in 2017 and updated annually.
Places featured in this article: