Ocean County, NJ: Beaches, Parks, Theater for Families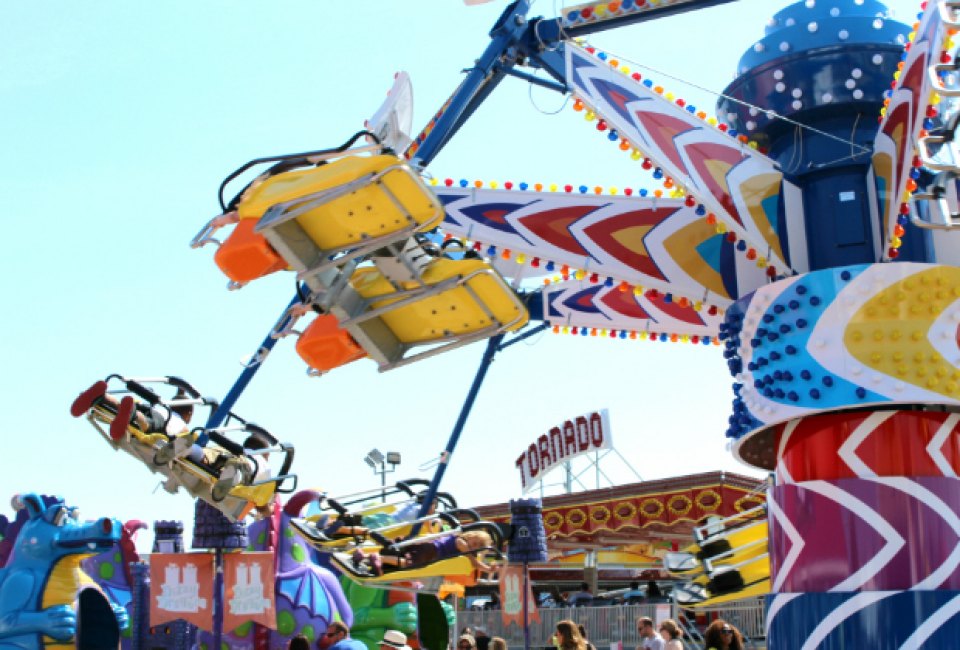 5/20/14
- By
Kristen Haas
Ocean County, New Jersey, plays host to some of the state's top beaches, including Seaside Heights, Long Beach Island, and Point Pleasant. There are boardwalk amusement park rides, games, and eats aplenty. But there's more than just the shore to Ocean County. In close proximity to NYC, Philadelphia, and Atlantic City, this area has appeal to vacationers and transplants with its laid-back beach communities and great restaurants, but also arts and culture.
We're rounding up our favorite places in the county to visit with the kids, including Strand Theater, a maritime village, several play and nature spots in Toms River, and yes, those gorgeous seaside towns. Take a look at this list of our top picks for NJ kids and families in Ocean County as you plan your family getaway or day trip. And for more shore fun, check out our Jersey Shore Family Guide.
Arts and Culture
Ocean County wants to show your family a great time! See a show, help feed the penguins or go back in "mari-time."
The Strand Theater (Lakewood, NJ)
This classic theater has been entertaining Jersey Shore residents since 1922. The theater features family-friendly productions like The Wizard of Oz and Cinderella, movie camps, and musical theater workshops for kids. Click here for their event listings and here for a look at the summer youth workshops they are offering.
Jenkinson's Aquarium (Point Pleasant Beach, NJ)
This aquarium isn't the biggest, but it's great for children and located right on the boardwalk in Point Pleasant Beach, NJ. The kids will love to get up close and personal with sharks, penguins and seals. Plus, the touch tank gives them a chance to touch different types of sea creatures, including a sting ray. The zoo's website has some pre- and post-visit packets available for download here to make your day more fun and educational. They also offer birthday parties.
Tuckerton Seaport (Tuckerton, NJ)
Experience "living history" at this interactive working maritime village. Activities include events, exhibits, festivals, live aquatic displays, boat builders, entertainment and much more. Check out historic houseboats, learn about clamming, tour Tucker's Island Lighthouse, visit Hotel DeCrab, or choose from a host of other buildings to visit.
Playgrounds and Parks
With its selection of state and county parks, playgrounds and nature preserves, Ocean County offers many places to get outdoors with your NJ kids.
Ocean County Park (Lakewood, NJ)
Sitting on 323 acres of land, Ocean County Park was once part of John D. Rockefeller's vacation estate. The park offers playgrounds, a large swimming lake, fishing, tennis courts, beach volleyball, a driving range and much more. The Amphitheatre hosts productions such as Lakeside Children's Theater, which puts on kid-friendly productions in July and August. The large picnic areas can even be reserved (for a small fee) for parties for up to 700 people! For families with dogs, there is a 5-acre off-leash dog park.
Barnegat Lighthouse State Park (Barnegat, NJ)
Get down to Long Beach Island and take the kids to see Old Barney! Barnegat Lighthouse is more than 150 years old and is still lit. If you climb the lighthouse, you will be dazzled at the panoramic view of Island Beach, Barnegat Bay and LBI. While you are there, check out the Barnegat Lighthouse Interpretive Center and learn about the history of the lighthouse and nature in the area. The park also affords trails, fishing, picnicking and much more.
RELATED: 7 NJ Lighthouses to See and Climb with the Kids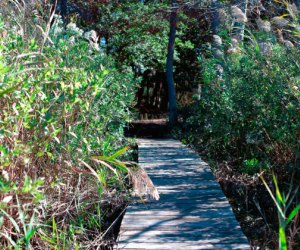 Hit the boardwalk through the wetlands at Cattus Island County Park. Photo by Jim Lukach via Flickr.
Cattus Island County Park (Toms River, NJ)
A popular destination for many local school field trips, Cattus Island is waiting for your family to explore! Sitting on 530-acres, this park boasts miles of nature trails, boardwalks through the wetlands, crabbing, fishing, picnicking and more. The Butterfly Garden is host to many unusual plants that attract different butterflies. The Cooper Environmental Center will get your kids up close with native reptiles and other creatures, though it has been closed temporarily, although with portions of the trails for restoration. Call 732-270-6960 for updates.
Castle Park II (Toms River, NJ)
This playground is a family-favorite in the area. It offers multiple play sets for different age groups, a climbing rock, a rocking boat, swings and more. There are also many games to play and a water feature for hot days. The playground is located at Oak Avenue and North Bay Avenue in Toms River.
Sunset Park (Harvey Cedars, LBI, NJ)
Sunset Park is not only a great place to watch – you guessed it – the sun set, it's also close to the beach and offers a fantastic playground, including a big pirate ship! There is also a bay walkway, tennis courts, basketball court, ball field and more! The park is located at Holly Avenue and W. Salem Avenue in Harvey Cedars, Long Beach Island.
Must-Visit Shops and Good Eats
There are many shore favorites in Ocean County, but here are some of my personal favorites.
Surf Taco (Point Pleasant Beach, NJ )
Go back to where it all began. The original Surf Taco in Point Pleasant Beach is the best of the beach food! Simple "coastal cuisine" featuring a "unique blend of Surf Mex Tacos, burritos, wraps and salads." Surf Taco is low-key and very family-friendly and the prices are great. Coming off the beach and craving some tacos? This is the place to stop! (732) 701-9000
La Scala Italian Pastry Shop (Toms River, NJ)
La Scala is a family-owned bakery specializing in Italian desserts for decades. Many of the old Italian bakeries in Ocean County have closed over the years, but this place is still going strong. From cannoli to seasonal delights like pizza rustica or struffoli, La Scala is sure to satisfy even the toughest critic. (732) 286-3686
Labrador Lounge (Normandy Beach, NJ)
This family-friendly spot boasts casual "vacation cuisine in a laid-back, sea shore atmosphere." During the warmer months, you can dine outside. Not your run-of-the-mill Jersey Shore beach fare, the Labrador Lounge's menu offers items like smoked tuna sliders and short rib disco fries. They also offer a sushi menu. (732) 830-5770
Ocean Hut Surf Shop (Lavallette, NJ)
My personal favorite surf shop of all time, "O Hut" has been serving the sleeping beach community of Lavallette since 1975. The owner Tony is always around if you want to chat about his products or what the waves will be like in the morning. They offer clothes, shoes, accessories and of course, boards and everything you need to surf/skate, etc. A tradition in my family, I still buy my yearly flip flops there. (732) 793-3400
Sarah's Kiddles (Point Pleasant, NJ)
This cute clothing store carries great options for infants and children. Featuring brands like Ragdolls, Rockets, Dogwood and much more, the store carries sizes from newborn to size 14. Don't forget to check out their adorable accessory collection! (732) 295-5744
RELATED: Monmouth County, NJ: Asbury Park, State Forests, and Play Spaces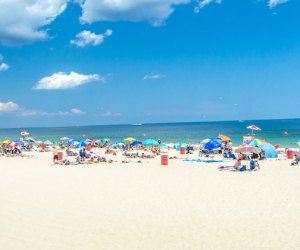 Seaside Heights is just one of the gorgeous Shore towns in Ocean County. Photo by Kevin Jarrett via Flickr.
Beaches and Boardwalk Fun
If you are looking for some fun in the sun, look no further! Check out these Ocean County destinations including beaches, boardwalks, a pirate's cave of fun and an infamous adventure destination.
The Beaches of Ocean County, NJ
There is no better place to play on a warm summer's day than on the beach, and Ocean County, NJ, encompasses a significant chunk of the Jersey Shore. Enjoy Point Pleasant with its well-appointed boardwalk and kids' entertainment, Seaside Heights, or a long weekend at LBI. Read more about these favorite beaches or boardwalks to pick the one that's right for your family.
Most Jersey Shore beaches are free before Memorial Day, but on nice weekends, expect to pay even before that date. Beach pricing varies widely, so call the location before heading out to determine what it will cost you. Island Beach State Park offers both bay and quiet, open ocean beaches and if you come in by car, it will cost you a fee on weekends and holidays, but visitors on bikes and foot are free.
Jenkinson's Boardwalk (Point Pleasant Beach, NJ)
We have to take a minute to talk a bit more about one of our favorite beach spots. If you are yearning for the smell of funnel cake, cool ocean breezes and the sounds of the waves crashing – you need to visit Jenkinson's. This mile-long boardwalk is a huge attraction for families during the summer months. Attractions include miniature golf, multiple arcades, the fun house, amusement rides and the aforementioned aquarium. Don't miss the boardwalk-ilicious food! Visit the famous "Kohr's" stand for orangeade and boardwalk fries, satisfy your cravings at the Sweet Shop with fresh salt water taffy and fudge or Inlet for cheese steaks and hot dogs. It's the perfect kiddie paradise on a warm summer evening without the TV cameras and crowds like the "other" boardwalk.
Six Flags Great Adventure (Jackson, NJ)
One of the most popular theme parks in the country, Six Flags Great Adventure in Jackson is a wildly popular family destination. Features like Kingda Ka, the tallest roller coaster in the world and the fastest in North America; the drive-thru Wild Safari, where animals roam free and concerts make this theme park an adventure for all ages. Plus, don't forget about its water park, Hurricane Harbor, which just added a new preschooler-focused section, Caribbean Cove in 2016. If you plan on visiting regularly over the summer, pick up season passes; learn more here. (732) 928-1821
Mantoloking Bridge Fishing Pier (Mantoloking, NJ)
Arguably one of the best crabbing spots in Ocean County, the Mantoloking Bridge Fishing Pier is a great place to take your little angler. (I remember spending many a summer morning there myself.) Head on over to Pell's Bait & Tackle, down the road a bit, for all your supplies, including live bait! The Fishing Pier is located at 30 Mantoloking Road, right on the bridge.
Blackbeard's Cave & C.B. Huntington's Restaurant (Bayville, NJ)
Blackbeard's is a kid's entertainment delight, featuring paint ball, a kiddie park (with rides and more fun!), mini golf, a train, water wars, an arcade, go carts and much more. While you are there, be sure to visit their restaurant C.B. Huntington's. A train-themed eatery, this place will speak to kids of all ages. They offer a BBQ menu, salads, sandwiches, burgers, pizza, steak, chicken and so much more. There is also a kid's menu for diners under 10 years old and an all-you-can-eat breakfast buffet on Sunday mornings. This is a must-do for an afternoon of family fun! (732) 286-4414
Top photo of the rides at Jenkinson's Boardwalk by Shinya Suzuki via Flickr.
Sign up for the Mommy Poppins Newsletter today!