Sesame Place: An Amusement Park for Every Preschooler's Must-Do List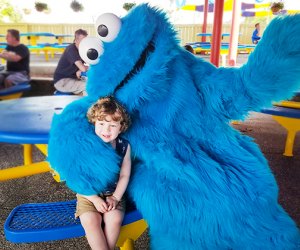 5/4/17
- By
Cait Sumner
Whether you grew up watching it, or you're just watching it with your kids now, Sesame Street is truly something special to share with little ones. Sesame Place, the theme park in beautiful Bucks County, Pennsylvania, is no different!
The amusement park and water park offers rides, slides, parades, shows, plenty of meet-and-greets with your favorite Sesame characters, including Elmo, Big Bird, and Abby Cadabby—and yes, a dose of nostalgia for us parents. We've visited several times, including a return trip for opening day in 2017. Read on for our review and top tips for attending with toddlers and even bigger kids in tow.
As you plan your summer getaways, don't forget to check out our guide to the best amusement and water parks across the country.
The park stretches out over 14 acres. You can easily spend all day here, but it's not so large that you feel like you spend too much time trying to get from ride to ride. My toddler has been lucky enough to visit several times, and he seemed just as excited on the third visit as the first.
Rides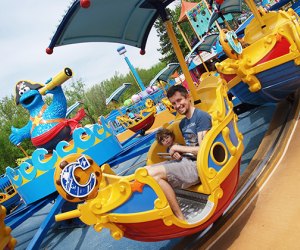 Toddlers can man a ship on Captain Cookie's High C's Adventure—with a grown-up.
There are 11 rides to choose from at Sesame Place and that's not counting the water rides, or the interactive play areas, including a long slide, outdoor climbing playground and ropes course, and an outdoor soft toddler play area. The great thing about the rides here is that even if little ones don't make the height requirement, they can go on with an adult. Of course, they have to be brave enough first! But really, most all of the rides are pretty gentle. There's a carousel, of course, a set of spinning teacups (Monster Mix-up), cars to ride (The Count's Cruisers), a small version of a Ferris Wheel (The Count Around), The Castle Swing, and Oscar's Rotten Rockets are all great for toddlers. Ours also braved some of the spinning rides like Captain Cookie's High "C's" adventure.
There were only maybe four rides we found that our 36-inch toddler couldn't go on, but these are all great for keeping those older siblings engaged: the Vapor Trail roller coaster; the Blast Off, which launches you straight up and down; Elmo's Cloud Chaser Swings, where you fly solo overhead; and the Honker Dinger Derby, which spins and flies in the air a bit too rapidly for tots.
Meeting the Sesame Street Gang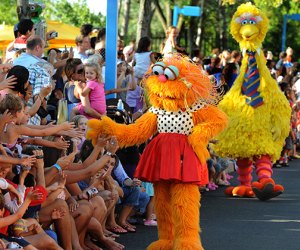 Sesame Street characters walk the parade route, or ride on floats almost daily in the summer months. Photo by R. Kennedy for Visit Philadelphia.
Rides aren't the only fun thing to do at Sesame Place. You can meet your favorite characters and take photos throughout the park, enjoy a special character-themed breakfast or other dining experience, trade pins with staff members or other guests as part of the new 123 Trade With Me pin trading program, or catch a show at the indoor theater (yes, air conditioning break!) like Elmo the Musical!.
There are also plenty of great events throughout the season, especially on holidays like fireworks on Memorial Weekend and Fourth of July weekend, and even Halloween and Christmas fun. This spring the park is hosting a series of Elmo-themed events, including a train weekend and a surprise visit from Peppa Pig. Be sure to check out the park's calendar before you go to see if something exciting is happening.
One of the most magical and exciting parts of each day at Sesame Place is definitely The Neighborhood Street Party Parade. Full of music, dancing, huge floats, and, of course, all your favorite furry friends, the parades are a big hit with the kiddos. Make sure you grab a spot no less than 15 minutes before the parade starts (maybe even sooner during peak summer months and weekends) because it does get crowded along the parade route, which is smack in the middle of the park. Parades usually happen in the afternoon and occasionally there are evening parades as well.
RELATED: Best of Dutch County, Pennsylvania for Kids: What to See and Do
Water Park Fun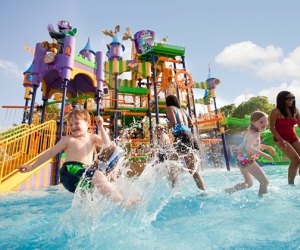 The Count's Splash Castle offers a full water playground at the water park section of Sesame Place. Photo courtesy the park.
The water park section of Sesame Place is generally open Memorial Day weekend through Labor Day. This year it opens on Friday, May 26. It offers nine water attractions: water slides, including a 75-foot whopper and a multi-person raft, a lazy river, a small wave pool, and an interactive, multistory water playground called The Count's Splash Castle.
It has a little bit of everything, but seems best enjoyed by kids 42 inches or taller. Smaller kids have access to fewer of the rides here, and of course, it's overwhelming to think about switching back and forth from the amusement park (shoes required!) to the water park (bathing suits required!) and back with little ones. Sesame Place often offers tickets that include a free second day of admission, so I think that's a great way to take advantage of that and split it up into two trips.
Good to Know Info
Buy tickets online. There are usually savings and ongoing deals happening online vs. at the gate.

Parking costs on top of your ticket price. Some of the season pass options will get you free parking, but not single day tickets. Buy a parking voucher online to save money.

The park also has lockers, cabanas, and double strollers available for rental.

It can be hot, and yes, sunny. Pack sunblock, hats, sunglasses, and extra water.

Pay attention to the schedule. If you want to see a show, track down the showtimes and get in line early so that you don't miss out. Same goes for the parade. Stake out your spot along the parade route with a towel or small blanket at least 15 minutes prior to the parade start time.

If you plan to spend the day, pack the stroller for your youngest tots and babies, but it's not really necessary for preschoolers and up. The park is manageable enough without one, and you'll just find yourself parking it at every ride entrance again and again. Note: Stroller rental is cheaper if you purchase it ahead of time online, so either pack your stroller with you or rent before you go if you know you need one. We ended up using our umbrella stroller to carry all of our stuff, wearing the baby, and walking with the toddler. So, if your pack mules like we are, a stroller might save your back from carrying bags around.

You can pack a lunch. Check the website's FAQ for guidelines, but you can bring a small cooler with drinks, small snacks, and even pre-made sandwiches. If you're not interested in the food options at the park, are looking to save money, or you have an extremely picky toddler, this is a great option.

It is a popular park, so if you're there on a weekend or just high summer season, you will have to stand in lines for each ride. You also have the option to jump the lines if you upgrade your ticket with Abby's Magic Queue. Some of the various season pass options also offer shorter wait times. Or...visit at Christmastime when the park opens for the holiday week. Very few lines!
Sesame Place is located at 100 Sesame Road, Pennsylvania. It's under an hour away from Philadelphia and under two from the NYC area.
Top photo: Meet Cookie Monster and other favorite Sesame Street characters who wander the park or stop in for an official photo op at the 1-2-3 Smile with Me attraction. Photos by the author except where noted.