Awesome Water Parks Near Philadelphia: What's Open in 2021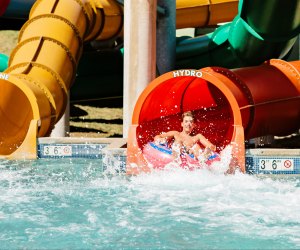 The theme of summer is always: Keep cool. And what better way than by visiting a nearby water park? Water slides, lazy rivers, surf simulators, whirlpools, and even swim-up bars for the adults—we've got a list of great water parks near Philadelphia.
So grab your bathing suit, towels, and sunscreen and cool down at one of these water spots.
Looking for more ideas for summer activities? Check our recent camping roundup, splash pad and sprayground post, and drive-in movies article.
Each of these parks is attempting to maintain a high level of cleanliness and safety for guests. Families should be aware of some general COVID-19 updates: Guests older than 2 must wear masks in common areas, excluding water activities and while eating. Most venues require advance registration.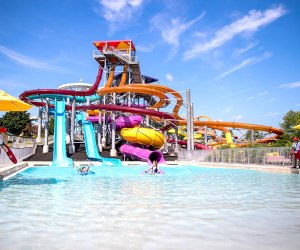 You get two parks for the price of one at Dorney Park & Wildwater Kingdom.
Top Outdoor Water Parks in Pennsylvania
Opening date: May 22. Dorney Park is currently offering tickets and advance registration for both its amusement park and water park.
The best part about Dorney Park & Wildwater Kingdom is you get into both parks for one admission price. Wildwater Kingdom features so many great attractions: Island Water Works, Lollipop Lagoon, and Wild Water Rapids. It also has giant wave pools, serpentine slides, two lazy rivers, and a racing slide.
The water park at Sesame Place reopens for the season May 28 and remains open through September 12. Tickets are available online.
Sesame Place is the perfect water park for the littlest adventurer. Kids love playing on the Count's Splash Castle, riding the huge slip 'n' slide, or going down the popular Sky Splash, featuring oversized toys, including an eight-foot rubber duckie. The best part is, admission gets you into the whole park, so kids can do more than just play in the water.
RELATED: Splash Pads, Spraygrounds, and Sprinkler Parks for Philly Families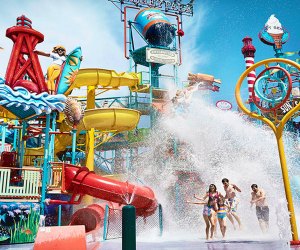 Enjoy the rides, then cool off in Hersheypark's water park.
Water rides at The Boardwalk at Hersheypark open May 29. Advance tickets can be purchased online.
Hersheypark might be better known for its dry rides, but the water park is plenty of fun, too. It includes a wave pool, coaster ride, multiple water slides, lazy river, and multiple interactive water play attractions. Big kids will love the East Coast Waterworks section, while little ones can enjoy Sand Castle Cove. The 11-acre water park is included in the theme park admission rate.
Opening weekend is June 11-13. The resort opens for the season June 17. Save time by purchasing tickets online.
This outdoor water park features lots of great attractions. Thrill rides include SandStorm, a huge funnel tube ride;Triple Venom, a six-story ride that features three different slides all with high speeds, quick turns, and huge drops; Vortex body-ride bowl slides; and Spin Cycle tube-ride bowl slides. It also includes lots of fun splash and water play areas for kids, and a surf simulator. Camelbeach also has zip lining. If you're too tired to drive home, or want to make a whole vacation out of it, stay at Camelback Hotel, which also offers an indoor water park to guests.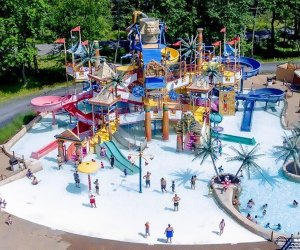 Camelback Mountain becomes Camelbeach in the summer.
The AquaPark is open 10am-5 pm daily starting on May 29.
Definitely the most unique water park on this list, the AquaPark at Dutch Springs is an old flooded quarry turned into a 50-acre lake. This lake features inflatable rides and slides, a water jump trampoline, rafts, snorkeling, and scuba diving. So, you can make a whole weekend out of it.
The water park opens on Memorial Day weekend. Tickets can be purchase in advance.
Called Duke's Lagoon, the water park portion of Dutch Wonderland is a parent's dream and a preschooler's delight. It is not too overwhelming, with many fountains and small slides for little ones. There are a few bigger slides to entertain older siblings. Families can rent cabanas and grab food at Sharkys Grill, which features slushies, chicken tenders, and burgers.
RELATED: The Best Jersey Shore Beaches for Families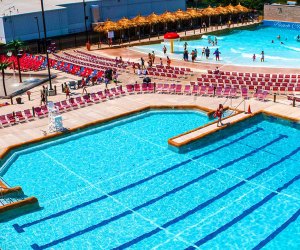 There's room for everyone in the outdoor pool at Sahara Sam's Oasis in New Jersey.
New Jersey and Jersey Shore Water Parks
While the indoor water park is open now, the outdoor water park opens Memorial Day weekend.
Boasting indoor and outdoor options, this water park is perfect for year-round adventures. The indoor area has lots of unique slides, the state's only surfing simulator, an obstacle course, and an adorable toddler area. From Memorial Day through Labor Day, the park also offers an outdoor beach area featuring a leisure pool, full-service tiki bar, splash park, and a 12,000-square-foot wave pool. Sam's also has an arcade area when kids need a break from the water.

Diggerland's water park includes a splash area for little ones.
The water park portion of Diggerland, called The Water Main, opened May 22.
The construction-themed amusement park debuted a brand-new water park in 2020, The Water Main. There's a main pool, water obstacle course, slides, and even a toddler splash area. Check out the basketball hoops, too! Reserve a cabana ahead of time, so the whole family can spread out. Admission to the water park is included in the ticket price for the theme park.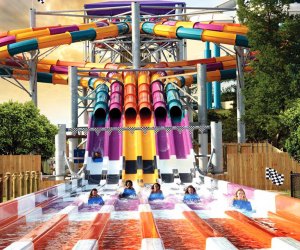 Shoot down the slides together at Six Flags Hurricane Harbor.
This park opened for the season May 15.
If you like water rides that thrill, Hurricane Harbor is the place for you. Check out the Big Wave Racer, an 1,800-foot slide with lots of steep drops, Cannonball, Wahini, and Jurahnimo Falls, which features a 75-foot drop; or the Tornado, a 132-foot tunnel. Not into high speeds and big drops? No problem, Hurricane Harbor also offers family tube rides and kids' rides. The new Calypso Springs features a 100,000-gallon pool, a spontaneously erupting geyser, huge lounge deck, and oversized umbrellas.
10. The Splashplex — Mt. Laurel and East Hanover
Both New Jersey locations open their water park attractions June 5.
Splashplex features outdoor attractions such as wave pools, slides, and a boardwalk. Get a break from the sun's rays with inside options including bowling, arcade games, and laser tag. Splashplex is open Memorial Day through Labor Day. Families can reserve a cabana in advance.
The water park attractions at OC Waterpark open the weekend of June 12-13.
This beachside water park offers slides, a lazy river, and a few thrill rides, too. Take the younger children to Lil' Buc's Bay for more shallow water play with interactive features. Take a break from water activities for a bit of miniature golf.
Raging Waters Water Park opens June 12 and Ocean Oasis Water Park opens June 19.
There are two water parks at Morey's Piers- Raging Waters Water Park is located at the end of Mariner's Pier while Ocean Oasis Water Park is at Surfside Pier. Check out Shotgun Falls, Rocket Raft Run, speed slides, and rope swings. An interactive pirate ship and family pool are great for younger kids.
RELATED: Family-Friendly Jersey Shore Boardwalks and Amusement Parks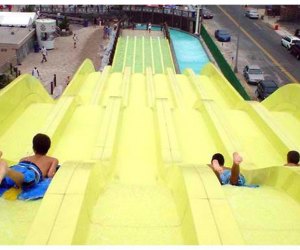 Go down head first, if you dare, at Breakwater Beach's Patriot's Plunge.
The water park attractions open May 29. Other activities such as the arcade and rides open earlier.
A great place to visit while you're at the shore, Breakwater Beach offers free-fall slides, serpentine slides, a mat race slide with plunge drop, an interactive multilevel splash play area, and hot tub springs. Yes, hot tub springs.
Indoor Water Parks in the Philadelphia Area
This spot traditionally opens the Friday of Memorial Day and remains open through Labor Day, weather permitting.
America's largest indoor water park, Kalahari is connected to a hotel with an outdoor pool and arcade. This park features a bodyboarding and surfing wave pool, water coasters and flume rides, a water play area for kids, a separate toddler area with tiny slides and activities, and a basketball pool. Kalahari also has a swim-up bar and whirlpool spas for parents to relax and enjoy while kids play. There's a seasonal outdoor pool attached to the water park. Day passes to the water park are available even if you don't stay overnight at the resort.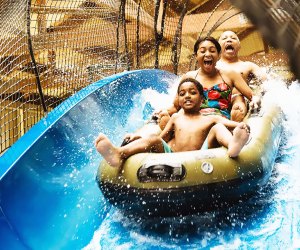 Families can hit the slides together at Great Wolf Lodge's indoor water park.
This Poconos resort's outdoor water park is open from Memorial Day weekend through Labor Day.
Recently renovated, Great Wolf Lodge offers so many attractions. From relaxing hot springs and cabanas to thrilling water slides and wave pools, everyone in the family is sure to enjoy a visit to this destination. In addition to water fun, guests can expect a rope course, bowling, miniature golf, arcade games, and a creation station where they can make their own stuffed animal. The indoor water park is only accessible to overnight guests of the lodge.
A version of this article was first published in 2016. Writer Kristen Sullivan contributed to this 2021 update.
All photos courtesy the water parks