The Best Free Swimming Pools in Philly for Families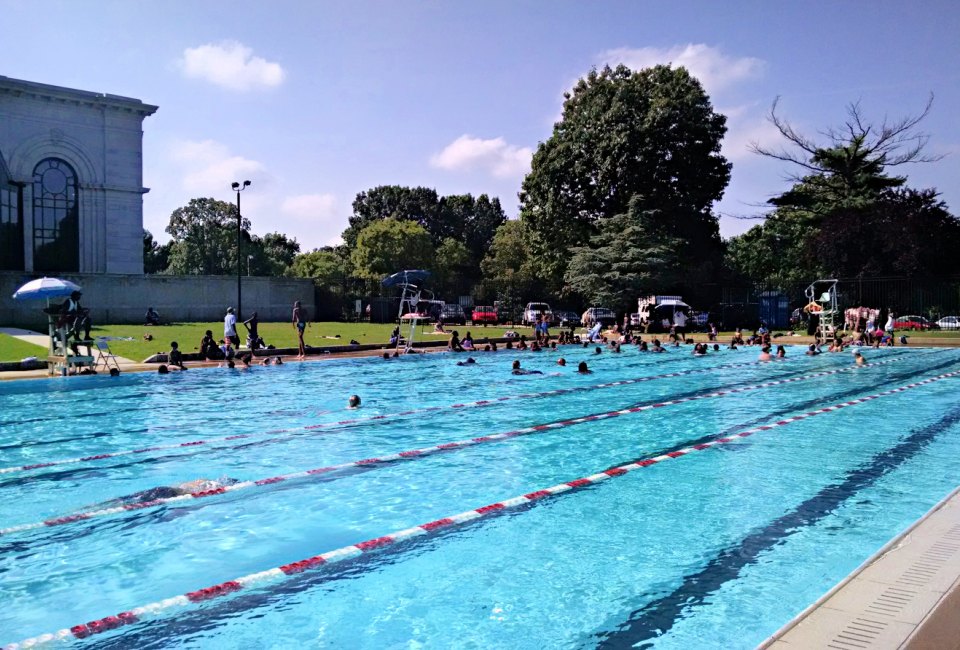 6/25/23
- By
Danielle Smith
The Department of Parks and Recreation's outdoor pools, which include more than 60 pools around Philadelphia, offer a combination of open swim, family swim, lessons, and activities. There's bound to be a wet and wild adventure not too far from home. So pack the towels and sunscreen in a bag, and head out for a dip.
Looking for more water fun this summer? We've got plenty! Check out some of the Best Water Parks Near Philly, or splash around at one of the areas Splash Pads and Water Playgrounds. If you'd like a more relaxing day on the water, you'll love these Swimming Lakes Near Philly.
Best Free Swimming Pools in West Philly
Kelly Pool –– West Fairmount Park
Flanked by shade-giving trees and filled with 800,000 gallons of H2O, your family will love splashing around in all eight lanes of Fairmount Park's Kelly Pool. The surrounding green space is great, and an added bonus is that the Please Touch Museum is steps away, offering the perfect answer to "what's next" on a hot summer day. Kelly's Olympic-sized pool features a deep end for experienced swimmers, something not seen everywhere. Fun Fact: Kelly is named after Grace Kelly's dad, who lobbied to have it built.
Enjoy all the outdoor adventure Cobbs Creek Park has to offer, including its outdoor pool. The pool lies next to the Cobbs Creek Community Environmental Center, which has lots of family programming for kids to enjoy, in addition to meadows, a forest area, two creeks, and a wetland. A walking trail also is located nearby for a brisk hike or leisurely stroll.
RELATED: Awesome Water Parks Near Philly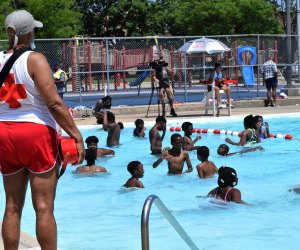 The James Finnegan Playground Pool is a popular South Philly summer destination.
Best Free Swimming Pools in South Philly
South Philadelphians love swimming at this large community pool right across from the playground. A sprinkler provides additional water play. If you can't find enough to do on James Finnegan's 17.7-acre grounds, make a day of it by stopping by Bartram's Garden or FDR Park.
During the summer of 2023, the Kinsessing Rec Center pool will be closed for renovation. The Kingsessing Rec Center pool is one of the larger ones in the city, and locals report a real family feel among those who frequent these waters. Kingsessing Pool has lounge chairs, umbrellas, and privacy screening from the street. The center itself is on an 8.4-acre park that's home to ball fields, handball, tennis and basketball courts.
Adjacent to Barry Playground, Barry Pool offers open swim and family swim for at least one session a day, and free lessons every weekday. This four-acre site also has basketball, tennis, hockey, and volleyball courts, in addition to sports fields.
Regulars appreciate that this pool has designated areas for swimmers based on age and ability, which helps keep everyone safe while allowing older and stronger swimmers to enjoy some time away from the noise and splashing of little ones. Marian Anderson has life jackets on site; a big plus. There's a small but cute grassy area to lay out, umbrellas for shade, and chairs for perfecting your tan.
RELATED: Free Splash Pads, Spray Grounds and Sprinklers in Philly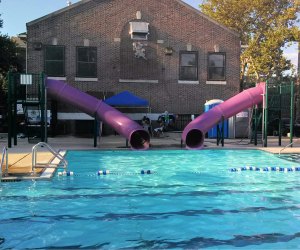 The Athletic Rec Center Pool features—are you ready?—water slides. Photo courtesy of Mica Root for phillypublicpools.com
Best Free Swimming Pools in North Philly
There's time allotted for free swim and family swim at this beloved community pool, in addition to lessons and activities. It's pretty cozy here, with five lanes for your family to submerge themselves, but that makes it a welcoming environment for younger swimmers. Kids can enjoy a spray ground here, too. The high brick walls offer privacy from the street, and the adjacent recreation center has a full slate of kids activities.
Residents describe Samuel Pool as the main hub for neighborhood youth. Chillier days are no problem here, thanks to the pool's heating system. It offers free swim every day in summer, family swim every weekday, and lessons through registration. Samuel is another pool with a deep end for older swimmers.
The Athletic Rec Center Pool can be summed up in one word: slides! It's the only free city pool where you can sail down playground structures into the water, making it a popular family pick. A spray ground adds to the fun, and the center also hosts a basketball court and sports fields.
Hancock is a great place to cool off after sweating it out on the playground, which received a $1 million renovation in November 2020. The pool is on the smaller side; ideal for families and kids building confidence in their water skills.
Daily free swim is available at Cione, where you can also sign up for lessons or the swim team. There is an awesome adjacent playground, and the recreation center includes a ball field, hockey rink, sports field, and three basketball courts.
RELATED: Inexpensive Swim Lessons Near Philly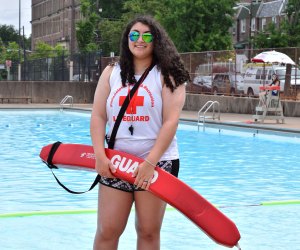 Vogt Playground Pool offers lifeguarded programs for all swim abilities. Photo courtesy of Philadelphia Parks and Recreation
Best Free Swimming Pools in Northeast Philly
The Bridesburg Rec Center Pool was always a hot destination for families, but it's gained in popularity after undergoing a $3.7 million renovation in 2019. This pool welcomes hundreds of kids for lessons, camps, and teams, and it has an ADA-compliant ramp. This is another one of a handful in the city with a deep end extending past five feet.
If you're in the Northeast section of the city, take a family float at Vogt. This large T-shaped pool has something for everyone, including lessons, family swim, open swim, and tot swim programs. An adjacent spray ground keeps the party going when the kiddos emerge from the water. And if you're looking for charm, Vogt has it –– there's a hole in the rec center wall that staff climb through to access the pool.
Lackman Playground Pool is another city favorite, complemented by well-kept grounds, a nice playground, and a spray ground for more water play. It might not be the beach, but there is a sandbox, making this pool one of the only ones in the city where you can replicate the shore experience. A peaceful stretch of grass outside the pool fence is wonderful for catching a few rays.
The American Legion pool sits on a 15.8-acre property in the Northeast section with modern playground equipment, fields, and sports facilities. The center hosts a variety of kids' programs if you're looking for something outside of the pool.
In addition to an updated playground and sprinklers featuring a kid-friendly dragon, the Fox Chase Recreation Center pool serves the community with dedicated times for open swim, family swim, parent and tot swim, and lessons.
RELATED: Best Playgrounds for All Day Play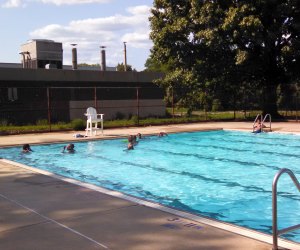 Enjoy swimming at Awbury Pool, adjacent to the Awbury Arboretum. Photo courtesy of Mica Root for phillypublicpools.com
Best Free Swimming Pools in Northwest Philly
The pool at the Awbury recreation center is located next to the Awbury Arboretum and playground, so drying off only means there's more to explore. A spray ground complements the landscape here, as well. Philly families love heading uptown to this pool, where the abundant greenery seems to lower the temperature by a few degrees.
Roxborough residents give high marks to the public swim program at the Kendrick Recreation Center pool, which some affectionately refer to as the "bathie." The pool offers open swim, family swim, lessons, teams, and it has a deep end. The center offers neighborhood kids plenty to do with classes and activities, a playground, and sports facilities.
Lounge on a chair underneath an umbrella, or frolic through the sprinklers next to this Mt. Airy pool on 4.7 acres of city-owned land. As part of Philadelphia's Swim Philly program, Pleasant Pool often hosts fun kid-friendly events. Families also love this rec center's playground.
Sign up for the Mommy Poppins Newsletter today!