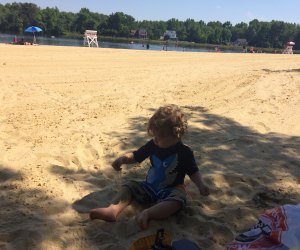 Best Swimming Lakes near Philadelphia
There's no two ways about it: kids love swimming. Lake swimming is perfect for when the beach or the pool is too crowded, or when you just want to mix it up a bit. There are quite a few lakes nearby that offer great little beaches, picnic areas, and, of course, swimming. As an added bonus, most of these lakes are located in state parks, which offer lots of other great activities including camping and hiking. So get your bathing suits on, load up the car, grab the sunscreen, and head out to one of these great local swimming lakes.
Atsion Recreation Center in Wharton State Forest- Shamong, NJ
One of the more beautiful lake beaches in the area, Atsion has gorgeous sand and a large swimming area. Just off the beach, there is also a playground and a picnic area with tables and grills. There's also a snack bar and a few beautiful trails and camping nearby. Hours are from 10 AM- 6 PM, when the life guards are on duty.
Dutch Springs- Bethlehem, PA
Dutch Springs offers a really unique lake-going experience; it's actually a waterpark! Featuring inflatable slides, trampolines, and more, this lake is for the more adventurous set. You can even go on a scuba diving adventure and see a submerged plane, helicopter, fire truck, and more. There is a grassy area where guests can set up chairs and umbrellas. It also offers snorkeling, paddleboat, paddleboard, and kayak rentals. Camping is also available.
Blue Marsh Lake- Leesport, PA
Just past Reading, PA, this man-made lake features a very small beach area. There's not a ton of sand here, but there's a lot of grass to put blankets down on. This spot is best for those who won't miss sand castles. Fill that time with hiking, biking, or horseback riding instead.
Hooks Creek Lake at Cheesquake State Park- Matawan, NJ
This spot features swimming in Hooks Creek Lake, family camping area, freshwater fishing, and picnic area. In addition, children and parents alike can learn at the Nature Center. Here, guests can explore the three different habitats found at the park as well as discover facts about the Native Americans and early colonists that inhabited the area. Five trails round out the offerings.
Parvin Lake at Parvin State Park- Pittsgrove, NJ
Guests can enjoy a refreshing swim in Parvin Lake at Parvin State Park. Located at the edge of Pine Barrens, this spot boasts lots of interesting vegetation in addition to opportunities for camping, boating, hiking trails, fishing, and picnicking. It is important to note that inner tubes and rafts are not permitted in the swimming area.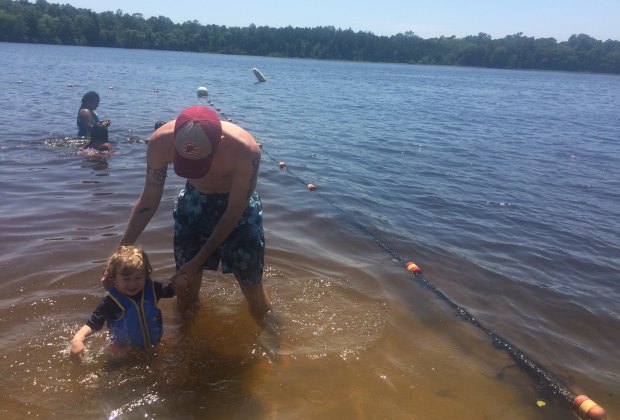 Enjoying the water at Parvin State Park.
Parvin State Park- Elmer, NJ
Parvin State Park has a great little beach and lake perfect for the little ones. It has plenty of shaded areas under trees, and a large picnic grove with tables and grills, so pack a cooler and bring some charcoal. Parvin also has a snack bar, campgrounds, and canoe rentals. Lifeguards are on duty but be sure to check the swimming schedule before you go.
Round Valley Recreation Area- Lebanon, NJ
This beautiful beach also offers playgrounds and volleyball courts. A concession stand sells snacks and beach supplies. Swimming is allowed in the designated areas but not in the main reservoir which is reserved for scuba and skin diving.
Lake Nummy at Belleplain State Forest- Woodbine, NJ
Families can swim on the north side of Lake Nummy while visiting Belleplain State Forest. In addition, guests can expect plenty of spots to picnic, camping opportunities, and historical and natural interpretative ranger programming. Other ammenities include a beach complex with changing area, first aid station, and concessions.
Lake Absegami in Bass River State Forest- Tuckerton, NJ
This 67-acre well-shaded beach has been around since the 1930s. It also offers several great trails if you find yourself in the mood for a walk. In fact, all of the trails start at the beach parking lot. Lifeguards are on duty Friday through Tuesday. This spot is closed on Wednesdays and Thursdays. Visitors can also expect a changing area, restrooms, showers, first aid station, and concessions.
Bellmawr Lake- Bellmawr, NJ
This one has mixed reviews, but it's only about 20 minutes from Philadelphia, so the drive can't be beat. Bellmawr Lake also offers beach volleyball and a beach bar for parents. Bellmawr Lake also makes for a good spot to host family reunions and parties.
Just a warning that many of these places are populated with ticks, especially the NJ state forests. Be sure to check yourself and your littles before you head home.
Photos provided by the author. Header image of Atsion Recreation Area.