Best Splash Pads, Splash Parks, and Water Playgrounds in Philly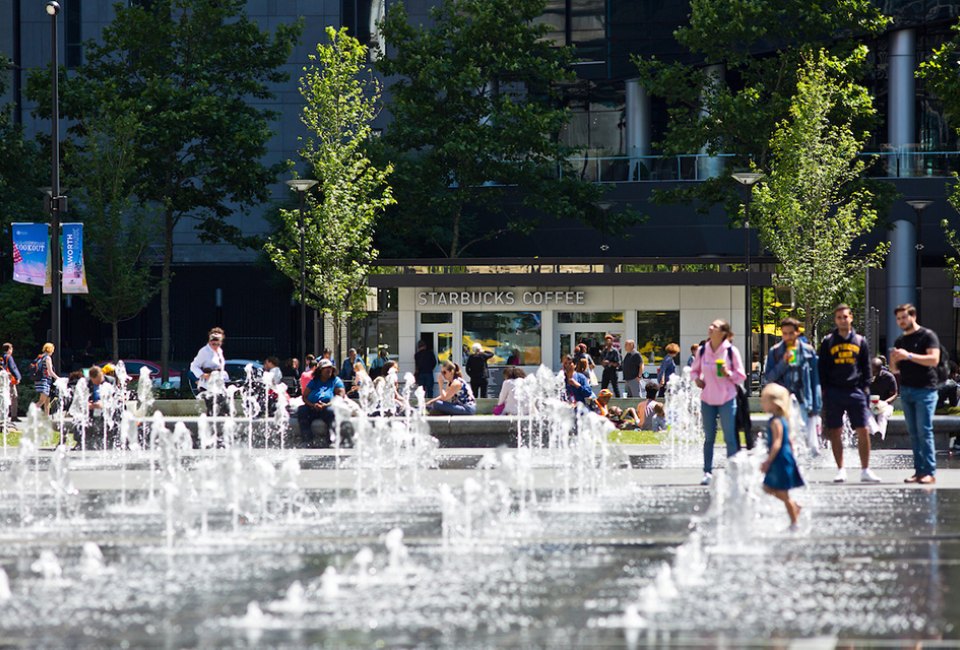 6/4/23
- By
Maureen Rayburn
Making a quick trip to the nearest sprinkler or splash pad around Philly is a great way to cool kids off on a hot day! The spraygrounds listed below are some of our favorite local parks and playgrounds to enjoy free water play and make the most of summer. As much as we love our water parks, nothing beats these Philly sprinkler parks for a free summer activity.
Headed to the shore this summer for some ocean play? Check out these 70 Things To Do With Kids at the Jersey Shore, and don't forget to visit our Summer Activity Guide for more summer fun!
Splash Pads and Sprinkler Parks in Philadelphia
Located on the west side of City Hall, Dilworth Plaza features a huge interactive fountain area where kids can run around. It also offers seating and a cafe for parents. The fountains at Dilworth Plaza turn on in April and are open 7:45am - 10pm daily. Note that a small portion is covered by the roller rink through mid-July. The majority is unaffected and open to the public.
Right in the heart of Center City, at Logan Circle across from the Franklin Institute, Sister Cities Park offers a great spot for families to cool off and enjoy those summer days. The Sister Cities fountain is a unique representation of the world, with Philadelphia at its center. Jets of water squirt from 11 spouts, representing Philly's 11 sister cities, globally positioned in relation to their distance from Philadelphia. There is also a garden and pond—race your paper boats down the stream or splash around in the spacious kiddie pool.
RELATED: Best Water Parks Near Philly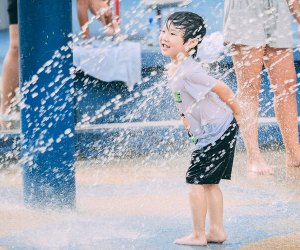 Get soaked at Charles Seger Park. Photo by Wooster Thorpe courtesy of Seger Park
Philadelphia Parks & Recreation Spraygrounds
More than 90 spraygrounds throughout the city of Philadelphia are open for summer 2023. These sprinklers, spraygrounds, and mini-water parks are open daily and exact schedules vary by location. Listed below are some of our favorite places to cool off. Some of these water playgrounds are also our favorite playgrounds for all-day play!
Kids can enjoy playing at the playground, cooling off in the sprinkler, and shooting hoops on the basketball court. There is a recreation building with a gym and multipurpose rooms as well.
A great spot for toddlers and big kids alike, Seger Park is located on Lombard Street, between South Street and Independence National Historic Park. Seger Park fits into the area of a city block and features a separate play area for toddlers, as well as a dog park if you want to bring along the canine member of your family. While the water features at Seger are older, it's still a fun way to get wet and cool off on a hot summer day.
Wide-open Herron Park in South Philly is equipped with a series of sprinklers and jets, making this sprayground a great place for a play date on a hot day. The park has five paved splash pad areas, where sprayers spout geysers from the pavement, pour torrents down from poles, and shoot arcs of water across the space.
In addition to a sprinkler and pool, this location boasts playground equipment, a basketball court, a five-room rec room, and summer camps.
Named for the legendary baseball player and humanitarian Roberto Clemente, this park and spray ground is located in the Spring Garden section of the city. It also offers a safe outdoor space for after-school activities and summer camps, with basketball courts and a playground.
Located in the Andorra section of Roxborough, Houston Playground has something for everyone. Ball fields, basketball courts, hiking trails, hockey, a tennis court, an older kid playground, and a fenced tot lot mean plenty of fun, but the summer splash pad is always a hit with little ones.
Featuring a playground, basketball court, volleyball court, and spray ground, Venice Island Performing Arts and Recreation Center is a perfect spot to exercise and cool off. This location also boasts an auditorium and multipurpose center for cultural and fitness programs.
RELATED: Inexpensive Swim Lessons In and Around Philly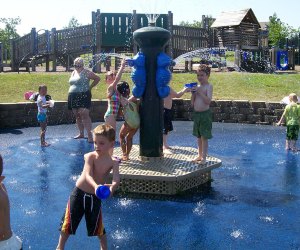 Cool down at the spray pole at Warwick Community Park. Photo courtesy of Warwick Township
Spraygrounds and Splash Pads in the Philly Suburbs
The Bell Tavern Park offers a water feature that's suitable for children of all ages (it's great for pets, too). Bring along some extra sunscreen to this splash ground because the shade is a hot commodity here. The water feature at Bell Tavern Park is open from Memorial Day to Labor Day.
Located within Lukens Park, this all-abilities playground is a super place for kids to play and has a spray station for hot summer days. The park has three softball fields as well as a basketball court with removable rims for wheelchair basketball. The spray station opens on Memorial Day weekend and remains open until Labor Day. Come prepared for sun, as there's not a lot of shade.
Visitors can enjoy cooling off at the spray pole at this Warwick Township park. Basketball courts, a playground, and soccer fields round out the offerings. The spray pole and splash pad were recently upgraded just in time for this season!
Not only does this park have fun water misters, but it also has a soft-surface playground with swings, slides, and more. Plus, it's a fully accessible park with accommodations for people of all abilities.
Located in the borough of Pottstown, this spray ground is available to families through the first weekend in September, making it a perfect spot to get cool. This spot is open from 10am - 7:00pm from Memorial Day to Labor Day weekend.
Besides ball fields, play equipment, a book walk, walking trail, fishing pond, picnic areas, and a Safety Town complex, this 76-acre park also provides a fun water spray pole.
Geared toward kids 2-12, this spray park generally operates from 11am to 7pm daily, starting in early June.
This facility boasts a little baby wading pool, free for Abington Township residents ages 5 and younger. The wading pool is open daily from 11am to 5pm from June 17 until September 4.
RELATED: Best Parks to Play All Day
This post was originally published 2016. Writer Hillary Moses Mohaupt contributed to this 2023 update.
Sign up for the Mommy Poppins Newsletter today!