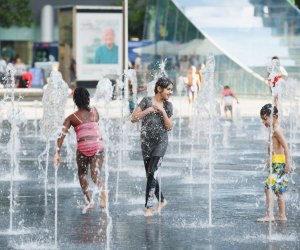 Free Water Fun: Splash Pads and Sprinklers at Philly Area Parks
"If they're crabby, put them in water." The poem, How to Really Love a Child, offers these words of wisdom to parents of small children, and in the summer heat this couldn't be more true! But thankfully in Philadelphia, kids don't have to be cranky to love a good splash in the summertime. In addition to being home to more public pools than any other city in the country, new spraygrounds and splash pads seem to pop up every year. These city spaces are a great way to cool off the little ones, get some exercise, and make the most of the hot weather without committing to a pool membership or water park passes.
For those splash pads and spraygrounds in Philadelphia, the official open times are 11 AM - 7 PM on weekdays and 12 Noon - 5 PM on weekends. However, these times generally vary by location and operator. Also, some of these parks made it onto our top Where Philly Families Can Play All Day list so be sure to check them out. For now, here are a few of our favorite spots (new and old) in the Philadelphia area. Go ahead, jump in, and prevent those crabby moments from creeping in!
Alverthorpe Park—Jenkintown, PA
This facility boasts a little baby wading pool, free for Abington Township residents ages 5 and under.
Bell Tavern Park—Downingtown, PA
Between Memorial Day and Labor Day, the Bell Tavern Park offers a water feature that's suitable for children of all ages (it's great for pets, too). Bring along some extra sunscreen to this splashground because shade is a hot commodity here.
Clemente Park and Playground—Philadelphia, PA
Named for legendary baseball player and humanitarian Roberto Clemente, this park and sprayground is located in the Spring Garden section of the city. It also offers a safe outdoor space for after-school activities and summer camps.
Dilworth Plaza— Philadelphia, PA
Located on the West side of City Hall, Dilworth Plaza features a huge interactive fountain area that kids will love to run around on. It also offers seating and a cafe for parents.
Everybody's Playground— Horsham, PA
Located within Lukens Park, this all-abilities playground is a super place for kids to play and has a spray station for hot summer days. The park has 3 softball fields as well as a basketball court with removable rims for wheelchair basketball.
Fountain of Youth Spray Park—Pottstown, PA
Located in the borough of Pottstown, this sprayground is available to families through the first weekend in September, making it a perfect spot to get cool.
Freedom Playground— Haverford, PA
Not only does this park have fun water misters, it has a soft-surface playground with swings, slides, and more. Plus, it's a fully accessible park with accommodations for people of every ability.
Herron Park Sprayground—Philadelphia, PA
Wide-open Herron Park in South Philly is equipped with a series of sprinklers and jets, making this sprayground a great place for a play-date on a hot day. The park has five paved splash pad areas, where sprayers spout geysers from the pavement, pour torrents down from poles, and shoot arcs of water across the space.
Houston Playground— Philadelphia, PA
Located in the Andorra section of Roxborough, Houston Playground has something for everyone. Ball fields, basketball courts, hockey, a tennis court, an older kid playground, and a fenced tot lot are plenty of fun, but the summer splash pad is always a hit with little ones.
Masons Mill Park— Huntingdon Valley, PA
Besides ball fields, play equipment, picnic areas, and a Safety Town complex, this 76-acre park also provides a fun water spray pole.
Seger Park—Philadelphia, PA
A great spot for toddlers and big kids alike, Seger Park is located on Lombard Street, in between South Street and Independence National Historic Park. Seger Park fits into the area of a city block and features a separate play area for toddlers, as well as a dog park if you want to bring the canine member of your family along. While the water feature at Seger is older, it's still a fun way to get wet and cool off on a hot summer day.
​Sister Cities Park—Philadelphia, PA
Right in the heart of Center City, at Logan Circle across from the Franklin Institute, Sister Cities Park offers a great spot for families to cool off and enjoy those summer days. The Sister Cities fountain is a really unique representation of the world, with Philadelphia at its center. Jets of water squirt from 10 spouts, representing Philly's 10 sister cities, globally positioned in relation to their distance from Philadelphia. There is also a garden and pond—race your paper boats down the stream or splash around in the spacious kiddie pool.
Smith Playground—Philadelphia, PA
Not to be confused with Smith Memorial Playground, Smith Playground sits on 7.5 acres in South Philly. It offers a sprayground, two ball fields, two sports fields, handball courts and basketball courts.
Spruce Street Harbor Park—Philadelphia, PA
This annual pop-up park on the waterfront features two great fountains for splashing in, in addition to access to an urban boardwalk featuring delicious ice cream from Franklin Fountain, an arcade, and a beer garden. Plus, you might be able to snag a private hammock for some deep relaxation!
Warwick Community Park— Jamison, PA
Visitors can enjoy cooling off at the spray pole at this Warwick Township park. Horseshoe pits, basketball courts, playground, and soccer fields round out the offerings.
Originally published 2016