Destination Playgrounds: Philly Parks and Playgrounds Worth a Drive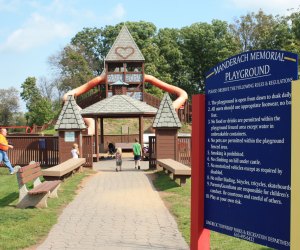 4/22/18
- By
Lindsay Li
When it comes to playgrounds and play spaces, Philly families are pretty lucky— with more than 10,000 acres of park and playground space in the city, getting to a playground from most urban locations, isn't too much of a challenge. And often, a few times down the slide or across the monkey bars may be enough to fill an entire hour or two, and you can even go on a playground crawl, if you are up for moving from spot to spot. But sometimes you want to pick one space and make a day of it. So for that we've created a list of the top playgrounds in the Philadelphia area where you can easily play the whole day away.
1. Franklin Square—Philadelphia
The playground is perfect for kids, completely enclosed and separated by age. Younger children (under 5) have a traditional pint-sized playground space. Older kids have a more creative space that encourages them to think outside the box. Little kids will also love the carousel (which has a nominal fee).
In addition to the playground, the site is home to a miniature golf course, which pays homage to the city with miniature Philly scenes on each hole. This beautiful park is also a space that showcases the creativity of the Philadelphia community. Annual holiday events and the Chinese Lantern Festival use the space in creative and engaging new ways each year.
If you are hungry, the onsite café hits the spot. Square Burger is more than a burger joint, with healthy vegetarian options as well as the usual fast food fare. With a picnic and seated area, a fountain, and bathrooms, Franklin Square is a great all-day spot. New this year, parking spots for up to three hours are available next to the park.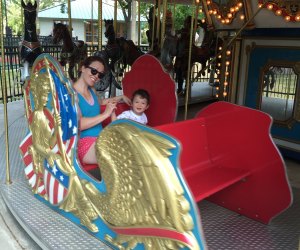 Enjoying the carousel at Franklin Square, photo by the author
2. Smith Memorial Playground and Playhouse—Philadelphia
Smith Memorial is one of Philadelphia's greatest kid-centered spaces. This enormous mansion playhouse (16,000 square feet to be exact) and playground were designed to promote unstructured free play for children. The playhouse is accessible year round and is ideal for kids 5 and under. The playground is 6.5 acres and includes more than 50 pieces of unique playground equipment with age, accessibility, and fun all kept in mind for the design. Key features include the Giant Wooden Slide, a nature garden where kids can get dirty, and some of the best swings in the city.
More than "just" a playground, Smith Memorial offers several large flagship fundraising events that families look forward to each year, including Kidchella and Party in the Playground. And with the focus on nature as a key element to their programming and design, this playground also hosts a natural play-based preschool and other educational opportunities.
A small fee is suggested for the visit, but members and ACCESS card holders visit free. Pack a picnic lunch to make your day complete and take advantage of the picnic tables on the playhouse if a private party isn't already booked, or eat on the ample grounds in front of the house (but bring a blanket). The playground is closed Mondays and select holidays (check their website for more details.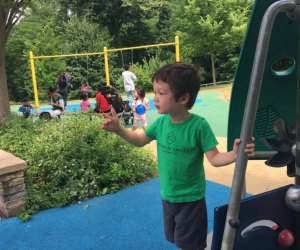 Checking out where to play next at Smith Memorial Playground, photo by the author
3. Houston Playground—Philadelphia
Located in the Wissahickon Valley, the Houston Playground is a top spot for getting a combination of classic play and fun outdoor exploration. The playground itself is large and well-maintained. In the summer, there is a sprinkler pad and space to simply run and have fun. Restrooms are connected to the rec center and are accessible and tidy, and just behind the playground is a trail for hiking and exploring.
This is definitely a spot you will want to return to again and again. But pack a picnic! Unlike the center city parks, there are not as many nearby bites to grab if someone starts to get hangry from all the exercise (truth be known, that is usually me!).
4. Seger Park—Philadelphia
This rec center and park is one of the best in the city, with a fenced-in tot lot, unique and challenging equipment designed for older kids, swings, water features, and even a designated dog run so the whole family can truly enjoy the space. A tennis court and tennis club is another cool feature for nearby families. There is an intimate multipurpose room for community use and event rentals as well as public bathrooms in the rec center. Located next to the South Philadelphia Whole Foods, Snap Kitchen, or even a few local juiceries so you can grab a quick and healthy snack if you forget to pack a lunch.
5. Kids Castle – Doylestown
Located in Doylestown Central Park, this 8-story wooden playground structure looks like the fantasy castle of your childhood dreams. Intended for kids aged 12 and under, this play structure has many internal tunnels and climbing spaces that are definitely not designed with the adult height in mind, but it is truly awesome for kids. The huge park is also great for walking and biking, and has a number of play courts for basketball, bocce, and soccer. There is an environmental education area and picnic pavilions. Bring a lunch because your kids will want to play on this enclosed playground all day!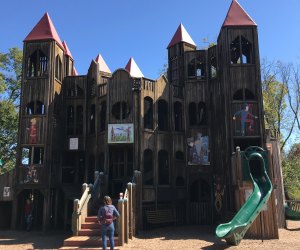 The structure at this Doylestown park looks like a fantasy castle. Photo by the author
6. Parkside Place – North Wales
This wooden playground is an example of creative playground design taken to the next level. There is a castle feature in this spectacular wooden structure that even includes a dungeon at the bottom. The playground is completely enclosed, and there is a dedicated play area for the under 5 set.
In addition to the playground, there are two ½ mile paved trails (a woodlands trail, which is well shaded; and a parkside trail), great for putting a younger child to sleep on a walk while the older sibling plays or even for teaching the older ones to ride a bike. A gazebo and pavilion space make this a perfect place for large gatherings or birthday parties. The park has other great amenities, including a soccer field, tennis and basketball courts, and in the summer months, a pool with an awesome pool slide (note, access to the Nor-Gwyn pool requires a membership).
7. Manderach Memorial Playground—Limerick
This 70-acre park includes an immaculately maintained playground boasting two-story slides and a saucer swing, both of which serve as a major draw for adventuresome kids. Older kids often pack towels so they can take the tunnel slides at top speed. In addition to the playground, there are shaded picnic pavilions, athletic fields for baseball, sand volleyball, basketball, a mile-long paved track, and more. Restrooms are accessible onsite as well.
Love our list? Did we miss a favorite park of yours? Head over to our Facebook page and let us know!