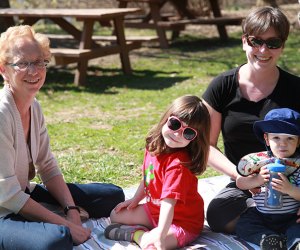 Time for a Pic-A-Nic: 23 Best Picnic Spots in Philadelphia and the 'Burbs
This is the season for packing up a cooler and heading outdoors for a meal. From relaxing in nature to grabbing a picnic table next to a bustling playground, there are lots of great picnic spots in the Philly area and beyond. We've rounded up all the best places to eat amongst the flowers when the weather is warm. So grab a basket and a blanket, pack your food (or pick it up on the way), and check out one of these great places to picnic in the area.
Philadelphia
Belmont Plateau
This open field off of West River Drive offers the best view of the Philly skyline. Find a spot under one of the many large, shady trees, or head over to the picnic area to make use of one of the on-site grills and tables. As an added bonus, head over to Shofuso Japanese House and Garden before or after your picnic to see what's in bloom.
The Azalea Garden
With over four-acres of beautiful landscape and its convenient location in the Art Museum area, the Azalea Garden is the perfect place to savor a bite to eat.
Wissahickon Valley Park
There are dozens of places to picnic along the Wissahickon! You can also find several different trails to hike, fishing, and bird watching-- and the best part is, you don't have to leave city limits to do it.
FDR Park
This South Philly park is a popular running spot. It also offers fishing, tennis courts, baseball fields, and paddle boat rentals. Not to mention, the restroom facilities are some of the best and it offers free on-site parking!
Penn Treaty Park
This seven-acre park offers plenty of shaded areas for picnicking and great views of the boats on the Delaware River. Kids will also enjoy the nearby shaded playground.
Clark Park
This West Philly park is host to lots of fun summertime events including Shakespeare in the Park and Saturday Farmers Markets. Pack a picnic dinner and enjoy a show at the same time.
Bartram's Garden
This little gem brings some beauty to an otherwise not-so-pretty area of Philly. With summer movie nights, concerts, free boating Saturdays, and family programming, there's plenty of reasons to pack a picnic and visit this urban garden.
Delaware County
Ridley Creek State Park - Media
There is a lot to do at this state park in Delaware county. Choose from hiking, biking, playgrounds, creek exploration, formal gardens at the mansion, an accessible multi-use trail or the Colonial Pennsylvania Plantation. There are dozens of picnic areas located around the park, each with bathrooms nearby.
Scott Arboretum at Swarthmore College - Swarthmore
​The free Scott Arboretum is open every day from dawn until dusk and basically encompasses the campus of Swarthmore College. There are maps and podcasts available online for self-guided tours of the gardens, but you could also explore on your own. You may find a picnic table, but this is a good place to bring along a blanket to spread in a shady spot on the ground.
Bucks County
Neshaminy State Park - Bensalem
Located along the Delaware River in Bucks County, this state park offers hiking, boating, and bird watching. There is also a pool with a splash pad play area. Outside food cannot be brought into the pool area, but visitors are welcome to picnic in the park and then return to the pool.
Peace Valley Park - Doylestown
With miles of trails and plenty of picnic areas and pavilions, Peace Valley Park is a great place to enjoy nature. Peace Valley also offers plenty of family-friendly programming.
Core Creek Park - Langhorne
Perfect for families, this park offers many kid-friendly amenities including playgrounds, seasonal events and activities, and a kid-sized tennis court. After your picnic, rent a boat and enjoy an afternoon on the water.
Chester County
Marsh Creek State Park - Downingtown
Marsh Creek offers loads of activities including a swimming pool and sprayground, boating, sailing, hiking, and, of course- picnicking. The park includes picnic areas with charcoal grills, nearby restrooms, and over 150 picnic tables.
West Goshen Community Park - West Chester
This 32-acre facility includes a skatepark, baseball fields, a soccer field, sand volleyball pits, basketball courts, tennis courts, and a playground. A pavilion with picnic tables and charcoal grills (as well as nearby restrooms), is perfect for enjoying a packed meal. Visit the amphitheater over the summer for concerts and Shakespeare in the park performances.
Montgomery County
Valley Forge - King of Prussia
Locals know that Valley Forge is a great destination for recreation as well as an important national historical site. While walking or biking the trails, visitors may come across costumed re-enactors who demonstrate what life was like for the soldiers living at Valley Forge during the winter of 1777-1778. For a more detailed history lesson, make sure to visit the kid-friendly visitor center. Picnic tables are located in a number of areas around the park.
Parkside Place Park - North Wales
This park in Upper Gwynedd township offers the usual park amenities: sports fields, walking trails, gazebos, and picnic tables. But what makes Parkside Place special is the huge science-themed playground. There are multiple areas for different ages including a large sand area, slides, balance activities, swings, and large wooden structures with plenty of secret passageways--great for a game of hide and seek! You'll find picnic tables and restrooms directly outside the playground.
Green Lane Park - Green Lane
This park offers a plethora of picnicking amenities- including charcoal grills, tables, and pavilions. Kids will love the 2 on-site playgrounds, or enjoy your time in nature by hiking or biking on the trails.
Norristown Farm Park - Norristown
This park offers trails for the stroller set as well as for the more adventurous families. With two picnic pavilions and plenty of other great places to set up a blanket, it's a great place to enjoy a quiet picnic.
Fort Washington State Park - Fort Washington
Enjoy a picnic and some disc golf at this beautiful state park, which provides more than 300 picnic tables.
Paid Admission Picnic Spots
To picnic in these spots, you'll have to pay an admission fee to enter.
Morris Arboretum - Philadelphia
With its garden railway, family friendly programming and events, beautiful flowers, and its out on a limb treehouse, this is just a lovely place for a day full of family fun. Pack a picnic and bring a blanket to enjoy a relaxing day at this gorgeous arboretum. Looking to save some money? See if you can check out this pass (or the reciprocal Tyler Arboretum pass) at your local library.
Tyler Arboretum - Media
We just love the treehouses at Tyler! Looking to save some money? Pack a picnic and enjoy one of the arboretum's many family-friendly events or explore the grounds, which also includes a butterfly house. See if you can check out this pass (or the reciprocal Tyler Arboretum pass) at your local library.
Grounds for Sculpture - Hamilton, NJ
There's so much to see and do at Grounds for Sculpture and so many great places to picnic outside amongst the sculptures! P.S. This pass is also available at some local libraries.
Longwood Gardens - Kennett Square
While you can't bring coolers inside Longwood Gardens, there is a picnic area with charcoal grills outside the grounds where you can enjoy your food before you enter. You will have to drive and park at the picnic area and then drive to the main parking lot to park near the entrance, but it's worth it to see the beauty that is Longwood.
Photo courtesy of Tyler Arboretum.