A Review of Longwood Gardens' Nightscape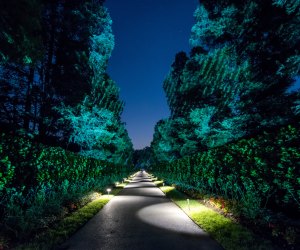 On August 3rd, Longwood Gardens' latest evening spectacular Nightscape opened to the public. The trippy, amazingly choreographed sound and light extravaganza is definitely not your run of the mill evening out with the family- especially not for my family, as my husband and I have a three-year old son. Starting off with the fact that we were out way past bedtime (the light show in August doesn't start until 9 PM when it is well past dark), this experience was easily going to go one of two ways: amazement and giggles or...well, you're parents, you know the rest.
A little insider tip to get this review off, your admission to Nightscape is included with a general admission pass to Longwood Gardens. So, if you have the time, you may actually make a whole day of it. For us, we arrived at 8:30 PM, just time enough to run up to the beer garden, grab a quick snack, and then head out to the first of the eight-ish timed shows that run across the gardens as part of the experience. We also caught fireflies, which was a super special moment for a city-dweller who grew up with a big lawn and occasionally misses those quiet summer moments you can only experience in the suburbs.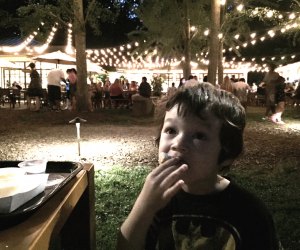 At precisely 9 on the dot, standing along with a crowd outside the topiary gardens a slow rumble of music murmured forth and the light show began. I (fortunately) thought to wear my three year old on my back in a carrier (no chasing him around in the dark, plus no picking him up to see over people's heads). The crowd that was once raucous from the beers came to a hush, taking in the spectacle. The colorful lights give faces to the garden, an almost ancient feel, calling to mind some sort of old magic.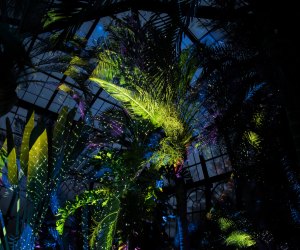 Not wanting to risk missing the rest of the gardens (knowing our time with the little one was limited), we stayed for only a few moments then moved on to the next stop inside the greenhouse, where 2-3 separate light shows were taking place.
Inside, it was hot (yes, I know, it's a greenhouse) and crowded. But it was opening week, and it was exciting to see so many people equally mesmerized by the many different ways that the choreographed light and sound painted not just an image but a mood upon the place. Music is a strong part of the storytelling that The Klipp Collective, the masterminds behind Nightscape, use to create a truly magical experience. Despite the sweaty atmosphere, the whiney toddler, and the crowds... I was definitely caught up in the mood.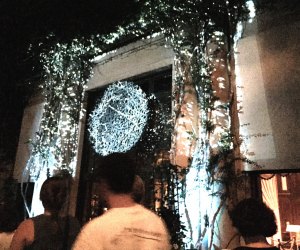 The next spot I wanted to hit up was the large lake. I visited Longwood a few years back during their first Nightscape, and I remembered the lake as the most remarkable. While the show is completely different than the one I remembered, I am glad I returned to check out the latest offering. This one was almost surreal. The lights told a story, they weren't just beautiful, they were emotionally moving.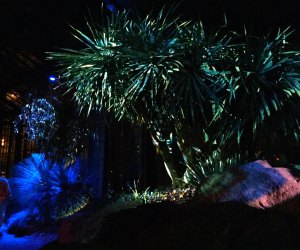 By then it was close to 10 PM, and our limited time with a pleasant child had run out. We quickly made a break for the exit, catching glimpses of other light shows as the kind and helpful docents with light sticks guided our way out of the dark. All around me, people continued to stare in awe and wonder at the show, kids giggled, families huddled up close, lovers fell more deeply in love.
The magic of Nightscape continues until October 29, when earlier sunsets and cooler evenings will make it an even more welcome place for families of young children. For now, I wholeheartedly recommend it as a great adventure for families with children 6 and up, and even better as a date night. By October, when the show starts at 7 PM, even the younger children will be able to enjoy it.
Some final parting tips:
Reservations are required for Nightscape, and the event does sell out, so plan ahead.
To really take it all in, give yourself at least 90 minutes.
Each month viewing start times vary: in August, viewing begins at 9; in September, viewing begins at 8; in October, viewing begins at 7. The Gardens close at 11.
Tickets are $17 for kids (5-18) and $27 for adults. Kids 4 and under are free.
Ticket price includes all day Gardens admission.