Hiking and Biking the Delaware Valley with Kids: The Best Parks, Trails and Picnic Spots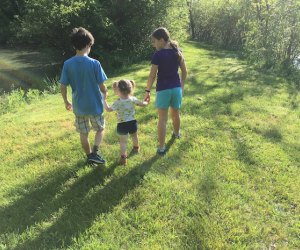 With summer just around the corner, there is nothing I look forward to more than those long hours of sunshine, taking the kids outside, walking to our local farmer's market and just enjoying the outdoors without the rain and pollen that have kept us housebound for the past few weeks. Hiking, biking and picnicking are great activities for children of any age and can provide years of fun family memories. Here are some of our favorite spots.
Picnics
If you're looking for a quick excursion outside to fit into the rest of your busy weekend of soccer practice, family parties and playdates, a picnic is ideal. With a little planning, this can be an easy and quick adventure that won't kill an entire day of your weekend.

Lower Perkiomen Valley Park- Oaks
​A favorite spot for picnics is Lower Perkiomen Valley Park, adjacent to the Perkiomen Trail, which runs through Valley Forge and along the Perkiomen Creek. This park is great because it appeals to children of all ages. There is a huge parking lot at the entrance off of Egypt Road so, regardless of how crowded the trails are that day, you are guaranteed a spot. Additionally, there are countless shaded picnic tables and grills. Since the park overlooks Perkiomen Creek, you can also take the kids fishing, and the small paths connecting the picnic sites to the main trail are perfect for the very youngest of children who want to bring their tricycles and circle around while lunch is being set out. They can also enjoy the on-site playground. If you have older children, bring your bikes and extend your visit! The park is open daily from 8:00 a.m. to sunset and leashed dogs are welcome.
Ringing Rocks Park- Upper Black Eddy
If you have a little more time in your day, try a visit to Ringing Rocks Park in Bucks County. Not only is this a great picnic spot, but after you eat, take the kids for a hike and visit the famous rocks that sound like bells when struck. Don't forget to bring hammers with you to hear this beautiful phenomenon!
Fairmount Park and Schuylkill River Trail- Philadelphia
When you live downtown and are strapped for time, there's no need to look further than your own neighborhood. Philadelphia has some of the best green spaces and family-friendly parks of any city. Pack a basket and head to Fairmount Park or the banks of the Schuylkill River​. You can't beat the riverfront view and the excellent people-watching opportunities.
Hiking and Biking
Perkiomen Trail- Oaks to Green Lane
​For children of any age, the Perkiomen Trail has a lot to offer. There are several entrances along the 422 corridor between Valley Forge and Collegeville, and beyond. The trail is about 20 miles long, winding through the wooded areas and rural and suburban areas of Montgomery County. Its flat, paved surface makes it ideal for biking, hiking, jogging, horseback riding and even cross-country skiing in the winter! There is a new cell phone tour that gives guide information at each stop.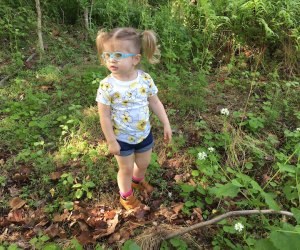 John Heinz National Wildlife Refuge at Tinicum- Folcroft
A lesser-used trail but a favorite among Delaware County locals is at the John Heinz National Wildlife Refuge at Tinicum. Why? It's flat, mostly paved and completes a 10-mile loop so you can start and end at your car without backtracking. But an even bigger draw is the wildlife. The national Audubon Society has designated the refuge as an Important Bird Area. Other great family activities here include fishing and canoeing. If you have a baby in tow with a bike seat or if you're with older kids who can handle the length on their own, this is a perfect day trip. If you're with small kids on their own bikes, park at the Visitor Center and just go as far as they can handle, then enjoy the scenery! The trail is open daily from sunrise to sunset and the Visitor Center is open daily until 4:00 p.m. The main entrance is at 86th Street and Lindbergh Blvd but there is a smaller entrance on Route 420 just before the I-95 entrance ramp if you plan to skip the Visitor Center.
Struble Trail- Downingtown
For Chester County residents and visitors, there's the Struble Trail in Downingtown. During the entire length of the trail, you will only cross one road, which gets very little traffic. It's wooded and mostly flat so it's ideal for families with younger children who can't handle the slightly more rugged paths of other trails. They are even offering a kids' hike on June 9!
However you intend to spend your summer weekends, don't forget to plan ahead with lots of sunscreen, water bottles, and some healthy snacks for the kids. Happy trails!