Chester County Parks Philly Residents Must Visit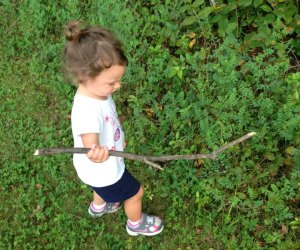 Kids love playing outside, and if you live in the city, you probably don't have a ton of outdoor space. Visiting a park or a playground is a great way to get kids outside to run around and play. Of course the city still has plenty of awesome parks, splash pads, and outdoor activities for families, but these Chester County playgrounds are definitely unique. These parks are filled with nature trails, playgrounds, fields to run around on and some even offer pools and lakes for swimming in the summer months! These playgrounds are worth the trip from wherever you live, so hop in the car and get ready for a day of adventure.
Marsh Creek State Park – Downingtown, PA
Marsh Creek has so much to do. The great thing about this park is that there's something to do here any time of year. Families can hike or mountain bike through the 1,727-acre park, swim in the creek, go boating, sailing, fishing, hunting, cross-country skiing, sledding, ice skating, iceboating and even ice fishing.
Anson B. Nixon Park - Kennett Square, PA
This 106-acre park has a lot to offer. There is a community garden with raised flowerbeds, seasonal activities, including a Trout Rodeo, summer arts programs, free summer concert series, and more. There are also plenty of picnic tables located throughout, as well playgrounds, ponds and trails for walking.
Stroud Preserve - West Chester, PA
Stroud Preserve is a wildlife habitat and is the host site for the Stroud Water Research Center. If you really want to enjoy nature, this is the place. There are more than nine miles of unpaved trails to traverse, an array of bird species to watch, horseback riding, more than two acres of serpentine barrens to explore, meadows filled with native grasses and more. Stroud Preserve is a great place to get your nature fix.
Black Rock Sanctuary - Phoenixville, PA
Explore areas of wetlands, woodlands, and meadows with plenty of wildlife to see at Black Rock Sanctuary. While on the trails, take time to discover plant life and habitats of the basin by checking out the interpretive trail. There are also many educational stations along the trail.
Brandywine Picnic Park - West Chester, PA
Brandywine Picnic Park is known as the region's largest picnic area and is open from May through the fall. It's a great spot to host birthday parties, family reunions, and other private events. Nestled right on the Brandywine River, it's also a great location to for canoeing, paddle boating, or tubing down the Brandywine. There are specific dates that are reserved for public admission, so check their website or call ahead before making the trip. Some other activities include a gazing zoo, a moon bounce, softball and volleyball, a rock climbing wall and mini golf.
Goddard Park - West Grove, PA
Goddard Park is truly a unique spot to visit. The Goddard Park Barn is nearly 20-feet tall and is designed to replicate typical mushroom and horse farms of Pennsylvania. Mushroom climbers, hay bale climbers and plenty of slides, this playground is totally worth the visit.
Kerr Park - Downingtown, PA
Kerr Park is just one of many parks in Downingtown, and it offers plenty of reasons to visit. From athletic fields, including baseball fields and basketball courts, a skate park and an open area for limited organized sports, it's a nice little spot nestled in the center of Downingtown Borough. The park also has a play area for kids of all ages, Sky's The Limit Playground. Kerr Park is also the site of a Trout Hatchery maintained by Brandywine Trout Club.
Hibernia County Park - Coatesville, PA
If taking to trails, woodlands and meadows is what you're looking for, then Hibernia County Park is the spot. Located on more than 900 acres, this park offers open fields, play areas, pavilions, camping, picnic areas and some popular fishing sites on the Brandywine Creek's west branch. Walking tours let visitors explore the history of the iron masters and country gentlemen that owned the estate where the park is now located.
Ollie Owl's NaturePlayGround - Coatesville, PA
Small, but unique, Ollie Owl's allows kids to get down and dirty as they climb logs, build stick tee-pees, hunt for bugs and explore streams. Ollie's perfect for kids who love to get messy and play in the dirt.