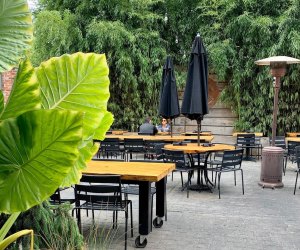 Kid-Friendly Outdoor Restaurants in Philly
One of the best indulgences as a parent is finding a spot to enjoy a night out that pleases the whole family—and as a bonus, no one has to cook or clean! When the weather is nice, Philly's outdoor restaurants are pretty much the only way to go. The kids can be as loud as they want (or nearly so), and parents are more likely to enjoy the entire meal without having to take a break to explain about inside voices and not running around the table.
As Philadelphia continues to reopen with its Safer-at-Home protocols in mind, including outdoor restaurant seating, more and more spots are opening up. The city is also opening up some streets and curbs for additional outdoor restaurant seats. Read on for a roundup of the most family-friendly restaurants with outdoor seating in the city of Philadelphia.
If you're in the mood for a beer garden dining experience, we've got a round-up for that, too.
Front Street is currently open daily from 9am to 9pm (10pm on Friday and Saturday nights) for outdoor seating and takeout orders only. Coffee, juices, and smoothies will also be available to order to go from the cafe 9am to 4pm every day.
This all-day dining destination has a large outdoor eating area, with a covered bar and plenty of space to enjoy the weather (and heat lamps when it gets a little chilly out). The menu has great options for kids, including fresh pressed juices and smoothies.
Open for outdoor dining and takeout, Fette Sau has limited seating due to social distancing protocols, can accommodate parties of up to six guests and requires visitors to wear masks while on premises when they aren't seated.
Boasting one of the best happy hours in town, this Brooklyn original has a delicious selection of dry-rub meats and kid-friendly sides like mac 'n' cheese and bbq baked beans. Eat at picnic benches outdoor year-round at this laid back, serve yourself destination.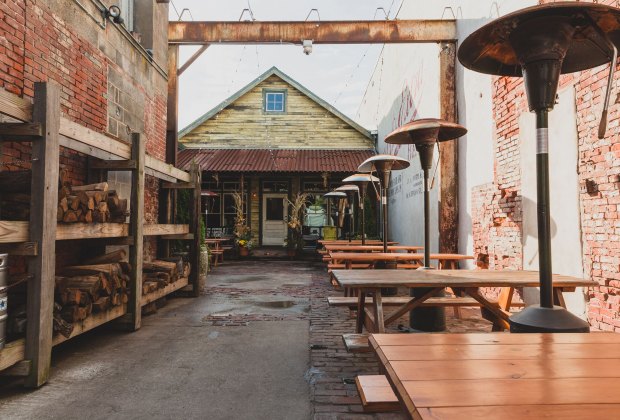 Photo courtesy of Fette Sau Philadelphia
Open for outdoor dining, Honey's Sit 'N Eat requires online reservations prior to arrival.
Head to Center City or Northern Liberties are enjoy some good old-fashioned home cooking courtesy of the cooks at Honey's Sit 'N Eat. Serving brunch from morning til night, there are breakfast burritos, kids' breakfast plates, shortstacks, sandwiches, and lots of coffee for Mom and Dad.
Visitors should reserve a table online before visiting; however, several tables have been added for walk-in customers only, if you're feeling lucky.
Over a decade ago, Northeast Philadelphia got a great waterfront cafe right on the Delaware River. The atmosphere is casual and friendly, and the menu includes lots of basic favorites, including chicken tenders and fried pickles, as well as a slate of burgers, wraps, and sandwiches that are sure to please anyone in the family.
Martha is open for patio seating only and visitors are asked to check in on the restaurant's website first. If a table is immediately available, you will get a text back right away.
A real-deal bocce court graces this outdoor space. Light fare is kid-friendly, but they also have a secret kids plate if you ask for it (a great assortment of kid-friendly snacks that hit all the right nutritional notes).
Outdoor seating is available at Pizzeria Stella, as well as takeout as Philadelphia continues to update its safety protocols. Maximum group size is limited to four people, and masks must be worn by guests when not seated. No reservations necessary.
Enjoy pizza classics, like pepperoni or margherita, as well as elevated combinations, such as pistachio, red onion, rosemary, and fontina, at Pizzeria Stella, a neighborhood restaurant with a Neapolitan flair, in Society Hill's Headhouse Square. With its casual atmosphere and delicious eats (who doesn't like pizza??), the whole family will like Pizzeria Stella. And don't forget to end the meal on a sweet note with a scoop of gelato or sorbet.
Only 10 people can wait in line at a time to order food from The Bourse right now and visitors must wear masks when not seated. The food hall asks that visitors adhere to the social distancing protocols and floor markings, and all food items must be taken to go - but can be enjoyed on the large outdoor patio area.
Ok, so this is a bit of a cheat, but go to the Bourse to pick the dining option your heart desires in this diverse food hall, then take it out and picnic on Independence Mall.
Urban Village is open for outdoor seating or takeout only at this time. Make reservations on the brewpub's restaurant before heading over.
This brewery on the corner of Schmidts Commons has pizza, crayons and colored paper for kids, plus all the outdoor amenities that Schmidts Commons has to offer.
Standard Tap is currently open only forward takeout and delivery. A date has not yet been set for when dine-in and outdoor seating will resume.
This gastropub features some seriously delicious eats, and the rooftop patio is lovely on a nice day nearly year round. Not to mention a solid rotating draft list and a wait-staff that is incredibly friendly and always helpful when you have little kids along.
Originally published 2017