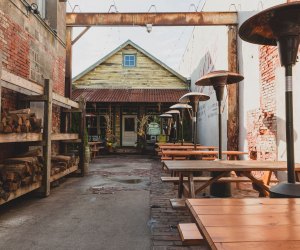 Kid-Friendly Outdoor Dining at Philly Restaurants
One of my favorite indulgences as a parent is finding a spot to enjoy a night out that pleases the whole family- and as a bonus, I don't have to cook or clean up! When the weather is nice, outdoor dining is pretty much the only way to go. The kids can be as loud as they want (or nearly so), and I am more likely to enjoy the entire meal without having to take a break to explain about inside voices and not running around the table. A definite go-to, especially in the summer, are beer gardens and pop-up dining destinations that not only have kid-friendly menus, but often family activities and attractions. However, there are many go-to spots that don't quite fit the beer garden genre. Here is a roundup of the most family-friendly ones in the city that have enclosed, or nearly enclosed outdoor seating.
If you're in the mood for a beer garden dining experience, we've got a round-up for that, too.
Alla Spina
With a kid-friendly menu and an incredibly well-curated beer and wine list that will please the adults, the outdoor dining option at this casual Italian restaurant is definitely worth checking out. Bonus, if you hit it during happy hour you can grab the $1 per piece chicken nuggets, which are a favorite for my guy whose appetite often varies.
Barnes Foundation Garden Restaurant
Whether you are there to check out the art or not, dining at the Garden Restaurant is easily one of the most beautiful places to dine out. The restaurant's enclosed courtyard is especially lovely in the summer when the flowers bloom. This is largely a lunch spot with brunch available on the weekends. Get a dose of culture even if you can't make it through the museum with kids in tow.
Front Street Cafe
This all-day dining destination has a large outdoor eating area, with a covered bar and plenty of space to enjoy the weather (and heat lamps when it gets a little chilly out). The menu has great options for kids, including fresh pressed juices and smoothies.
Dilworth Park Cafe and Air Grille
American cuisine, coffee, and in the shadow of City Hall. Great for people watching in the city. Plus, in the warmer months, the splash pad and fountains are great fun for kids.
Fette Sau
Boasting one of the best happy hours in town, this Brooklyn original has a delicious selection of dry-rub meats and kid-friendly sides like mac 'n' cheese and bbq baked beans. Eat at picnic benches outdoor year-round at this laid back, serve yourself destination.
Llama Tooth
This sweet outdoor spot features a large patio framed by building-sized murals and overlooking Center City. With a whole Mac & Fries section on the menu, the picky eaters are sure to love it.
Martha
A real-deal bocce court graces this outdoor space. Light fare is kid-friendly, but they also have a secret kids plate if you ask for it (a great assortment of kid-friendly snacks that hit all the right nutritional notes).
Medussa Pizzeria
What kid doesn't love pizza? Well besides mine...but seriously, these handmade pies are delicious and a real crowd pleaser. This low-key BYO has a rooftop deck where you can check out some classic Philly views.
The Bourse
Ok, so this is a bit of a cheat, but go to the Bourse to pick the dining option your heart desires in this diverse food hall, then take it out and picnic on Independence Mall.
Urban Village
This brewery on the corner of Schmidts Commons has pizza, crayons and colored paper for kids, plus all the outdoor amenities that Schmidts Commons has to offer.
Standard Tap
This gastropub features some seriously delicious eats, and the rooftop patio is lovely on a nice day nearly year round. Not to mention a solid rotating draft list and a wait-staff that is incredibly friendly and always helpful when you have little kids along.
Squareburger
While this is definitely the most kid-friendly,—it is in the middle of a playground—the menu selection is definitely one that adults can get behind.
Photo courtesy of Fette Sau Facebook Page
Originally published 2017