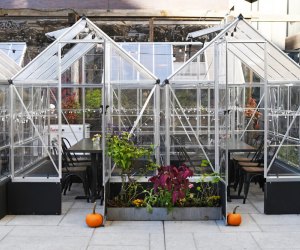 Igloos, Greenhouses, and Yurts: Fun Outdoor Dining for Families in Philly
For nearly a year, restaurants in Philadelphia have been challenged with the task of maintaining their businesses while serving food in a safe manner. Many restaurants are adapting to make dining out a possibility during these cold winter months. Igloo and yurt dining is becoming a popular alternative for families who want to dine away from home but are reluctant to eat indoors. An advantage to igloo and yurt dining is that your party is enclosed, which helps limit exposure to other guests.
Mommy Poppins Philadelphia has rounded up some restaurants that are offering these unique dining experiences. Due to high demand, most locations require patrons to call the restaurant directly to make reservations.
In the meantime, why not make an afternoon of it by pairing a visit to one of these unique eateries with one of these great things to do with kids in Philly in the winter. Our Philly Winter Fun Guide includes more ideas for keeping kids safe, warm, and entertained in the chilly months.
Read on to see which restaurants in your area are offering igloo or yurt dining. Bon appetit.
In the COVID era, please check directly with the restaurant website before heading out. While we try to promote safe activities that occur outdoors or with social distancing guidelines in place, keep your family and others safe by wearing a mask and maintaining appropriate distance. If you arrive at an event that appears too crowded, try using the "nearby" search feature on our event calendar to find something else to do.
If you prefer to stay home and order in with the kids, be sure to browse through Poppins@Home, which is regularly adding new and exciting classes and workshops for children of all ages. With an abbreviated winter break, parents can count on Brick City building camp and DC and Marvel Superhero camp to keep kids busy on days off from school. Young ones are sure to enjoy learning Spanish through Music and Movement while the entire family can cuddle up for storytime and crafts.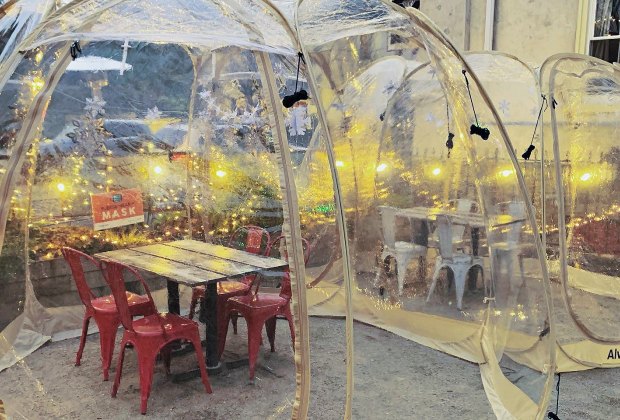 El Poquito is the destination for tacos in an igloo setting. Photo courtesy of El Poquito
Igloo, Greenhouse, and Yurt Dining for Families in Philly
Want tacos? El Poquito has a delicious menu filled with favorites from chips and salsa or guac to fajitas, quesadillas, and enchiladas. Patrons can enjoy their meals inside heated igloos. Each igloo accommodates one table and is available on a first-come, first-serve basis. The restaurant makes every effort to honor requests for igloo dining. Reservations do not guarantee a spot due to high demand. El Poquito is open Mondays through Thursdays from 4 to 8 pm, Fridays from 4 to 8:30pm, Saturdays from noon to 8:30pm, and Sundays from noon to 7:30pm.
With a menu that includes everything from brunch dishes and seafood to burgers, sandwiches, and salads, this location offers outdoor dining with igloos.Throughout the last few months, Germantown Garden Grille has hosted special family-friendly brunch experiences with character events, including the Snow Queen and Sleeping Beauty. Regular hours are Tuesdays through Fridays from 3 to 10pm and weekends from noon to 10pm. Reservations can be made online. Selecting outdoor dining does not guarantee an igloo, but the restaurant does its best to honor requests.
Although not an igloo or a yurt, personal greenhouses are available at Harper's Garden for outdoor dining. The restaurant has nine heated greenhouses. However, they are quite popular, so reservations are critical. The menu includes brunch items, cheese boards, seafood, salads, lamb, chicken, and burgers. Hours are Mondays -Thursdays from 11:30am to 10:30pm, and Fridays-Sundays from 10am to 10:30pm.
Although every Harvest location offers some sort of outdoor dining, the Newtown location has individual outdoor igloos available for patrons. There are only 12, so guests should call in advance to make a reservation. Most seat four people, but others are larger and can accommodate more. Reservations can be made for seating on Sundays from noon to 8 pm, Mondays-Thursday from 4 to 8pm, and Fridays and Saturdays from noon to 9 pm.
Inspired by Italian, Greek, Spanish, and Provencal cuisines, La Fava Restaurant and Bar offers a variety of unique dishes that patrons can enjoy in a "bubble." Reservations for an outdoor bubble dining must be made by phone and held via credit card. Outdoor bubbles require a two-person minimum and can hold up to six people. Each has its own heater. La Fava Restaurant and Bar is open daily.
RELATED: Kid-Friendly Outdoor Restaurants in Philly

Enjoy Italian in an igloo at La Verona. Photo courtesy of La Verona
In the mood for Italian? Head to Kennett for outdoor igloo dining at La Verona. Guests can enjoy lunch and dinner items such as antipasti, salads, pizza, panninis, pasta, and more. The restaurant has seven igloos and must be reserved in advance by phone. Hours are Sundays-Thursdays from 11:30am to 10:30pm and Fridays-Saturdays from 11:30 am to 12 am.
This family-run Italian restaurant provides outdoor seating pods so patrons can enjoy 90 minutes of dining on pasta, seafood, chicken, steak, and more. Outdoor seating pods are heated and can accommodate four or more guests. Each pod is sanitized thoroughly between groups. Reservations must be made in advance by phone. Hours are Tuesdays from 3 to 9 pm, Wednesdays -Saturdays from 11:30am to 9 pm, and Sundays from 11:30am to 8pm.
Offering brunch, lunch, and dinner menus, Terrain Garden Cafe now welcomes guests to its Winter Village, a cluster of individual outdoor tents set amid the garden nursery. Each tent can accommodate groups of 4-8 people and are available each day from 9am to 8pm. There is a rental fee of $25 for a two-hour duration. Patrons order from a menu that includes omelets, salads, fish, and desserts.
Open Tuesdays through Sundays for both lunch and dinner, The Buck Hotel now offers heated igloo dining. The menu includes a variety of sandwiches, salads, and pizza as well as fresh fish dishes and raw bar. Guests must call directly for reservations as they are not available via OpenTable. Igloo seating requires a four-person minimum and is in high demand. To-go dinners are also available. Hours are Tuesdays-Thursdays from noon to 10pm, Fridays from noon to 11pm, Saturdays from 11am-11pm, and Sundays from 11am- 8pm.
Famous for its short ribs, burgers, and scallops, The StoneRose Restaurant has two igloos available for outdoor dining. Each has its own individual heater. Reservations must be made by phone; however, the igloos are not reservable. They are available on a first-come, first-served basis. Hours are Mondays-Thursdays from noon to 8:30pm, and Fridays and Saturdays from noon-9:30pm.
Although exclusively for American Express card members, those who have the card can splurge and eat delicious Israeli cuisine in heated yurts on the restaurant's covered patio. Reservations can be made for two to four guests who are from the same household. Because this dining experience features a five-course, prix fix meal for $90 per person, it might be best reserved for a special date night and not a family meal. Patrons have two hours to dine and pre-payment is required when booking. Dinner hours are Tuesdays-Saturdays from 4:45pm to 9:30pm.